Visiting the Caucasus and wondering what to buy in Armenia? My Armenia shopping guide includes a run-down of the best Armenian gifts, plus recommendations for where to do your souvenir shopping in Yerevan. At the end of the post, you'll find a handy Yerevan shopping map.
Anyone who has been to Armenia will tell you it's not the kind of place you soon want to forget. I rarely buy souvenirs, but on the two occasions I've visited Yerevan, I've found myself looking for a keepsake to remember the city by.
From handmade ceramics to organic skincare products crafted with Armenian herbs, gourmet chocolate to antique textiles, the best Armenian souvenirs showcase the country's incredible heritage of craftsmanship and food traditions.
---
---
This curated list brings together some of the best handmade, ethical, organic and authentic items. Shop here, and you'll also be doing your bit to support small businesses, independent designers and social enterprises.
Whether you have Armenian roots or you're visiting the country for the first time, here's where to track down the perfect Armenian souvenirs and gifts from Armenia!
---
Please note: This post contains affiliate links, meaning I may earn a commission if you make a purchase by clicking a link (at no extra cost to you). Learn more.
---
What to buy in Armenia: Typical souvenirs & Armenian products
First things first – you're probably wondering what to buy from Armenia.
There are many products made in Armenia and handmade gifts that make for perfect souvenirs. When you're doing your Yerevan shopping, keep an eye out for these specialty items.
Armenian carpets, especially kilims and soumaks
Jewellery or figures with khachkar-inspired designs
Handmade dolls that showcase traditional Armenian costume
Anything with a pomegranate or Mount Ararat motif!
Prints or fabrics featuring the Armenian alphabet
Armenian wine, cognac, brandy & pomegranate wine
Candied fruits (especially apricots), sujukh (Armenia's version of churchkhela), and local honey
Wild mint tea from Mountea, harvested locally in Vayots Dzor
Quirky Armenian gifts
Looking for something different? These off-beat souvenirs make great alternative gifts.
A pair of Artsocks featuring the work of an Armenian painter
A colourful piece of jewellery from Matt Art, made with stones from Lake Sevan
An abstract silk scarf from Ardean, printed with the letters of the Armenian alphabet
Nairian organic cosmetics, made with medicinal herbs and plants grown in Armenia
Hand-crocheted kids dolls sporting Armenian national dress from Yerevan's only Fair Trade shop, HDIF
A Pes-Pes Yerevan colouring book from HDIF
Shopping in Yerevan: Where to do your Armenia shopping
This Armenia shopping guide will help you track down the best places to buy souvenirs in Yerevan . At the end of the list, you'll find a Yerevan shopping map to help you plan your trip.
Classic Armenian souvenirs & gifts
Where to find typical souvenirs, Armenian handicrafts, wearable mementos, useful knickknacks and imaginative up-cycled products that just scream 'Armenia'.
Top choice: Vernissage
Buzand St | 7am–6pm daily
The Vernissage, Yerevan's famous arts and crafts market, is quite literally a one-stop-shop for souvenirs. It should definitely be high up on your Armenia shopping list.
One of my favourite things to do in Yerevan is wander the market aisles and watch the Vernissage painters at work. The market has a great vibe, especially on weekends.
The Vernissage is roughly divided into five sections. The main market floor has three aisles, each with stalls selling handicrafts and food products. The back of the market is dedicated to antiques and second-hand items, while a row of bookshops line the front.
The south side of the market, along Buzand Street, is my favourite spot – this is where you'll find the carpet vendors.
Painters set up their easels along the northern side of the park. (If you're in the market for artworks, there is a second Vernissage, the Painter's Vernissage or Saryan Vernissage, located on France Square).
Products sold at the Vernissage are of mixed quality and provenance. That is to say, not everything is made in Armenia. You can often watch men hand-carving honey dippers or women sewing dolls at the market, but true handmade products are few and far between.
My favourite artisans with stalls at the Vernissage include Alla Sargsyan (cute kids toys, including sheep figurines made from raw wool), Mariam Kharazyanand (gorgeous designer dolls, pictured above), and David Mnacakanyan (Davo Craft), who makes handsome leather wallets.
---
Top choice: Homeland Fair Trade Shop
2nd floor, 18 Isahakyan St | 10am–6pm weekdays (closed Saturdays & Sundays)
Armenia's first and only Fair Trade shop is operated by Homeland Development Initiative Foundation (HDIF), a social enterprise that's Fair Trade Guaranteed under the World Fair Trade Organization. It's probably my favourite souvenir shop in Yerevan.
HDIF works with individual artists and co-ops all over Armenia, helping them out with product development and market access. The overall aim of the Foundation is to help more Armenians make a sustainable income by exercising their creative skills.
Everything sold at Homeland is made by hand in Armenia and earns its maker a fair wage. Products include crochet toys by Goris Handmade, laptop cases and homewares sewn from pieces of traditional fabric, ceramics, knitwear, colourfully painted Armenian letter ornaments, and much, much more.
---
Top choice: Spitak Ceramics (Armenian Ceramics)
22 Koghbatsi St (inside Hotel Villa Delenda) | 9am–8pm daily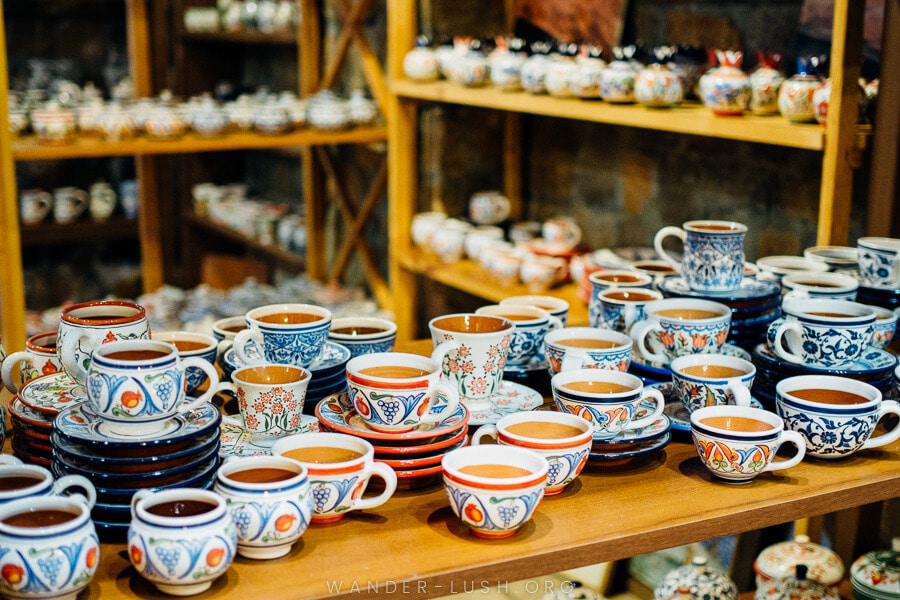 Located in the bottom of the historic Hotel Villa Delenda, Spitak Ceramics trades in elegant earthenware pottery. Every item is hand-thrown and hand-painted at the Spitak Art School in Gyumri, a social enterprise established with the Family Care Foundation after the devastating earthquake in 1988.
Coffee sets, Christmas ornaments and bud vases – all small enough to carry home – sport traditional Armenian motifs such as pomegranates, grapes, apricots, and floral designs.
---
Dalan Souvenir Store & Art Gallery
12 Abovyan St | 10am–11pm daily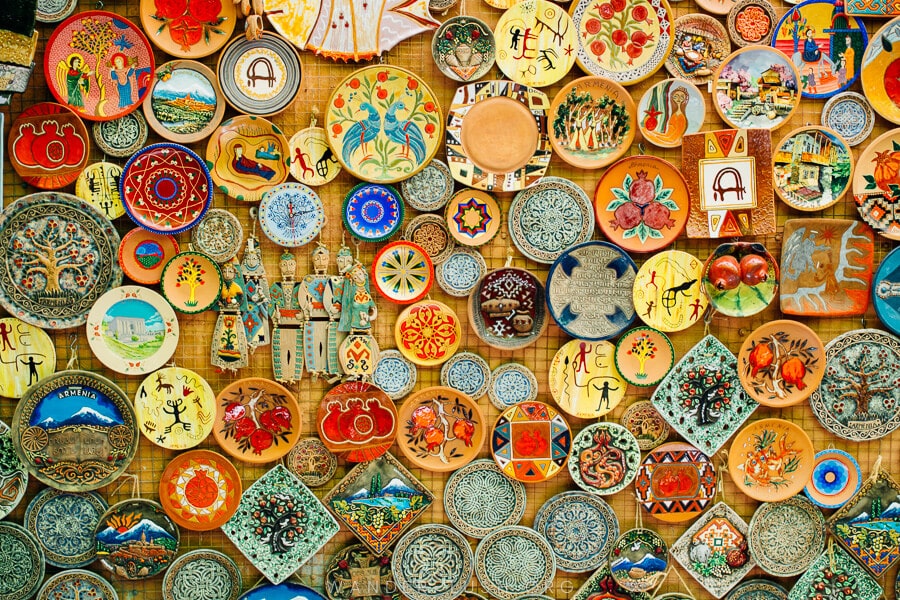 Abovyan Street, between Freedom and Republic Squares, is a souvenir shopping paradise. The biggest range (and the coolest shop fit out) belongs to Dalan.
Dalan's curved brick cellar shop is literally packed to the rafters with stuff. Leather shoes, ornaments and nativity sets, books, mini khatchkars, soft accessories, kids toys, silver jewellery – the list goes on.
Out back, there's a cafe with an open-air pottery display. Upstairs, there's an art gallery where you can find larger wooden pieces, paintings and prints.
Not everything is handmade or locally produced. If it's important to you, check with staff before you buy.
---
Salt Sack
3/1 Abovyan St | 10am–10pm weekdays (closed Saturdays & Sundays)
Salt Sack's range is more curated than Dalan's, but there's still a lot of variety. The first time we visited Yerevan we bought a lovely set of miniature kilim rugs from this shop that we will eventually hang on our wall!
Carpets, textiles and fabric goods are sold alongside the usual range of knickknacks. Standouts include Martirosyan Art Deco cushions, printed in Armenia with heirloom photos, and postcards by 4Plus, a group of Armenian documentary photographers whose projects empower women in Artsakh and beyond.
For something fun, Arvest is a memory game that teaches young kids about Armenian artists. Salt sack also stocks Ancient Herbals tea and a small range of Nairian beauty products (more on Nairian later).
---
Tade Masters' Selection
8 Moskovyan St | 10am–11pm daily
This shop is located outside of the centre and stocks a good range of silver jewellery. I also really like their range of thick canvas and leather bags embossed with traditional Armenian emblems. You can also find Mariam Kharazyan's designer dolls here.
---
Shopping for Armenian carpets
Where to shop for new and antique Armenian carpets, kilims and soumaks.
Top choice: Megerian Carpet
9 Madoyan St | 9am–6pm weekdays + 11am–4pm Saturdays (closed Sundays)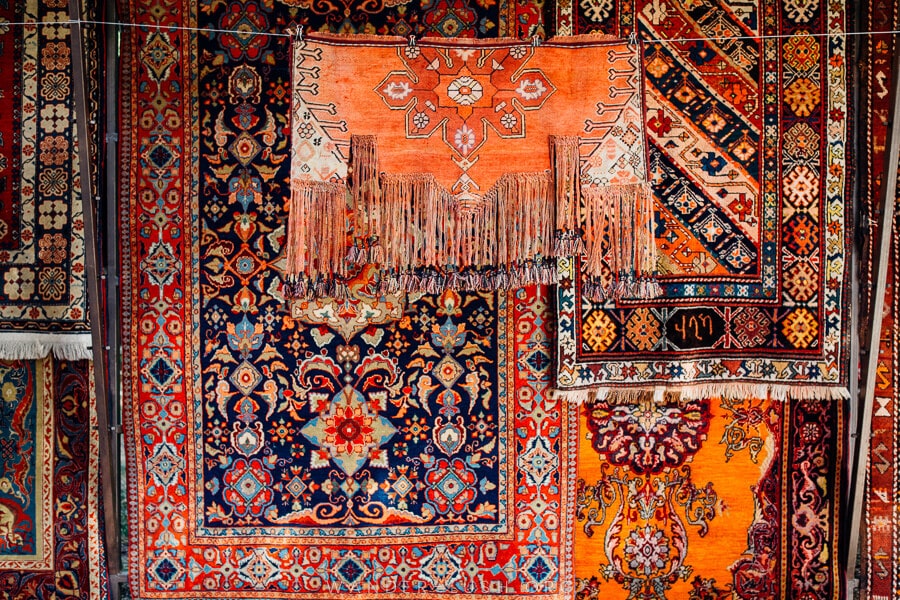 The Megerian family name is synonymous with Armenian carpets. Their first store was founded in 1917 in Manhattan. Since then, the Megerians have expanded the production of new carpets to workshops in Egypt, Afghanistan, Pakistan and beyond.
But it's heirloom Armenian designs that the Megerians are best known for. And they really know their stuff. Their gallery space in southern Yerevan doubles as a shop, where you can buy hand-knotted antique reproductions.
A lot of Megerian designs are copyrighted, so you can be sure you're taking home a truly original piece.
---
Tufenkian Artisan Carpets
48 Hanrapetutyan St (inside the Tufenkian Hotel) | 9am–9pm daily
Tufenkian produces new carpets according to traditional techniques. Everything is handmade from Australian and Kiwi wool and is made to last. Inspired by Armenian, Tibetan and Kazakh traditions, designs fuse heritage patterns with modern aesthetics.
There are more than 500 designs to choose from – or you can have a custom rug made and shipped to you later.
Tufenkian also has showrooms and dealers in the US and in Hamburg.
---
Postoyan Carpets
3/1 Abovyan St (upstairs) | 10.30am–7.30pm daily
This family run carpet shop is very accessible, with friendly staff and a few small rooms you can browse at your leisure. Postoyan has a good range of large and small kilims but specialises in soumaks (flat weave carpets).
---
Antique Carpets
32 Tumanyan St | 12pm–11.30pm daily
This tiny shop is packed with antique Turkish, Iranian and Afghan carpets. There is also a good selection of Armenian and Caucasian rugs.
Like at Postoyan, staff are extremely knowledgeable about the region's different schools of weaving. Antique Carpets is also known for selling rugs at reasonable prices.
Love carpets and textiles? Check out my textile lover's guide to the Caucasus.
Edible Armenian souvenirs
We can't take food back to Australia, but we always pick up a few things in Yerevan for our friends in Tbilisi. If you are able to take food and alcohol home, here's where to find delicious, local Armenian products.
Top choice: Nrneni Gourmet House
21 Pushkin St | 9.30am–11pm daily
This gourmet delicatessen is a veritable food emporium. Artisanal products on offer at Nrneni House include cheese, nougat, fruits and nuts, and pomegranate wine. There's also wine from Areni and the full range of Ararat brandy.
Mijnaberd apricot and mulberry liqueurs, made from fruit grown in Ararat Valley, Agroyans preservative-free compote (the wild pear is delicious), and Wild Hive Certified Organic honey from Sisian in its sweet wooden packaging are all excellent Yerevan souvenirs.
---
Top choice: In Vino EVN
6 Saryan St | 11am–midnight daily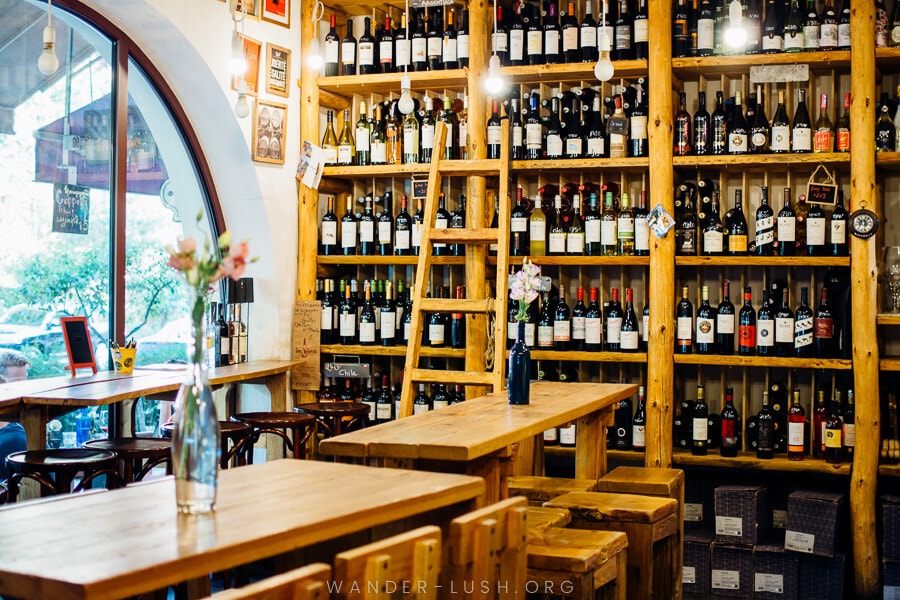 Armenian wine is gaining a reputation internationally. What better souvenir to take home than a bottle or two of the country's finest drop?
In Vino was the first wine bar to open in Yerevan, and it remains one of the city's top haunts. The on-site bottle shop stocks a range of Armenian wines plus a huge variety of international labels – more than 850 in total.
While you're there, grab a table on the sidewalk outside to sip before you buy. Whatever you order, pair it with one of In Vino's famous baguette sandwiches, which are sold by the centimetre.
Read next: Where to buy Georgian wine in Tbilisi.
---
Top choice: Gourmet Dourme
19 Abovyan St | 10am–10pm daily
Armenia's first artisanal chocolate brand was founded by two Armenian 're-pats' back in 2007. Bars, truffles and pick-and-mix-style single pieces are all made in Ashtarak, Armenia, often using local ingredients. The pistachio, rose petal and apricot truffles are all delicious. The chocolate itself is high-quality and really tasty.
Gourmet Dourmé provides customers with insulated bags so you can carry your chocolates home without them melting. They also have shops at the airport, inside Dolma Garden Mall and at Yerevan Mall.
---
The GUM Market
35 Khorenatsi St | 11am–5pm daily
Yerevan's bustling local marketplace is where the locals go to shop. Some vendors at the GUM Market sell non-perishables such as preserved fruit, nuts, tea and spices that are suitable to carry home.
You won't find anything too out of the ordinary here, but buying directly from a local vendor is a memorable experience. While you're there, be sure to check out the lavash section, where you can see women preparing massive sheets of Armenian's signature bread.
---
Pnduk
24 Mashtots Ave | 9.30am–9.30pm daily
Pnduk is a small shop with a great range of herbal tea, nuts, seeds, dried and candied fruits that you can buy by the 100 gram. Packets are vacu-sealed for easy transportation.
---
Proshyan Brandy Shop
18 Mashtots Ave | 10am–midnight daily
Founded in 1887, Proshyan makes some of Armenia's finest spirits. Their liquor store carries Proshyan-label brandy and cognac (including bottles of the famous 'Armenian Alphabet' cognac), all beautifully displayed in a heritage fit-out.
---
Armenian beauty products
For a unique souvenir, these beauty products are made locally in Armenia.
Top choice: Nairian
34 Tumanyan St (flagship store) | 11am–10pm daily
I have to thank my friends Megan and Aram for introducing me to this sustainable and socially responsible cosmetics brand. Nairian beauty products are made locally using USDA Certified Organic ingredients, including herbs and plants with aromatherapy benefits.
Shop natural salves for skin, nails and hair, and travel-friendly products such as solid shampoo bars. Everything is beautifully packaged and smells good enough to eat.
If you're interested in the process behind the label, you can organise to visit Nairian's production facility in Aragyugh, between Yerevan and Sevan. More than 70 percent of ingredients used in Nairian products are hand-picked within a 100 km radius of the village.
Nairian has two retail stores in central Yerevan (the bigger one is on Tumanyan Street), plus a small range of products available at HDIF. You can also shop special edition Nairian products at The Green Bean cafe – the Mocha, Cappuccino and Espresso soaps are made with organic coffee beans!
---
Shopping in Yerevan for books & music
Here's where to find Armenian literature, newly published books by local authors, folk and contemporary music.
Top choice: LUYS Bookstore
45 Mashtots Ave | 9am–6pm Monday to Saturday (closed Sundays)
One of the oldest bookshops in Yerevan (and certainly the most beautiful in the city), LUYS is worth a visit just to peek at the heritage interior. The shop first opened in 1940 as a tobacconist and still features the same intricately painted ceiling, wall panels, and original wooden display cabinets.
Previously known as Books 1512, the name luys means 'light'. You'll find literature and novels in Armenian, English and Russian as well as paintings, postcards, paper goods, and other small souvenirs.
---
2nd Floor
1 Abovyan St | 11am–2am daily
This cool cafe-slash-shop stocks a range of vinyl, including records from retro and new Armenian bands, and indie labels like Pomegranate Music.
Note: 2nd Floor is temporarily closed.
---
Zangak Bookstore
7 Abovyan St | 10am–10pm daily
This chic minimalist bookstore, one of four shopfronts in Yerevan, belongs to Armenian publishing house, Zangak. Alongside local language tomes, Zangak carries a good range of English and Russian-language books about Armenia and on other topics.
Literary-related souvenirs are also available.
---
Armenian fashion & accessories
Feeling inspired by fashionable Yerevanians? Here's where you can shop local and independent Armenian fashion labels in Yerevan.
Top choice: 5concept
5 Sayat-Nova Ave | 11am–8pm daily
This beautiful warehouse-style space brings together some of Armenia's top indie fashion and accessories brands.
The women's garments here are all works of art – but rest assured 5concept focuses on ready-to-wear clothes that are as practical and comfortable as they are beautiful.
The name 5concept refers to the clutch of young designers who co-own the space: Petoor, Z.G.EST, Naghash Couture, Nelly Serobyan, and Loom Weaving, a label inspired by Armenian handmade embroidery. There's a good mix of contemporary and classic designs on offer, including some beautiful linen and silk summer dresses, from all five designers, plus others including Platon FF.
I love the Inchkachka brooches, decorated with iconic Armenian symbols designed by locals artists such as Siranush. Now you can pin a mini Noravank Monastery or Garni Temple to your lapel! Ooloong porcelain jewellery, handmade in Armenia by designer Lilit Gevorgyan, is minimalist and elegant, while NUSH vitreous enamel pendants reimagine Armenian ornaments in a colourful palette.
---
Top choice: Cocos Island
8 Saryan St | 11am–10pm daily
Cocos Island retail store is a joint project between Armenian labels Ruzane, Loom Weaving and Soncess. Alongside curated racks of women's wear, you'll find a good selection of accessories from many of the same designers represented at 5concept.
Artsocks depict painterly works by Armenian and modernist artists. These quirky designs remind me of AlterSocks, one of my favourite Georgian brands.
Matt Art Jewellery's kaleidoscopic jewellery designs are made from natural stones sourced from Lake Sevan. Savesa tote bags and graphic tees sport playful graphic designs inspired by the city of Yerevan.
---
Top choice: Ardean
2/5 Abovyan St | 10am–9pm daily
Ardean is a retail store, an art gallery and a social enterprise rolled into one. The brand started out as a venture of TUMO, a creative technology institute in Yerevan, and is now considered one of the country's premier accessories labels.
Silk scarves, wool shawls, poly-blend homewares, small silkscreen prints and large-scale artworks are all rendered in primary colours. There's no denying that Ardean's abstract prints are inspired by their designers' Armenian heritage. As staff told me, 'We try to incorporate all elements of Armenian culture'.
This includes portions of prayer text written in sinuous Armenian letters, motifs inspired by khatchkar stones and engravings from Armenia's most iconic churches, as well as patterns seen in traditional lacemaking, illuminated manuscripts, and the symbols woven into Armenian carpets
Ardean also has a store in Los Angeles and ships internationally. A design studio, located on same street, is open to visitors on weekdays.
---
TUMO Studios
38 Pushkin St | 11am–8pm (closed Sundays)
One of Yerevan's coolest design initiatives, TUMO Studios is working to raise a new generation of Armenian artisans. The Centre runs a free educational program for university-aged students and young professionals with a passion for craftsmanship, connecting them with international designers who help them to develop their vision.
Products sold at the TUMO shop, including fashion, jewellery, embroidery and homewares, were all born out of this initiative.
---
Urbanista
28 Moskovyan St | 12pm–9pm daily
Many independent designers have their own shopfronts in Yerevan. These are fun to visit when you're shopping in Yerevan because you can often meet the individual behind the label while you browse the racks.
My favourite is Urbanista. Founded in 2018 by Darya Ter-Avetikyants and Amaliya Melkonyan, two designers with a background in architecture, Urbanista's tailored women's wear is bold and unique.
---
Yerevan shopping map
Heading to Georgia next? Check out my Tbilisi gift guide.
Tips for shopping in Yerevan
Before you hit the ground, here are a few tips for shopping in Yerevan.
Reserve bargaining or haggling for markets. Most gift stores have set prices (displayed in Armenian Dram and sometimes also in Euros) marked clearly on all items. This goes for the Vernissage as well. Edible souvenirs, such as candied fruits and nuts, are typically sold by the 100-grams or kilo.
Gift shops in Yerevan accept payment in the local currency, Armenian Dram. Carry cash for the markets but note that 90% of stores also accept credit and debit cards.
Most if not all gift shops will be more than happy to package fragile items for you. It's a good idea to carry a tote bag with you to avoid single-use plastic bags, which are still widely used in Yerevan.
If you plan on buying a few bottles of Armenian wine, these leak-proof bottle protector sleeves are specially designed for air travel. These reusable silicone food bags are great for carrying edible souvenirs, including spices and honey.
Seek out fair trade and locally made souvenirs over mass-produced or imported items whenever possible (this list should help with that!). There are plenty of social enterprises and small businesses in Yerevan that work with artisans to produce souvenirs and are more than worthy of your support.
Unlike in neighbouring countries, there are no laws around transporting antique carpets out of Armenia. This means that international tourists are free to buy and take home antique rugs without a certificate.
---
Where to stay in Yerevan
Browse more Yerevan accommodations here on Booking.com.
---
Shopping for Armenian souvenirs online
Can't make it to Yerevan in person? Here are a few online stores with international shipping.
---
What are your favourite Armenian souvenirs? Where do you like to shop in Yerevan? Please leave your recommendations in the comments below!
---
Armenia Travel Guide
Discover insider tips, itinerary inspiration, and all the best things to see, do and experience in Armenia!
Armenia Essentials
My favourite resources and tools for planning a trip to Armenia.
More from Armenia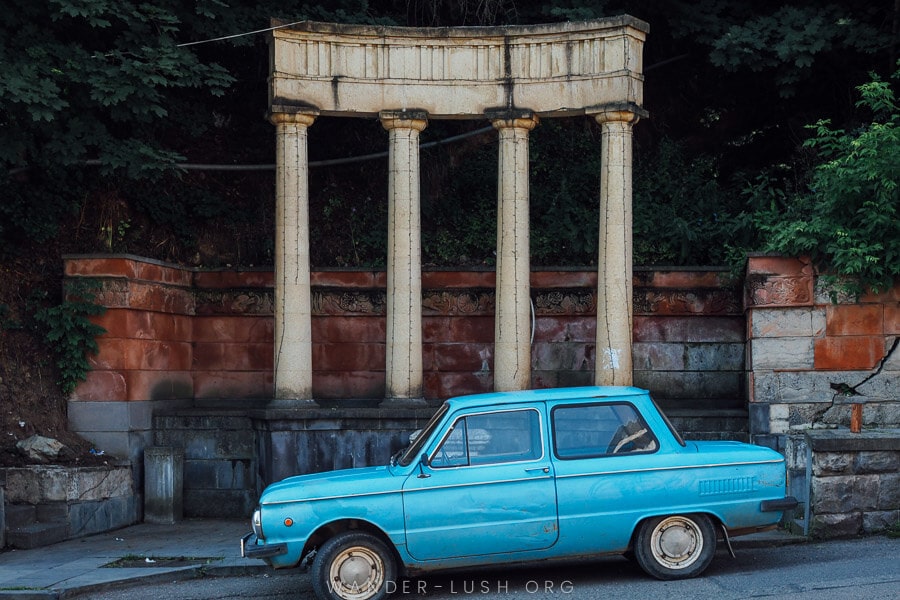 Armenia Travel Guide
Discover insider tips, itinerary inspiration, and all the best things to see, do and experience in Armenia!
Armenia Essentials
My favourite resources and tools for planning a trip to Armenia.
More from Armenia