In October 2023, Azerbaijan was granted its fourth UNESCO World Heritage Site, bringing the total number of properties in the South Caucasus (Georgia, Armenia and Azerbaijan) to 11.
Anyone who is planning to travel through the Caucasus will have at least a couple of these cultural monuments and nature reserves on their radar. If you're a list-finisher like me, it's possible to visit all 11 in one go (I have been lucky enough to experience every UNESCO Site in the region).
In this short guide to UNESCO Sites in the Caucasus, I will provide a bit of background information and share what makes each one special, plus offer my practical tips for planning a visit.
---
Please note: This post contains affiliate links, meaning I may earn a commission if you make a purchase by clicking a link (at no extra cost to you). Learn more.
---
UNESCO World Heritage Sites in Georgia
With four World Heritage Sites (three Cultural and one Natural), Georgia ties with Azerbaijan for the highest number of UNESCO-protected properties in the region.
Georgia is home to the oldest UNESCO Site, and it has the most Tentative sites (14 in total), plus four elements of Intangible Cultural Heritage.
Colchic Forests & Wetlands (2021)
Georgia's newest UNESCO Site (and the first site in the Natural category for the entire region, not counting the Hyrcanian Forests) was inscribed in July 2021. The Colchic Forests and Wetlands is made up of seven areas along the Black Sea Coast, including four protected areas and national parks: Kolkheti, Mtirala, Kobuleti and Kintrishi.
These landscapes share a common topography of Ancient broadleaf Colchic rainforests, wetlands and mire bogs. This site is important because of the density of rare endemic flora and fauna: More than 1,100 species of plant (including 44 threatened species) and 19 threatened animal species, including the endangered Colchic Sturgeon, dwell here.
Additionally, a huge number of migratory birds visit this lush patch every year, making it one of the most important habitats for nesting birds (along with the Javakheti Protected Areas).
How to visit the Colchic Forests & Wetlands
The Colchic Corridor runs along Georgia's Black Sea Coast through Adjara, Guria and Samegrelo regions. The city of Batumi is a great base for exploring the area on day trips or overnight camping excursions.
Mtirala National Park (30km from Batumi) and Kintrishi Nature Reserve (60km from Batumi) both have marked hiking trails and camping grounds; Kolkheti National Park (70km from Batumi) can be explored by taking a boat out on Paliastomi Lake from Poti; and Kobuleti Nature Reserve (35km from Batumi) is a pancake-flat landscape with boardwalks that is easily accessible from Kobuleti city.
Machakhela National Park (25km from Batumi) is another great option for hiking, swimming and local history.
In addition to lakes, waterfalls and marshes, you can also find beautiful arched stone 'Tamara' bridges, secluded cabins and old mosques in this part of the country.
→ Relevant reading: Guide to visiting Kolkheti National Park.
→ Relevant reading: The best day trips from Batumi.
Upper Svaneti (1996)
Upper Svaneti is probably Georgia's most iconic UNESCO Site. That's because it's also one of the most unique places in the country, recognised for its stone tower houses that stand tall and proud in verdant valleys against a backdrop of the Greater Caucasus mountains.
There are more than 200 of these towers in the village of Chazhashi alone. Built by the Svans, the ethnic group that has traditionally inhabited this part of Georgia for generations, the structures have up to five floors and were once used as fortified family dwellings.
Towers stud the landscape all around Upper Svaneti, but the best place to see them is in Ushguli, where you can get a sweeping view of Chazhashi and walk amongst more towers in the upper villages.
How to visit Upper Svaneti
Base yourself in Mestia, the biggest town in Svaneti, which is reached by road from Zugdidi. Side trips to Ushguli (1.5-2 hours by road) are easy to organise from here; simply find a 4WD and driver on the main square, or ask your guesthouse to organise a ride for you.
Historical Monuments of Mtskheta (1994)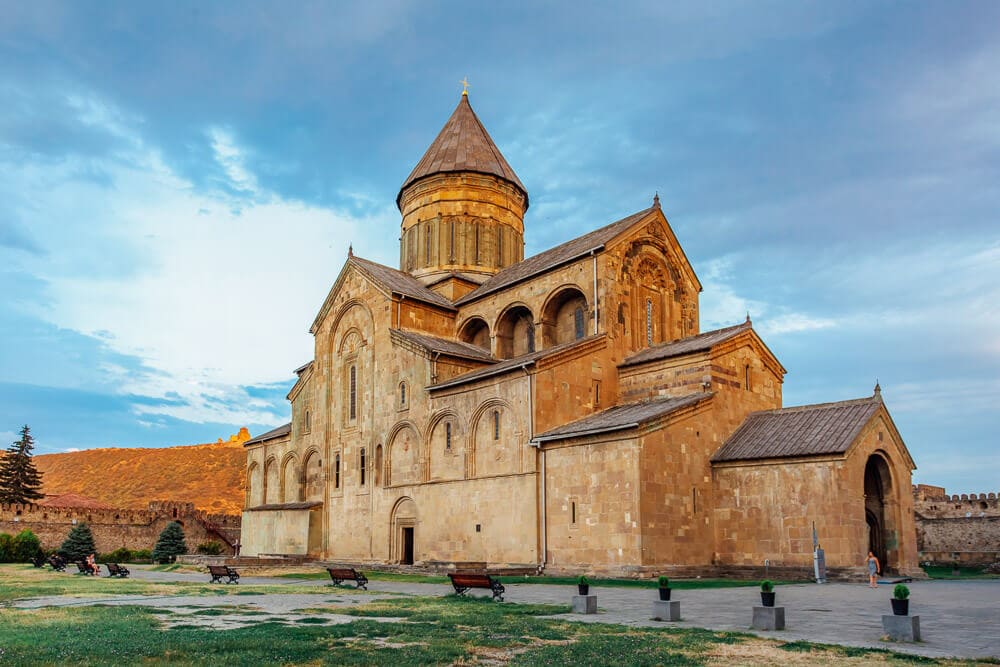 Inscribed in 1994, this is one the oldest UNESCO Sites in the Caucasus (a title shared with Gelati Monastery, also in Georgia and coming up later in the list).
The Historical Monuments of Mtskheta encompasses Jvari Monastery, Svetitskhoveli Cathedral and Samtavro Convent, all located in the ancient capital of Mtskheta, 20km north of Tbilisi.
In the 3rd century BC, when Georgia was still divided into kingdoms, Mtskheta served as the capital of Kartli. It held onto this title until the 5th century AD, when King Vakhtang Gorgasali located thermal waters in Abanotubani and with a little help from his falcon, moved the capital to Tbilisi. Mtskheta is the place where Christianity was first embraced as Georgia's state religion, and it remains the seat of the Orthodox Church to this day.
These three medieval monasteries house an infinite number of important relics, frescoes and burial sites between them, including the graves of Georgia's most important monarchs. The entire swathe of territory around Mtskheta is rich with chapels, caves, archaeological sites, palaces, fortresses and more, making it a history lover's paradise and my number one choice of day trip from Tbilisi for anyone who wants to immerse themselves in Georgian culture.
How to visit Mtskheta
Under an hour by road from Tbilisi, Mtskheta is easy to reach by marshrutka or taxi from Didube Station. However, I highly recommend visiting Mtskheta with a professional guide – there's so much to learn and absorb, and with the lack of signage, it makes all the difference if you have someone knowledgeable with you to illuminate the history.
→ Relevant reading: 10 things to do in Mtskheta plus my recommended day trip itinerary.
→ Book a day trip to Mtskheta with my preferred operator, Friendly.ge. Use the code wanderlush to get 10% off the price.
Gelati Monastery (1994)
Also added to the register in 1994, Gelati Monastery near Kutaisi is one of Georgia's most important landmarks. Not just in terms of religion, but also on the basis of culture: This was a bastion of learning and science during Georgia's 'Golden Age', led by King David the Builder (who reunified the country after the Battle of Didgori) and later, Queen Tamar.
From 1130 AD onwards, scholars and intellectuals from across Europe visited Gelati. This is where Plato's works were first translated into Georgian, and where many of the country's most precious religious texts and manuscripts were stored in a special scriptorium.
Walking the now-empty halls of the old academy today, you can almost smell the old parchment in the air. The monastery itself boasts stunning frescoes, icons and mosaics on the interior and a charming turquoise roof that stands proudly against the wooded canopy.
How to visit Gelati
Gelati is 10km north of Kutaisi and easy to get to with either a city bus or taxi. While you're there, also visit Motsameta Monastery. You can travel between the two by road or via a hiking path.
→ Relevant reading: The best things to do in Kutaisi, including Gelati Monastery.
Tentative World Heritage Sites in Georgia
There are a further 14 UNESCO Sites in the Tentative category that could make it onto the register in the years to come.
Tbilisi Historic District: Including the Abanotubani Sulfur Baths and the historic architecture in Old Tbilisi.
Alaverdi Cathedral & Gremi Church of Archangels: Two of the most important Orthodox churches in Kakheti region.
Ananuri: A fortress on the Georgian Military Highway, on the way to Kazbegi.
Vardzia: Georgia's iconic cave town.
David Gareja Cave Monastery: A hermitage on the border with Azerbaijan.
Uplistsikhe Cave Town: The oldest cave town in Georgia, near Gori.
Nikortsminda Cathedral: A handsome church in Racha region, with vivid frescoes and stone carvings.
Vani: An important archaeological site south of Kutaisi, with a new Archaeological Museum and the Vani Sulfur Pool, a natural thermal pool.
Dmanisi Hominid Archaeological Site: Another important archaeological site in southern Kvemo Kartli region, where some of the world's oldest evidence of hominid remains was discovered.
Kvetera Church: A fortified church with a turquoise dome near Akhmeta and Pankisi Valley.
Mta-Tusheti: The rugged and remote mountain region in northern Kakheti.
Shatili: A historic village in Upper Khevsureti, near the Chechen border.
Samtavisi Cathedral: Another beautiful church in Shida Kartli that dates back to 572 AD.
Georgia's Intangible Cultural Heritage
There are four Georgian traditions currently recognised by UNESCO for their value to global culture.
Chidaoba wrestling (2018): This ancient martial art is still practiced at many regional festivals and during special events.
Living culture of three writing systems of the Georgian alphabet (2016): Ancient inscriptions can be found at many monasteries and churches, including Ananuri. Many Georgian designers draw inspiration from the marvellous curves of the modern Georgian alphabet for jewellery, clothing and other souvenirs.
Ancient Georgian traditional Qvevri wine-making method (2013): The best way to observe and learn about the ancient technique of fermenting wine in clay Qvevri is on a wine tour in Kakheti.
Georgian polyphonic singing (2008): It's possible to attend performances in Svaneti or Guria, or else head to any church in Tbilisi on a Sunday morning to hear polyphonic chanting.
---
UNESCO World Heritage Sites in Armenia
There are three UNESCO World Heritage Sites in Armenia (all Cultural monuments), plus an additional four Tentative sites and six Intangible Cultural Heritage elements.
Monastery of Geghard and the Upper Azat Valley (2000)
A popular day trip from Yerevan, Geghard Monastery is another famous Armenian landmark, recognisable for both its monumental footprint and the fact that it's partially carved from a stone canyon.
UNESCO protected since 2000, this monastery is just one of a dozen religious sites in the Upper Azat Valley, where churches and tombs are hewn from rock in typical medieval Armenian style.
Many of the monuments, including Geghard, date back to the 4th century and the days of Saint Gregory the Illuminator. This was the point in time when Armenia became the first country in the world to adopt Christianity as its state religion.
Chapels lavish with inscriptions and frescoes, chambers hewn from rock with incredible acoustics, and monk's cells dotted along the cliff wall are among the things to see in this area. Much like Gelati in Georgia, Geghard doubled as a cultural and ecclesiastical centre in Armenia and once housed a library, school and manuscript workshop.
How to visit Geghard
Under an hour by road from Yerevan, Geghard is easy to visit on a half-day trip. Itineraries normally include the nearby Garni Temple as well.
On my last trip to Armenia, I took a day trip with Hyur Service, which also included a short lavash-making demonstration. I highly recommend this company and this itinerary in particular.
→ Book a day trip to Geghard and Garni with Hyur Service.
Cathedral and Churches of Echmiadzin and the Archaeological Site of Zvartnots (2000)
Echmiadzin and Zvartnots covers three historic areas west of Yerevan, centring on the 4th-century Mother See of Holy Etchmiadzin, which is believed to be the oldest cathedral in the world.
Also known as Vagharshapat, Etchmiadzin was settled in the Iron Age, as evidenced by archaeological finds from the surrounding area including at Zvartnots to the east, which also falls under this UNESCO Listing along with the 7th-century Saint Gayane Church.
This part of Armenia was critically important to the spread of Christianity and the evolution of cruciform architecture. Original frescoes inside Echmiadzin Cathedral set it apart from other Armenian churches, while the bas-reliefs at Zvartnots Cathedral are one-of-a-kind.
A snow-capped Mount Ararat framed by the elegant arches at Zvartnots is a classic scene and a must-see in Armenia.
How to visit Echmiadzin and Zvartnots
Both sites are less than 45 minutes by road from Yerevan, making this another ideal day trip option. City buses and taxis serve this route. If you prefer to go with a guide, I suggest this itinerary with Hyur Service that also includes a walk around historic Yerevan.
→ Book a day trip to Echmiadzin and Zvartnots with Hyur Service.
→ Find more things to do in Echmiadzin in this city guide from Absolute Armenia.
Monasteries of Haghpat and Sanahin (1996)
Inscribed in 1996, the country's first World Heritage Site encompasses two of the most beautiful monasteries in Armenia: Haghpat and Sanahin. Both are located in far-northern Lori province, close to the Georgian border, and are close enough to visit together on the one day.
The monasteries date to the 10th-13th centuries and represent the pinnacle of Armenian architecture, combining Byzantine design with vernacular flourishes. Both complexes are monumental, their grandeur emphasised by their locations amidst craggy rocks, dramatic plateaus, and the verdant Debed Canyon below.
Discover scriptoriums, bell towers, chapels and covered corridors, all bejewelled with opulent bas-reliefs and Khachkar cross stones. Sanahin and Haghpat are less-visited than the monasteries close to Yerevan, so if you arrive early, you can have the grounds all to yourself for a couple of hours. The austere silence only adds to the splendour.
How to visit Haghpat and Sanahin
I recommend spending a few nights in either Vanadzor (Armenia's third-largest city) or Alaverdi then hiring a car and driver from there. There are dozens more monasteries and churches around Debed Canyon, so it's well worth spending a couple of days in the area.
→ Relevant reading: My full guide to visiting Haghpat and Sanahin.
If your Armenia itinerary focuses on Yerevan, you can also visit the north on a long day trip from the capital. I recommend this itinerary offered by Hyur Service.
→ Book a day trip to Haghpat and Sanahin with Hyur Service.
It's also possible to visit Sanahin and Haghpat in a day from Georgia. Learn more about taking a day trip from Tbilisi to Armenia.
Tentative World Heritage Sites in Armenia
Four more monasteries and archaeological sites are represented under Armenia's quartet of Tentative Sites.
Tatev Monastery, Tatevi Anapat and the Vorotan Valley: An incredible complex in Southern Armenia. Tatev Monastery is famously reached via the Wings of Tatev cable car.
Noravank Monastery and Upper Amaghou Valley: Another of my favourite monasteries in Armenia, located in the centre of the country and easy to stop at on the way from Yerevan to Tatev.
The Basilica and Archaeological Site of Yererouk: Remains of a 4th-century basilica in Shirak province, close to the Turkish border and the ruins of Ani.
The Archaeological Site of the city of Dvin: An ancient settlement dated to 2 BC and destroyed by the Mongols in the 13th century. Located 30km south of Yerevan.
Armenia's Intangible Cultural Heritage
Cuisine, music, poetry and Armenia's unique script are all represented in the country's Intangible Cultural Heritage.
Armenian letter art and its cultural expressions (2019): Many contemporary designers use the shapes of the Armenian alphabet in their souvenirs and gifts.
Kochari (2017): This circle dance, traditional to the Armenian highlands, is still taught at dance schools across Armenia. It's performed at cultural centres and as part of special events.
Lavash (2014): See Armenia's national bread being prepared and sold at the GUM Market in Yerevan.
Performance of the Armenian epic of 'Daredevils of Sassoun' or 'David of Sassoun' (2012): This 2-hour lyrical poem is traditionally performed in select villages on the first Saturday of October (Epic Day).
Armenian cross-stones art (2010): You can find beautifully crafted Khachkars at every monastery and church, and scattered around the centre of Yerevan.
Duduk and its music (2008): This double-reed instrument made of apricot wood is often incorporated into traditional music performances and played at festivals.
---
UNESCO World Heritage Sites in Azerbaijan
Azerbaijan has four Cultural properties on the UNESCO World Heritage List. A fifth site, the Hyrcanian Forests (inscribed in 1990) is shared with Iran. In 2023, its borders were adjusted to include parts of the forest on Azerbaijani territory.
There are an additional 10 sites on the Tentative register, plus 19 Intangible Cultural Heritage elements, several of them shared between Azerbaijan and other countries in the region.
Cultural Landscape of Khinalig People and Koc Yolu Transhumance Route (2023)
Inscribed in 2023, this asset is unique among UNESCO sites in the region. The Cultural Landscape of Khinalig People and Köç Yolu Transhumance Route covers not only the geographic area of Khinalig (AKA Khinaliq) village, it also includes the cultural tradition of transhumance and its physical route.
The semi-nomadic Khinalig people live according to the rhythms of the seasons, moving between summer and winter pastures like clockwork. Every spring, herders relocate their flocks from the winter yaylaqs to the summer yaylaqs high in the mountains. Their wives and children follow later.
This practice involves a 200-kilometre journey by foot and horseback. Known as Köç Yolu or 'migration route', it is a well-worn path. UNESCO recognises this trail and its buffer zone, which contain dozens of important cemeteries and sites of worship, plus infrastructure to support travellers.
I was lucky enough to travel this ancient trail in early 2023, accompanied by one of the people who lodged Khinaliq's UNESCO application. It was a fascinating journey, and the alpine village – one of the highest in the Caucasus – is an absolutely breathtaking culmination.
There are other transhumance routes in the Caucasus that are similar, including the perilous journey Tush shepherds take twice a year to and from Tusheti in Georgia, but Khinalig is the first of its kind in the region to be recognised by UNESCO.
How to visit Khinaliq
Khinaliq is located in the high mountains close to Dagestan. The drive from Baku takes a minimum of four hours, passing through Quba along the way.
If you have limited time, day trips to Khinaliq from Baku such as this one will give you a glimpse of this fascinating part of the world.
If your itinerary allows for it, I recommend staying at least one night in Khinaliq in order to experience the culture on a deeper level and do some hiking. The village is very small with a few traditional guesthouses that also act as informal restaurants.
Even though some families stay in the village through the winter, it is best to visit Khinaliq between late spring and early autumn.
Gobustan Rock Art Cultural Landscape (2007)
From one wild landscape to another – this time not in the high mountains of the north, but in the low, dry plains along the coast. Not to be confused with the town of the same name west of Baku, this area is south of the city along the Caspian Coast.
A UNESCO World Heritage Site since 2007, Gobustan boasts more than 6,000 prehistoric petroglyphs or rock art engravings depicting animals, flora, hunting scenes and other vignettes from daily life.
Visitors are first walked through an onsite museum that chronicles the area's history before setting out to explore the landscape of caves and engravings with a guide. There are petroglyphs spread all over this area but the best-preserved are enclosed within the park, clearly marked and linked together by walking tracks.
Just beyond the Cultural Landscape, Gobustan's mud volcanoes billow and belch with ice-cold mud. Both can easily be visited as part of a guided day tour from Baku.
How to visit Gobustan
Gobustan is just over an hour by road from the capital. I recommend joining a guided tour that combines the Gobustan Rock Art Cultural Landscape and the mud volcanoes.
→ Relevant reading: My guide to the perfect Gobustan day trip from Baku.
Walled City of Baku with the Shirvanshah's Palace and Maiden Tower (2000)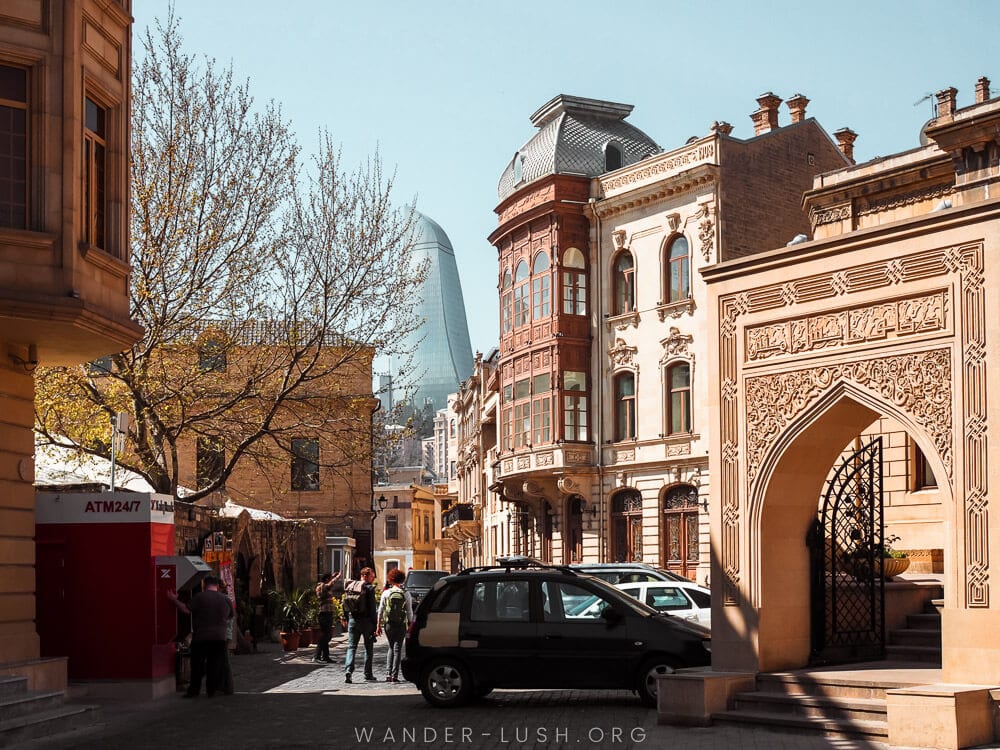 The Azerbaijani capital of Baku is a city of serious contrasts. Around one corner you'll find modern architectural marvels such as the Heydar Aliyev Center and the Flame Towers; around the next, the ruins of ancient hammams and fire temples.
Icherisheher, Baku's inner walled city, is the historic core and has been recognised as a UNESCO World Heritage Site since 2000. It contains dozens of significant monuments, including the Palace of The Shirvanshahs, at least four mosques, and the 12th-century Maiden Tower. Originally constructed as a Zoroastrian site, the tower now houses a museum. Beautiful views can be found from the top.
Sturdy defensive walls erected in the 12th century shore-up the Icherisheher. Just beyond, the vast Bulvar park and the glossy Caspian Sea are a perfect contrast to the tightly knotted streets of the Old City.
How to visit Baku Walled City
Old Baku is the spiritual and cultural centre of the city and should be your first stop when you arrive. Most walking tours include the Icherisheher, but I prefer to wander this area at a slow pace in the early morning, watching the carpet vendors unfurl their offerings and the bakers pull their first sheets of baklava out of the oven. All landmarks including the Maiden Tower can be visited independently.
→ Relevant reading: Things to see and do in Baku's Old City.
Historic Centre of Sheki with the Khan's Palace (2019)
UNESCO-protected since 2019 following a long restoration process, the Summer Khan's Palace is the jewel in the crown of Sheki, a small city that will forever be one of my favourite places in the Caucasus.
Built in 1797 as a royal residence for the ruling Khanate, the palace is one of the finest pieces of architecture in the region. From the multi-coloured facade with its mirror inlays; to the Shebeki stained glass, made using a special nail-free technique developed in Sheki; through to the stunning miniature paintings that dress every interior surface from cornice to floor, this place is pure perfection.
Sheki's charms extend beyond the palace grounds to the rest of the city, where cobbled streets lead you between mosques and caravanserais, chai houses and a second, smaller Winter Palace.
Sheki was located on the Old Silk Road and has a rich history as a result, with a stone caravanserai that's been retrofitted as a hotel, a Soviet-era silk factory, Ottoman-style bathhouses, opulent merchant houses, and lots of other landmarks that speak to the area's diverse history.
How to visit Sheki
Sheki is located 330km north-west of Baku on the way to the Georgian border. Marshrutka vans, overnight trains and taxis all serve the route, with an average travel time by road of 4-6 hours. See this transport guide for more information on getting to Sheki from Baku.
If you're travelling between Azerbaijan and Georgia overland, Sheki is an ideal place to pause for a couple of nights.
→ Relevant reading: My complete guide to Sheki.
Tentative World Heritage Sites in Azerbaijan
There are 10 Tentative UNESCO World Heritage Sites in Azerbaijan, including several in Nakhchivan Autonomous Republic and Nagorno-Karabakh (Artsakh).
Surakhani Atashgyakh: A Zoroastrian temple and museum just east of Baku on the Absheron Peninsula.
Hirkan Forests: A 'green arc' that stretches from the Talish Mountains to Golestan in Iran (extended to incorporate Azerbaijani territory in 2023).
The Mausoleum of Nakhichevan: Or Momine Khatun Mausoleum, the main landmark in Nakhichevan enclave.
Ordubad Historical and Architectural Reserve: The second-largest town in Nakhchivan Autonomous Republic.
Susha Historical and Architectural Reserve: The former centre of the Karabakh Khanate, located in the disputed region of Nagorno-Karabakh (Artsakh).
Binegadi 4th Period Fauna and Flora Deposit: An area of lakes and mud volcanoes on Baku's northern periphery.
Lok-Batan Mud Cone: An ever-erupting mud cone on the coast south of Baku.
Baku Stage Mountain: A coastal mountain with panoramic views south of Baku.
The Caspian Shore Defensive Constructions: A network of defensive obstacles, town strongholds and towers built in the 400s to shield Azerbaijan's maritime border.
Azerbaijan's Intangible Cultural Heritage
Several of these elements are recognised by UNESCO to be common between Azerbaijan and other countries in the region.
Culture of cay (2022): Azerbaijan's sacred tea traditions.
Sericulture and traditional production of silk for weaving (2022): A legacy of Azerbaijan's Silk Road history, visible in places such as Sheki.
Pehlevanliq culture (2022): Traditional sports and wrestling.
Telling tradition of Nasreddin Hodja/ Molla Nesreddin/ Molla Ependi/ Apendi/ Afendi Kozhanasyr Anecdotes (2022): A heritage of philosophic oral and written traditions shared between Turkic nations.
Art of miniature (2020): On display at the palaces in Sheki, this tradition is shared with Iran, Turkey and Uzbekistan.
Nar Bayrami (2020): Azerbaijan's pomegranate festival takes place every October/November in Goychay.
Yalli (Kochari, Tenzere) (2018): Group dances of Nakhchivan.
Heritage of Dede Qorqud (2018): A tradition of folktales and music shared between Azerbaijan, Kazakhstan and Turkey.
Art of crafting and playing with Kamancha (2017): Another musical tradition, shared with Iran.
Dolma making (2017): This dish of stuffed grape leaves can be found on menus everywhere.
Flatbread making (2016): Shared between Azerbaijan, Iran, Kazakhstan, Kyrgyzstan and Turkey.
Nowruz (2016): This festival marks the Spring Equinox and is also observed in Iran, Turkey, and throughout Central Asia and the Middle East.
Copper craftsmanship of Lahij (2015): A mountain town known for its craft workshops.
Traditional art and symbolism of Kelaghayi (2014): These beautiful silk head scarves printed with buta emblems are produced in Sheki and elsewhere.
Chovqan (2013): A traditional horse riding game.
Craftsmanship and performance art of the Tar (2012): You can find these stringed instruments for sale in Baku.
Traditional art of Azerbaijani carpet weaving (2010): Azerbaijan's most revered art form. Carpet workshops can be found around the country, including in Quba.
Art of Azerbaijani Ashiq (2009): This expression of poetry, storytelling and dance often features at weddings and parties.
Azerbaijani Mugham (2008): A traditional form of music, often performed at regional festivals.
---
How many of these UNESCO Sites in the Caucasus have you visited? Have you been lucky enough to experience any of the musical, craft or food traditions on the region's list of Intangible Cultural Heritage elements?
---