'Is it worth doing an Armenia day trip from Tbilisi?' This is a question I get asked all the time.
Many visitors to the South Caucasus will dedicate time to all three countries, Georgia, Armenia and Azerbaijan. But for those who are on a tight schedule, popping into Armenia for a few hours to get another stamp in your passport is tempting, especially since the border is under two hours by road from Tbilisi.
Having previously visited from inside the country, I know just how special the northern part of Armenia is. But I also know it's a long way to travel in just one day.
When I was recently given the opportunity to join a day trip to Armenia, I thought I should revisit this part of the country 'from the other side' and find out for myself whether or not it's worth the time and expense.
A big thank-you to Gamarjoba Georgia Tours for hosting me on their 'One Day Trip to Armenia from Tbilisi'. As always, all opinions, recommendations and criticisms are 100% my own.
---
Please note: This post contains affiliate links, meaning I may earn a commission if you make a purchase by clicking a link (at no extra cost to you). Learn more.
---
What can you see on an Armenia day trip from Tbilisi?
The Armenian border (Bagratashen-Sadakhlo checkpoint) is around 1.5 hours' drive south of Tbilisi. Taking distances and road conditions into account, a single day only gives you enough time to see the far-northern part of Armenia, the Lori region and Debed river canyon.
I've travelled around most of Armenia and consider this to be one of the country's most magical landscapes. It's certainly enough of a visual contrast to make you feel like you've left Georgia and entered into a different country.
And with the number of Ladas on the road and the old Soviet infrastructure sprinkled around, perhaps even a different era!
This area is a combination of badlands-like rock formations, craggy hills and flat plateaus punctuated with the ruins of old copper smelting factories, small working mines, tiny villages – and of course some stunning Armenian churches.
Yes, monasteries are definitely the focus of this day trip. If you're not interested in history or religion, you might want to consider one of the many alternatives available from Tbilisi.
There is a trio of Armenian monastic complexes close to the Georgian border: The twin UNESCO World Heritage Listed monasteries of Haghpat and Sanahin, and Akhtala Monastery further north. While not as popular as the other UNESCO monasteries near Yerevan (Geghard, for example), all three are very important sacred sites.
Additional stops at the Mikoyan Brothers Museum, Sanahin Bridge, Alaverdi town and at a traditional Armenian restaurant for lunch break-up the itinerary so you don't get monastery fatigue.
→ Check prices & availability for the same tour I did: One Day Tour to Armenia from Tbilisi.
---
Important things to consider before you book
Driving time: The first thing to know is that this day trip does involve quite a lot of driving. The roads in this part of Armenia are a bit rough (not much has changed since my last visit in 2019) with plenty of potholes, which makes it slow going at some points. After the 1.5 hour drive to the border, it takes around 45 km or 60 minutes to reach the farthest monastery. Therefore you're looking at a total of 4-5 hours in the car. (This actually isn't too bad when you consider other popular day trips such as Kazbegi involve 6 hours of driving at a minimum.) Personally I found the distance quite comfortable – especially when you have a guide who will keep you occupied talking on the way down and let you rest on the way back!
Visas & immigration: Any day trip that involves crossing an international border requires some pre-planning. Whichever tour agency you go with, they will give you all the required information – but at the end of the day, it's your responsibility to make sure you have your documents in order. Many nationalities still require a tourist visa for Armenia (Armenia does not consider residency when granting visa-free entry, only nationality). There is no visa on arrival at present, so you have to apply for an e-visa in advance. Be sure to familiarise yourself with special COVID-19 requirements, listed here on the MFA websites for Armenia and Georgia.
Border crossing process: Bagratashen-Sadakhlo is the most popular and busiest border control point between Georgia and Armenia. The immigration process is quite straightforward and your guide will chaperone you through. When you arrive at the border, you'll disembark the car and exit Georgia by foot. You then get back in the car and drive across the river to the Armenian checkpoint, where you again cross by foot (this time you have to take your luggage with you). The driver will clear customs with the car then pick you up on the other side, ready to drive into Armenia.
Currency exchange: Armenia uses a different currency to Georgia – dram (AMD). The monasteries are free to visit but since most tours don't include lunch, you'll need a small amount of cash. You should budget around 3000 AMD for lunch plus a few thousand extra dram for any souvenirs. I suggest exchanging 30-50 GEL (I couldn't see a meaningful difference between exchanging lari, Euro and USD when I travelled). After the border crossing, the tour stops at a supermarket/currency exchange desk where you can buy dram.
Mobile & internet: Remember your Georgian sim card won't work in Armenia unless you activate roaming before you leave. This is very easy to do on Magti: just open up the app and purchase a roaming package (I used the 25 MB option for 5 GEL when I travelled), then turn roaming on when you enter Armenia. If you don't have a sim or you don't want to bother with roaming, there is WIFI available at the restaurant where you stop for lunch.
---
My Armenia day trip experience with Gamarjoba Georgia Tours
→ Check prices & availability for this tour: One Day Tour to Armenia from Tbilisi.
Because of the border crossing procedures and the logistics involved with visiting another county, you really want to do this day trip with a well-organised company. I was very impressed with Gamarjoba Georgia Tours – from the moment my reservation was locked in I was in contact with one of their office staff, Lana, via Whatsapp.
The day before the tour Lana sent me a detailed PDF with a break-down of our schedule for the day. Without going into too much detail, Gamarjoba has a number of systems in place to make sure every tour runs smoothly and that every customer is satisfied. Lana was in touch a few times during the tour to get my feedback and ask if I needed anything. In case you don't feel comfortable talking directly to your guide, there is always someone else you can communicate with.
My guide for Armenia was Tamuna. Most Gamarjoba guides are young students or recent graduates who have a background in international relations, politics or law. I've attended one of their training sessions and know how much work they put into cultivating a professional, friendly work culture. Tamuna definitely typifies this: She gave us information and answered questions consistently throughout the day, never sitting back and leaving us to our own devices (and the only time she used her phone was to take photos for the group, which Lana sent us at the end of the day).
Tamuna gave us an in-depth explanation at all the stops and shared some really terrific information beyond just the Wikipedia script. She also got us behind the scenes access to some 'secret' places, including the library at Sanahin Monastery, where the oldest surviving book in Armenian language was found. After showing us the library, the monastery caretaker made a point of thanking Tamuna for explaining things to our group in such detail – most other guides, she said, ask her to unlock the door then just walk through without saying a word.
The itinerary allows for about an hour at each monastery. This might sound like a lot of time but the complexes are so big, you really do need every minute. At each stop we had about 20 minutes of free time at the end to walk around, soak up the details and take more photos.
As well as the three monasteries, we also stopped at the Mikoyan Brothers Museum to see the MiG plane, at Sanahin bridge, and for views of the copper factory and Alaverdi town. We ate lunch together with Tamuna and our driver, Zaza, at a local restaurant. Lunch is not included but prices at the restaurant they have chosen are very fair – and the food is super tasty.
As you might already know, road safety is one of my biggest priorities in Georgia. Unfortunately not all tour companies have the best track record when it comes to safe driving. As a larger company, Gamarjoba Georgia has a fleet of new vehicles and a team of professional, trained drivers who are held to high standards. Normally the Armenia day trip is done with a minivan or car depending on the group size. We had a larger group, so we travelled by minibus.
---
Final words: Is it worth it to do a day trip from Tbilisi to Armenia?
Yes, as long as you do it right. And as long as you come in with realistic expectations.
As I mentioned earlier, the landscape is quite a contrast and there are plenty of little things you'll notice in Armenia that set it apart from its neighbour.
But I'll be honest here: I think it's impossible to get a good feel for Armenia in such a short period of time, covering such a small part of the country. It's also important to remember that Lori and the border regions have been part of both Armenia and Georgia at various points, so there is naturally a lot of overlap in the history and style of architecture.
That's not necessarily a con – it can be something to embrace.
I think a day trip to Armenia from Tbilisi is a great opportunity to learn about Georgia's and Armenia's shared history, and to observe the differences between the two nations' Orthodox and Apostolic traditions. Given how important a role religion plays in culture and society in this part of the world, it's a great segue into broader discussions about the region's history and politics.
For this reason having a knowledgeable, open, attentive guide makes all the difference. Fascinating as the monasteries and surrounding landscapes are, you really want someone who will expand the conversation beyond just what you see in front of you. If you travel with Tamuna or another Gamarjoba guide, I think you'll be in very good hands.
Check prices and availability for Gamarjoba Georgia's Full Day Trip to Armenia here on Viator or here on Get Your Guide.
Armenia Travel Guide
Discover insider tips, itinerary inspiration, and all the best things to see, do and experience in Armenia!
Armenia Essentials
My favourite resources and tools for planning a trip to Armenia.
More from Armenia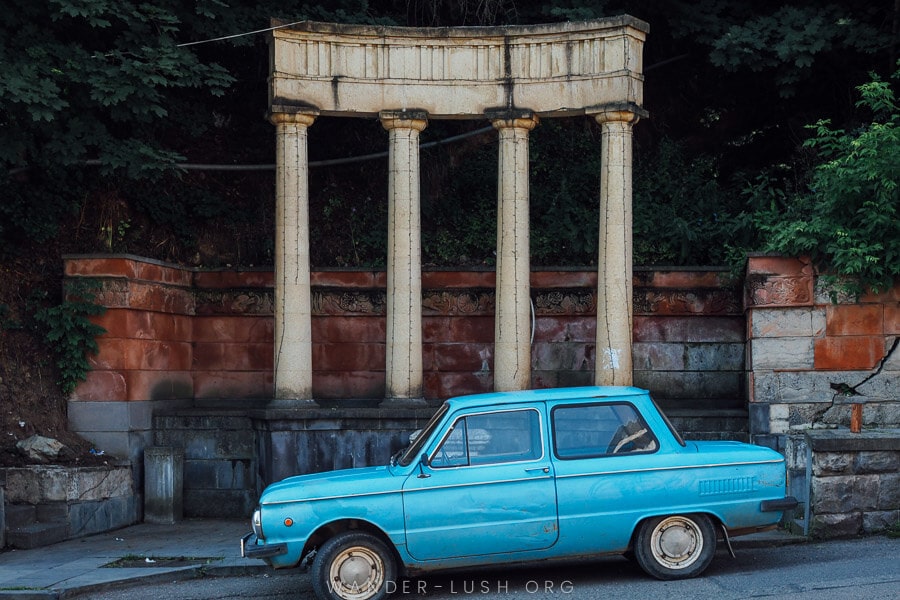 Armenia Travel Guide
Discover insider tips, itinerary inspiration, and all the best things to see, do and experience in Armenia!
Armenia Essentials
My favourite resources and tools for planning a trip to Armenia.
More from Armenia