Are you thinking about spending your autumn in Georgia? This is a golden opportunity to see Georgia at its best! Read on for 10 glorious autumn activities, festivals and special events, where to find the best fall foliage, and more!
While summer is the peak season for tourism, those in the know will tell you that spring and autumn are the nicest times to visit Georgia.
Mid-September through October is by far my favourite time of year. The weather is perfect in many parts of the country (including Tbilisi), with mild daytime temperatures, bright skies, brisk nights, and relatively few rainy days.
Conditions are still suitable for hiking in many of the mountain regions, and once the crowds depart from Batumi, the Black Sea coast has a very different feel.
Add to that resplendent fall foliage, a huge program of cultural events and festivals, and of course the legendary Rtveli wine vintage, and fall in Georgia wins every time!
In this guide, I'll show you where to go in autumn in Georgia for autumn colours and special happenings. I'll also share my top tips for fall travel and provide an overview of weather conditions so you know what to expect.
→ Don't miss my detailed guide to visiting Tbilisi in autumn, which includes 15 special activities to do in Georgia's capital city during September, October and November.
---
Please note: This post contains affiliate links, meaning I may earn a commission if you make a purchase by clicking a link (at no extra cost to you). Learn more.
---
Unforgettable autumn experiences in Georgia
---
10 glorious things to do in autumn in Georgia
Here are 10 sure-fire ways to fall in love with autumnal Georgia.
1. Join the Rtveli wine vintage
Autumn in Georgia means one thing: Harvest time. Rtveli, AKA Georgia's 'fifth season', is the most festive, joyous time of the year in the country. This is when vintners reap the fruits of their labour and families head to their ancestral vineyards to collect grapes, top up their Qvevri, eat and toast, and enjoy the last days of summer sunshine.
The vintage centres on Kakheti, Georgia's biggest wine region, where it's all hands on deck to pluck and process the year's grapes. All throughout the season you'll see huge Soviet-era trucks loaded up with vines plying the roads.
Not all wineries accept guests for Rtveli (remember this is their busiest time of year), but some offer special packages that allow you to observe (or even try your hand at) picking and crushing.
The exact dates of the harvest change every year depending on the weather and aren't finalised until a week or so in advance. Furthermore, every vineyard works on its own schedule depending on the elevation, the type of grape and the winemaker's preferences.
For Kakheti, early to mid September is a safe bet (although parts of the region harvested early at the end of August in 2021 after a heavy hailstorm). Some wineries harvest everything over the course of a weekend, while others draw out the process and pick grapes throughout the entire month.
In the more humid western regions or Imereti and Adjara, the harvest usually takes place in October. In Guria, some varieties of grape such as Chkhaveri are picked as late as November or early December.
The wine regions have a wonderful atmosphere throughout the entire autumn season, making this a great time to visit even if your dates don't coincide with the actual harvest.
Plan a DIY multi-day itinerary through Kakheti, using Telavi as a base. Or if you're pressed for time, join a wine tour from Tbilisi or do a day trip from Batumi to the wine region in Keda.
→ Book a Rtveli experience in Kakheti and visit small family owned wineries with my preferred tour company, Eat This! Tours. Mention me to get a discount off your booking.
→ See a list of wineries that offer Rtveli experiences for tourists.
2. Take a road trip & chase fall colours in Georgia
Autumn is the perfect time for a road trip in Georgia. The days are still long enough that you can fit a lot in, the roads are quiet once school is back in session in September, and the price of rental cars comes down significantly.
I highly recommend hiring a car in Tbilisi and heading out to see Georgia's best autumn foliage. Huge swathes of the country are covered with thick forest and many species of trees are deciduous. The sloped terrain of the mountain regions is perfect for fall scenery. I drove through Samegrelo region last fall and it was spectacular – especially around Martvili.
Because Georgia's climate is so varied, fall colours emerge at different elevations all throughout the season. High forest areas such as Racha already have an autumn glow in September. In the warmer lowlands around Adjara and Samegrelo, the leaves change as late as November.
Generally speaking, the best time to see fall foliage in Georgia is from the second week of October until the second week of November.
Where to see autumn foliage in Georgia:
Sabaduri Forest & Tbilisi National Park
Ateni Gorge (near Gori)
Gombori Pass (between Tbilisi and Telavi)
Tsalka & Dashbashi Canyon (and the entire Kvemo Kartli region)
Borjomi National Park (best from the end of October)
Shaori Lake & Racha (from the end of September in Upper Racha)
Bateti Lake
Lagodekhi National Park
Martvili & upper Samegrelo
You can see beautiful fall colours in the centre of Tbilisi, too. My absolute favourite spot in Tbilisi in autumn is the riverside – a long footpath takes you all the way along the Mtkvari, past Tbilisi's grand bridges, with spectacular gold-and-rust trees overhead and reflected in the water.
You can find more beautiful foliage in Vake Park, by Lisi Lake, and inside the Botanical Gardens.
→ For more tips, see my detailed guide to Tbilisi in autumn, which includes 15 fall activities to do in the capital.
3. Follow the Tusheti Transhumance
For an adventurous and truly special experience, head to Tusheti for the annual sheep drive (Transhumance). Set in the Greater Caucasus in the north of Kakheti, Tusheti is one of Georgia's most remote mountain regions and incredible at any time of year – but this spectacle takes it to the next level.
Every summer, shepherds lead their flocks high into the mountains to pasture. And you know what they say, what goes up must come down. Tusheti is isolated in winter, thus as the weather starts to turn, shepherds travel back down into the valleys of Kakheti around Pankisi Valley and Vashlovani to wait out the colder months at a lower elevation.
Shepherds usually start rounding up their flocks in early October for the three or four day journey down, travelling with a convoy of dogs by horseback. Herds of sheep a thousand strong choke the serpentine roads. I once met a winemaker in Kakheti whose vineyard is on the pilgrimage route – he had to build a wall around his cellar to protect it from all the dust the sheep raise as they pass through!
For the Tush community, this is an auspicious time of year steeped in tradition. If you get a chance to witness this impressive migration, don't pass it up. Because of the treacherous conditions, it's best to consult a local guide and go with an experienced driver or as part of an organised tour.
Similar sheep drives also take place in Upper Adjara in early autumn, and elsewhere around the country at different times.
4. Find peace & quiet on Georgia's hiking trails
Autumn is a dance between summer peak season when hiking trails are relatively busy and winter, when many mountain passes are sealed off by heavy snow. If you time it just right (and as long as the weather cooperates), you can find the perfect balance and experience the best of Georgia's trekking.
Most years, Tusheti is still accessible by car in early September. Roads through Khevsureti, Upper Racha and Upper Adjara are open throughout early autumn, while Svaneti (Mestia and Ushguli) and Kazbegi remain accessible throughout the season.
Generally speaking, September in the mountains is brisk, dry and clear – perfect for hiking. Weather permitting, some trails including those around Juta might remain open into October.
If you're up for a challenge, the Kazbegi Mountain Marathon (7km-21km) takes place every year in the first week of September.
Closer to Tbilisi, you can find plenty of lower-elevation day hiking trails that are perfect for autumn. Kojori, Birtvisi Canyon, Lagodekhi and Borjomi-Kharagauli National Park all have resplendent fall foliage from October onwards.
Areas such as the Udabno 'rainbow hills' near David Gareja Monastery and Vashlovani National Park that are too hot in summer (and visited by snakes) are ideal in autumn.
5. Enjoy Velvet Season on the Black Sea coast
Batumi and the beaches along Georgia's Black Sea coast reach peak level in July and August. Once school goes back into session on September 15, families head back to Tbilisi and the coast is much quieter.
There is a short window where the crowds disperse and the conditions are still ideal for sunbathing and swimming. Locals call it the 'Velvet Season'. Prices drop at hotels and resorts, and it becomes much easier to find a spot to pitch your umbrella.
Skies are blue and waters warm in the middle and end of September. This is the most humid month of the year in western Georgia, so swimming is a welcome reprieve. Especially if you spend your days exploring the national parks along the coast and the newly UNESCO-listed Colchic forests and wetlands, which are lovely during autumn.
The temperature drops dramatically in October, signalling the end of beach season. This can still be quite a nice time for a city break in Batumi.
6. Revel in Tbilisi's cultural calendar
Early autumn brings an upbeat and cheery atmosphere to Tbilisi, with wine bars and cafes in full swing, lots of outdoor events on the weekends, and regular maker's markets and fairs on Rustaveli Avenue.
This is one of the best times to visit for live music and cultural performances. Tbilisi's autumn calendar features ballet and opera at the theatre on Rustaveli, adults-only puppet shows at the iconic Gabriadze Theatre in the Old Town, and in early fall, shows by the Sukhishvili ensemble.
The international music festival Autumn Tbilisi takes place across September and October, drawing classical and contemporary musicians from around the world together at the spectacular Jansug Kakhidze House in Tbilisi.
And the annual Tsinandali Festival – a multi-day classical music event hosted at the beautiful Tsinandali Estate in Kakheti – takes place in the first weeks of September.
I use the TKT.ge website to search for events and to buy tickets for sporting matches, festivals and concerts in Georgia.
→ Also see my mega list of things to do in Tbilisi at any time of year.
7. Celebrate Tbilisoba, the biggest event in autumn in Georgia
Tbilisoba is the biggest event on Georgia's cultural calendar. These traditional 'day of' festivals are held in villages and mountain regions across the country throughout the summer months. In October, it's Tbilisi's turn!
Tbilisoba is a massive two-day event that celebrates the capital's diversity and Georgian identity and heritage in general. People from the regions descend on Rike Park for a Gastronomic Festival, showcasing their best autumn produce, wine and regional food specialties (including artisanal cheese). Handicrafts such as feltwork and pottery are sold at pop-up markets.
In 2019 (the last time the festival took place) there was an Autumn Flower Festival in Orbeliani Square and a display of vintage cars on Metekhi Bridge. Folk dance, orchestral, big band and theatre performances are held on outdoor stages, turning the Old Town into one big party (peak levels of public cha cha consumption guaranteed).
Tbilisoba usually takes place on the first weekend of October. All events are completely free to attend. Dates are typically announced a few weeks out.
8. Mark Svetitskhovloba in Mtskheta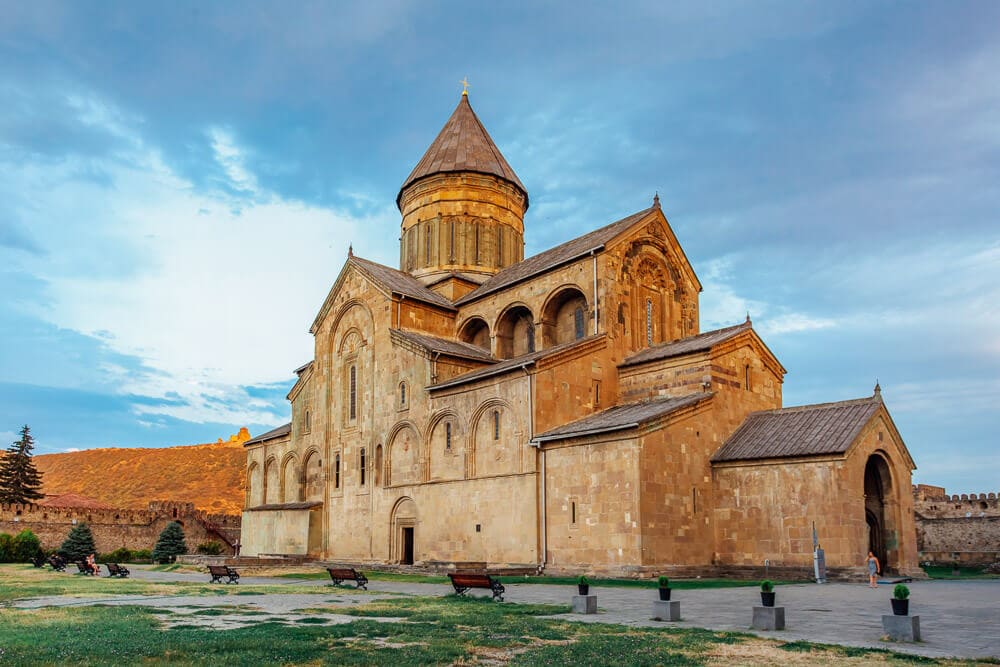 Svetitskhovloba (or Mtskhetoba) is another autumn 'day of' festival, this time in honour of Georgia's former capital city, Mtskheta. Marked annually on October 14, this is an official public holiday.
Festivities are held on the streets of Mtskheta to commemorate the city and its religious monuments, especially the 11th-century Svetitskhoveli Cathedral. This is a celebration like Tbilisoba but with a slightly more sombre, reverent tone.
On Svetitskhovloba day, Georgia's Catholicos-Patriarch hosts a ceremony for pilgrims and a mass-baptism event. Song and dance performances and a food market are staged in the square outside the cathedral.
The date of Svetitskhovloba is fixed every year so you can easily plan your travels to coincide with the event. I always recommend visiting Mtskheta with a guide to make the most of your time. Here are my top places to visit in Mtskheta and recommended tour companies.
→ Book a private tour of Mtskheta with my preferred tour providers, Friendly.ge. Use the promo code wanderlush to save 10%.
9. See Kutaisi in her golden glow
Kutaisi is one of the oldest continually inhabited cities in Europe – in fact, it's even older than the Eternal City, Rome. It's no secret that this is one of my favourite places in Georgia (I even decided to move here in 2021). I recommend it to all travellers no matter the time of year.
Autumn in Kutaisi is something special. The city radiates charm and yesteryear vibes year-round, but in fall – when the golden Colchis fountain is wreathed in chestnut-coloured foliage and the hills around Gelati Monastery are tinted hues of honey – Kutaisi is another kind of magical.
The fall foliage along the Rioni River is dense and beautifully coloured. Dappled light and dust in the air paints the most beautiful light shows over the city. Bagrati Cathedral is my favourite spot to watch the sun set.
As well as being the perfect autumn city break destination, Kutaisi is a convenient gateway to western Georgia, where you'll find some of the country's finest fall foliage in Samegrelo, Racha and Upper Imereti.
10. Savour delicious autumn produce & seasonal dishes
One of the things I love most about Georgian cuisine is how heavily it draws on seasonal ingredients. In autumn, you get the best of both worlds: The tail-end of the summer stone fruit, watermelon and berry season (look out for amazing peaches and nectarines in early September), plus the best of spectacular autumn produce.
Pumpkins are popular and you'll see all different shapes, colours and sizes displayed proudly at markets such as the Dezerter Bazaar in Tbilisi. Autumn is also the season for persimmons (hurma) and pomegranates. You know it's fall when you start to see artistic displays of dried persimmons strung on twine, gilt marigold flowers and dazzling chillis draped over the market stalls.
Churchkhela, a sweet made with nuts and grape juice, becomes abundant in autumn as the wine harvest progresses. Families get to jarring and preserving fruits in autumn and making batches of compote, a sweet fruit drink. You can often see this process at your guesthouse.
But the king of Georgia's fall food scene is definitely mushrooms. And the king of the mushrooms is Amanita Caesarea, Caesar's mushroom. Many restaurants in Tbilisi put special dishes on the menu just to showcase these beauties.
Mushrooming is a very popular autumn past time in Georgia. You'll often see people foraging in Sabaduri forest and on the side of the road around the Gombori Pass.
Bonus: Celebrates the changing colours at Peristsvaleba (August 19)
This special cultural festival technically takes place in summer, but it is an important part of Georgian autumn traditions nonetheless.
If you happen to be visiting on August 19 (the festival takes place on the same day every year), consider heading to one of the mountain communities that celebrates Peristsvaleba. Literally 'changing of the colours', this day symbolises the beginning of autumn and the start of harvest preparations. Along with music, feasting and general merry-making, it is traditional for people to smear their faces and paint crosses on each other's foreheads with berry juice.
Peristsvaleba is celebrated in villages across Tusheti and in Pankisi Valley, where it is customary to travel to Tbatana mountain to mark the occasion.
---
Travel tips for visiting Georgia in autumn
Plan your days (and transport connections carefully). The days get shorter in autumn and you don't want to be using marshrutka vans after dark.
Consider hiring a car. Autumn is the perfect time for a road trip.
Go rural. Soak up the autumnal landscapes by staying in a secluded cabin or at a glamping resort.
Book in advance. September is still quite busy so it's a good idea to reserve hotel rooms, train tickets and the like ahead of time. This becomes less important in October and November.
Pack something warm and bring rain gear. See my recommendations below.
Find more useful tips in this guide to Georgia for first-time visitors.
Weather in Georgia in autumn
To help you plan your trip, here's a quick overview of what you can expect from the weather in Georgia in fall. Conditions can be unpredictable so always check the forecast before you go!
Weather in Georgia in September
September is sometimes referred to as 'the fourth month of summer' in Georgia. In Tbilisi and Kutaisi, the first weeks of September remain quite warm (around 30 degrees), then temperatures start to drop into the mid-20s from the second week onwards. September brings long days and cooler nights, perfect for sitting outside with a blanket over your knees and a glass of wine in hand.
At higher altitudes, it's already quite cool. Kazbegi sits at around 15 degrees in the daytime, dropping to the single digits overnight. It's slightly cooler still in Mestia. September is the tailend of Svaneti's summer storm season (usually heavy rain isolated to the late afternoons and evenings), which peters out towards the end of the month. Conditions are still good for hiking in most areas, and the majority of mountain roads are still accessible and clear of snow.
In Batumi, September and October are some of the wettest months of the year. Downpours might only last a few hours though, with clear and fresh periods in between. Daytime temperatures sit around 20 degrees and it can feel extremely humid (up to 85% humidity some days), so it's certainly still warm enough to swim for most of the month.
Weather in Georgia in October
October is one of the nicest periods in Tbilisi and Kutaisi weather-wise, with temperatures around 15-20 degrees during the day, dropping below 10 degrees at night. It's still quite dry, but slightly more humid in Tbilisi. In Batumi and on the coast, the rain lets up slightly and the mercury and humidity drop too, with average temps of 15 degrees.
In Svaneti, temperatures remain warm for the first half of the month, averaging 10-12 degrees by mid-October. The first signs of snow in Mestia usually appear towards the end of October.
Weather in Georgia in November
Tbilisi is dry in November and the hills around the city start to turn grey. The sky clouds over towards the end of November as winter approaches. Temperatures hover around 8-10 degrees (5 degrees overnight), so it's still quite pleasant outdoors. November brings some of the shortest days of the year.
In Batumi, the mercury quickly drops from the mid-teens down to 10 degrees during the day towards the end of the month. November nights are cooler too, gradually approaching the single digits. There is slightly less rain again but the humidity remains high.
By November, winter has all but arrived in the mountain regions including in Svaneti, where temperatures are around 5-8 degrees during the day and sub-zero at night.
---
What to pack for Georgia in autumn
The start of September is still warm enough for summer attire, but by the end of the month, you'll need a jacket or scarf for the evenings. My jeans usually come out in October, and by November I'm normally wearing at least two layers.
Autumn can be quite windy as the seasons change and depending on where you're going, heavy rain is not uncommon. Pack a travel umbrella and a rain jacket. If you're visiting the mountains for hiking, you'll need proper gear, including waterproof boots and poles for overcoming slippery terrain.
Since autumn is prime wine time, you'll want to bring your Wine Wings for transporting bottles of Georgian vino home with you. I also recommend carrying silicone bags like these for packaging any spices/dried fruit/churchkhela you buy at the market.
→ Essential reading: My Georgia packing guide for all seasons.
---
More seasonal guides for Georgia
---
You might also be interested in…