A complete guide to visiting the Dry Bridge Market, the most popular flea market in Tbilisi, Georgia.
Rummaging for treasure at the Dry Bridge Market is one of the most popular things to do in Tbilisi. It's not my favourite place to buy souvenirs, but it's still a wonderful place to walk, admire the wares, people-watch, and chat with the outgoing vendors.
In this short guide, I share my insider advice for visiting Tbilisi's most popular market – including the best time to go, what kinds of things to look out for, and etiquette tips.
---
Please note: This post contains affiliate links, meaning I may earn a commission if you make a purchase by clicking a link (at no extra cost to you). Learn more.
---
What is the Dry Bridge Market?
The Dry Bridge Market is an open-air flea market that takes place every day in the centre of Tbilisi. It's staged on the Dry Bridge (Mshrali Khidi) and in the adjacent Dedaena and 9 March parks.
The market started in the 'dark 90s' after the collapse of communism. Locals would gather here to make a little cash by selling their personal possessions.
At some point, the market turned into something more formal and today, the Dry Bridge Flea Market is primarily aimed at tourists.
Over the past three years, the market has been polished up considerably. Now there are purpose-built racks and stalls for vendors to use. In 2021, Dedaena Park reopened and now accommodates part of the flea market.
You still see people selling things the 'OG' way from foldout tables and carpets spread on the sidewalk, but the market has a different, more organised feel than it did even in 2017 when I first visited Tbilisi.
If you're wondering where the name comes from: The bridge the market is held on is 'dry' because it no longer runs over the Mtkvari River. An embankment was built to protect Old Tbilisi from chronic flooding, so now the bridge runs over a street instead of the water.
---
Dry Bridge Market opening hours & best time to visit
The official opening hours for the Dry Bridge Market are 10am until 5pm daily. The market runs in every season, every day of the year except for major holidays such as January 1 and Orthodox Easter Sunday.
Everything is outdoors, so if there is heavy rain or snow, most vendors will stay at home.
The market is busiest during summer and spring. I recently visited in winter and it was still very vibrant and lively.
The best time of day to visit the market is from 11am onwards.
Weekends are much busier than weekdays – there are more vendors around and more shoppers – so I recommend visiting on a Saturday or Sunday if you can.
On Mondays, the market is only half full at best.
---
Orientation & different sections
The market is fairly self explanatory and easy to navigate. But there are a few areas that people tend to overlook or miss completely.
The Dry Bridge Market can roughly be divided into four sections: The flea market, the art and crafts market, the antiques market, and the book market. Below is a quick overview of each area.
I recommend starting with the flea market, preferably approaching the bridge from the Right Bank, then walking down to the antique market. From there, cross into 9 March Park for the handicraft market, then continue under the bridge to Dedaena Park for the book market.
1. The Flea Market
The most iconic and interesting part of the Dry Bridge Market spreads across the footpath on both sides of the Dry Bridge. It then continues west along the edge of 9 March Park. Stalls end at around this point.
This part of the market resembles a giant jumble or car boot sale. Vendors prop candlesticks and samovars on top of their Ladas and lay a sea of silverware, old medals and other trinkets out on carpets.
This is where you'll find Soviet memorabilia, maps, kilims, and other vintage items.
2. Art & handicrafts market
The market extends into the two parks on either side of the Dry Bridge: 9 March Park to the west, and Dedaena Park to the east. In 9 March Park, you'll find stalls for handicrafts and handmade items (feltwork, crochet and knitted socks, plus kantsi drinking horns, panduri instruments, etc.).
The painter's market where artists set up their easels and hang unframed canvases on specially made stands runs through both parks along the Right Embankment.
This part of the Dry Bridge is a lot like the Vernissage in Yerevan.
3. Antiques market
This is one of my favourite parts of the market – but because it's tucked away, a lot of people miss it. It's a separate downstairs section, accessed off the Right Embankment opposite 9 March Park.
Look out for this sign, which directs you down a set of stairs (the entrance point is around here).
This area is a true treasure chest of porcelain, ceramics, chandeliers, dinner sets, vases, and all kinds of goodies. Everything is deliciously retro. Stalls are stacked to the brim so it takes some poking around to find anything, but you can turn up some real gems.
4. Book market
This is a separate market on the riverfront in Dedaena Park, but it's so close to the Dry Bridge that you might as well visit while you're in the area. Paris-style numbered booths are set up along the water selling old books, postcards, posters and other paper goods.
This section of the river walk is really beautiful and a great place to take a stroll. There is a lovely cafe called Corner on the River here as well (more restaurant recommendations in the next section).
Note: On my last couple of visits to Tbilisi, the Book Market has unfortunately been closed. I will return to update this section if things change.
---
What to buy at the Dry Bridge Market
The Dry Bridge is most commonly associated with Soviet kitsch and USSR memorabilia. You'll find stacks of war medals, ID books, photographs and the like. Stalin and Lenin show up a lot, as does the hammer and sickle.
Mixed in, there are Soviet-issue film cameras, caviar tins, and all sorts of ephemera that dates back to Georgia's days as a Socialist Republic.
Collectibles such as coins, matchboxes and stamps are also traded. If you're a serious collector, make sure you inquire about the provenance of such items before you buy.
Old maps, vinyl records, CDs and Russian language books are mixed in with personal items. You'll also see the odd gnarly looking taxidermy animal and as I mentioned, lots of communist memorabilia. If either of these things bother you, avert your eyes.
Some of my favourite items at the market have been stripped from old houses: Light fittings, antique brass door knobs, etc.
You could furnish an entire house in Soviet retro with what's sold here. During the holiday period, you'll see lots of Soviet-era Christmas decorations and greeting cards around.
There are some carpets sold at the market – they're mainly new, but I have seen some authentic looking Kakhetian kilims as well.
At the artist's market, you can buy canvases including original paintings and Pirosmani replicas. Handmade items such as felted shawls, chunky wool socks and slippers, Georgian drinking horns, decorative swords, and miniature clay qvevri are also sold here.
---
5 quick tips for visiting
1. Bring cash
Vendors only accept cash. It's a good idea to carry smaller notes on you to avoid having to ask for large amounts of change. The closest ATM is here.
2. Feel free to browse
Vendors are not at all aggressive – quite the opposite in fact. There is no pressure to buy and no issue with just window shopping.
3. Be polite when haggling
Bartering is acceptable, but please be polite and respectful when haggling. Wear a smile and be friendly. Enjoy the process. Most vendors are friendly and curious about tourists.
Don't expect to pay local prices. This is primarily a tourist market and the 'tourist tax' is certainly levied here. Don't let yourself be taken advantage of, but don't be petty either. And don't take the inflated prices personally.
This is probably the one place in Tbilisi where you'll hear Russian spoken maybe even more than Georgian – both between vendors and between vendors and customers. English isn't as widespread among the older generation so if you know some Georgian or Russian, you'll definitely have an advantage.
4. Photo etiquette at the Dry Bridge Market
'One photo for 500 euro' is a running joke at the market. Most people are fine with having their wares photographed and their portraits taken – I have never seen a 'no photography' sign. Respect people's wishes if they don't want to be in a photo and try to ask permission before taking portraits.
5. Restrooms
There are a few public restrooms in the area – the best toilets are the new ones in the underpass inside Dedaena Park. They are free to use.
---
How to get to the Tbilisi flea market
The Dry Bridge Market is located on the same side of the river as the Old Town but further north, between Rustaveli Avenue and the river. The closest metro station is Liberty Square, which is an 850-metre or 12-minute walk from the bridge. I recommend walking down via Orbeliani Square and Atoneli Street.
Alternatively, city buses #320 and #323 stop on Italia Street and at the top of the market.
A taxi to the Dry Bridge Market from Freedom Square costs around 5 GEL when booked through Bolt. I recommend getting dropped off at this intersection then walking over the bridge.
If you're coming from the Left Bank (Marjanishvili or Avlabari), you can get dropped off near Saarbrucken Square.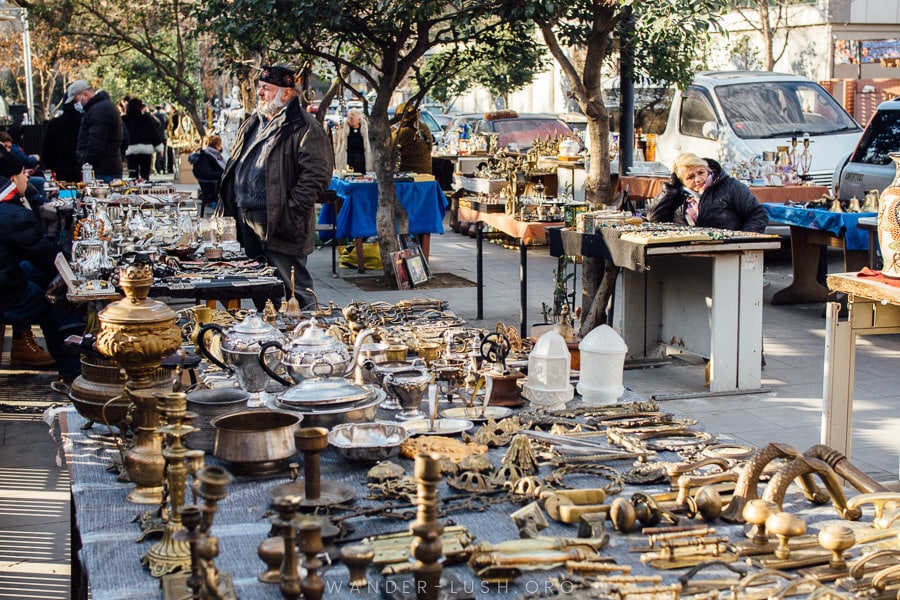 ---
Where to eat nearby
Some of my favourite restaurants and cafes are located at either end of the Dry Bridge, around Atoneli Street and Saarbrucken Square.
On the Atoneli Street side, Cafe Daphna is one of the best places in the city for khinkali, Santino serves terrific specialty coffee, and Ribs and Puri is a nice spot for lunch. The King and The Bird is a short walk along the river from the antique market and is one of the best restaurants in Tbilisi.
Puri Guliani on Saarbrucken Square serves breakfast, coffee and cakes. Corner on the River inside Dedaena Park is another solid choice and is the closest cafe to the market itself.
---
Other places to buy antiques in Tbilisi
There are antique shops all over Tbilisi, including several at the Atoneli Street end of the Dry Bridge (near Cafe Daphna).
On the opposite side of the river, there is a large undercover antique market simply called 'Antique Shop'. It's a dark and dusty hodgepodge of mostly porcelain and tableware, but it's very much worth a look if you're in the area. The location is here.
There are lots of antique shops around Chugureti district, including near the intersection of Kiev and Tsinamdzghvrishvili streets (here).
---
More markets to visit in Tbilisi
The Dry Bridge Market is Tbilisi's most popular market, but it's not the biggest nor the most 'authentic'. There are lots of other bazaris around the city that have a more local vibe, plus several fresh produce markets to explore including the Dezerter Bazaar.
If you love visiting markets as much as I do, here's my list of the 9 best markets in Tbilisi. See if you can tick them all off.
---
Have you been to the Dry Bridge Market in Tbilisi? What did you buy?
---
More Tbilisi posts you'll love
For even more inspiration and resources, check out my new Georgia Travel Guide and my Georgia itinerary.