Forget the mass-produced knickknacks! This guide to the best independent Tbilisi gift shops shows you what to buy in Georgia and where to go shopping in Tbilisi for handmade, authentic and traditional souvenirs.
Like most capital cities these days, Tbilisi is overflowing with souvenir shops. The popular Meidan Bazaar – while atmospheric – tends to be very overpriced, as do many of the shops in the Old Town.
Written for anyone who's seeking unique and authentic souvenirs and gifts, this guide brings together more than 30+ of the best alternative Tbilisi shops, including my favourite independent retailers and artist studio-boutiques.
For more ideas, don't miss my round-up of the best Georgian designers and independent labels.
---
Please note: This post contains affiliate links, meaning I may earn a commission if you make a purchase by clicking a link (at no extra cost to you). Learn more.
---
What to buy in Tbilisi: Authentic Georgian souvenirs
Before we dive into my favourite souvenir shops in Tbilisi, I first want to briefly introduce the sort of items you should be looking to buy.
Here are just a few of my favourite 'authentically Georgian' souvenirs – items that carry the country's heritage of craftsmanship and embody Georgia's culinary traditions.
You can find lots more ideas of what to buy in Tbilisi in my guide to Georgian products from local designers.
Lurji supra
Lurji supra 'blue tablecloths' are a traditional textile made by block-printing patterns onto cotton fabric. Traditionally used during supra feasts, they're an integral part of Georgian culture.
Most brands now machine-print onto polyester – but there is a lurji supra workshop at the Academy of Fine Arts that hand-makes them the old-fashioned way with screenprinting.
Shop large tablecloths and smaller napkins, as well as ceramics and accessories decorated with lurji supra ornaments. Indigo blue and white is the conventional color scheme.
Clay pottery & ceramics
Pottery and ceramics made from red and white clay are hugely popular in Tbilisi. Traditional products include wine jugs and shallow drinking bowls, mini clay qvevri (a smaller version of the vessel used to make wine), and clay ketsi dishes and pots that are used for cooking dishes such as shkmeruli and lobio.
There are dozens of contemporary studios in Tbilisi that draw on these traditions to produce modern and traditional tableware and decorative ceramics.
Silk batik
Batik painting and resist printing on silk is a traditional technique that became popular in Georgia in the 1980s.
It's used to create beautiful ladies' scarves, homewares such as cushion covers, and decorative wallhangings.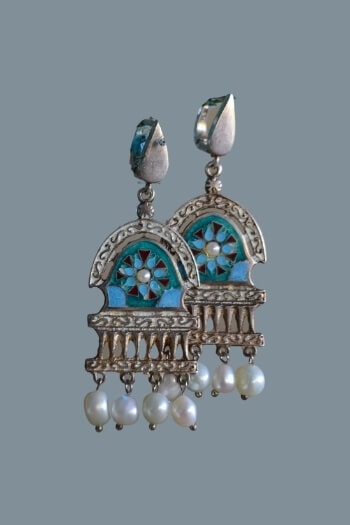 Cloisonné enamel (minankari)
Cloisonné enamel, known as minankari in Georgian, has been around since the 2nd century AD. Silver/copper enamel jewellery is one of the most popular souvenirs to buy in Tbilisi – you can find handmade pieces in almost every gift shop, and there are several specialty studios around the city.
Just outside Tbilisi, social enterprise Ikorta works with women displaced from South Ossetia to produce enamel rings, pins and pendants.
Carpets & kilims
Hand-loomed floor carpets and wallhangings are popular throughout the Caucasus region. Most textiles sold in Tbilisi are antique, including beautiful Kakhetian kilims that traditionally depict a pair of animals and were woven to celebrate special milestones like the birth of a child.
The quality and provenance of vintage carpets varies widely so it's best to go through a reputable dealer if you want the real thing. You can find cheaper versions at most markets, including Dry Bridge.
Feltwork
Felt crafts are popular in Georgia's mountain regions (particularly in Tusheti, Svaneti, and Upper Racha).
Today you can shop felt wallhangings and dolls, as well as practical accessories such as cosy felt slippers and felted hats.
Woodwork
Georgian panduri and chonguri folk instruments showcase the country's heritage of woodwork. Hangebi is a reputable shop for buying them in Tbilisi.
Other wooden souvenirs include jewellery and homewares made with the same carving techniques first developed in Georgia in the 10th century to embellish church doors.
Antiques & vintage
Tbilisi is an antiquers paradise, with dozens of flea markets and boutiques dedicated to Soviet memorabilia and retro knick knacks.
Popular souvenirs from this genre include old Russian film cameras and vinyl records, antique Georgian khantsi drinking horns, medals, coins, stamps, and other collectibles.
Retro posters
Archival film posters, Soviet advertisements and propaganda posters are another popular souvenir to buy in Tbilisi.
There are many contemporary studios including popular Geoposter that design new posters and papergoods inspired by this retro aesthetic.
Woollen slippers & socks
Chita slippers, a traditional indoor winter footwear, are knitted from Georgian wool and have a soft bottom. Hand-knitted chunky wool socks are also popular.
In Tbilisi, you can find handspun versions made by local grandmas and as well as contemporary brands such as Funduki that reimagine these humble designs.
Adjika & spice blends
Traditional Georgian spices and spice blends are the perfect souvenir for your kitchen cabinet. Adjika (a spicy rub or paste from Western Georgia), blue fenugreek, marigold, Khmeli-Suneli (five spice) and Svanetian salt (a spiced salt from Svaneti region) can all be found at markets and supermarkets.
Prepackaged specialty spice blends with the flavours of lobio, kharcho and mtsvadi barbecue are also great to have. I recommend the Suneli brand, which come in an air-tight foil bag.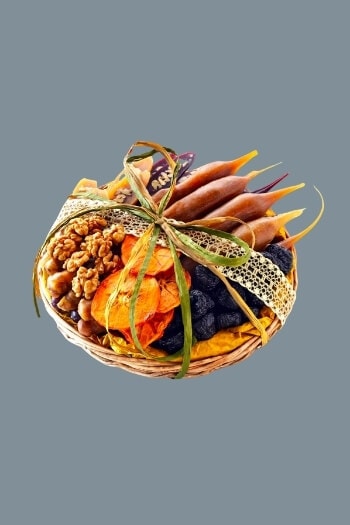 Churchkhela & dried fruit
Churchkhela (walnuts or hazelnuts threaded on a string and coated in sweet fruit roux) is a hugely popular Georgian snack that travels well. Tklapi fruit leather and dried fruits are also good to buy.
Qvevri wine & chacha
Georgian wine is a mandatory Tbilisi take-home. Qvevri wine prepared the traditional way in a clay vessel is a great choice, and you can also find European-style wines made in Kakheti and Western Georgia. Amber wine and Saperavi are both popular.
Chacha, hard liquor made from grape pomace, is a good souvenir for the brave.
Georgian tea
Not many people realise that Georgia has a burgeoning tea industry. Green and black tea is grown by small farmers in Guria, while contemporary brands such as Renegade Tea Estate in Imereti make artisanal teas.
Herbal and fruit teas (blackberry is a favourite) are also available in Tbilisi.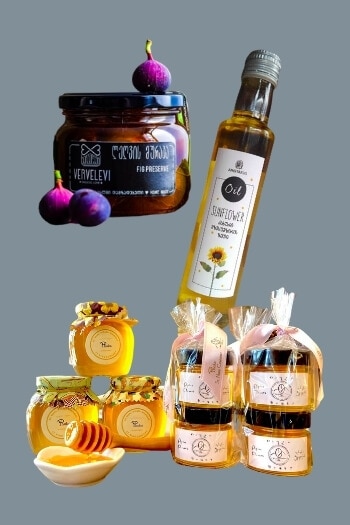 Honey, preserves & sunflower oil
Homemade fruit preserves, local honey and jams can be found all over Tbilisi at markets, grocery stores – and no doubt at your guesthouse too.
Look out for special regional products such as spruce honey, walnut jam, pinecone jam, and Kakhetian cold-pressed sunflower oil.
---
Where to go shopping in Tbilisi for handmade & authentic Georgian souvenirs
Now that you know what you're looking for, here are my favourite gift shops in Tbilisi where you can find all the products mentioned above plus much more.
Most of the shops mentioned here are small and independent and directly support local artisans and makers.
At the end of the list, you'll find a downloadable Tbilisi Shopping Map to take with you on your retail expedition.
Off to Armenia next? Check out my Yerevan shopping guide.
Overall best souvenirs shops in Tbilisi for variety
Each of these shops has a wide selection of products, including traditional Georgian handicrafts and items from contemporary makers. If you're short on time, these are the best one-stop shops for both souvenirs and gifts.
Top choice: Gallery 27
Run by local creative and patron of the arts Nino Kvavilashvili, Gallery 27 is Tbilisi's premier gift boutique in my view. Nino makes full use of her small space to curate and showcase works from almost 100 different local artists. In her own words, "We try to put together the works of all artists who create with passion – works of artistic value."
At Gallery 27 you can find batik silk scarves, cotton lurji supra blue tablecloths made the old-school way at the Academy of Arts, wall hangings, knitted items, paintings, ceramics and more.
Located upstairs at the iconic 'Kaleidoscope House', the shop doubles as Nino's own studio and a workshop space.
Address: 3 Betlemi Street (Old Tbilisi)
---
Top choice: Ethnodesign
The Georgian Heritage Crafts Association was established to safeguard the country's applied arts, including lurji supra. The Association's flagship store, EthnoDesign, is a treasure trove of specialty crafts sourced from different regions and makers, including felt from Tusheti, ceramics from Western Georgia and woodwork. It's also a platform for homeworkers and small co-ops to sell their wares in the capital.
They stock Ikorta Enamel Jewelry from the social enterprise studio that trains and employs women displaced from South Ossetia. (As a sidenote, Ikorta's studio in the IDP settlement near Mtskheta offers hands-on workshops and a chance to shop for traditional cloisonné enamel earrings, pins and pendants directly from the artisans.)
Most items are accompanied by an information card that tells you a bit about the artist. All the products here are top-notch in terms of both design and quality. Proceeds go directly to the makers, and when you purchase a souvenir, you're also supporting the Association's work to elevate Georgian crafts on the world stage.
Address: Corner of Akhvlediani & Nikoladze Streets (opposite Rustaveli metro)
---
Top choice: Communal Craft
New on the shopping scene in 2021, Communal Craft is part of the Communal Plekhanovi 'creative complex', which also includes a boutique hotel and a wonderful restaurant called Weller.
Communal Craft is completely dedicated to Georgian makers. The beautifully curated range of homewares includes printed textiles, delicate ceramics from Gori, art prints, linenwear, stationary, wine, and much more.
The space doubles as a delightful cafe, serving coffee and brunch. You can find a second branch of Communal Craft in Telavi.
Address: 54 Egnate Ninoshvili Street (Chugureti)
---
Fabrika Tbilisi
The yard behind Fabrika Hostel is a one-stop shop for quirky gifts handmade by young and independent Georgian artists and designers. Black Dog Shop stocks a great range of Soviet propaganda and film posters, notebooks and stationary. (If you've been to Rooms Hotel Kazbegi and noticed the posters on the walls, Black Dog Shop are the ones who printed them!). They also offer contemporary artworks and collages.
Ceramic Studio 1300 is run by two ceramicist friends who make super-fine hand-painted tableware, and The Flying Painter is a fashion boutique that stocks garments and accessories from local designers. Their own range is sewn on site.
All these shops double as workspaces: Anyone is welcome to drop in and have a friendly chat with the artist while they work.
Address: 8 Egnate Ninoshvili Street (Chugureti)
---
Tbileli's Karvasla
Now under new management, Tbileli's Karvasla (a restored Silk Road caravanserai) houses two unique city museums, the Tbilisi History Museum and the Tbilisi Wine Museum, and a wine bar.
The rooms on the lower level have been converted into small shops, each one with a different theme: Antiques and vintage, textiles and carpets, cheeses, honey and cured meats. You can also find original artworks, contemporary women's wear, jewellery and leather goods.
The different spaces are meant to represent an old-world bazaar, and each one is beautifully decorated. It's worth going down for a look (and to visit the Wine Museum) even if you don't intend to buy anything.
Address: 8 Sioni Street (Old Tbilisi)
---
Erti Kava Coffee Room
Not only does Erti Kava serve up some of the best coffee in Tbilisi, this cute little cafe off Rustaveli Avenue has a small gift shop out the back. Lurji supra tablecloths, KK Ceramic coasters, graphic t-shirts, tote bags and all other kinds of Georgia-inspired gifts are on offer.
Address: 8 Laghidze Street (off Rustaveli Avenue)
---
In Tiflis
This boutique's selection of homewares and gifts is slightly more traditional – think crochet, leadlight lamps, felted dolls and silver jewellery. You can also find a big range of cotton lurji supra here, plus wooden charcuterie boards decorated with Georgian ornaments.
In the lead-up to the holidays, In Tiflis carries a beautiful range of Christmas ornaments and greeting cards. Everything is handmade locally by Georgian artists.
Address: 3 Vashlovani Street (off Rustaveli Avenue)
---
The Why Not Gallery
This contemporary art space on Agmashenebeli Avenue hosts special exhibitions by Georgian painters and sculptors downstairs. Upstairs, the small gift shop is an absolute treasure trove of funky, quirky and alternative products.
The range includes framed and unframed prints, cushions and textiles with contemporary designs, Pinadze brooches, and my personal favourite, brightly coloured candles in the shape of Mother of Georgia.
Address: 150 Agmashenebeli Avenue (Chugureti)
---
Galleria Tbilisi
Located adjacent to the Liberty Square Metro Station, this shopping mall houses a number of stalls including Blue Tabla, Beard.ge, Spilow, and a couple of other Georgian-made brands. You can find their stands in the second and third-level atriums.
---
Tbilisi Mall
Located further out on the road to Mtskheta, Tbilisi Mall is one of the city's main shopping centres. Along with the usual chain and department stores, you can find a number of independent retailers set up in the mall's atriums. Georgian Memory (2nd floor) sells beautiful silk scarves decorated with Tbilisi-inspired designs (such as the iconic balconied houses) and more subdued, abstract patterns.
My favourite shop, AlterSocks (ground floor), makes funky socks with khinkali and khachapuri patterns, Pirosmani paintings by the famous Kakheti-born artist and other prints.
Address: 16th km Davit Aghmashenebeli Avenue
---
Best shops in Tbilisi for posters, books & paper goods
Here's where to find Tbilisi-inspired posters, postcards and books.
Top choice: Stamba Bookstore & The Shop
Located on the ground floor of the famous Stamba Hotel, Stamba's Books stocks literary related knickknacks and gifts alongside a wide variety of Georgian and English-language tomes. You can also find a big selection of graphic posters plus silk scarves and blue tablecloths by Blue Tabla here.
Next door, The Shop also sells books and guidebooks as well as homewares.
Address: 14 Merab Kostava Street (inside Stamba Hotel)
---
Prospero's Books
This popular bookstore offers a wide selection of English-language books. The regional section is devoted to books about the history, culture and cuisine of the Caucasus. You can also find translated folk tales, Georgian poetry books, copies of The Knight in the Panther's Skin, and resources for learning Georgian language.
Address: 34 Rustaveli Avenue & inside Georgian National Archives
---
Books From Past
This cute cafe-cum-bookstore sells a huge range of art and design books. If you can't decide, grab a 'surprise' bundle of books wrapped in brown paper.
Don't leave without trying a slice of their amazing carrot cake!
Address: 10 Akhvlediani Street (off Rustaveli Avenue)
---
Best gift shops & markets for antiques and carpets
These shops and markets all offer a huge range of vintage and antiques. You never know what you'll turn up – browsing is half the fun!
Top choice: The Dry Bridge Market
The Dry Bridge Market, Tbilisi's daily flea market, is without a doubt the best place to rummage for vintage merchandise and collectibles. Stallholders peddle everything from Russian-made film cameras and KGB ID books to Kakhetian kilims, antique chandeliers and brass door fittings.
Underneath the bridge, you'll find a special section for painters and their easels. New stands were recently built, and more and more designers and artists are setting up shop here every month.
Even if you're not in the market for anything, it's great fun to hang out and have a browse. The market is open daily from mid-morning and is always at its biggest and best on weekends. Don't miss the hidden antiques section.
Address: The Dry Bridge & Dedaena Park (near Orbeliani Square)
See my guide to visiting the Dry Bridge Market for more tips.
---
Top choice: Guga Kot Studio
For a curated collection of retro homewares and antiques, Guga Kot Studio stocks beautiful furniture and vintage signs plus souvenir-suitable and suitcase-sized items, including carpets and kilims, vintage silver and bronze jugs, ceramics, kimonos, and other items sourced from Georgia and around the world.
Again, it's worth a visit just to poke around – this place feels a bit like the props warehouse for your favourite film studio. There is also a small art gallery and workshop space you can browse while you're there.
Address: 35 Merab Kostava Street (Vera)
---
Antique Shop on Uznadze Street
Chugureti district (Marjanishvili) is known for its jumble shops, antique stores and vintage clothing outlets. The Antique Shop on Uznadze Street is a huge market where separate shops sell antique ceramics, porcelain, dinner sets, vases and the like – most of it from the Soviet era.
You can find more antique shops nearby around Tsinamdzgvrishvili Street and second-hand clothing stores along both sides of Marjanishvili Street.
Address: 2 Dimitri Uznadze Street (Chugureti)
---
Caucasian Carpets Gallery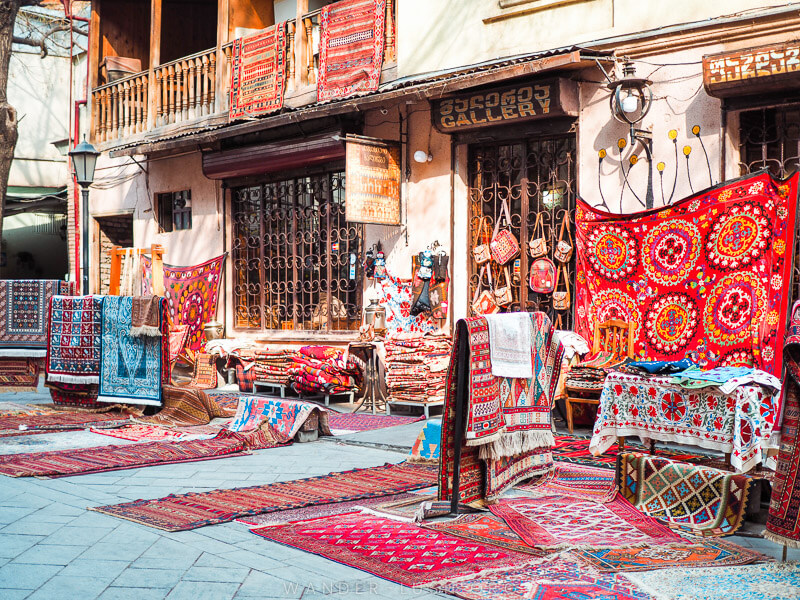 If you have the luggage space, an antique carpet or kilim makes for a wonderful souvenir from the Caucasus. Caucasian Carpets is the best-known and most reputable carpet dealer in Tbilisi, selling authentic Kakhetian kilims and rugs sourced from across the region.
Staff are friendly and knowledgable.
Address: 8 Erekle II Street (Old Tbilisi)
---
Best shops in Tbilisi for food & drink souvenirs
From chacha and wine to spice blends and artisanal tea, these Tbilisi shops have your foodie needs covered.
Top choice: Georgian Kalata – Aristaeus
Kalata means 'basket' in Georgian – and you're going to need one when you go shopping here. Part deli, part pantry, this is a one-stop shop for artisanal food products, including all the edible Georgian souvenirs mentioned at the top.
You can find honey from Poka St. Nino Monastery, jams and preserves, a big selection of spices, Stumari wine tea, loose-leaf teas, fresh goat's cheese from Marleta's farm in Telavi, wine, chacha, and just about anything else your stomach desires.
If all this has you feeling peckish, you can sit out front with a glass of wine and a cheese board.
Address: Orbeliani Square
---
Top choice: Bazari Orbeliani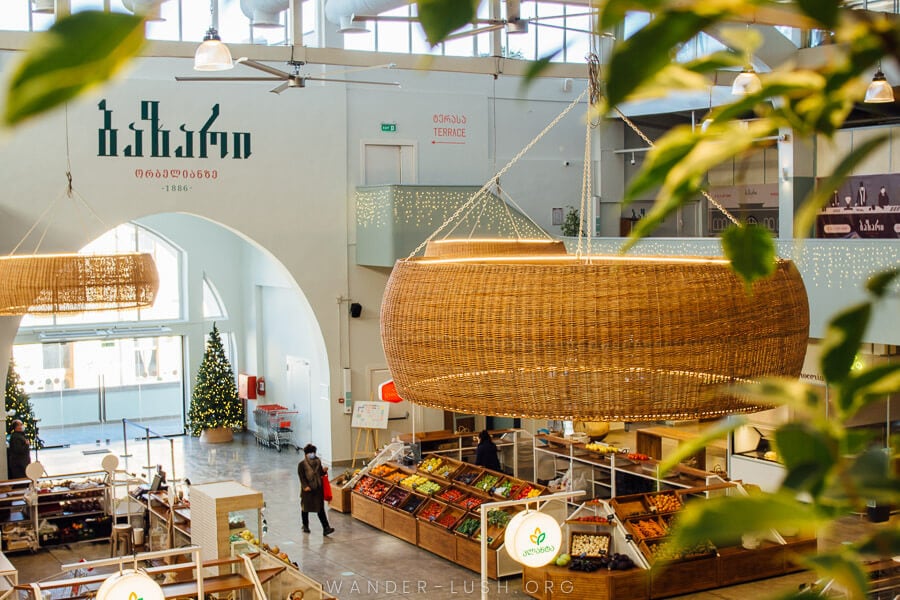 Having re-launched in late 2021, the top two levels of this historic market hall on Orbeliani Square have been transformed into a specialty grocery store and gourmet food court. On the lower level you can find cheese, cured meats, churchkhela and dried fruits, spices, and other packaged food products – many sourced from rural farmers or produced by social enterprises.
The upper level has a dozen or so fast-food-style outlets serving different regional Georgian and international cuisines. There's also a bar and a well-stocked wine shop.
Address: Orbeliani Square
---
Carrefour supermarket
Many Georgian food brands – including Badagi churchkhela and Suneli spices – are stocked at Carrefour supermarkets around Tbilisi and beyond. You can also find jams, preserves, honey, sauces and Kakhetian sunflower oil.
My preferred branch of the supermarket – one of the biggest and most conveniently located – is right underneath the new Bazari Orbeliani on Vekua Street.
Address: Orbeliani Square & elsewhere
---
Khurjini
Khurjini is an atmospheric little shop with a great range of local food products to choose from. Everything is natural and locally sourced, including spices, local wine and chacha, churchkhela, jams, honey, compote, preserved fruits, cheeses and teas.
Address: 15 Anton Katalikosi Street (Old Tbilisi)
---
Badagi
Badagi is one of Georgia's most popular churchkhela companies and is often name-checked by locals for selling the most reliably delicious rendition of the sweet. When you can't buy it straight from the source, these pre-packaged versions will do just fine.
Their shop sells individual churchkhela, gift boxes and hampers along with other dried fruit products and tklapi fruit leather.
Address: 2 Miminoshvili Street (off Rustaveli Avenue)
---
Bitadze Tea Shop & Museum
This petite tea shop and museum dedicated to Georgian tea is run by the Bitadze family, who also manage the country's only tea growers co-op.
Loose leaf green, black and white leaves, plus herbal and fruit teas grown in Guria tea region, Adjara and Samegrelo are all available. If you're a tea lover, you can even join them for a Georgian tea ceremony on request.
Address: 15 Tabidze Street (Sololaki)
---
The Dezerter Bazaar
Fresh spices and herbs, huge wheels of Sulguni cheese and homemade adjika and chacha are just some of the offerings available at Tbilisi's main central food market. Most people come here for grocery shopping, but all these items make for wonderful edible Tbilisi souvenirs – locally made and straight from the source.
For spices and cheeses, head into the building on the right-side of the market. Herbs and tea can be found outside.
Address: Abastumani Street (Tsereteli)
---
Top choice: 8000 Vintages
8000 Vintages is one of the best-stocked wine shops in Tbilisi. There are three branches around the city that double as wine bars, hosting formal wine degustations (a must-do activity for anyone interested in wine).
The shop stocks a monumental array of Georgian wines from Kakheti and beyond, plus chacha and wine accessories. They even have a special section dedicated to small-batch family wine cellars for anyone looking to support the little guys.
Address: 27 Tabukashvili Street (off Rustaveli Avenue) & elsewhere
---
Chacha Corner
Georgia's first chacha specialty shop carries more than 200 varieties of locally made liquor, ranging from potent homemade distillations through to fancy modern concoctions such as ChaChaine's ginger-infused chacha.
Address: 11 Lortkifanidze Street (Sololaki)
---
Where to buy Georgian ceramics & tableware
Ceramics Studio 1300 at Fabrika (mentioned above) is my top choice for tableware and hand-thrown ceramics. Here are a few more options.
Top choice: Ceramic Room
The female artists behind Ceramic Room are responsible for hand-crafting and painting the ornate street signs on restored Gudiashvili Square and Atonli Street. They also installed the decorative steps that lead from Rustaveli up to the Art Academy, a must-see in Tbilisi.
Hand-painted tiles and house numbers with traditional ornaments are sold alongside contemporary pottery, plates and vases at their shop in Vera. I adore their entire range. My dream is to build a house and cover it with Ceramic Room tiles from ceiling to floor!
They also have small stand inside Bazari Orbelliani and a workshop space in Mtatsminda.
Address: 30 Vasil Barnovi Street (Vera)
---
Estia Handmade Arts
I love the range of Georgian ceramics at Estia Handmade Art, especially the blue and white tea sets with concentric motifs inspired by lurji supra designs. As well as teapots and saucers, you can find hand-painted beer steins and small souvenirs, such as ceramic magnets.
The space is also used to host art classes and workshops.
Address: 60 Tsinamdzgvrishvili Street (Chugureti)
---
White Studio
This Georgian ceramics studio in the trendy Vera neighbourhood makes porcelain tableware, painted Easter eggs and Christmas ornaments. Aiming to revitalise traditional pottery techniques, the artists behind WHITE Studio use faience and red clay, and decorate their creations with hand-painted designs.
Most of the ceramics here are big and might be tricky to transport home. (If you literally have room in your suitcase for everything including the kitchen sink, they have a beautiful range of hand-painted ceramic basins.) The second White Studio on Rustaveli Avenue is a gallery space where you can admire their larger-scale works.
Address: 22/26 Simon Janashia Street (Vera) & 17 Rustaveli Avenue
---
Tepshi Studio
Tepshi Studio specialises in earthy, organic ceramic tableware that is hand-thrown onsite. They also offer workshops, and stock a small collection of felted slippers and gifts from social enterprise, My Sisters.
Address: 20 Rustaveli Avenue
---
Specialty shops & artist studios
Here's where to buy designer jewellery, leathergoods and textiles. Some of these shops double as artist's studios. Many also offer hands-on workshops for adults and kids.
Top choice: Khoperia Studio
Irma Khoperia's studio in Vera doubles as a gift boutique where you can shop the artist's range of batik on silk wallhangings and scarves and sublimation printed cottons. I challenge you to find a more colourful, cheerful creative space in Tbilisi!
Message or call Irma a day in advance to organise your visit.
Address: 25 Tarkhnishvili Street (Vera)
---
Papanaki
Georgia's national costumes, Chokha, are among the most splendid in the region. At Papanaki, you can shop handmade outfits and wedding attire as well as modern garments, scarves, bags and other accessories inspired by traditional designs. The luxe fabrics and hand-embroidery are something to admire.
If you need an outfit for a special occasion (such as a Georgian wedding), Papanaki also offers a rental service.
Address: 37 Platon Ioseliani Street (Vera)
---
Istoriali
Specialising in fine jewellery inspired by traditional Georgian motifs, mythology and unearthed artefacts, Istoriali looks more like a museum than a shop. Fine gold and enamel accessories carry traditional Colchian forms and symbols and are very contemporary at the same time.
Address: 7 Nikoladze Street (Vera)
---
Qisa Bags
Artist Kato Ramishvili hand-makes gorgeous leather and suede bags at her workshop-boutique in Tbilisi's Vake district. Her style and craftsmanship is inspired by traditional Georgian qisa, leather pouches used by Old Tbilisi's merchants to carry tobacco and coins.
Address: 7 Nikolioz Kipshidze Street (Vake)
---
17 Kvadrati
Tucked away in the courtyard near Sofia Melnikovas restaurant, behind the Rustaveli Theatre, 17 Kvadrati sells leather bags and clutches made on-site by the owner/artist and other Georgian makers.
The name 17 Kvadrai ('17 squared') is taken from the tiny room the store started out in. As the space has expanded, so has its offerings – now you can also shop a range of leather shoes, soft kids toys, ceramics, clothes and jewellery from other young, local designers.
Address: 8 Chanturia Street (off Rustaveli Avenue)
---
Babale
Another social enterprise shop, Barbale works with children and adults with Down Syndrome to creative clothing and homewares with imaginative, whimsical designs.
Address: 21 Aleqsandre Diuma St (Old Tbilisi)
---
Where to shop for Georgian fashion designers in Tbilisi
Most local designers have their showrooms in Vake, Vera and Saburtalo districts. Here are a couple of my favourite retail stores that sell a wide range of Georgian labels.
Top choice: I E R I Store
Tbilisi's premier clothing store, I E R I is located on the upper floor of Wine Factory N1. They stock a beautiful range of tailored garments for men and women from Georgian designers Situationist, Chubika, George Keburia, and others.
Address: 1 Vasil Petriashvili Street (Vera)
---
Co.Lab
Co.Lab has a similar range of contemporary Georgian fashion including everyday wear by young independent designers.
Address: 45 Vasil Barnov Street (Vera)
---
Bonus: Pop-up markets for Tbilisi souvenirs
In the warmer months, vendors set up shop along Rustaveli Avenue. This is a good place to find second-hand books. There is also a small handicraft market daily on the stairs in front of Coffeesta where you can buy original artworks, Svan hats and knitted socks, and other cute souvenirs. It's a bit touristy but worth pausing for a look if you happen to be walking by.
In late summer and fall you'll often see pop-up handicraft markets on Rustaveli Avenue. Dates and times can be found here on the STALL Facebook Page.
Come December/January, Christmas Markets appear in Dedaena Park, Orbeliani Square and on Rustaveli Avenue. See this guide to Christmas in Tbilisi for more details.
Must-read: 9 best markets in Tbilisi.
---
Tbilisi Shopping Map
To help you plan your visit to Tbilisi, I've created an interactive map with all the shops, markets and studios mentioned above marked out.
Click here to view the map and save a copy to your device.
---
What to bring with you when you go shopping in Tbilisi
When you're shopping in Tbilisi, remember to carry a reusable tote bag or string bag to avoid using plastic.
If you plan on buying a few bottles of Georgian wine to take home, these leak-proof bottle protector sleeves are extremely handy.
I always carry a set of reusable silicone food bags for carrying edible souvenirs home – especially fresh spices, so they don't infuse my entire suitcase!
Check out my Georgia packing guide for more handy tips.
---
Shopping beyond Tbilisi
For more great shops around Georgia, check out my city guides:
---
Georgia essentials
Here are some of the websites and services I use when I'm planning a trip to Georgia and the Caucasus. Remember to check out my full list of travel resources for more tips.
– Find affordable flights to Tbilisi, Batumi or Kutaisi on Kiwi.com, a booking site that mixes and matches airlines to find the best route (there's a money back guarantee if you miss a connection).

– Use iVisa to check if you need a tourist visa for Georgia and apply for an expedited visa online.

– Pre-book a private transfer from Tbilisi Airport to your hotel or from Kutaisi Airport to Tbilisi with my preferred partners at Friendly.ge.

– Get a great deal on a rental car in Georgia by using MyRentACar to find a local agent.

– Buy your tickets for the Tbilisi to Baku or Yerevan sleeper train online in advance through my partners at Geotrend (get a discount when you use the code in this post).

– Find the best Georgia hotel deals on Booking.com, book a Georgia hostel, or find a unique Airbnb.

– Find the best city tours and day excursions in Georgia.

– Compare mobile providers and pick up a local Georgian sim card.

– Order a copy of the new Lonely Planet Caucasus guidebook (published July 2020).
Over to you! Have you been to Tbilisi and picked up a special souvenir? What did you buy, and where did you find it? Leave your recommendations for other great gift shops in Tbilisi in the comments!
---
Tbilisi souvenirs: Pin it!