When I travel, I'm usually searching for something new and unfamiliar. I love throwing myself into cultures that clash with my own and situations that challenge my perspective on the world.
But travel can also do just the opposite – it can be a tool for connecting with your roots, reaffirming your identity and (re)discovering a place that you're innately tied to. Sometimes we travel to escape; sometimes we travel to find a way back home.
Armenia is a great example of a destination that attracts both types of traveller.
Every time I visit Armenia, I meet people from Australia or the States who have Armenian heritage and are returning to their ancestral home for the first time. From what they tell me, that initial trip is an incredibly moving, sometimes confronting one – totally different to how I experience Armenia as an outsider.
If you don't know too much about Armenian history, there are events in the country's recent history that have resulted in a huge diaspora population. Today, less than one-third of Armenians actually live inside Armenia. So you can understand why it is that when many people start retracing their roots and embarking on 'Genealogy tourism' as it's often called, the trail often leads them to the Caucasus nation.
---
I first connected with Mirella Arapian, an Australian-Armenian graphic designer and entrepreneur, when she was planning her first trip to Yerevan and Gyumri with her mum. We kept in touch, and after they got back, I asked Mirella if she'd be interested in sharing a bit about her experience with my readers. I'm so grateful that she agreed.
In this short interview, you'll hear about Mirella's trip and how visiting Armenia has changed her life. If you have Armenian heritage, you'll probably find a lot in here that you can relate to. If, like me, you don't have any family ties to Armenia but you're fascinated by the country's history and culture, you'll still find the insights and tips Mirella shares invaluable.
---
Please note: This post contains affiliate links, meaning I may earn a commission if you make a purchase by clicking a link (at no extra cost to you). Learn more.
---
Thank you for being here, Mirella! Can you tell us a bit about your background and why you decided to travel to Armenia?
Thank you for having me! I was born in Melbourne, Australia, to parents of Armenian descent. My paternal grandparents' families were killed by the Ottoman Empire in the Armenian Genocide of 1915, so I don't really know my family history beyond what my grandparents told my father.
My grandfather was four when he escaped, and he was adopted by a Turkish couple who tried to erase his Armenian identity and raise him as a Turk. My surname was Turkish because of this, and has subjected me to racism and discrimination for as long as I can remember.
Armenian is my native language (English is my second), and growing up, my sister and I went to Armenian school every Saturday. I learned a lot about the language, alphabet, culture, and history of Armenia. I remember wanting to visit since learning about it in Armenian school.
Was this trip in the works for a long time? What were some of the key places you wanted to visit?
It was in my heart and imagination most of my life, and early last year my mother said it was her wish for us to travel there together. We planned and booked to visit for three weeks.
The main places we wanted to check out were Khor Virap, Tatev, Noravank and Geghard monasteries, Lake Sevan, Tsitsernakaberd genocide memorial, Gyumri, Dilijan, Garni temple, Aparan Alphabet Park, the Vernissage, GUM Market, and see the Armenia vs Greece UEFA Euro 2020 qualifier.
Unfortunately, our trip was cut short due to a medical emergency, but thankfully we had one week of sightseeing before that. We ended up visiting Tsitsernakaberd, Gyumri, Vernissage, Marmashen monastery, Sev Berd (Black Fortress), Mother Armenia, and various art galleries, museums, shops, cafes, and restaurants.
We just wanted to be there, soak up the atmosphere and experience the culture. Sitting in Republic Square for hours doing just that was an absolute highlight.
How did you feel being on Armenian soil for the first time? Was it what you expected?
It was incredibly emotional and felt very surreal.
Growing up in the Armenian community of the Melbourne diaspora was very different. For starters, we speak Western Armenian (Armenians in Armenia speak Eastern Armenian), so straight away there was a language barrier.
It was also heartbreaking to see places like Gyumri, which had been devastated by the Spitak earthquake in 1988 and still hasn't completely rebuilt, and finding out that was due to a lack of resources and government funding.
While Armenia is one of the oldest countries in the world, Yerevan is the most modern city of any ancient nation. However, we didn't expect to see so much of the Soviet era still prevalent in the 21st century. Post-Soviet Armenia still has a long way to go in shedding the legacy of that time, but I'm hopeful for a bright, exciting, and sustainable future.
There are so many people and organisations doing great things, and it's inspired me to get involved too.
Did travelling to Armenia change how you feel about yourself and your identity?
It has completely changed how I feel about myself and my identity. I legally changed my name to my rightful Armenian surname, and I don't let racism get to me as much as it used to.
I'm super proud of my heritage, my family, their journeys and resilience, and love owning my Armenian-ness. I feel more confident and more connected to who I am than ever before, and while I still feel anger (especially after visiting Tsitsernakaberd), I'm learning to practice forgiveness.
Also, I discovered one of my ancestors was Poghos Arapian, who founded the Ottoman print media in the 1750s and created lettering templates that became the basis of Georgian printing. He was also known as the Armenian Gutenberg. That helps explain why my father was a bookbinder and I'm a graphic designer!
As someone who works in design and the arts, you must have loved Yerevan. What were a few of the highlights?
I absolutely loved the arts in Yerevan. While I was surprised there wasn't much of a design scene in Armenia, its creative history more than made up for it.
We visited the National Gallery, the History Museum, Cafesjian Museum of Art, Armenian Centre for Contemporary Experimental Art, and the Matenadaran. I'm also a big fan of architecture – in particular modernism and brutalism – and Yerevan did not disappoint with its exciting and unique Soviet and post-Soviet era buildings and monuments.
Do you have any advice or words of wisdom for people planning to visit Armenia?
There are very, very few elevators and escalators in Armenia, so be prepared to walk a lot of stairs at any given time. Pack flat, comfortable shoes.
Due to the aforementioned language barrier, Google Translate will quickly become your best friend.
Armenia has one of the lowest crime rates in the world, so don't be apprehensive about using marshrutka vans to get around, even if they're unmarked.
Armenia is an ancient, war-torn nation, so it's important to bear in mind that things like infrastructure, wages, and essential services are not the same as in other countries. Armenians are the most hospitable people in the world. Please tip generously.

If you have Armenian heritage (or not!), it's the trip of a lifetime. I've never experienced such a rich, all-encompassing tapestry of culture in any other country I've visited.
Just make sure you bring back as much lavash as you can back with you – this was my biggest regret!
---
Mirella is the Founder and Creative Director of Mek, an award-winning brand design studio, and the Founder of Womentor, a mentorship program for women working in graphic design. For more, you can follow her on Instagram.
---
This post is part of a special series of interviews with travellers who have diverse experiences of travelling in the Caucasus. Also read: Solo female travel in the Caucasus, an interview with journalist Elisha Donkin.
Armenia Travel Guide
Discover insider tips, itinerary inspiration, and all the best things to see, do and experience in Armenia!
Armenia Essentials
My favourite resources and tools for planning a trip to Armenia.
More from Armenia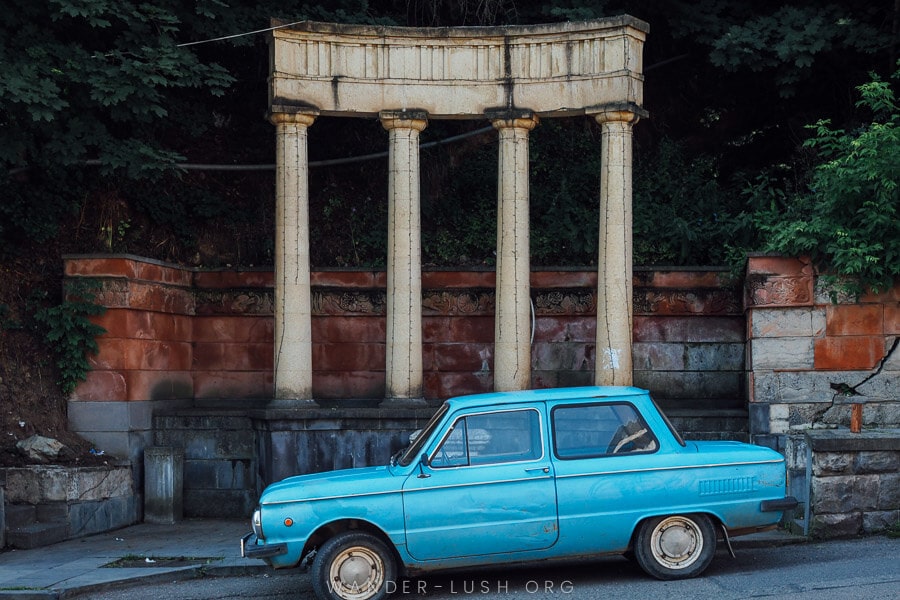 Armenia Travel Guide
Discover insider tips, itinerary inspiration, and all the best things to see, do and experience in Armenia!
Armenia Essentials
My favourite resources and tools for planning a trip to Armenia.
More from Armenia