Looking to experience an authentic homestay in Sapa, Vietnam? Indigo Snail Boutique Hmong Homestay in Ta Van village is an ideal getaway from Sapa town. Featuring boutique accommodation, trekking, and home-cooked meals.
If I believed everything I read online, then I had no hope of finding an authentic homestay in Sapa.
Over-tourism, I was told, has ruined the former French summer retreat and trekking mecca. For the 12 months I've been based in Hanoi, I've avoided travelling to Sapa, choosing to visit more remote locations like Pu Luong, Ha Giang and Hoa Binh instead.
When I recently had a chance to go to Lao Cai City as part of a work trip, curiosity got the better of me and I decided to add on a few nights in Sapa as well.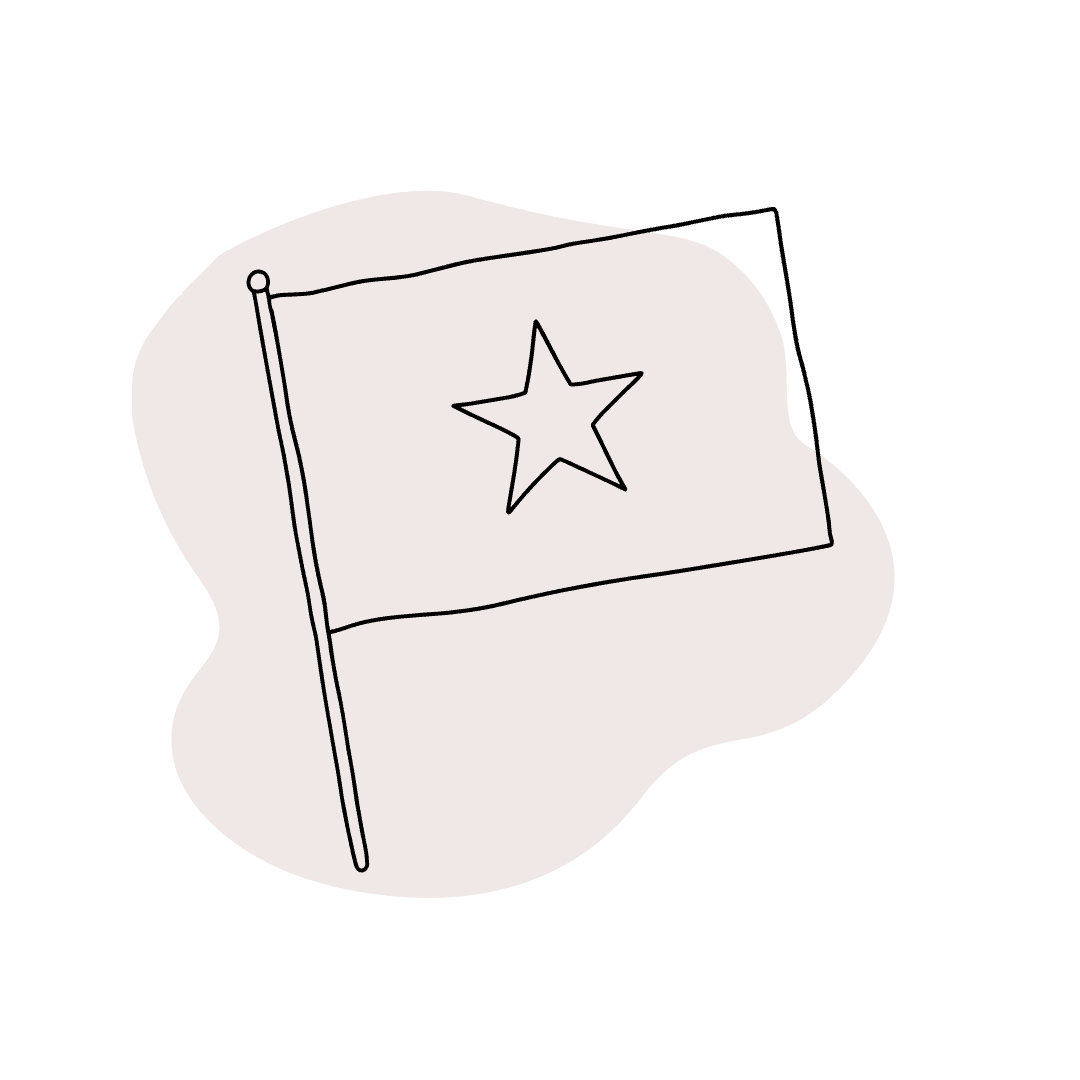 More from Vietnam
Discover the best city guides, itineraries, travel tips & hidden gems in my Vietnam Travel Guide.
To be sure, Sapa town is extremely touristy – there's no denying it. But just 8km away in Ta Van, a small-ish Hmong village, I found a homestay experience to rival any other in Northern Vietnam.
Essential reading: How to get to Sapa from Hanoi by bus, train or VIP van.
I'm still processing my trip, but my overall impression is that Sapa really isn't that bad, especially if you get out of town and choose a more remote village to base your stay.
Here is my review of Indigo Snail Boutique Hmong Homestay in Ta Van village, conveniently located less than 45 minutes' drive from Sapa town.
---
Please note: This post contains affiliate links, meaning I may earn a commission if you make a purchase by clicking a link (at no extra cost to you). Learn more.
---
Ta Van village in Sapa
Ta Van is not a remote village: It's pretty well built up and as a result, draws a fair number of tourists down from nearby Sapa town.
There are grocery shops, cafes, bars, homestays and other accommodations throughout the village, most of them set in the bottom levels of the 100 or so wooden houses that make up the hamlet.
I was a bit taken aback when I first arrived in the village. I suppose I was expecting something a little more secluded. Still, it's much quieter than Cat Cat village, which is even closer to Sapa.
Thankfully, Indigo Snail Homestay has a great position above the centre of Ta Van, away from the action. Next to Ha Giang, the views are some of the most spectacular I've seen in Vietnam.
Keep reading: Homestays and trekking in Ha Giang, Vietnam.
The house is skirted by a large patio and upstairs balcony, with views out to the rice terraces and mountains beyond. It's quiet and very relaxed – a welcome contrast to the chaos of Sapa town.
Indigo Snail has lots of indoor and outdoor communal spaces, including nooks perfect for curling up with a book. It rained lightly for almost the whole duration of my stay, which added to the homestay's cozy atmosphere.
---
The hosts
Indigo Snail Homestay is owned and operated by Sue, a former street hawker who later found a job as a guide for local tour company Sapa O'Chau before starting her own business. She and her family of six – including her husband, mother and mother-in-law – all pitch in to manage the homestay.
Indigo Snail is one of very few businesses in the area that is owned by a Hmong family (most tourist services, by contrast, are owned by businesspeople who come to Lao Cai Province from elsewhere in Vietnam looking to invest). With the homestay, Sue is able to make a sustainable income and support her extended family.
Sue speaks excellent English and is more than happy to share information about Hmong culture and traditions with her guests. As a textile lover, I was particularly interested in hearing about the Hmong brocade and batik that decorates every room.
In fact, I first found out about Indigo Snail through Lucy Patterson, a New Zealand-based textile researcher and author who I was lucky enough to meet in Hanoi. Lucy has been working with Sue for many years to document textile traditions in the area.
Textiles are clearly one of Sue's life passions. She has a vision to develop a museum at the homestay where she can showcase Hmong designs made by her family and sourced from the local community.
For now, there is a small display of local textiles and traditional costumes inside the main house.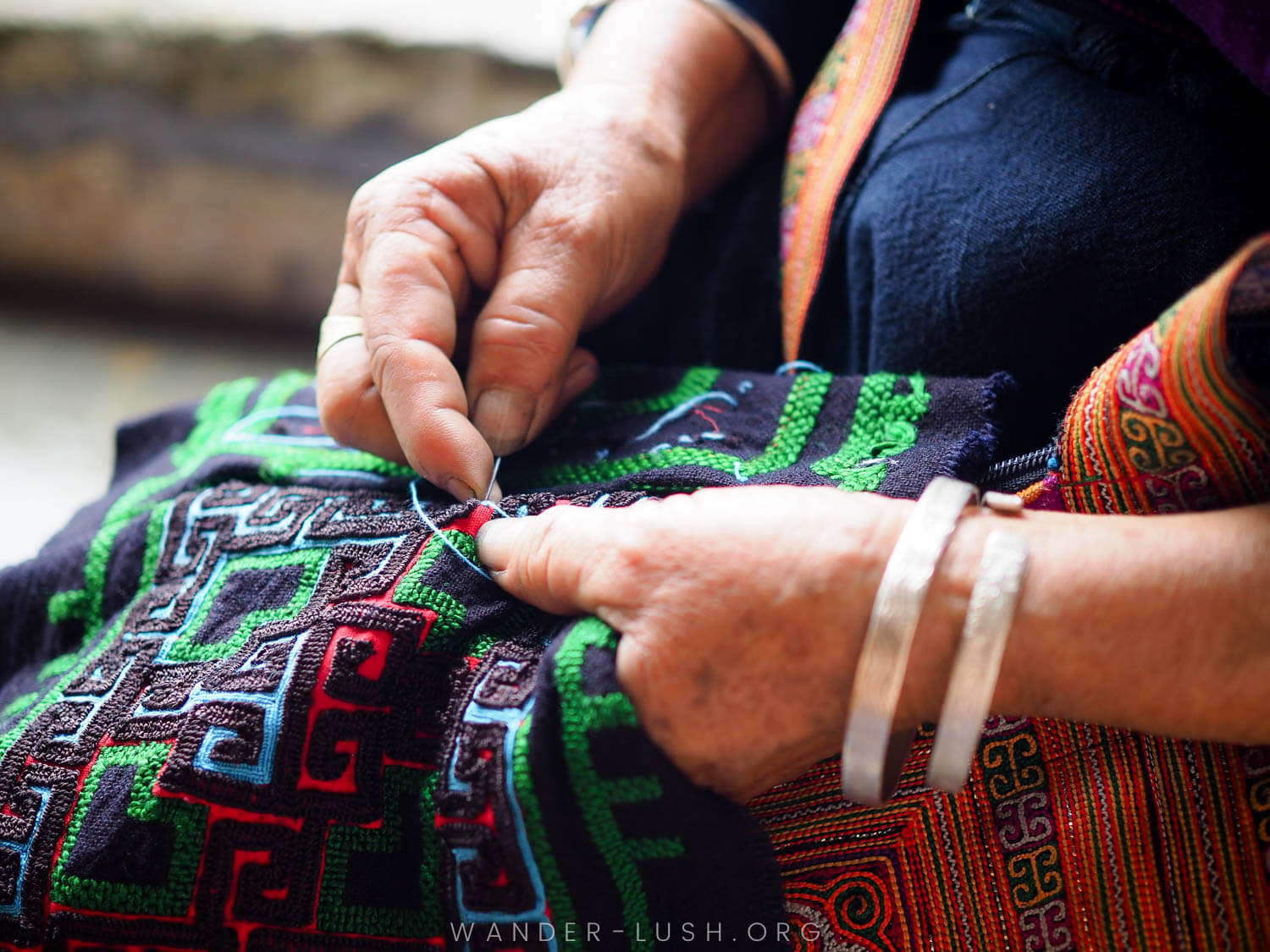 A highlight of my time at Indigo Snail Homestay in Sapa was getting to spend some time with Sue's mother-in-law, Yi-Yi.
One morning, she came to the door of my bungalow carrying a huge basket overflowing with embroidery and batik. She carefully unloaded it, pointing out the details of each piece, before sitting down on little plastic chair and showing me how to stitch a few lines.
I couldn't resist – I had to buy a few of her pieces! I can't wait to find a home for them once I'm back in Australia. I highly recommend bringing some extra cash with you in case you'd like to buy a souvenir, too.
---
The accommodation
Indigo Snail offers everything you could need from a homestay in Sapa. The property is newly renovated, so everything is spick and span. A lot of care and thought has gone into the design, especially the furnishings. Unsurprisingly, Hmong textiles feature heavily throughout.
Since this was my only chance to stay at a homestay in Sapa, I decided to treat myself and rent out one of Indigo Snail's two private bungalows. Alongside a very comfortable double bedroom, the bungalows feature new bathrooms complete with hot-water showers. Fresh towels and bed linens are also provided.
Since there are only two private bungalows, if you're travelling to Sapa during a busy period (say October through January), I would recommend booking as far in advance as possible. I was able to reserve a bungalow with just a few day's notice in July, but I was lucky – the homestay was almost full!
For a budget option, Indigo Snail has a shared 'dorm room' that takes up the entire top floor of the main stilted house. The open-plan room sleeps up to 10 people, and there are a few separate double rooms partitioned off to the side.
The shared bathroom is also newly renovated and located on the top level (handy if you don't want to be going up and down stairs in the middle of the night). The big room is spacious and light-filled, with incredible views of the rice paddies from the balcony.
There is reliable WiFi throughout the property. Another traveller I met was working remotely and had chosen to base herself at Indigo Snail for an entire week while she finished a project online.
Read next: An authentic homestay experience in Hoa Binh, Vietnam.
A home-cooked dinner and traditional breakfast is included in the room rate. The evening meal wasn't the same big spread I've grown used to at homestays in Vietnam, but everything was fresh and delicious. Vegetarian options are also available.
As is customary, Sue and her family joined us for dinner and many rounds of toasts with plum-flavoured rice wine (or plum juice for those who don't drink).
For breakfast, we had crepes with banana and honey. Outside of meal times, tea, coffee, beer and drinking water are available.
---
Trekking with Indigo Snail
Sue and other family members also organise and lead treks. For the standard trekking itinerary, Sue will meet you in Sapa town and take you on an off-road hike through rice terraces and small villages before arriving at the homestay at around 3pm.
The next day, you can continue trekking – this time via waterfalls and Red Dao villages – before heading back to Sapa by car. There's also an option to customise a trekking itinerary if you prefer.
There were two groups trekking at the time of my visit, and they both rated the walk highly.
How to get to Ta Van village from Sapa
If you'd prefer not to trek, you can travel directly to Ta Van from Sapa by taxi or motorcycle. I chose this option. The village is only 8km outside of Sapa, but the roads are very rough, so you should allow at least 40 minutes for the journey.
The road passes right through the Muong Hoa valley and is incredibly scenic! Give Sue a call on your day of travel and she'll be able to help with finding a driver.
I ended up organising a taxi on my own through my hotel in Sapa. I was a bit annoyed when the driver asked for a flat fare of 250K VND – but in the end, the taxi metre ended on 200K VND, so I was happy to pay a bit extra.
When we arrived in Ta Van, the driver called ahead to Indigo Snail for directions. He dropped me right at the front door, where So, Sue's nephew, was waiting to show me inside.
On my final day, Sue's husband drove me back to Sapa on his bike. A motorbike ride between Sapa and Ta Van costs between 50K and 100K VND depending on the time of day and weather conditions.
Indigo Snail Homestay in Sapa: Info
Indigo Snail Boutique Hmong Homestay
Ta Van Village, Lao Cai Province, Vietnam
Check prices and availability on Airbnb.
---
What about you? Have you ever stayed at a homestay in Sapa or elsewhere in Vietnam? I'd love to hear about your experience!
---
---
More Vietnam travel resources