Many people come to Northern Vietnam for trekking and homestays. Da Bac in Hoa Binh Province – about 100km from Hanoi – is one place where you can get off the beaten track for a more authentic experience of both.
The Da Bac Community-Based Tourism project offers Vietnam homestay, trekking and cultural experiences in three scenic ethnic minority villages. Here's everything you need to know about visiting Da Bac.
---
Please note: This post contains affiliate links, meaning I may earn a commission if you make a purchase by clicking a link (at no extra cost to you). Learn more.
---
A version of this post was published by Intrepid Travel. Read it here.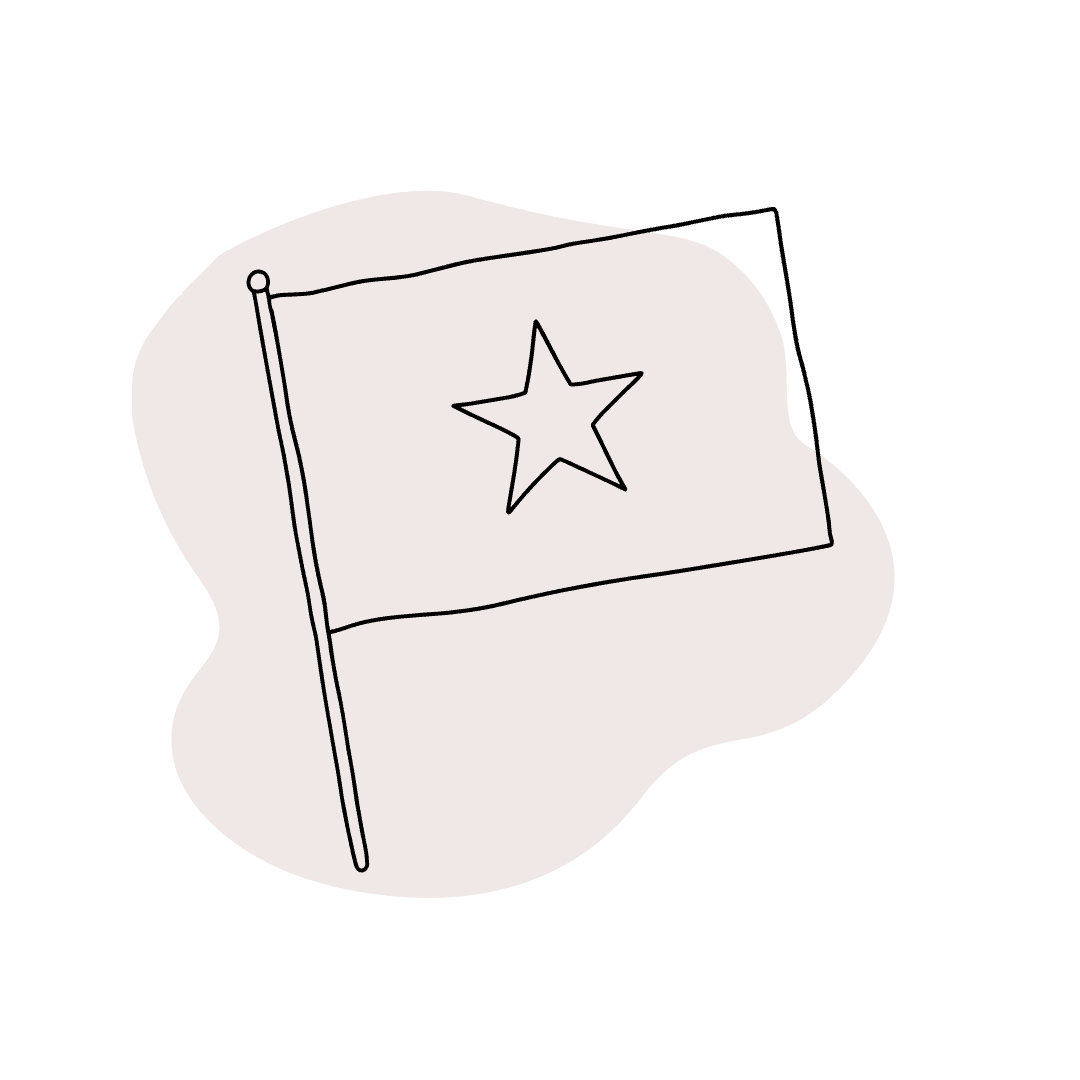 More from Vietnam
Discover the best city guides, itineraries, travel tips & hidden gems in my Vietnam Travel Guide.
It's a criticism I hear time and time again: Vietnam is 'too touristy'. In the past 10 months, I've certainly experienced some of the pitfalls of tourism in Vietnam myself: Thronging crowds are not uncommon at popular spots, nor are all the wonderful things that come with them – including pollution.
Overtourism also causes problems that are less obvious than plastic bottles on the beach, namely long-term social and cultural consequences for the communities that host visitors.
But what if I told you there are still corners of Vietnam that remain relatively untouched by tourism?
What if Sapa wasn't the norm. What if there were alternative, better models for responsible tourism that have a positive impact on people's lives and the environment. Does that sound like something you might want to play a part in?
Da Bac in Hoa Binh Province, just outside of Hanoi, is one place where a community-based approach to tourism is succeeding. I recently had a chance to visit the Da Bac CBT project with the team from Action On Poverty, their NGO partner, to learn more about this people- and planet-positive approach to tourism.
I also had a chance to put my tourist hat on for a few days and experience Da Bac from a visitor's perspective. In the process, I discovered one of the most authentic, rewarding tourism experiences on offer in Northern Vietnam.
---
About Da Bac
Da Bac district is located in Hoa Binh Province, about 100km or three hours' drive from Hanoi. The landscape is mountainous, with the aqua-marine Da River slicing through the centre of the province.
Hoa Binh means 'peace' in Vietnamese – an apt name for such a laid back, scenic location. Because of its proximity to Hanoi, Hoa Binh is one of my favourite spots for a quick getaway from the city. In my opinion, it's one of Vietnam's most underrated provinces.
Da Bac Community-Based Tourism is a social enterprise that was set up in 2017 to help create sustainable incomes for families in the area. It's grown into a network of three remote ethnic minority villages: Sung Village, Da Bia Village and Ke Village, all located in the Da Bac vicinity. Each hamlet has a unique landscape and its own tourism offerings.
Sung Village, home to 73 households belonging to the Dao Tien ethnic group, is the highest village in Da Bac. It has a cool climate and is famous for its Shan green tea, which you can purchase at a small tea shop in the village.
Da Bia is a Muong Ao Ta village located on the edge of the Da River and offers a range of water activities. Nearby Ke Village, home to people from the Muong group, also has a waterfront location and is a good spot for swimming.
A visit to Da Bac usually involves combining two or three villages, or you can just visit one village if you're short on time.
---
What is community-based tourism?
What sets Da Bac apart from other destinations in the Hoa Binh area is the community-based tourism (CBT) model, which aims to maximise the benefits of tourism while mitigating any social and environmental costs. Community-based ventures are becoming increasingly popular in Vietnam, partly as a response to overtourism in places like Sapa.
We visited another CBT project in Ha Giang earlier this year and were very impressed with their work. Not all CBTs are created equal, though – you really have to do your research to make sure you're supporting a legitimate project.
To put it simply, community-based tourism puts the interests of the local community first. It's a community decision to start welcoming visitors, and all community members are encouraged to play an active role in the different stages of tourism, including planning and implementation.
Community leaders and members have a hands-on role in the roll out of tourism – becoming hosts, guides and administrators themselves – and thus have a sense of ownership over the venture. The end goal for many CBT projects is to eventually phase out and leave the community to self-manage their tourism project.
CBTs are often established in partnership with an NGO or social enterprise, which helps them through the difficult early stages of setting up. Da Bac CBT is supported Action On Poverty (AOP), an Australian NGO that works in Vietnam and parts of Africa.
Staff in the local country office work directly with the Da Bac community from their offices in Hoa Binh city and Hanoi. Another interesting point to note about Da Bac CBT is that the entire project is funded by one very generous Australian philanthropist.
---
Community-based tourism in action
The main function of the Da Bac CBT Project is to assist families in setting up their own homestay. So far, AOP has supported 10 families in three villages.
The project operates on the philosophy that with enough passion and a little bit of training, anyone can be a great host. The families who welcomed us into their homes all come from humble backgrounds – most were agriculturalists before they got involved with CBT, and none of them speak English.
The owners we met ranged in age from early-20s to mid-50s and all come from ethnic minority backgrounds. About half are women.
Each family that joins the CBT network is eligible for a loan to kick things off. This is typically used to make small improvements to the house (installing extra lighting, for example) and to construct new bathrooms and eating areas. Once they start welcoming guests, they gradually start paying back the loan.
Homestay owners participate in an initial training program; mentoring from other community members is also an important factor. One of the coolest things about Da Bac CBT is that homestay owners get a chance to go on exchange to other areas. For many, this is their first experience of being a 'tourist'.
Another benefit of the CBT model is the community fund. A certain portion of the proceeds earned through hosting guests is pooled and reinvested into projects that benefit the whole community. These range from education and health initiatives, to improvements to the village infrastructure.
The way CBT is structured – often with the involvement of an NGO partner – makes it easy to network with other organisations and embassies to deploy volunteers. When we visited Da Bac, we joined a group of Irish volunteers who had come over to build a playground and plant trees in Da Bia village.
Another volunteer team had recently finished building a new community house in Sung Village. The plan is to use the house to teach traditional Dao language to young people from the community.
It takes a village…
Homestays are just one aspect of CBT. By design, community-based tourism engages a range of other industries and groups. In Da Bia Village, more than half the 39 households are involved in CBT.
A local fishing coop provides the homestays with fresh seafood. There's a cooking group to help with preparing meals, and a kayaking group that rents out equipment to tourists.
In Sung Village, one woman has set up a small textile shop and another resident sells the local tea he farms. Anyone who owns a motorbike or taxi is often called on to help transport guests for a fee.
No matter what your skills are or what resources you have access to, CBT can be a great opportunity to increase your income and diversify your businesses.
The benefits & challenges of community-based tourism
As part of our visit to Da Bac, I had a chance to sit down with some of the CBT members and talk to them about their experiences with tourism. After hearing so many good things about the project from the organisers and other guests, it was great to hear another perspective.
The people I spoke to were overwhelmingly positive about the effects tourism has had in their community. Homestay owners all report growth in their household income; the extra money they make is typically used to fund their children's education, purchase new farming equipment, and to make improvements to the home.
Constructing new bathrooms has helped raise hygiene standards for their own families, too. Improved access to running water and electricity as well as transport and technology is also unfolding as a result of tourism.
Tourism creates jobs for women in the community and contributes to gender equality. The chance to introduce visitors to traditional Muong and Dao culture encourages people to place new value on certain traditions, including ceremonial dancing, indigo dyeing and embroidery.
The homestay owners I spoke to glowed as they told me of the pride they have in their culture and the joy that comes with sharing it with other people. Tourism creates inter-generational opportunities in the community and allows families to stay together – whereas before it was more common for children to move to the city, now they can stay, learn, and eventually inherit a family business.
Visitors bring with them new ideas and world views. The chance to learn from and exchange knowledge with tourists was something that came up again and again, even when language is a barrier.
Welcoming guests is also helping to instil strong environmental values. The Da Bac villages are honestly some of the cleanest places I've seen in Vietnam. I didn't notice it at first, but as soon as one of the homestay hosts pointed out that families have grown more determined to keep the village clean and minimise their waste, I immediately noticed the lack of plastic and trash that's unfortunately typical of most tourist destinations in Vietnam.
There are of course downsides to tourism, too. One of the first things people like to do when they have extra cash is renovate their home. One host talked about wanting to raise his house off the ground so that taller foreigners wouldn't hit their head on the interior beams!
Every family deserves to improve their living conditions – but there's a risk in that some houses lose their authenticity in the renovation process, making them less attractive to visitors. It's a fine line and one of the long-term challenges the Da Bac community will no doubt have to negotiate.
---
Visiting Da Bac as a tourist
Now you know a little bit about community-based tourism and how it affects families and communities. So what's it like to visit a CBT project in Vietnam as a tourist? Here's an account of my experience visiting Da Bac's villages and homestays.
Accommodation in Da Bac: An Authentic Vietnam homestay
The whole Da Bac CBT project centres on the nine homestays, each owned and maintained by a family from the community. Unsurprisingly, the accommodation is a real highlight for guests, especially anyone who hasn't slept in a homestay before.
Traditional Muong and Dao lodgings range from magnificent stilted houses to long, cavernous wooden homes. Each of the homestays we visited was beautifully designed. I particularly love the carved and painted rafters inside some of the bedrooms.
By homestay standards, sleeping quarters in Da Bac are down right luxurious. Clean linens and fresh towels are standard, and mattresses and pillows are comfortable. Every bed has a mosquito net and curtains that you can pull across for extra privacy.
You'll also find a power point and reading light close by. My one and only complaint is that some of the houses (especially the Muong stilted houses) can get very warm on summer nights. It's a good idea to pack something very light to wear to bed.
One requirement of the CBT Project is that all homestays be fitted with new bathrooms, including hot water showers and Western toilets. In our experience, the shared bathrooms are always kept very clean.
---
Things to do in Da Bac
Da Bac is not strictly an adventure tourism spot – it's a good location to unwind and relax. With the exception of Ke Village, none of the homestays have WiFi or internet reception, so you don't have much choice except to unplug and chill out.
Working with the community, Da Bac CBT has developed a range of activities to keep visitors occupied – if you can muster the energy to roll out of your hammock for a few hours, that is.
Trekking in Da Bac
There are several trekking routes in Da Bac. The longest is a trek between Sung and Da Bia Villages, which ranges from 6km to 13km depending on the route. In Sung Village, you can do a much shorter trek to the nearby Sung Cave.
The scenery in Da Bac is absolutely gorgeous, far more beautiful than I was expecting, to be honest, so if you do get a chance to trek through the corn and rice fields and take in magnificent views of Hoa Binh Lake, take it.
By the same token, taking a short walk around the hamlet can be a very pleasant way to spend an early morning or afternoon. In some villages, you can hire a mountain bike or a motorbike.
Water activities in Da Bia Village
In Da Bia, you can hire kayaks or go swimming in the river. It's also possible to visit the local fish farms, which float on the river's surface.
Textiles & cultural activities
Each of the three villages offers a cultural program, including traditional dance performances. I'm usually a bit skeptical of cultural shows – but after hearing from community members about how much they enjoy practicing and performing their traditional dance, I have a new appreciation for them.
I've always assumed that these performances are done purely for the benefit of visitors, so it's nice to know the community enjoys them too.
In the Da Bac villages, you'll see people dressed in both Muong and especially Dao traditional costume. Textiles are still handmade in Sung Village using traditional dyeing and embroidery techniques.
One elderly resident has turned the front of her house into a little textile shop where she sells garments, bags and wall hangings.
She has received some support from the CBT to develop products for Western tourists. But I'm told she usually just focuses on what she enjoys making: traditional Dao Tien wedding outfits.
She's very enthusiastic about encouraging tourists – especially young couples – to dress up in the costumes! If you visit Sung Village during indigo season (between August and December), you can watch her dye the cloth in huge vats of natural indigo.
Also in Sung Village, there's a small tea shop where you can purchase bags of locally grown Shan green tea.
Red Dao herbal bath in Ke Village
One of the highlights of our visit to Da Bac was taking a traditional herbal bath. A natural health remedy used by the Red Dao ethnic group to promote circulation and general well-being, the warm bath is 'brewed' from a mixture of herbs and medicinal plants.
Delightful little round wooden tubs are set in a private room with beautiful views looking out over the river.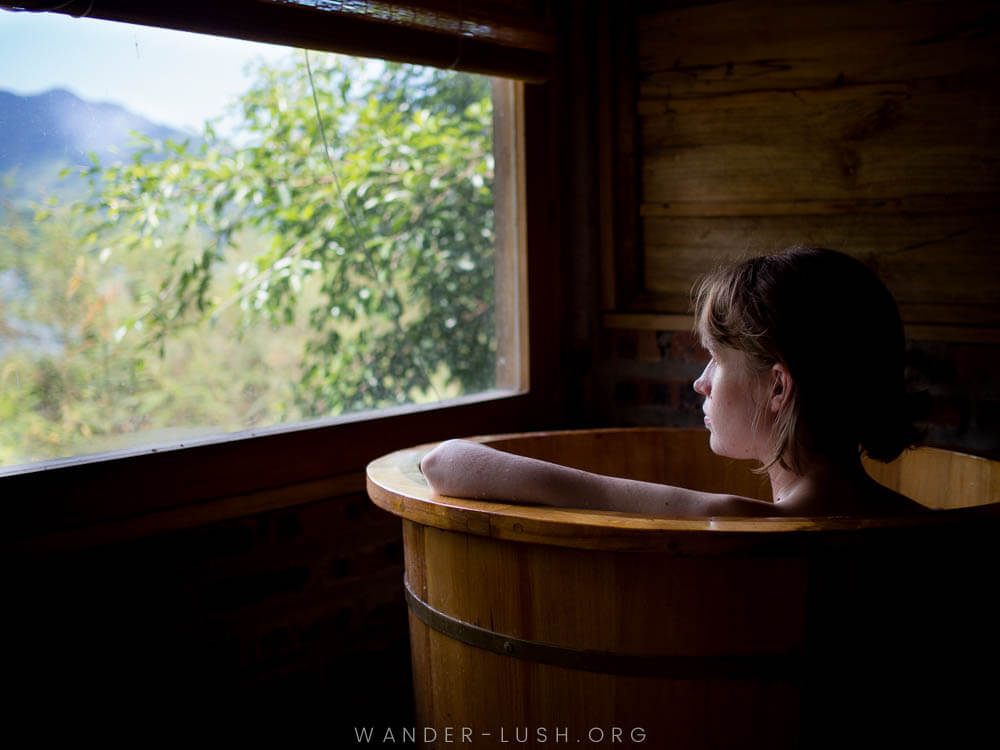 Currently, the Red Dao herbal bath is only available in Ke Village.
---
Food & drink in Da Bac
I'm always impressed by the quality (and quantity!) of food served at Vietnamese homestays. Da Bac was no exception. Meals are prepared by homestay owners and other members of the community using fresh, seasonal and locally grown ingredients.
Breakfast was either a simple Vietnamese dish (banh cuon or fried rice); another morning we were treated to crepes with banana and local honey.
Lunch and dinner are served 'family style' – big shared plates set in the centre of the table. These meals usually included pork, chicken and fish, plus at least three different tofu and vegetable dishes. There will always be something on the menu for vegetarians – but it does pay to give your homestay host advance notice if you're not a meat eater.
As part of the CBT program, all hosts go through training on food hygiene and how to cater to different dietary requirements, so you can be confident in the quality and cleanliness of the food.
Coffee, green tea and canned drinks are available at any time. Some homestays can also prepare fresh juices and smoothies. All the homestays have filtered water, so make sure you bring a refillable water bottle to cut down on plastic waste.
---
Planning your visit to Da Bac
Because of its remote location, most people come to Da Bac as part of an organised tour. Intrepid currently visits Da Bac as part of its Scenic Vietnam and Best of Vietnam tour itineraries.
It's still possible to visit Da Bac as an independent traveller. In the near future, improvements to infrastructure and communication should make this easier and easier.
See the next section for information about getting to Da Bac using your own vehicle or public transport.
How to get to Da Bac from Hanoi
Da Bac is quite remote and still a bit tricky to get to if you're travelling independently. The best way to get into the villages is by car or motorbike.
Another option is to travel to Hoa Binh town, Da Bac town or Mai Chau town by public bus. From there, you can take a local taxi to the villages. If you plan on using public transport, it's best to coordinate your travels with the CBT team who will be happy to assist you with planning.
Travelling between villages by xe om (motorbike taxi) or regular taxi can be organised once you're in the village. It takes about an hour to travel from Sung Village to Da Bia Village, and about an hour and a half to get from Da Bia Village to Ke Village by road. It's also possible to connect to Mai Chau from Da Bia Village using a combination of boat and taxi.
How to book a homestay in Da Bac
While it's possible to just roll up and ask for a room, it's highly recommended you make a reservation in advance. Simply fill out the form on the Da Bac CBT website and the project's English-speaking staff in Hanoi will work with the host to make the arrangements. You can pay in cash on arrival.
Tips for your visit to Da Bac
Bring a water bottle that you can refill with filtered water in the villages
Pack bug spray, especially if you're travelling in summer
Bring a book to fill in the quiet hours between activities
Make sure you have some cash on you in case you want to purchase some tea or textiles from the community shops in Sung Village
Remember that homestay meals and some activities cost extra, so you should budget for these when planning your trip to Da Bac
---
---
---
We were guests of Da Bac CBT for our visit to Da Bac in June/July 2018. My partner, Ross, has been volunteering with Action On Poverty in Hanoi for the past several months. However, all opinions here are my own. I would never endorse a community tourism project I wasn't confident in – I was truly impressed with Da Bac CBT's work, and I wouldn't hesitate to recommend a visit to other travellers.
---
More Vietnam travel resources