This round-up of the best day trips from Baku, Azerbaijan includes short independent trips you can do with public transport and longer Baku tours. Whether you're looking for nature, hiking, culture, history or food and wine, this list has something for you!
Baku is the gateway to some of Azerbaijan's most incredible mountains, surreal landscapes of mud and fire, enthralling villages, and even the wine region.
It's easy to get waylaid by the capital's charming the Old City, Icherisheher, and the ultra-cool urban architecture, but don't forget there are plenty of amazing things to see and do right on Baku's doorstep.
I recommend spending at least 3-4 full days in Baku. That's enough time to see the city highlights plus take 1-2 day trips around the Absheron Peninsula and beyond.
Getting around Azerbaijan can be a bit challenging, but it's possible to do many of these Baku day trips independently using marshrutka vans or trains. Below, you'll find detailed instructions for each destination.
For longer drives and more complex routes, I highly recommend joining either a guided tour or taking advantage of the hop-on-hop-off-style transfers available. In the next section, I list my top picks.
---
Please note: This post contains affiliate links, meaning I may earn a commission if you make a purchase by clicking a link (at no extra cost to you). Learn more.
---
---
---
How to plan a Baku day trip
I've included detailed transport information for each destination in the next section.
Here is a quick overview of your transport options for travelling out of Baku plus a few handy links:
Metro & intercity buses
Many of these shorter day trip destinations on the Absheron Peninsula are easy to reach from the Old Town using a combination of metro and buses. Public transport in Baku is linked up to Google Maps, which makes it very easy to navigate the city using your phone.
Pick up a rechargeable BakıKART for 2 AZN when you first arrive. A single metro trip costs 0.30 AZN, and bus fares range from 0.30-0.50 ANZ depending on the route.
Regional buses
You no longer have to travel all the way to Sumqayit to catch a marshrutka or coach. Regional buses to towns and cities outside Baku now depart from the International Bus Terminal Complex located here. To get there from Icherisheher, simply take bus 37 from Nizami Garden to Bilajari Circle (0.30 AZN; 20 mins).
The bus station publishes schedules and fares on their website – which is surprisingly easy to use. Check times and ticket prices for popular destinations here.
Organised day tours
Generally speaking, organised day trips from Baku are great value for money and take a lot of the hassle out of travel. I highly recommend joining a day tour with private transportation for longer trips, especially anything that requires more than three hours of travel.
Viator has the best range of itineraries and tour companies in Azerbaijan. Click here to browse all day trips from Baku.
---
Best day trips from Baku for history, culture & scenery
1. Day trip from Baku to Gobustan National Park – mud volcanoes & petroglyphs
Distance from Baku: 65 km (40 miles)
Travel time: ~4 hours return
Best for: History, culture, adventure, families with kids
A short drive south via the Caspian coast, Gobustan (Qobustan) is by far the most popular day trip from Baku. This was one of the first places I visited after arriving in Azerbaijan and it's an experience I'll never forget.
There are two things to see in the area. First and foremost, the Gobustan Rock Art Cultural Landscape is one of the country's three UNESCO World Heritage Sites, where you can observe more than 6,000 petroglyphs – some 40,000 years old. After visiting the small but fascinating exhibition, you are then led through the open-air museum to view the ancient engravings hidden amongst caves and boulders. Entrance costs 10 AZN per person and includes an English-speaking guide.
There are mud volcanoes all over the Absheron Peninsula, including a big cluster 1.5km inland from Gobustan. It's a short off-road drive from the museum to reach this otherworldly landscape, where little craters bubble and puff, spilling ice-cold mud onto the dry earth.
How to get to Gobustan from Baku with public transport
To get to Gobustan from Baku independently, you'll need to use a combination of public transport and taxis.
First, take a south-bound bus 125 from Azneft Square to the Karvansaray Shopping Centre (0.40 ANZ; 30 mins). Cross the road to Bina Shopping Centre and board the south-bound 195 bus (1.30 AZN; 45 mins) to Gobustan House of Culture in the centre of Gobustan town. From there, a local taxi to the National Park takes around 10 minutes and should cost ~12 AZN. A taxi to the petroglyphs and the mud volcanoes combined should cost ~30 AZN.
2. Day trip along the Absheron Peninsula – flaming hills & fire temples
Distance from Baku: 100 km (62 miles)
Travel time: ~4 hours return
Best for: Adventure, scenery
The Absheron Peninsula is the piece of land that extends into the Caspian Sea north and east of Baku. As well as more mud volcanoes and a surreal shoreline of oil rigs, this area offers a range of other quirky landscapes and attractions – including the famous 'flaming mountain', Yanar Dag, and the Ateshgah Zoroastrian Fire Temple.
A tour of Absheron from Baku will typically include Gobustan to the south plus several stops to the east of the city. It involves a bit more driving, but it's worth it to book a combination tour if you have time to see more of the area.
If you just want to visit Ateshgah or Yanar Dag, you can quite easily do it independently by bus. See numbers #9 and #10 on this list for more information.
3. Day trip to Khinaliq – hiking & high mountain villages
Distance from Baku: 220 km (137 miles)
Travel time: ~8.5 hours return
Best for: Nature, mountain scenery, hiking
Khinaliq (Xinaliq / Khinalug) is one of the most popular places to go hiking in Azerbaijan. Located north-west of Baku in the Greater Caucasus mountains, the tiny village of 2,000 people is considered to be the highest and most isolated in the country. (Along with Ushguli and Bochorna in Georgia, it's among the highest in the South Caucasus region).
Khinaliq's main attraction is its pristine mountain scenery, best appreciated when hiking along one of the marked alpine trails around the village. The History-Ethnography Museum of Khinaliq offers insights into the area's Caucasian Albanian heritage and Tikmes embroidery traditions.
Sometimes called the 'museum under the open sky', this is undoubtedly one of the most beautiful places in Azerbaijan and one of the most spectacular landscapes in the region. Because it's such a long drive – and because there's so much to see – it's best to spend a few nights in Khinaliq, staying at one of the local guesthouses in town.
If you're pressed for time, it's possible to visit in a day from Baku, but only by joining a guided tour. I only recommend this one for the summer months when the high mountain pass is completely clear and the days are long.
4. Day trip to Quba – Azerbaijani carpet weaving & Jewish history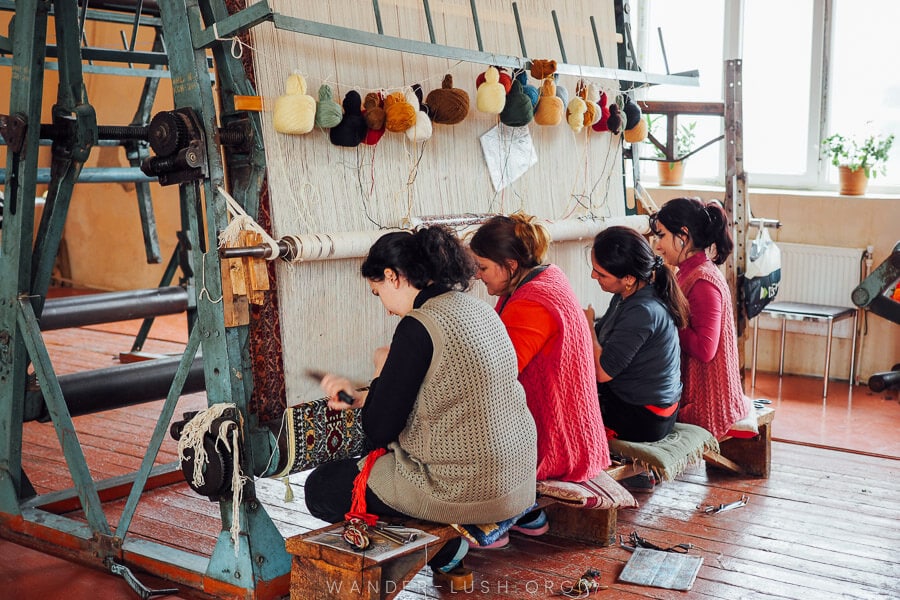 Distance from Baku: 168 km (104 miles)
Travel time: ~5 hours return
Best for: Culture, history, textiles
Quba (Guba) is a small town in the foothills of the Caucasus that's used as a departure point for visiting Khinaliq. Some hiking tours make a quick pit stop here to change vehicles, but if you're interested in culture and traditional textiles, it's a worthy day trip destination in its own right.
Quba is known for being the country's apple-growing capital (more than 1000 varieties of the fruit grow here) and the home of one of Azerbaijan's seven schools of carpet weaving. Workshops and studios line the main streets, with women diligently knotting huge soumaks and pile rugs behind closed doors. Qadim Quba is one of the most popular workshops and welcomes visitors to tour the studio.
Grab lunch and an apple tea at Alma Cafe on the river before crossing the bridge to Red Village (Girmizi Gasaba). A total contrast to the rest of Quba, this neighbourhood sports rows of tidy red-tiled houses. Home to a large community of Mountain Jews, it was once the only entirely Jewish settlement outside of Israel and the US. Nicknamed 'Little Jerusalem', it's now believed to be the world's last shtetl.
Visit a few of the eight local synagogues (the Six Dome Synagogue is particularly impressive) and the world-class Mountain Jews Museum. Having opened in 2019, it catalogues the area's unique history from the mid-18th century onwards, including the WWII period, and provides an insight into local culture and Juhuri language. Entrance costs 10 AZN.
How to get to Quba from Baku with public transport
Quba is ~2.5 hours from Baku by road and easy to reach by bus. Marshrutka minivans and larger coaches both depart from Baku International Bus Station.
When you arrive, proceed to the top level and look for buses waiting in the large outdoor depot area. If in doubt, ask around. Drivers depart regularly throughout the day (every 30 to 60 minutes), with the first bus leaving at 7.30am and the last bus at 5.55pm. Double check the schedule before you go. Tickets to Guba cost 4 AZN per person.
Buses terminate (and return to Baku) at the new bus station on the east side of Quba.
5. Day trip to Sheki – Silk Road history & the Palace of the Sheki Khans
Distance from Baku: 300 km (186 miles)
Travel time: ~9 hours return
Best for: Culture, history, scenery
Sheki is my favourite place in Azerbaijan and a must-visit for every traveller. Ideally you should plan to spend 2-3 days in Sheki, but if one day is all you have, it's better than nothing.
Alongside the newly UNESCO-listed Palace of the Sheki Khans with its glimmering shebeke stained glass windows, you should wander the historic Sheki old town, which features charming cobbled streets and several restored Silk Road-era caravanserais. One of the stone inns has been refurbished and serves as a hotel. Staying the night here is truly one of the best experiences you can have in Azerbaijan.
Sheki is a long drive from Baku – and it will be an exhausting day – but I still think it's worth it to make the trip out. There's no way you can do this by public transport though, so your only option is to hire a taxi or join an organised tour.
6. Day trip to Shamakhi and Lahic – ancient mosques & Coppersmiths
Distance from Baku: 173 km (108 miles)
Travel time: ~5.5 hours return
Best for: Culture, history
Shamakhi (Şamaxi) and Lahic (Lahij) are two charming small towns in central Azerbaijan. Shamakhi is one of the oldest cities in the country and formerly served as the Shirvanshahs' capital until 1192. Known for its carpet weaving, poetry and folk dance, it's also home to one of the oldest mosques in the Caucasus, the Juma.
The lush hills around the city hold many treasures, including wineries and even alpaca farms! The Yeddi Gumbaz ('Seven Domes') is a historic cemetery complex above the city and the final resting place of the last ruler of the Shirvan Khanate.
Fifty kilometres deeper into the mountains via a nail-biting serpentine road, the tiny village of Lahic is a UNESCO Creative City famed for its old streets and coppersmiths' workshops. Step back in time as you wander the rows of tiny wooden shops, walking to the beat of a dozen anvils tapping beautiful designs into plates and jugs.
Again, you could easily spend 2-3 days exploring this area but it's still possible to see the highlights on an extended day trip from Baku.
How to get to Shamakhi from Baku with public transport
There are no direct buses to Shamakhi that I'm aware of. The easiest way to get there is to take a bus from Baku International Bus Station to Gabala and ask the driver to drop you off early on the highway outside Shamakhi. Buses depart every hour between 10am and 6pm. Journey time is around 2 hours, and the fare is 7.60 AZN.
To get to Lahic from Shamakhi, you'll need to take a local taxi. This should cost around 7 AZN.
7. Day trip to Gabala – mountains, waterfalls & skiing
Distance from Baku: 216 km (134 miles)
Travel time: ~6 hours return
Best for: Mountain scenery, skiing, hiking, adventure
Azerbaijan's premier outdoor resort, Gabala is one of the best places in the Greater Caucasus for skiing and snowboarding. In the summer, the slopes of Tufandag Mountain Resort transform into trails for quad-biking, hiking and paragliding.
Gondolas whisk visitors up and down the mountains. In Gabala city, you can find Caucasian-Albanian churches and a gamut of local restaurants, while there are several waterfalls and lakes walking distance from the centre.
This landscape is a breath of fresh air after buzzing Baku and the perfect place to relax in a hot spring and take in some cool mountain air. A three-hour drive from the city, it's another long day trip but quite easy to organise travelling either by bus or with a private driver.
How to get to Gabala from Baku with public transport
Buses depart from Baku International Bus Station once an hour starting from 10am. Travel time is 3.5-4 hours, and the fare is 7.60 AZN. In Gabala, buses terminate (and return to Baku) from the Bus Station here.
8. Day trip to Azerbaijan's wine region – scenery & vineyards
Distance from Baku: 216 km (134 miles)
Travel time: ~6 hours return
Best for: Wine, culture, scenery
While neighbouring Georgia and Armenia are better-known for their ancient winemaking techniques, it might surprise you to learn that Azerbaijan has a long history of viniculture as well. Just south-west of Gabala at the foot of the Greater Caucasus, the Savalan Valley is one of Azerbaijan's premier wine regions and home to a number of vineyards.
An Azerbaijani wine tour usually includes a tour of the grounds followed by tastings of regional wines accompanied by local snacks. The biggest commercial vineyard in Savalan, ASPI Winery, is Italian-Azerbaijani and specialises in European-style riesling, chardonnay and merlot.
---
4 easy half day trips from Baku using public transport
9. Ateshgah Zoroastrian Fire Temple – one of Azerbaijan's most sacred sites
Distance from Baku: 23 km (14 miles)
Travel time: ~1.5 hours return
Located on the eastern edge of the city, 30 minutes from the Icherisheher Old Town, Baku Ateshgah is one of the oldest and most important Zoroastrian monuments in Azerbaijan.
Built by the Persians in the 17th century, it has served various purposes over the centuries, including as a place of worship for Hindus and Sikhs. An eternal flame fanned by natural petroleum reserves went out in 1969. It was reignited with the help of gas piped in from Baku.
Entrance to Ateshgah costs 4 AZN per person. Allow for around 60 minutes to visit the temple.
How to get to Ateshgah from Baku with public transport
Starting from the Old City, take the Red Line metro east to Ulduz station (15 mins) then connect with bus 184 to the last stop, Surakhani Station (20 mins). From there, it's a 600-metre walk.
→ Click here to see a list of day trips that include Ateshgah Fire Temple.
10. Yanar Dag – one of the most popular short day trips from Baku
Distance from Baku: 23 km (14 miles)
Travel time: ~1.5 hours return
Azerbaijan's iconic 'burning mountain' is located north of Baku city, around 23km from the Old Town. Legend has it it's been on fire since the 1950s when a shepherd threw a match into a patch of natural gas.
Yanar Dag is open every day from 10am until 7pm. Entrance costs 9 AZN. It's best to visit in the early evening to see the three-metre-high flames erupting from the sandstone hill. There's also a museum cafe-souvenir shop onsite. See here for more information.
How to get to Yanar Dag from Baku with public transport
Ride the Red Line Metro from Philarmonia Garden to Avrasiya Clinic (30 mins), then connect to bus 147 to Yanardagh Reserve (25 mins). The bus terminates right at the entrance to the complex.
→ Click here to see a list of day trips that include Yanar Dag.
11. Mardakan Castle – An alternative Baku day trip
Distance from Baku: 30 km (19 miles)
Travel time: ~1.5 hours return
Please note: Mardakan Castle is currently closed for renovations.
Located east of Baku past the airport, Mardakan Castle is one of two fortifications in this part of Baku that borders the coast. Built in the 12th century, it has a distinctive quadrangular shape with five tiers and an inner courtyard. The central 22-metre-tall tower has an internal staircase that leads to a viewpoint with stunning views of the Caspian Sea.
How to get to Mardakan Castle from Baku with public transport
Take the Red Line Metro to Koroghlu Station (20 mins), then cross the road to change to the number 136 bus. Get off at the Nizami Cultural Centre (30 mins) and walk another 400 metres to reach the castle. You can't miss it.
12. Shebeke Beach – sand & sunsets near the city
Distance from Baku: 40 km (25 miles)
Travel time: ~2.5 hours return
Baku might not strike you as a beach destination, but there are white-sand Caspian beaches within easy reach of the city centre in the northern Bilgah district. Bilgah Beach Hotel is a popular place for swimming. Quieter beaches can be found at Shebeke and Dachnikov on either side of the peninsula.
How to get to Shebeke Beach from Baku with public transport
Starting from Icherisheher, ride the Metro Red Line to Koroghlu Station (20 mins) and then hop on bus 171. After another 40 minutes you'll arrive at Jumeirah Bilgah Beach Hotel. From there, it's an 800-metre walk down to the closest beach or a short taxi ride to the pier at Plyaj Dachnikov.
---
---
More Azerbaijan travel resources