When you're moving around Georgia from city to city or visiting small towns or mountain regions, you can count on taking a marshrutka or two.
I've done well over 100 marshrutka minivan rides over the years. Love them or hate them, if you're travelling overland in Georgia, #MarshrutkaLife is unavoidable.
In the absence of intercity buses, marshrutka vans offer a fast and affordable way of travelling short or long distances. There are some things to be wary of, namely road safety and comfort.
This transport guide will give you a comprehensive introduction to the humble marshrutka and show you what to expect when using marshrutky to travel around Georgia.
You'll also find up-to-date details for popular marshrutka routes, timetables, ticket prices and station locations, plus a handy map that I created.
I'll even explain what to do if you find yourself on the wrong marshrutka (make sure you stick with me until the end to hear that story!).
---
Please note: This post contains affiliate links, meaning I may earn a commission if you make a purchase by clicking a link (at no extra cost to you). Learn more.
---
What is a marshrutka?
Let's start with the basics: What exactly is a marshrutka? Before I visited Georgia for the first time in 2017, I had never heard this word before and had absolutely no idea what it meant.
In essence, a marshrutka (plural marshrutky) is a minivan used to transport passengers and goods short and long distances. Marshrutky are sort of a bus/taxi hybrid – they run on fixed routes, but stop at random locations rather than at designated stations.
As a sidebar: The name 'marshrutka' apparently comes from the German word 'marcheroute', which was borrowed from a French military term meaning 'route of march'. The name was coopted into Russian, where it was tied to the word 'marshrut', which simply means 'route'.
In Georgian, they are referred to as mar-shut-ka (the second 'r' is dropped).
Marshrutka vans first appeared in Moscow in the 1930s and spread throughout the former Soviet Union. Today, they are still a popular means of transport in the Caucasus, Central Asia and parts of the Balkans.
A typical marshrutka seats 15 passengers plus the driver. Some vans have been modified to squeeze in an extra row of seats at the back; others feature fold-down seats that go across the aisle to maximise the number of people who can fit on board.
Pro tip: Avoid sitting right at the back of a marshrutka – the suspension is terrible and it can be a very bumpy ride.
In Georgia, intercity marshrutka vans are operated by freelance drivers who work for small companies or cooperatives. Tbilisi also has a system of city marshrutky, but this post only deals with intercity vans. (In 2022, the famous 'yellow buses' in Tbilisi were replaced with new blue-grey minibuses.)
Most marshrutka vans are old and a little bit decrepit. They're usually not terribly clean, although the floors are hosed out before the first run of the day. Air conditioning/heating is optional, but most have windows that you can open to let in some fresh air. (Whether or not the driver lets you open the windows is another question.)
Marshrutky have no seat belts, apart from in the front seats where 2 or 3 people can squeeze in next to the driver. On the plus side, there is strictly no smoking allowed on vans in Georgia.
In summary: Marshrutky are not always the most comfortable or safest way to travel. But if you're looking for a way to get from A to B, they'll get the job done. As someone who suffers from occasional motion sickness and a bit of OCD, I actually don't mind using them for short journeys.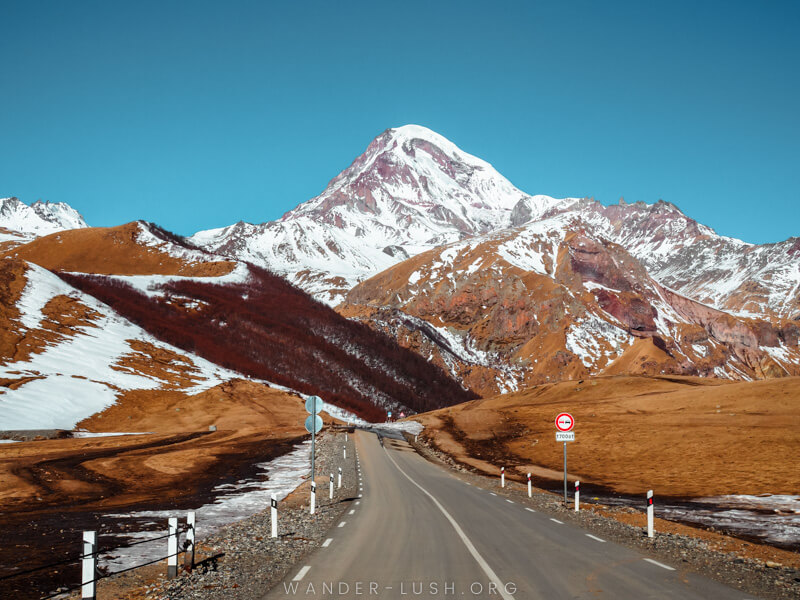 A beginner's guide to using marshrutka vans in Georgia
Here's everything you need to know about using marshrutka vans in Georgia.
Pro tip: Pick up a Georgian sim card with data when you arrive so you can track your journey when travelling by marshrutka.
Marshrutka routes
There are intercity marshrutky connecting just about every city, town and small village in Georgia. Getting between popular destinations (Tbilisi and Kutaisi, for example) is very straightforward, with multiple vans running loops back and forth at regular intervals.
Marshrutky usually start and terminate at bus stations, but make multiple stops along the way (in small towns, outside people's houses, etc.). For smaller towns or remote locations, you might have to pick a van with a different final destination and jump off somewhere along the way. In this case, you can usually pay a portion of the full fare (although it depends on the route).
Pro tip: If you need to ask a driver to stop, say 'gaacheret'.
99% of vans have a plastic sign on the dashboard printed with the name of their final destination. It's not always written in Latin characters, so it pays to learn a few Georgian characters to identify your destination.
But don't worry – there will always be drivers and bystanders at the bus station who are more than happy to point you in the right direction. Drivers don't always speak English, but majority of the time they are very helpful.
International marshrutky
It's also possible to use a marshrutka to travel across the Georgian border into Armenia, Azerbaijan, Turkey or Russia. International marshrutky operate in much the same way as domestic vans.
I have taken vans from Georgia to Armenia and Azerbaijan in the past. Although I much prefer to travel by night train, it's still a viable option, especially if you're moving between smaller cities rather than from capital to capital. The downside is that these journeys are long and therefore more risky in terms of road safety.
I recommend using one van to travel the whole distance rather than trying to change at the border. When you reach the border point, passengers disembark and pass through immigration by foot before re-boarding the same van on the other side. It's as easy as that.
Marshrutka timetables
Many people report that marshrutky in Georgia have no fixed schedules – but this isn't true. All vans have an official timetable that they stick to. You can often find it signposted at the bus station.
There is one caveat: Vans don't always leave at the scheduled time. I'll explain why later.
Frequency
Schedules range from 1-3 vans per day for less popular routes to departures at regular intervals (every 20-40 minutes) for more popular routes (e.g. Tbilisi to Gori or Mtskheta). For major intercity routes, there will usually be a van at least every 60 minutes.
Marshrutky run 7 days a week including on weekends. Timetables are the same no matter the day.
On some national holidays, for example on January 1, during Orthodox Christmas and during Orthodox Easter, there may be fewer or no services. If you are travelling on these days, you need to plan ahead.
Seasonal routes such as Tbilisi to Mestia might not operate at all during the winter months.
Departure times
It varies from route to route, but marshrutky typically start running at around 7am with the last van of the day leaving at around 6pm. I always recommend travelling during daylight hours for safety reasons. There may be a longer pause between vans in the middle of the day to account for lunch.
If you arrive on time for a particular marshrutka, you might not get a seat. This is because once a van is full, it leaves the station – whether it's at the scheduled departure time or earlier.
For this reason, I strongly recommend arriving 30-40 minutes before the van you intend to catch is scheduled to depart. This way, you're much more likely to get a seat and find room for your bags (more on luggage in the next section). This is particularly important for popular routes and travel during peak season when vans often fill up.
Similarly, if a driver is having trouble getting bums on seats, he may leave after the scheduled time.
If you have to make a connection or you're trying to get somewhere in a hurry, it's essential to build some flexibility into your itinerary.
If you tell the driver or ticket assistant your plans, they will usually help you out by dropping you off in the right place and giving you instructions for changing vans. They might even call ahead to the next driver on your behalf (this has happened to us more than once).
How to check the schedule
Unfortunately, there is no one reliable website dedicated to marshrutka schedules in Georgia. You can usually piece together route info through various websites (including this one!).
Personally, I always like to double check the times either by visiting the station in person the day before or by asking my guesthouse host to call the station or a driver.
Times are fixed and unlikely to change by more than an hour or so. In the 3-year interval between our first and latest visits to Georgia, every bus schedule we checked remained unchanged.
One company that operates at Didube has their schedule and prices online (see it here), and you can check times and buy tickets for vans from Central Bus Station (Ortachala) via Biletebi. But as a general rule, there is no centralised database for checking times or fares.
I have listed times and fares for Didube here in this guide – it also includes a video tour of the station.
Can you reserve a seat in advance?
There is no advance sale of marshrutka tickets for the majority of routes. The only exception is vans from Central Bus Station (to Telavi, Zugdidi and Tsalka plus Yerevan and Baku) – you can buy tickets for these services through Biletebi (linked above).
For all other routes, the only way to reserve a seat is by calling ahead to the driver directly. Your guesthouse may be able to do this for you, but there's no guarantee.
Nine times out of 10 you'll have no issue getting a seat (worse case scenario is that you have to wait for the next van). If you're travelling in high season (June to September), you're taking a popular route, and/or there are limited vans during the day, I recommend getting to the station as early as possible to snag a seat.
Marshrutka fares & tickets
Marshrutka fares vary from 1.5-5 GEL for short trips (e.g. Tbilisi to Gori) up to 20-30 GEL for longer rides. In 2021/22, marshrtuka fares went up across the board by around 20-40% due to inflation and rising fuel prices.
Buying tickets
As mentioned, tickets for most routes can't be purchased in advance. Instead, fares are always paid for on the day of travel.
Marshrutka tickets are usually purchased on board the van and the fare is paid directly to the driver. You can either pay before you leave the station or at the end when you arrive at your destination (the driver will let you know). In our experience, there is no double pricing in Georgia – fares are fixed and the same for everyone, local or tourist.
Drivers only accept cash payment in Georgian lari. They always carry ample change so don't fret over having the right notes (we've had to pay with a 100 GEL note more than once).
You may or may not get a paper receipt in return.
Some bus stations including Kutaisi Central and Akhaltsikhe have ticket desks where you must buy paper tickets in advance.
Similarly, when travelling from Tbilisi to Mtskheta, Gori, Western Georgia, or Tbilisi to Telavi, you can buy tickets from the counter at the station and present the receipt to the driver before you board.
Marshrutka stations
Marshrutka stations (vagzali) vary from 'proper' bus terminals with tickets desks to informal roadside stations with little more than a bench seat. They can be a tad chaotic, especially in the larger stations in Tbilisi and Batumi.
When you arrive at the station to catch a marshrutka, drivers may approach you. Most are honest and trying to be of assistance. Some might try to up-sell you to a shared taxi instead. Practice pronouncing the name of your destination and if you want a marshrutka not a taxi, be firm!
Stations in Tbilisi
Tbilisi has multiple marshrutka stations servicing different destinations in Georgia. Here is a summary of the different stations and links to their location on Google Maps.
| Station | Routes | Address & location | How to get there |
| --- | --- | --- | --- |
| Didube Bus Terminal (AKA Okriba) | Mtskheta, Gori, Kazbegi, Gudauri, Batumi, Kutaisi, Akhaltsikhe, Vardzia, Zugdidi, Kobuleti, Martvili, Chiatura. | Transporti St, Didube | Metro (First Line) to Didube Station; bus #346, #333 or #320. |
| Central Bus Station (Ortachala) | Eastern/south-eastern Georgia (including Telavi) + international. | Dimitri Gulia St | Bus #350, #355 or #371. |
| Navtlugi Intercity Bus Terminal (Samgori) | Eastern Georgia (Sighnaghi, Telavi, Kvemo Kartli region), Pankisi Valley, Mestia (Svaneti). | Kakheti Highway | Metro (First Line) to Samgori Station; bus #325 or #339. |
Stations in other cities
Here is a summary of marshrutka stations in other popular cities and towns.
What to expect when travelling by marshrutka
A marshrutka ride is an adventure – remember to embrace it as part of the Georgia travel experience! Here are a few key pointers so you know what to expect.
Luggage space
Luggage space (or lack thereof) can be an issue for some travellers. Remember how I said vans are fitted out with an extra row of seats at the back? Well, this leaves very little room for baggage.
Drivers can open up the back doors and stack a certain number of bags vertically. Or you can keep your bag with you and stow it under your seat. However, this only really works for small backpack and carry-on sized suitcase (I've travelled many times with a carry-on suitcase and a large, soft duffle bag).
Drivers will always do what they can, but if you have a full-sized hard shell suitcase, you may not be able to squeeze it in. This is one of the main reasons I recommend packing light for Georgia.
In addition to carrying passengers, many marshrutky are used to transport goods. Oftentimes every inch of floor space will fill up with things – bags, car parts, you name it. We once sat on a marshrutka to Borjomi with two trays of blackberries and a sack of potatoes under our feat!
I haven's seen anyone bring skis or snowboards on a marshrutka – but that's not to say it's not possible. If you have bulky items, I recommend arriving extra early so the driver can find a place for it inside the van (or possibly make use of the luggage racks). Otherwise, consider a private transfer instead.
Road safety
The biggest downside to marshrutky in my opinion is road safety. Highways in Georgia are in relatively good shape (certainly better conditions than many Balkan countries). Drivers on the other hand…
Speeding, weaving and overtaking on single-lane highways is not at all uncommon in Georgia. And marshrutka drivers are often the biggest freewheelers. As another traveller describes it, marshrutka drivers have the "souls of racers." Ha! Now that's putting it mildly.
In all seriousness, increased competition in recent years has put immense pressure on drivers. Many feel they have to cut corners to compete – speeding to fit another trip into the day, for example.
Riding in a marshrutka is almost always a hair-raising experience. If you're going up into the mountains where the roads are less maintained, it can be downright terrifying. This doesn't apply to all drivers of course, but a dauntless driver is the norm rather than the exception.
Marshrutky don't have seat belts, apart from the front seats (to comply with Georgian law). Needless to say, there's no way to accommodate a child safety seat in a marshrutka. If you have littlies or you're anxious about road safety, I highly recommend hiring a car and driver to get around.
To limit your chances of being involved in an accident, it's a really good idea to travel during the day and avoid being on the roads at dusk or after dark. The sun sets early in winter, so make sure you factor this into your plans. Avoid using marshrutka vans for long journeys (anything over 3 hours) or mountain roads.
For more tips, see my guide to staying safe in Georgia.
Stops and bathroom breaks
Most marshrutky rides incorporate one 5-10 minute rest stop at the halfway point. For longer journeys, there may be two breaks (usually a short break 1.5-2 hours into the journey and a longer break later). One of the advantages of the no-smoking law is that people need to break for a smoko, giving the non-smokers a chance to stretch their legs!
Drivers break at set road stops where there will be bathrooms (usually costing 0.30-1 GEL to use – make sure you have coins on you), and a shop selling chocolates, chips, cold drinks, coffee, etc. If it's a longer break, the van might stop at a cafe or restaurant. Prices are usually a bit more expensive at these places so if you're trying to save cash, bring your own nibbles with you.
If you're lucky, you might stop at a bakery with a tone oven where you can buy a hot piece of shotis puri – surely the best road trip snack ever!
Marshrutka etiquette
There aren't really any particular rules you need to know about here. Remember that people often reserve the front seats in advance, so if you're asked to sit at the back, follow the driver's instructions.
There's no standing room in a marshrutka so you don't have to worry about giving up your seat for an older person or pregnant woman (although this is expected on the metro and city buses). Tbilisi-Mtskheta buses might squeeze in standing passengers if there's enough demand.
What to bring on a marshrutka ride
Refer to my Georgia packing list for more must-packs and guidance on what to wear in Tbilisi and Georgia. And, see my list of essential items for long train or bus journeys.
---
What happens if you get on the wrong marshrutka?
Yes, it happens – even to 'experienced' marshrutka passengers like me!
We recently had this experience. It was completely our own fault and could have been avoided if we had our wits about us. It wasn't the worst experience, but it's definitely not something we want to repeat. Here's what happened…
We were travelling one of the easiest routes in the whole country – Tbilisi to Gori. We had just come off an early morning bus from Kazbegi and were feeling a little hazy (that's my excuse, anyway). We had a little miscommunication with the ticket assistant at Didube Station – I'm not sure if he intentionally mislead us in order to fill up his van faster, or if it was a genuine mistake. Either way, we boarded the wrong van.
I'm a bit paranoid, so I usually watch the map and check in every now and then to make sure we're headed it the right direction. We were on the highway and I noticed there were two turnoffs for Gori. When we missed the second one, I knew something was up!
We yelled out at the driver who stopped the van immediately, even though we were on a busy highway. Thankfully there was a passenger on board who spoke English and helped interpret for us (although our screams of 'Gori, Gori' were a pretty big hint!).
After an irate call from the driver back to the ticket seller in Tbilisi who put us on the wrong van, there was some troubleshooting with the other passengers. After much discussion, it was decided that the easiest thing to do was go back. The van was full to the brim and I felt terrible for holding everyone up.
So, we reversed about 150 metres back down the busy highway, everyone watching over their shoulder (we happened to be sitting in the very back so we caught a few glares). We jumped out near the exit ramp. The driver gave us directions to go down a set of stairs and walk another bus station just under the overpass to board an alternative bus. Luckily we were only 2km from Gori.
We felt so guilty by this time, we just wanted to shrink off and let the other passengers get back to their day. The driver made profuse apologies to us – he was genuinely sorry about the mix up. He even gave us a handful of small change to cover our next bus fare (totally unnecessary but a very kind gesture).
By this stage, there were lots of people standing around on the side of the road. Before we left, the driver recruited a bystander (a man heading back to Gori after doing his grocery shopping) to chaperone us all the way to town. He walked with us to the bus stop and told the next driver exactly where we wanted to go. When we arrived in Gori, he jumped out with us and pointed us in the direction of our guesthouse.
Moral of the story: If things go awry, you can usually count on someone (the driver, a fellow passenger or a random stranger) to help you out!
Alternative ways of travelling around Georgia
If you're not fussed on marshrutka vans and searching for an alternative mode of transport, here is a very brief summary of the other options available in Georgia.
Private car & driver: GoTrip Georgia is a terrific service that you can use to book an affordable private transfer. The ride booking platform allows you to select a driver and a plan route with as many stops as you like. I especially love this service for travelling to Kakheti (stopping off at wineries along the way) and to Kazbegi (stopping off at various points along the Georgian Military Highway).
Visit the GoTrip Georgia website and use their route planner to map out your road trip.
Coach: There are private companies that run coaches on certain routes, for example Metro Bus (Batumi to Tbilisi) and Georgian Bus / OmniBus (Kutaisi Airport to Tbilisi, Gudauri and Batumi).
Train: Georgia has a good train network – but the old Soviet-era trains are very slow. The fast train from Tbilisi to Batumi and the overnight train from Tbilisi to Zugdidi (for Mestia) are popular routes. I also use the train from Rioni Station to travel from Kutaisi to Tbilisi. I much prefer using night trains to cross borders in the Caucasus. Here are my guides to travelling by train from Tbilisi to Yerevan and Tbilisi to Baku.
Taxis: Shared or private taxis are always available for travelling around Georgia. You can usually find drivers at the bus station. Prices vary depending on a lot of factors. Be warned that travellers sometimes get tricked into paying more than the fair price, especially when taking an intercity taxi from the airport.
---
Have you ever ridden in a marshrutka before? What was your experience? Do you have a question about road travel in Georgia? Let me know in the comments and I'll do my best to answer.
---
Georgia marshrutka guide: Pin it