Planning an independent trip to the Caucasus? Here's everything you need to design the perfect 2-6 week Georgia Armenia Azerbaijan itinerary – including what to see, what to skip, and transport, food and accommodation advice.
Originally published in 2017 and updated for 2023, this is my original Caucasus itinerary. All recommendations are based on my own experience living in Georgia and travelling around Armenia and Azerbaijan on various trips over the past five years.
---
The countries of Georgia, Armenia and Azerbaijan are three of the most dynamic, fascinating and downright beautiful countries I've ever visited.
When combined into one itinerary, the South Caucasus makes for one of the most rewarding travel experiences you could possibly hope for.
When I first visited the region in early 2017, it still felt relatively off the beaten track. Later that year, the Caucasus exploded onto the world stage and soon everyone was talking about travelling to Georgia in particular.
At that time, I spent a month living in Tbilisi and two months travelling around. I designed a Georgia Armenia Azerbaijan itinerary and tested it out with very little online information to back it up.
I recorded my experiences with bus travel in Azerbaijan in case someone else needed the route info. And I wrote out a humble itinerary in the hope that other travellers might find it helpful.
Little did I know that tens of thousands of people would end up reading my Caucasus itinerary and using it to plan their own trip.
This itinerary isn't just copied out of Lonely Planet. It certainly doesn't follow a route that a tour company designed for me.
All information here is based on my own experience travelling around the Caucasus and living in Georgia, backed up by hundreds of hours of research and forum trawling to bring you the most logical route and up-to-date travel information.
I hope you find it useful!
---
Please note: This post contains affiliate links, meaning I may earn a commission if you make a purchase by clicking a link (at no extra cost to you). Learn more.
---
How to use this Caucasus itinerary
There are three options for this itinerary depending on how much time you have in the region:
Itinerary for 4-6 weeks in the Caucasus (the Grand Tour)
Itinerary for 3 weeks in the Caucasus (the Quick Version)
Itinerary for 10-14 days in the Caucasus (the Brief Encounter)
Also see: My Ultimate Georgia Itinerary for 1-4 weeks of travel (Georgia only), my recommended 10-14 day itinerary for Georgia and Azerbaijan, and my perfect 3-10 day itinerary for Armenia only.
Below, you'll find a map and an overview of my suggested Caucasus route that incorporates most of my favourite places to visit in Georgia, Armenia and Azerbaijan.
I have formatted this guide as a detailed day-by-day itinerary. For each destination on the list, I'll cover the best things to do, accommodation suggestions, day trips, and detailed transport instructions.
At the end of the post, you'll find shorter itinerary suggestions, a series of add-ons for each country if you want to extend your time in the Caucasus, plus planning FAQs.
---
Caucasus itinerary map
Use the interactive map to explore my recommended route in detail.
---
The ultimate Georgia Armenia Azerbaijan itinerary (4-6 weeks)
For the traveller who wants to see and experience it all, this is the mother of all Caucasus itineraries. The route starts in Tbilisi and finishes in Baku, with the option to return to Tbilisi by overnight train on the final night if you have round-trip flights from Georgia.
It follows a similar route to the one I travelled on my first trip to the region in 2017.
Here are the places I suggest visiting, and the recommended amount of time to spend in each. In the next section, I'll look at all these destinations in detail.
Tbilisi + day trips (Georgia) (3-5 days)
Kazbegi & the Georgian Military Highway (2 days)
Gori & Uplistsikhe (1-2 days)
Kutaisi & Imereti (2-3 days)
Mestia & Ushguli (Svaneti) (3-4 days)
Zugdidi (0.5 days)
Batumi & Adjara (2-3 days)
Akhaltsikhe, Borjomi & Vardzia (2 days)
Gyumri (Armenia) (1-2 days)
Yerevan + day trips (2-5 days)
Lake Sevan & Dilijan (2 days)
Vanadzor & Debed Canyon (1 day)
Sighnaghi & Telavi (Kakheti) (Georgia) (1-3 days)
Sheki (Azerbaijan) (2-3 days)
Lahic (1-2 days)
Baku + day trips (3-5 days)
Important note: In 2020, Azerbaijan closed its land borders to foreign travellers. At the time of writing, it is still not possible to enter Azerbaijan by land (the border closure has been extended until May 1, 2023). The only option is to fly to Baku from Tbilisi. You can, however, travel the opposite way – i.e. exit Azerbaijan and enter Georgia by foot. For now, I recommend flying to Baku and working your way back north to cross back into Georgia overland
---
Tbilisi + day trips (3-5 days)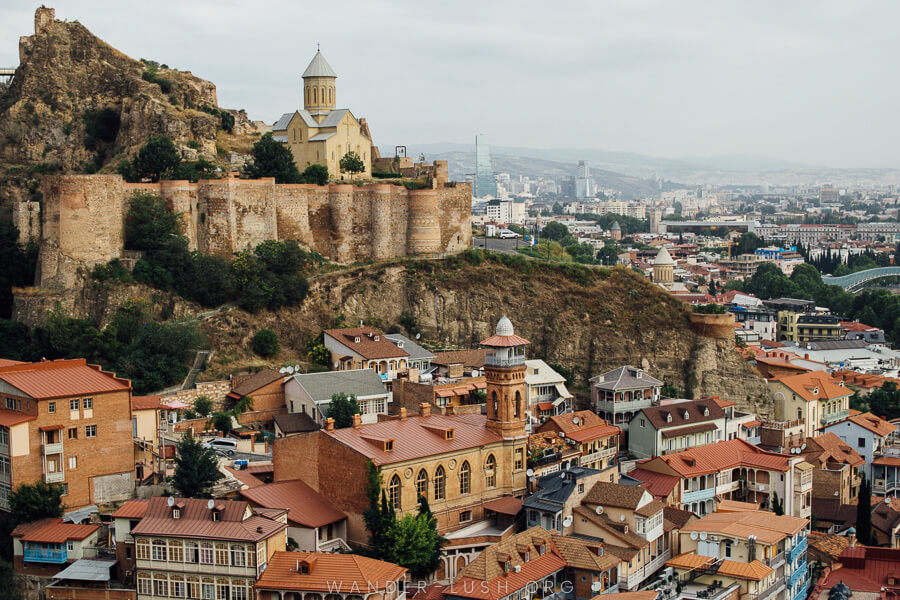 Where to stay in Tbilisi: Pushkin 10 (hostel); Vagabond B&B (budget hotel); Communal Sololaki (boutique); Stamba (high-end). More options in my Tbilisi neighbourhood and accommodation guide.
Tbilisi, Georgia's capital, is by far my favourite city in the region (I did move here after all!) and the perfect place to start your Caucasus adventure.
After a few days immersing yourself in Georgian history, art, wine and food, you'll start to appreciate the mix of cultural and religious influences that make this part of the world so unique.
Tbilisi travel tips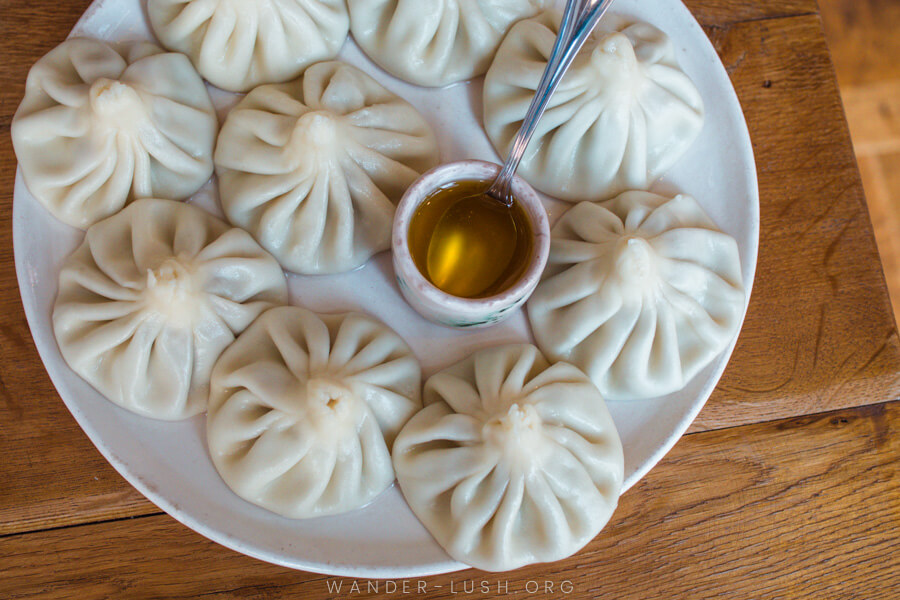 Things to do in Tbilisi
Must read: Awesome things to do in Tbilisi, including quirky attractions and local recommendations.
Two days is the perfect amount of time to see Tbilisi's highlights. You might choose to spend a third day wandering the streets or cafe hoping.
Devote your final days to some of the popular day trips around Tbilisi, either by joining an organised tour or using public transport.
Detour: If you find you need some respite from the city, break up your time in Tbilisi with a night in the charming walled city of Sighnaghi, 1.5 hours' drive away in Kakheti wine region. Here are detailed instructions for how to travel from Tbilisi to Sighnaghi in Kakheti.
Recommended day trips from Tbilisi
For this itinerary, I recommend the following shorter day trips. It's also possible to visit Kazbegi, Kakheti and the Borjomi area in a day from Tbilisi – but you'll be visiting those spots for overnight stays later in the itinerary.
Mtskheta: Georgia's ancient capital, home to the must-see Jvari Monastery and the Monuments of Mtskheta, one of the country's four UNESCO Heritage Sites. I highly recommend this half-day private tour with an expert guide that visits some of the lesser-known monasteries in the area.
David Gareja Monastery & Udabno: A short hike through an incredible set of cave monasteries in Kakheti region, south of Tbilisi on the border with Azerbaijan. (Part of the complex is currently closed – check my David Gareja guide for updates.)
I highly recommend this off-road tour that includes hiking in the rainbow hills, or this budget-friendly tour that also goes to Sighnaghi.
For more information, including up-to-date transport advice, check out my guide to Tbilisi's 15 best day trips.
Onward travel: Tbilisi to Kazbegi
When your time in the capital draws to a close, it's time for your first taste of the dramatic mountain landscape that makes the Caucasus so special.
The cheapest way to travel the ~200 kilometres from Tbilisi to Kazbegi is by marshrutka van (11 daily; 3-4 hours travel time; 15 GEL per person).
If you want to stop along the way, I recommend spending a bit extra on either a shared taxi or ideally a private transfer booked through GoTrip. This will give you maximum flexibility to see everything the Georgian Military Highway has to offer.
---
Kazbegi & the Georgian Military Highway (2 days)
Where to stay in Kazbegi: Red Stone Guest House (budget); Hotel Stancia (mid-range); Rooms Hotel (luxury).
Due north of Tbilisi, the Greater Caucasus mountains form a natural land border between Georgia and Russia. Today, you'll be travelling almost all the way to the edge in search of one of the region's most spectacular churches: Gergeti Trinity.
The Georgian Military Highway, the road between Tbilisi and the town of Kazbegi (also known as Stepantsminda), is an attraction in its own right. Set aside a full day for the journey, stopping off at Ananuri Fortress, the mosaic-laced Russia-Georgia Friendship Monument, lunch at Pasanauri, and some of the 9 other points of interest on the route.
Must read: Where to stop between Tbilisi and Kazbegi.
If you missed visiting Mtskheta as a day trip from Tbilisi, you can stop off at Jvari Monastery on your way to the highway.
Things to do in Kazbegi
Take an easy hike from town up to Gergeti Trinity Church (make sure you read my guide for instructions on finding the correct trail).
Eat lunch on the deck at Rooms Kazbegi, with views out to the mountains and the church.
Press further into the mountains to visit Gveleti waterfall, 6km north of Kazbegi, and the spectacular Dariali Gorge.
Visit the otherworldly 'Giant Stone Heads' in nearby Sno village.
Go for a dip in the ice-cold Pansheti Mineral Pool.
Spend a day hiking in the Truso Valley or Juta Valley. The route to Zakagori Fortress is popular and can be done in a day using transfers to Truso provided by Mountain Freaks.
Detour: For a less-touristy alternative to Kazbegi, Juta is a pleasant alpine village inside Kazbegi National Park. More serious hiking routes, including the Chaukhi Pass, can be accessed from Fifth Season, a mountaineer's hut at the foot of the mountains.
Onward travel: Kazbegi to Gori (via Tbilisi)
When your time in the Greater Caucasus is up (don't worry, there's more mountains to come later), make your way back to Tbilisi to transit to your next destination in Western Georgia.
Marshrutka vans and shared taxis depart Tbilisi for Gori every 20-40 minutes (60 minutes travel time). Both leave from Didube Bus Station, the same place where the Kazbegi vans terminate. See my Gori guide for detailed transport instructions.
Be sure to depart Kazbegi on one of the early morning vans if you want to complete the journey in a single day.
---
Gori & Uplistsikhe (1-2 days)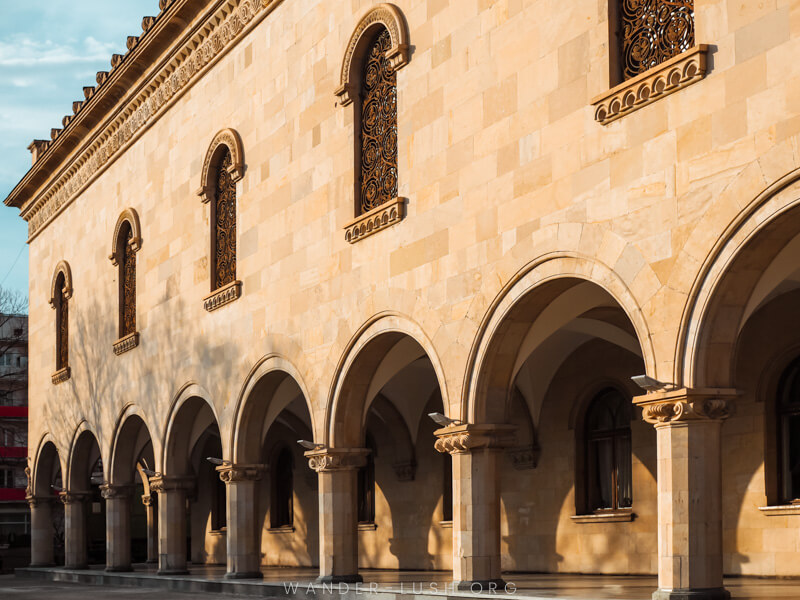 Where to stay in Gori: Guest House Nitsa (homestay guesthouse); Nukri Guest House (homestay); Hotel Continental (mid-range).
The small city of Gori is known throughout Georgia and the world for being the birthplace of Joseph Stalin. The State Museum of Joseph Stalin is the most popular attraction here; but as I have discovered, there's a whole lot more to Gori than just its Stalin connection.
Gori is positioned roughly a third of the way between Tbilisi and Kutaisi, making it the perfect place to break up the east-west journey across Georgia. Most tourists only visit for a day, so it feels a bit like a 'rough gem', especially in the evening when the tour buses have left.
Spend a night or two at a local guesthouse, join the Free Walking Tour or Soviet History Tour with my friend Zhana, climb up the fortress, and try the local cuisine.
Things to do in Gori
Take a guided tour of the Stalin Museum.
Climb up Gori Fortress for a view of the city.
Visit one of the alternative museums dedicated to the area's medieval and war history.
Wander the beautiful old town.
Travel 20 minutes outside the city to visit Uplistsikhe, a cave city hewn from rock.
Beyond the Stalin Museum: 15 alternative things to do in Gori.
Onward travel: Gori to Kutaisi
After a night or two in Gori, continue west towards the Black Sea coast, with a stop in the green heart of Georgia, Imereti region, first.
There are marshrutka vans departing every hour or so from Gori bus station to Kutaisi (3 hours travel time). If you can't find a direct Kutaisi van, change in Khashuri.
Alternatively, there are at least three daily trains between Gori and Kutaisi's Rioni Railway Station (2.5-3.5 hours travel time). Search timetables and pre-purchase tickets on TKT.GE.
To get to the centre of Kutaisi from Rioni, you can take city bus #3 for 60 tetri or a taxi for ~10 GEL.
---
Kutaisi (2-3 days)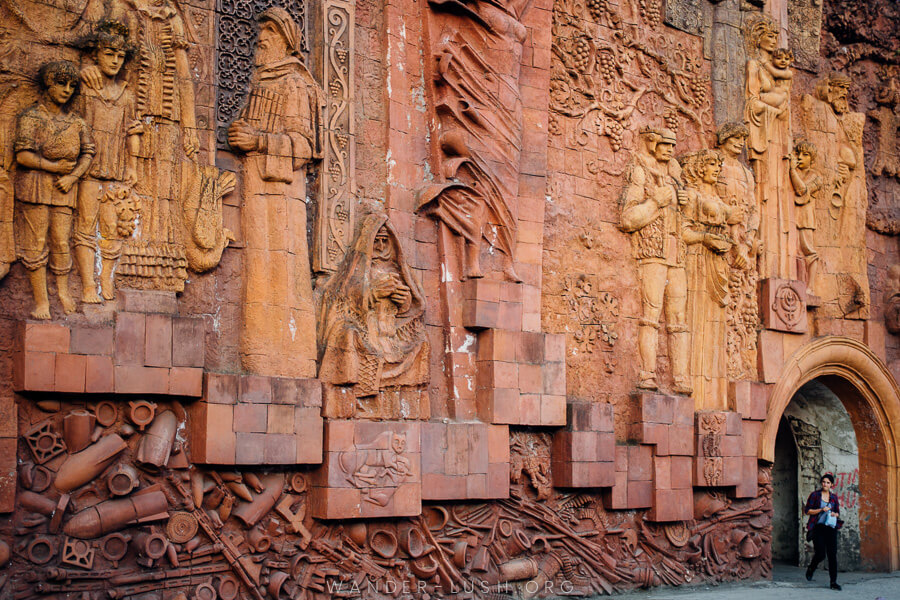 Where to stay in Kutaisi: Bao Hostel (budget); Hotel 1887 (mid-range); Hotel Memoire (boutique); Newport Hotel (up-market). Find more recommendations in my Kutaisi accommodation guide.
Kutaisi, Georgia's second city by population, is a nice contrast to Tbilisi. Like Gori, many tourists tend to overlook Kutaisi which only adds to its charm.
One of the oldest continuously inhabited cities in Europe, its history dates back to the 6th century BC when it served as a capital for the ancient Kingdom of Colchis. In the early 20th century, Kutaisi was considered the intellectual and cultural capital of Georgia.
After the city's intelligentsia were forced out, the city was heavily Sovietized, transformed by factories and working-class neighbourhoods. The former mining town of Chiatura (home to Stalin's rope roads), the semi-abandoned Soviet spa resort at Tskaltubo and the industrial city of Zestafoni, with its 90-year-old steelworks, are all located near Kutaisi.
Today, Kutaisi has a romantic, vintage vibe, with cute cafes and tea houses, a great fresh food market, and exquisite heritage architecture in the Royal District. There are hidden gems around every corner in Kutaisi.
Imereti region, where Kutaisi is located, is noticeably lush and overgrown compared to arid Eastern Georgia. Caves, waterfalls and canyons can all be visited from the city, along with a glut of wineries and even tea plantations.
Things to do in Kutaisi
Join a free walking tour of Kutaisi to see the city's architectural and historical highlights.
Visit the UNESCO-listed Gelati Monastery, nearby Motsameta Monastery and 11th century Bagrati Cathedral.
Browse the Green Bazaar and walk through Central Park.
Take a side-trip to Baia's Wine for a wine tasting and traditional Georgian supra.
Try Imeretian cuisine at Sisters, one of the best restaurants in Kutaisi.
Essential reading: My Kutaisi city guide & itinerary.
Recommended day trips from Kutaisi
One full day is enough time for Kutaisi city. Add a second day if you want to explore the industrial districts on the other side of the Rioni River. Otherwise, you can head out to explore more of Western Georgia.
Tskaltubo: The famous Soviet-era spa town with abandoned sanatoriums and bathhouses is just 20 minutes from Kutaisi. See my detailed Tskaltubo Guide for the best sanatoriums to visit.
Chiatura & Katskhi Pillar: An old mining town north of Kutaisi that's famous for its network of cable cars plus a sky-high monastery, a la Meteora. Read my guide to visiting Chiatura from Kutaisi.
Kinchkha Waterfall, Martvili and Okatse Canyons – This day trip combines all three. Or you can visit Martvili Canyon DIY.
Renegade Tea Estate: Tour a revived tea plantation north of Kutaisi. Enquire here.
Onward travel: Kutaisi to Mestia
The 245km journey from Kutaisi to Mestia and the mountains of Samegrelo-Zemo Svaneti region is the longest single day of travel on this itinerary.
If you're short on time, there is an option to fly to Mestia with Vanilla Sky. However, tickets are notoriously hard to come by, and flights often get cancelled or rescheduled at the last minute. For this reason, I highly recommend travelling by road.
Many people break up the overland trip to Svaneti with a stopover in the city of Zugdidi. Depending on what time of year you're travelling, the stopover might be mandatory (direct vans from Kutaisi to Mestia only run during the summer months). There is a lot to do in Zugdidi, so I've included a short stopover on the way back through.
To get to Mestia, I recommend booking a shared transfer with Budget Georgia. Prices start from 22 USD per person.
If you prefer to use public transport, start by taking a van from Kutaisi to Zugdidi (hourly from 8am; 2.5 hours travel time). Tell your first driver you want to go all the way to Mestia and they will help you with the transfer in Zugdidi (usually they will drop you off in the right place to get straight in the next van). See this Mestia transport guide for prices and more tips.
From Zugdidi, the marshrutka to Mestia takes around 4 hours. Alternatively, you can do the whole thing as an organised 4-day private tour departing from Kutaisi, or simply book a comfortable, fixed-price private transfer with GoTrip.
---
Svaneti – Mestia & Ushguli (3-4 days)
Where to stay in Mestia: Manoni's Guest House (homestay); Bude Cottages (cabins); Hotel Lahili (boutique).
Svaneti is one of Georgia's most beautiful mountain regions. It's here that you can find remote villages full of iconic stone towers set against a backdrop of dramatic mountains (the same Greater Caucasus you saw in the east, but from a different perspective).
It takes the better part of a day to get up to Mestia, so make sure you factor the long road journey into your plans. Set aside a full 2 days at least to soak up the landscape and do a bit of trekking, with another full day for a side trip to Ushguli.
Things to do in Mestia
The world-class Svaneti Museum of History and Ethnography sheds light on the area's cultural diversity and natural history. It's a must-visit.
Try a single or multi-day hike. Chalaadi Glacier and Koruldi Lakes are both popular.
Eat at Cafe Laila on the main square. Local dishes kubdari meat pie and anything with Svanetian salt are a must-try.
Take a day trip to UNESCO-Listed Ushguli (more info below).
---
Day trip from Mestia to Ushguli
A UNESCO site and one of the highest continuously inhabited villages in Europe, Ushguli is located about 50km east of Mestia.
It's the most popular day excursion in Svaneti, so you'll have no trouble finding a shared 4WD or van to take you up and back for a reasonable price – around 40-60 GEL per person return. If in doubt, ask your guesthouse to reserve a seat for you.
On the way, stop at the Tower of Love – a Svan tower that you can climb. It's very cool to see the tower's inner anatomy.
It takes a few hours to cover Ushguli on foot, taking in the upper and lower villages (there are four distinct settlements in total, each with an impressive collection of towers). Don't miss the viewpoint at Tamar's Tower, where you can get a good view of the lower villages.
Detour: The Mestia to Ushguli trek is a popular multi-day hiking route through one of Georgia's premier alpine landscapes. Set aside an additional 3-4 days if you want to walk between the two towns, staying in villages along the way.
Onward travel: Mestia to Zugdidi
After Ushguli and Mestia, it's time to leave the mountains behind and head for Georgia's Black Sea coast.
Take a marshrutka from Mestia's main square back to Zugdidi. There is a van departing Mestia every morning with additional services added during peak season. Always double-check times locally.
---
Zugdidi (0.5-1 days)
Pause for a few hours in Zugdidi for a quick visit to the Dadiani Palaces History and Architectural Museum, housed within the exquisite Dadiani Palace complex, and the restored Botanical Garden.
Eat lunch at Diaroni before continuing the journey south.
More things to do: My guide to Zugdidi city.
Onward travel: Zugdidi to Batumi
From Zugdidi, continue on by marshrutka to Batumi (3 hours travel time). There are van departures throughout the day so as long as you make an early start from Mestia, you shouldn't have a problem getting to Batumi on the same day.
Sit on the right-hand side of the van for impressive vistas of the Black Sea as it comes into view.
If that's too much travel for one day, you can easily break up the journey with a night at Casa de Khasia in Zugdidi.
---
Batumi & Adjara (2-3 days)
Where to stay in Batumi: Guest House Gantiadi (budget); Kartuli Hotel (affordable boutique); Banana Apartments (self-contained); Wyndham Batumi (luxury).
In summer, Georgia's beach resort capital is thronging with tourists. But in shoulder season, Batumi is actually a very pleasant city to spend a few days.
I didn't exactly fall in love with Batumi on my first visit to the Caucasus, but after having lived in Georgia's second-biggest city for several months in 2020, I came around to its peculiar charms.
One or two days is enough time to see the highlights. Add another day for a side-trip into Adjara region, one of the most beautiful parts of Georgia.
Things to do in Batumi
Hire a bicycle or electric scooter and cycle along Batumi Boulvard.
Spend a morning inside the Batumi Botanical Garden walking the easy hiking trails and taking in the sea views.
Seek out Batumi's best street art.
Shop for the catch of the day at the Batumi fish market then get it fried up eat on the spot.
Admire the eclectic architecture in the Old Town and Piazza.
Eat khachapuri Adjaruli, Georgia's famous 'cheese and egg boat bread' that is native to this region.
Sunset drinks at Kartuli Hotel on the 37th floor of Orbi Beach Tower with views of the Black Sea.
See the Ali & Nino statue, a tribute to Kurban Said's novel set in the Caucasus.
Take a bus down the coast to visit Gonio Fortress, then hike up to Gonio Cross for sunset.
Read more: 35 awesome things to do in Batumi.
Things to do around Batumi
Petra Fortress & Tsikhisdziri Hidden Beach: Roman-era ruins and swimming 40 minutes north of Batumi.
Ureki: A small beach town up the coast with black-sand swimming beaches.
Mtirala National Park: Waterfalls and hiking a hour east of Batumi.
Machakhela Protected Areas: Primary forest and an ethnography museum an hour south-east of Batumi.
Gonio Fortress & Sarpi: Bike ride along the coast to the Turkish border.
Related: The best day trips from Batumi for hiking, wine & more.
Onward travel: Batumi to Akhaltsikhe
There are two roads connecting Batumi with Akhaltsikhe and Borjomi. The first, a partially unpaved mountain road that runs along the border, is only open during the warmer months (usually May to late October). If you're travelling in summer, there should be a marshrutka from Batumi bus station to Akhaltsikhe (6 hours travel time). It stops in Khulo on the way through.
A more reliable way to get to Akhaltsikhe from Batumi is by travelling through Khashuri (6 hours travel time). Check with the tourist information office in Batumi for any schedule updates.
It's also possible to pre-book a private transfer using GoTrip.
Detour: Spend a few days in Guria, Georgia's tea and hazelnut region, between the Black Sea and Borjomi. Komli in Ozurgeti offers tea plantation tours, home-cooked meals, and accommodation inside a heritage wooden home and converted giant barrel!
---
Akhaltsikhe, Borjomi & Vardzia (2 days)
Where to stay in Akhaltsikhe: Old Street (guesthouse).

Where to stay in Borjomi: Guest House Besarioni (budget); Borjomi Cottages (self-contained modern cabins); Golden Tulip (boutique).
South-Western Georgia is characterised by the Lesser Caucasus mountains, dense forests and mineral springs. Many of the country's most famous bottled water brands, including Borjomi and Bakuriani, are sourced from this area.
I suggest stopping in either Akhaltsikhe or Borjomi for a night or two to break up the journey south to Armenia. I have stayed in both towns and slightly prefer the vibe in Akhaltsikhe (it's a little less touristy). If you want more restaurant options, Borjomi is a better choice. Bear in mind that onward transportation to Armenia starts from Akhaltsikhe.
Borjomi, Bakuriani, Akhaltsikhe and the cave city of Vardzia are all connected by relatively short marshrutka/taxi rides. Otherwise, you can hire a driver for the day to take you around (see this example itinerary I created on GoTrip).
Things to do in Akhaltsikhe & Borjomi
Spend a morning at Vardzia, Georgia's most impressive cave city, 60 minutes by road from Akhaltsikhe.
Explore the surreal Rabati Castle, a refurbished 9th-century fortress with a mosque at its centre.
Wander through Borjomi Park and drink the carbonated water straight from the source – the original spring. There are also public baths where you can fully immerse yourself in the healing waters.
Eat regional Meskhetian food at Old Bar or Pesvebi.
Take a bus 3km down river to Likani. Here, you'll find the historic Romanov Palace (closed at the time of writing), the former sanatorium and mosaic in Likani, and hiking trails on the edge of Borjomi National Park.
Ride the vintage Kukushka Train from Borjomi to Bakuriani, Georgia's only scenic rail journey (on pause at the time of writing).
Read more: The best things to do in Akhaltsikhe and my guide to Borjomi and Bakuriani.
Onward travel: Akhaltsikhe to Gyumri (Armenia)
There is one daily marshrutka at 7am from Akhaltsikhe bus station to Gyumri (3.5-4 hours travel time; ~40 GEL per person). It passes through Armenian immigration at the Bavra border crossing. It's a very straightforward process – you stay in the same van the entire time.
I did this crossing most recently in late spring 2023. The road on the Georgian side has been upgraded, but it's still very bumpy and slow going on the Armenian side. Be ready!
---
If you just want to visit Georgia and Armenia, you can stitch these two sections together to create a Georgia Armenia itinerary. Alternatively, you can take this section to create a dedicated Armenia itinerary.
---
Gyumri (1-2 days)
Where to stay in Gyumri: Guest House in Gyumri (modern homestay); Berlin Art Hotel (boutique social enterprise); Villa Kars (luxury).
Gyumri is Armenia's second-largest city and probably my favourite place in the country. It's much smaller and quieter than Yerevan, yet its historical role as Armenia's cultural and artistic capital makes it a perfectly fine first introduction.
The first thing that strikes you about Gyumri is its monolithic architecture. Monumental churches and grand buildings cut from black tuff stone dominate the city centre.
In 1988, Gyumri was almost wiped off the map by the devastating Spitak earthquake which claimed up to 40,000 casualties. The city is still rebuilding, and by visiting some of the innovative social enterprises in town, you can play a role in the recuperation.
You can see everything Gyumri has to offer in a day or two, exploring the city on foot. It's not a bad idea to add an extra afternoon in Gyumri to recuperate after the long overland journey from Georgia.
Things to do in Gyumri
Walk through Vartanants Square, admiring Gyumri's unique black-and-gold stone architecture.
Walk up the hill to the Black Fortress, an unusual round fortification on the city's outskirts built by the Imperial Russian Army.
Travel to Ani Overlook 40 minutes outside town for a view across the border to the ruined city.
Eat dinner at Fish Restaurant, a Gyumri institution.
Essential reading: My complete guide to Gyumri.
Onward travel: Gyumri to Yerevan
You'll be back for more of northern Armenia later in the trip. For now, it's time to head to the capital.
There are a few options for travelling between Gyumri and Yerevan. Trains depart Gyumri Railway Station at least twice per day (3.25 hours travel time) plus there are faster express trains on weekends.
Alternatively, marshrutka vans leave throughout the day from 10am to 6pm from Gyumri's main bus station (2.5-3 hours travel time). You can also find shared taxis at the bus station (2.5 hours travel time).
Check times and schedules on T-Armenia.
---
Yerevan + day trips (2-5 days)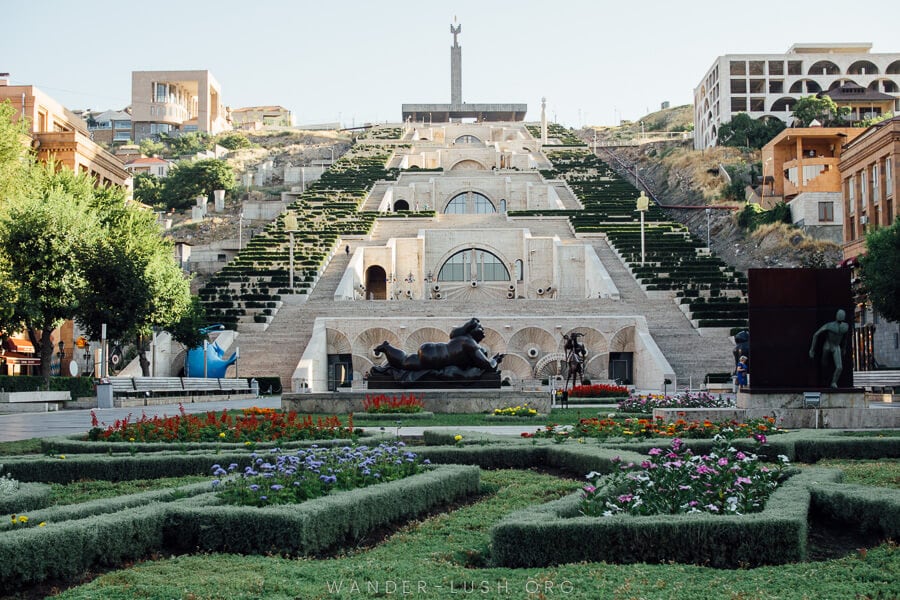 Where to stay in Yerevan: Envoy Hostel (budget); Messier 53 (mid-range); Republica Hotel (boutique); Tufenkian Historic Yerevan Hotel (luxury).
Yerevan, Armenia's capital, is an easy going, outdoorsy city filled with pink stone buildings, gorgeous flower gardens and cafes.
The abundance of museums, galleries and libraries will satiate travellers who are hungry for history and culture. Browsing the outdoor markets and strolling through Yerevan's pretty plazas will have you grinning from ear to ear. It's just that kind of city.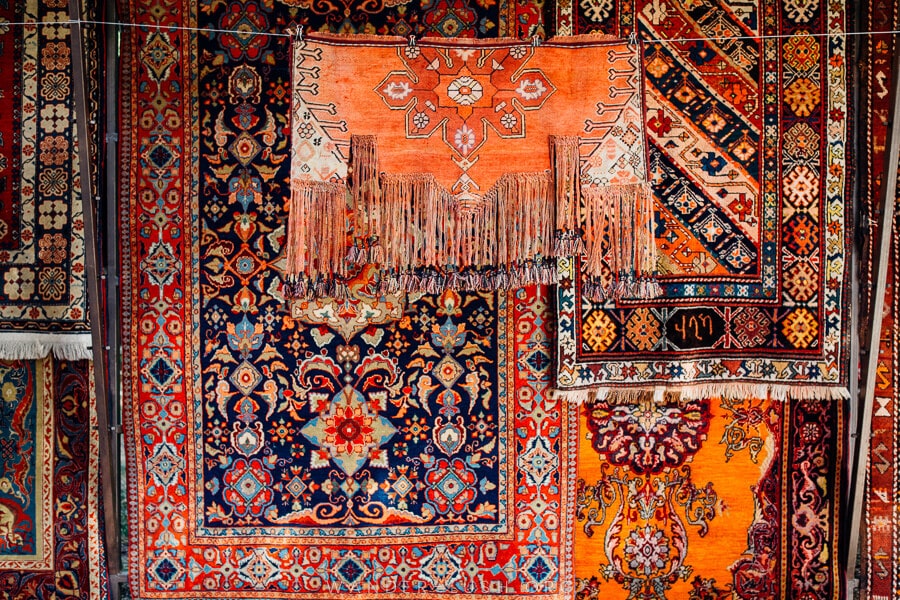 Things to do in Yerevan
Browse the GUM Market, where you can find vibrant displays of pickles and lavash bread being made and sold.
Climb The Cascade at daybreak for a view of the city and Mount Ararat.
Visit the Blue Mosque.
The Armenian Genocide Memorial and Museum is one of the most difficult but important places to visit in Yerevan.
Comb the Vernissage Market, a massive handicraft and flea market, for authentic Armenian souvenirs.
Essential reading: Awesome things to do in Yerevan.
Recommended day trips from Yerevan
You can visit almost every corner of Armenia on a day trip from Yerevan. Hiking trails, wine tastings and the country's best churches and monasteries are all within easy reach.
I highly recommend booking a few organised day tours out of Yerevan to save money and time. Hyur Service is a popular and well-regarded outfit; I have travelled with them several times and have always been happy with their itineraries and guides.
Garni & Geghard Monastery: A classic combination close to Yerevan. I did this tour on my last visit and highly recommend it.
Echmiadzin and Zvarnots: One of Armenia's UNESCO World Heritage Sites and the birthplace of Christianity in the country. This itinerary comes recommended.
Tatev Monastery, Noravank & Zorats Karer: This itinerary, offered by Hyur Service, squeezes a lot in and is the easiest way to visit the iconic Tatev from Yerevan.
Areni & Khor Virap Monastery: One for wine lovers, Arenia is Armenia's premier wine region. Nearby Khor Virap is one of the country's most important monasteries. This day tour includes both plus Noravank.
Onward travel: Yerevan to Dilijan
From Yerevan, loop north on your way back around towards the Georgian border. This will take you through Dilijan National Park and the gorgeous Debed Canyon.
Yerevan to Dilijan is a very popular route. There are marshrutka vans and larger buses throughout the day from 9am (every 30-60 minutes). Both leave from Yerevan's Northern Bus Station (1.75 hours travel time).
---
Dilijan National Park & Lake Sevan (2 days)
Where to stay in Dilijan: Green Garden Guesthouse (homestay); Popock Dilijan (mid-range); Hotel Tufenkian Old Dilijan (luxury).
Dilijan, sometimes called Armenia's 'Little Switzerland', is a small town nestled in a forested area in the centre of the country. There is some interesting stone architecture in the 'old town' precinct, but the main attraction here is definitely hiking in Dilijan National Park.
Lake Sevan, the second-largest alpine lake in the world, is the jewel of Armenia and a great source of national pride. The two are located just 35km apart, so it makes sense to visit both at the same time.
I recommend staying in Dilijan and visiting Sevan from there – it's very easy to do using low-cost public transport. Two full days is plenty enough to wander around the National Park and spend a half-day at the lake. Budget more time if you want to do more trekking.
Things to do in Dilijan & Lake Sevan
Hike the Trans-Caucasian Trail. There are a number of marked trails around Dilijan that can be completed in a day. The trek to Parz Lich is a popular route.
Visit Haghartsin and Goshavank Monasteries, both located inside the National Park.
Cafe #2 in the centre of Dilijan is a fantastic social enterprise eatery and a great place to chill out.
The 9th-century Sevanavank Monastery sits on the edge of Lake Sevan, 12km from the town of the same name. You can easily get to the monastery on a Sevan-bound bus from Dilijan (just ask the driver to stop when you see the lake. It's a short walk to the monastery from the road).
The Sevan Writer's House, once a retreat for prominent Soviet writers, is located beneath the monastery and is an interesting example of modernist architecture. It is still functioning as a hotel.
Further south, Noratus Village on the lake's edge is home to a cemetery known as the 'Forest of Khachkars' – stunning examples of Armenia's carved stone crosses.
Onward travel: Dilijan to Vanadzor
From Dilijan's main bus station, there are half a dozen daily direct marshrutka vans starting from 8.30am to Vanadzor (60-75 minutes travel time).
---
Vanadzor & Debed Canyon (1 day)
Where to stay in Vanadzor: MagHay B&B (guesthouse); Downtown B&B (apartment).
Armenia's third-largest city, Vanadzor, is a good base for visiting the country's two UNESCO-listed monasteries in the north. The area east of Vanadzor, Debed Canyon, is one of the most impressive landscapes in the region. I absolutely love this part of Armenia.
Vanadzor itself features some impressive architecture (the City Hall especially), a botanical garden, and a rather photogenic bus station. There's not a lot do, but I found the city quite charming in its own way.
If you're into street photography or you just want to observe what life is like in Armenia, an afternoon wandering around Vanadzor is time well spent.
Things to do in & around Vanadzor
Hire a taxi for the day to take you to the UNESCO-listed Haghpat and Sanahin Monasteries, located 50km north of Vanadzor via Debed Canyon. We paid 12,000 AMD for a taxi on our last visit. Read my full guide to visiting the monasteries here.
The industrial town of Alavardi is also worth stopping off at for a stroll (the abandoned factories are pretty impressive, and there are a few cable cars).
The 10th-century Akhtala Monastery is another 40 minutes north from Alaverdi, and on the way back, you can stop in Dzoraget for a drink at the gorgeous Turfenkian Heritage Avan Dzoraget Hotel.
Back in Vanadzor, don't miss eating at National Restaurant Hatsatoon gta, a delightful little restaurant set in a family home. Meals are prepared using ingredients straight from the garden. It's a very special experience.
Onward travel: Vanadzor to Sighnaghi (Georgia)
After Vanadzor, it's time to depart Armenia and head to Azerbaijan via southern Georgia. To travel from northern Armenia to Georgia's Kakheti region, you'll first need to transit through Tbilisi.
There is one daily marshrutka from Vanadzor to Tbilisi at around 8.30am (4 hours travel time). I strongly recommend double checking at the station in Vanadzor. Otherwise, a taxi from Vanadzor to Tbilisi should cost around 25,000 AMD.
You can either overnight in Tbilisi and pick up your journey the next morning, or if you're feeling sprightly, head straight to Sighnaghi on the same afternoon.
To get to Sighnaghi from Tbilisi, take a marshrutka (2.5 hours travel time) or shared taxi (under 2 hours travel time).
---
If you just want to visit Georgia and Azerbaijan, stitch these two sections together to create a Georgia Azerbaijan itinerary.
---
Kakheti – Sighnaghi & Telavi (1-3 days)
Where to stay in Sighnaghi: Zandarashvili Guest House (homestay); Hotel BelleVue (boutique). Find plenty more options in my Kakheti Accommodation Guide.
Kakheti is Georgia's main wine region and the best place to sample the country's famous Qvevri vino. I recommend basing your stay in either the walled city of Sighnaghi or the regional capital, Telavi.
Organise a car and driver through your guest house and spend a day touring the Kakhetian countryside. You'll find there are almost as many historical churches and monasteries as there are wineries. Another day can be spent exploring Sighnaghi by foot.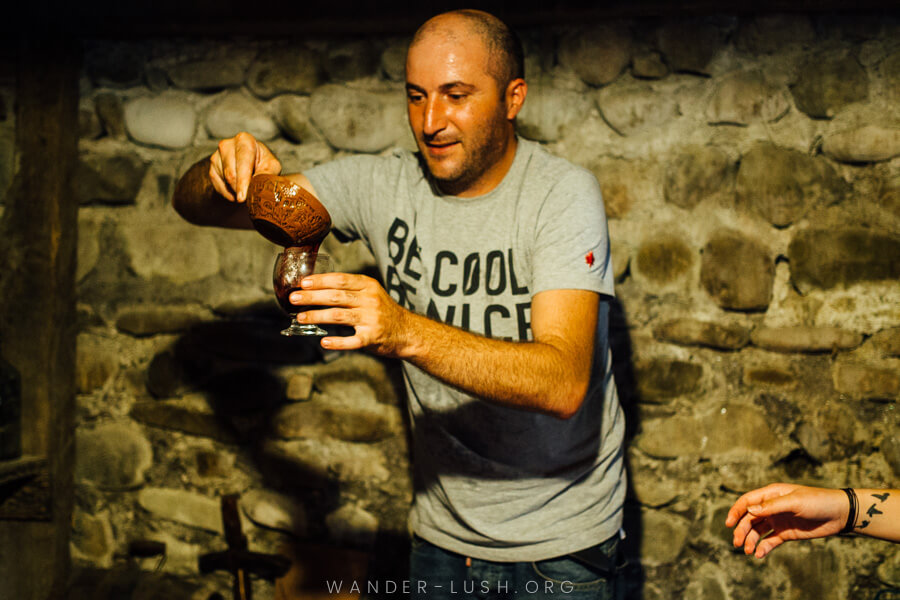 Things to do in Kakheti
Wander around Sighnaghi, climbing the old city walls and towers for views of the Greater Caucasus and the Alazani Valley.
Visit the Pirosmani Museum, a tribute to Georgia's greatest painter.
Walk from Sighnaghi to Bodbi Monastery, one of Georgia's most beautiful nunneries and an important religious site. It houses the relics of St. Nino.
Discover the beautiful heritage architecture and fortress in Telavi.
Tour the countryside, stopping off at Ikalto Academy and a few of Kakheti's most important Orthodox churches (Gremi and Alaverdi are both must-sees).
Tour a few commercial cellars and family run wineries (see my recommendations for the best wineries) to sample wine, chacha, and learn about the harvesting process and Georgian wine traditions.
Visit the Tsinandali Estate near Telavi, a historic home and the first place where Georgian wine was bottled.
Read next: My 3-day guide for Kakheti.
Onward travel: Kakheti to Sheki (Azerbaijan)
Important! Azerbaijan's land border remains closed and will not reopen before May 1, 2023 at the earliest. While it is possible to cross into Georgia from Azerbaijan, the only way to travel to Azerbaijan from Georgia is by flying from Tbilisi to Baku.
After Georgia's wine region, it's onto northern Azerbaijan.
If you're staying in Sighnaghi, your first task is to go by marshrutka from Sighnaghi to Telavi (1.5 hours travel time). From Telavi, take another marshrutka to Qax in Azerbaijan (4 hours travel time), passing through immigration at Lagodekhi.
When you arrive in Qax, transfer to a local bus bound for Sheki (1 hour travel time).
Detour: For some of Georgia's best hiking, stop off in Georgia's Lagodekhi National Park before crossing the border. The incredible 3-day Black Rock Lake trek takes you all the way to the Georgia-Russia-Azerbaijan border.
---
Sheki (2-3 days)
Where to stay in Sheki: Karvansaray Hotel (basic but atmospheric); Vaqif's Guest House (homestay); Sheki Saray Hotel (boutique).
Take your time exploring Sheki, a charming little town and by far my favourite place in Azerbaijan. Sheki was once an outpost on the ancient Silk Road and you can see evidence of this period all around, most obviously in the stone caravanserai on the main street.
It was converted into a hotel a couple of decades ago. Spending the night inside will surely be one of your most memorable experiences in the Caucasus.
Things to do in Sheki
Tour the Sheki Khan's Summer Palace (inscribed by UNESCO in 2019), taking in the stained glass shebeke windows and ornate miniature paintings.
Visit the lesser-known Winter Palace.
Chill out in the courtyard of the caravanserai hotel. Even if you're not a guest, it's worth visiting to see the grand architecture.
Eat piti and Sheki halva, two local delicacies.
Ride or walk 5km to Kis, a sweet town with a beautiful stone church.
Essential reading: 15 awesome things to do in Sheki.
Onward travel: Sheki to Lahic
After Sheki, it's time to start the journey south towards Baku.
There is no direct connection to Lahic, so you need to transfer in Ismaili. For Sheki to Ismaili, take a marshrutka (2.5 hours travel time) or taxi (2 hours travel time).
Despite being only 30km away, the journey from Ismaili to Lahic takes over an hour via a single-lane, windy road. There are two options here: Taxi (1 hour travel time) or local bus, which is cheaper but takes slightly longer.
---
Lahic (1-2 days)
Where to stay in Lahic: Ancient Lahij Guest House (mid-range).
Lahic, Azerbaijan's craft capital, is known for its charming cobbled streets lined with blacksmiths, coppersmiths, carpet weavers, and other traditional artisans plying their trades. Because of its remote location, Lahic feels like a bit of a time capsule.
The drive from Ismaili to Lahic is a bit of a nail-biter. I recommend staying for a night or two to make the most of it.
Things to do in & around Lahic
Lahic is a small town and the only real thing to do here is walk around and enjoy the scenery. Shop for handicrafts at the little working studios on the main street, and rummage for antiques in the jumble stores.
At nearby Ivanovka, you can visit and overnight at Azerbaijan's last working kolkhoz (Soviet collective farm), which is managed by a Molokan Russian couple.
If trekking is more your style, there are some scenic routes around Lahic, including a multi-day hike to Xinaliq on Azerbaijan's eastern coast.
Onward travel: Lahic to Baku
Return to Ismaili by taxi (1 hour travel time) or local bus (1.5 hours). From Ismaili, marshrutka vans depart throughout the day for Baku (5 hours travel time).
---
Baku + day trips (3-5 days)
Where to stay in Baku: Cth Baku Hostel (budget); Deniz Inn Boutique Hotel (mid-range); Centric Baku Boutique Hotel (boutique).
Azerbaijan's capital city is a far cry from the rural north: Grand boulevards, beautiful gardens and fountains, and a mix of Belle Epoque facades and flashy skyscrapers give downtown Baku a Paris-in-the-springtime feel.
The mix of old and new, wealth and tradition, in Baku is absolutely fascinating. It's a bit more expensive than Tbilisi or Yerevan but it's one of the most intriguing places I've ever been.
It's also very distinct from the other two Caucasus capitals and thus a nice contrast for the final stop on your Georgia Armenia Azerbaijan itinerary.
If you can budget for it, Baku warrants at least 3 days, plus an extra few days for side trips.
Things to do in Baku
Exploring Baku's historic core, the exquisitely preserved Icherisherher Old City, including the Palace of the Shirvanshahs and the iconic Maiden Tower.
Baku is a city that requires some explanation. I highly recommend joining a guided city tour (this one includes a traditional Azeri lunch) or at the very least, the free walking tour.
Walk around the Carpet Museum, an entire institution dedicated to weaving and motifs (it's even shaped to resemble an unfurling rug).
Visit Yanar Dag, Baku's notorious 'flaming hillside', after dark. This private nighttime tour is a great choice if you want to see Baku in all her fiery glory.
See some of Baku's impressive modern architecture up close, including the Flame Towers and the Heydar Aliyev Center.
This being the Caucasus, Baku also has a terrific wine scene. Top off your time in the capital by visiting some of the wine bars.
Baku guide: Best things to do in the Old Town.
Recommended day trips from Baku
Gobustan: Just a few hours' drive from Baku via the oil rig-lined coastline, the otherworldly landscape around Gobustan, with its mud volcanoes, is a must-visit in Azerbaijan. This group tour from Baku also includes a visit to the nearby UNESCO-listed petroglyphs and the Ateshgah Zoroastrian Fire Temple.
The Absheron Peninsula: There are more geological wonders (including Yanar Dag, the flaming hillside) to be found across the Absheron Peninsula, which extends east of Baku into the Caspian Sea.
Quba: If you're interested in textiles and handicrafts, head 2 hours northwest of Baku by bus to the little town of Quba, home to one of Azerbaijan's seven schools of carpet weaving. There are a few workshops you can visit to see the master weavers plying their craft. The Qadim Quba carpet weaving workshop on the main street is one of the most popular.
Xinaliq: Further north of Quba, Xinaliq is one of the highest villages in the Caucasus and offers great opportunities for alpine trekking. You can visit in a day on this guided trip from Baku.
Baku day trips: Find more ideas for day trips from Baku in this guide.
---
This Caucasus itinerary finishes in Baku. Fly out of the international airport, or if you're departing from Georgia, take the overnight train from Baku back to Tbilisi.
Alternatively, extend your time in the Caucasus by adding on one of the alternative destinations listed below.
If you're looking for somewhere to go directly after Baku, Nakhchivan (75-minute flight) is my top choice.
---
3-week Georgia Armenia Azerbaijan itinerary
This is an abridged version of the above itinerary, trimmed down to fit into 3 weeks. This itinerary has less flexibility but still gives a good introduction to the region for anyone operating on a tighter timeframe.
To make it more efficient, this itinerary starts and ends in Kutaisi.
Days 1-2: Kutaisi
Days 3-5: Mestia & Ushguli
Days 6-9: Tbilisi
Day 10: Kakheti
Days 11-12: Sheki
Days 13-16: Baku + day trips (+ overnight train to Tbilisi)
Days 17-20: Yerevan + day trips
Day 21: Depart Yerevan or Kutaisi
---
10 to 14 day Georgia Armenia Azerbaijan itinerary
Unless you're OK with a very rushed, superficial brush with the Caucasus, I wouldn't recommend trying to travel to all three countries in less than 14 days. In my opinion, this is the absolute minimum amount of time you'll need to do the region justice.
For a shorter and more in-depth itinerary, here are my recommendations for spending 10-14 days in Georgia and Azerbaijan.
Days 1-3: Tbilisi + day trips
Days 4-5: Kazbegi + the Georgian Military Highway
Day 6: Kakheti
Days 7-8: Sheki
Days 9-11: Baku + day trips (+ overnight train to Tbilisi)
Days 12-14: Yerevan + day trips
Day 15: Depart Yerevan or Tbilisi
---
Caucasus itinerary add ons
If you have more than 6 weeks in the region, you might like to consider one or more of the following itinerary add-ons.
More places to visit in Georgia
Juta or Truso (add 2-3 days)
If you just can't get enough of those Caucasus mountains, you might like to add Truso Valley or Juta to your itinerary. Both offer pristine hiking and scenery and are easy to reach from Kazbegi. In Juta, try spending a few nights at Fifth Season for an off-the-grid experience and awe-inspiring views.
If you're visiting in winter, Gudauri is Georgia's premier ski resort and the closest place to the capital for winter sports. The season normally runs from December to April. In summer, you can take the ski chairlifts up to access hiking routes and gorgeous views.
Juta, Truso and Gudauri are all located off the Georgian Military Highway between Tbilisi and Kazbegi, so you can easily incorporate any one of them into your itinerary on the way up or down.
Racha (add 2-3 days)
Another of Georgia's pristine highland areas, Racha-Lechkhumi and Lower Svaneti (Racha) is a prime location for hiking, including the well-known Nine Crosses Pass route. Nikortsminda church and Shaori Lake are also popular attractions. The town of Oni has a fascinating Jewish history is an ideal place to base your stay. My favourite guesthouse is Guest House Gallery. Further north in Shovi, you can visit 'Stalin's Dacha'.
Racha is fairly easy to reach from either Kutaisi or Tbilisi via the new Sachkhere road. Travel time from Tbilisi is around 4 hours, and a marshrutka ticket costs ~15 GEL.
Read my full guide to Racha-Lechkhumi.
Tusheti National Park (add 4-5 days)
The most remote and rugged of Georgia's mountain regions, the Tusheti Protected Areas is one of the most rewarding travel experiences in the region. Hiking is the activity of choice in Tusheti, with most people opting to walk between the villages of Omalo, Dartlo, Shenaqo and Diklo.
Omalo to Shatili (in neighbouring Khevsureti) is a particularly popular route. Along the way, you'll get to see some fine examples of stone towers and witness other aspects of Tush culture.
The best place to add Tusheti to your itinerary is between Tbilisi and Kakheti. Omalo can only be reached via a notoriously treacherous road that runs through the Abano Pass from Telavi or Alvani.
A 4WD and an experienced driver are highly recommended (essential, in fact). Note that the Abano Pass is only open for part of the year, usually June through October depending on weather conditions.
Pankisi Valley (add 1-2 days)
Located in Kakheti region east of Tbilisi, Pankisi is home to members of the Kist ethnic minority group, whose ancestors migrated to Georgia from Chechnya in the 18th century. The area is still relatively unknown to tourists.
The Pankisi Valley Tourism and Development Association, a groundbreaking grassroots tourism initiative, is working to change perceptions about Pankisi and bring more tourists to the area. Read more about the initiative and my visit to Pankisi here.
I recommend staying at Nazy's Guest House in Jokolo.
Lagodekhi Protected Areas (add 3-4 days)
Another hiking hotspot, Lagodekhi is located in the far-eastern corner of Georgia, close to the border with Azerbaijan. The three-day hike to Black Rock Lake and the Daghestani (Russian) border is the most popular trek on offer. For something a little tamer, you could chill out in a treehouse instead.
The best place to add Lagodekhi to your itinerary is after Sighnaghi (here's how to travel between the two towns). A stopover in Lagodekhi is also a good option if you're heading overland into Azerbaijan next. You can easily travel by bus from the border town of Lagodekhi to Qax, onto Sheki and Baku.
More of Georgia's Black Sea Coast (add 2-3 days)
Batumi is the biggest town on the Black Sea Coast, but there's a lot more to see if you have the time. From Batumi, head to Kobuleti, once a popular Soviet beach retreat, and Poti, a beautiful historic city, where ships depart for Varna on the Bulgarian Black Sea Coast.
Make a detour into Kolkheti National Park, part of Georgia's new UNESCO World Heritage Site, the Colchic Rainforests and Wetlands, before dipping inland to Zugdidi.
More places to visit in Armenia
Goris (1-2 days)
Goris is a good stopover to add to your Armenia itinerary if you plan to spend more time at Tatev Monastery or if you're heading into Iran overland. The bus ride from Yerevan takes between 5 and 6 hours; from Goris to Tabriz in Iran, it's a relatively painless 300km (roughly 8-9 hour) journey.
Apart from easy access to Tatev Monastery, Goris also offers stunning stone-crusted landscapes and some nice opportunities for trekking.
For more Armenia guides, check out Megan and Aram's website Absolute Armenia.
More places to visit in Azerbaijan
Nakhchivan (2-3 days)
Somewhat comically dubbed 'The San Francisco of the Caucasus', Nakhchivan is an autonomous Azerbaijani enclave surrounded by Armenia and Iran. There are a couple of notable attractions, and the landscape looks absolutely stunning. But the biggest draw is getting to visit somewhere truly off-beat that sees very few non-domestic tourists.
Ganja (2-3 days)
Located west of Baku in Azerbaijan's central interior, Ganja is the country's second-largest city. There aren't a whole lot of things to do in Ganja, but the city does boast some beautiful Turkish bath houses and other examples of historic architecture.
You can get to Ganja by bus from Baku, by train on-route from Baku to Tbilisi, or by flying.
Lankaran (1-2 days)
A Caspian-coast city, Lankaran is an ideal stopover for anyone travelling onto Iran. This is one of the oldest cities in Azerbaijan, so historical activities (museums, cultural centres) as well as parks and bazaars are the most popular activities for tourists.
From Lankaran, it's a mere 43km (about an hour's drive) to the Iranian border crossing at Astara. From there, you can continue onto Tabriz (500km; 9-12 hours) or Tehran (500km; 8-10 hours).
---
Caucasus travel guide FAQ
These frequently asked questions and other need-to-know tidbits will give you the practical and logistical knowledge you need to start planning your own Georgia Armenia Azerbaijan itinerary.
If you have questions about language, culture, religion and politics in the Caucasus, I have a post all about that, too.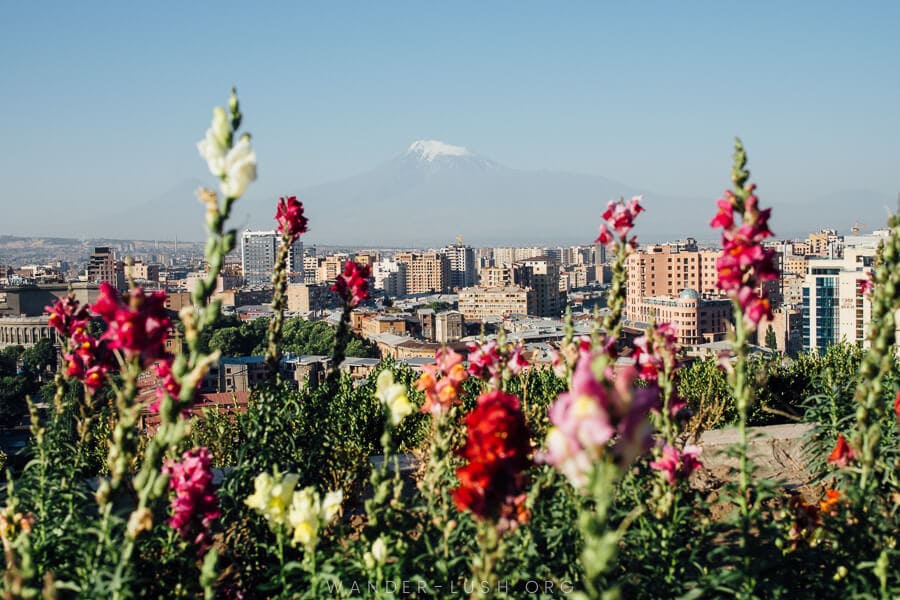 When is the best time to visit the Caucasus?
I recommend travelling to the Caucasus in shoulder season, either spring or autumn. We visited for the first time in March/April/May and had perfect weather.
It wasn't too busy or expensive, we got to experience Orthodox Easter in Georgia and Genocide Remembrance Day in Yerevan, and everything was open (except the road up to Tusheti – you'll have to travel in summer for that).
September/October is also a good time to visit, when Georgia celebrates rtveli, the annual grape harvest. There are lots of festivals and events on, and the weather is good for hiking.
Summer (especially July and August) is peak season in the Caucasus. It can get oppressively hot, particularly in the cities, and there is a noticeable uptick in crowds and prices to match. The main advantage of travelling in summer is having longer daylight hours to fit more in.
Winter (late November to February) is obviously the best time to travel for skiing and winter sports, but access to some more remote parts of the region will be limited due to snowfall.
How long should you spend in the Caucasus?
How much time do you have?
Seriously, there is so much to do in this part of the world – we spent three months on our first visit and barely scratched the surface (which is why we kept coming back, and ultimately why we moved here!). How much time you spend in the Caucasus really depends on how deep you want to go.
It's possible to do all three countries in as little as 10 days, but you'll only see the capital cities and bit of the countryside. If you are limited on time, I suggest sticking to Georgia only.
Is it necessary to do a guided tour?
Not in my opinion, no. Tourism infrastructure isn't as well developed in the Caucasus as it is in other parts of Europe – but it's still easy enough to get around.
English is widely spoken (especially in the cities and bigger towns), and as a general rule, people are extremely helpful.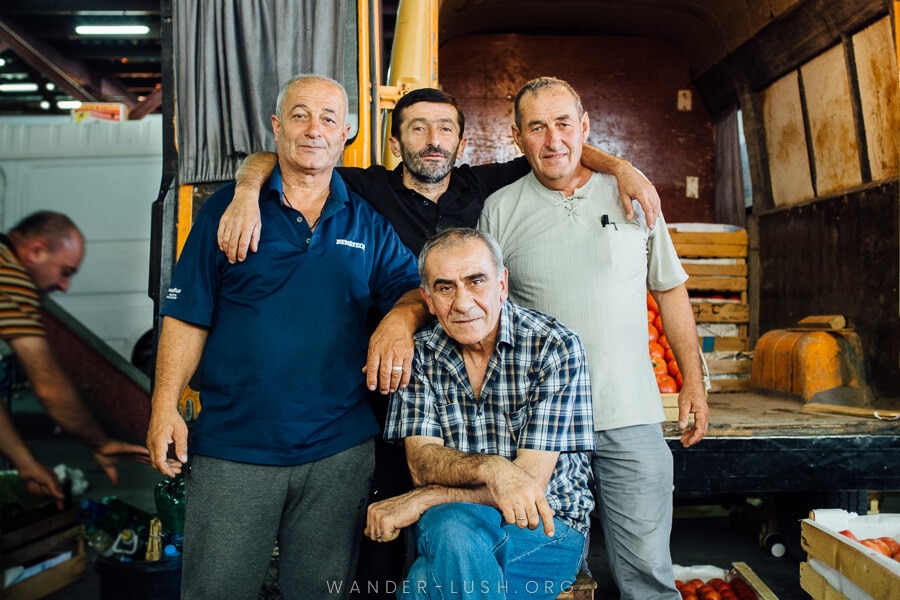 Caucasus visa requirements
Many (but not all) nationalities can enter Georgia and Armenia visa-free. Azerbaijan has stricter visa requirements, but the good news is they also have an e-visa system.
Check whether or not you need a visa for Georgia, Armenia or Azerbaijan via iVisa. For specific visa advice, check with your local embassy or consulate before you travel.
Some sources mention needing proof of onward travel when crossing borders in the Caucasus. Personally, I have never been asked to present any tickets or documentation when passing through immigration.
Keep in mind that you need a special permit to travel to Abkhazia or Artsakh (Nagorno-Karabakh).
Armenia or Azerbaijan first?
The border between Armenia and Azerbaijan is closed, so if you plan to visit all three Caucasus countries overland, you'll have to transit through Georgia. What order you choose to visit the three countries in doesn't really matter – with one important exception: Artsakh (Nagorno-Karabakh).
Let me clear this up once and for all: There is no official law or prohibition on travelling to Armenia after Azerbaijan or Azerbaijan after Armenia, provided you follow the advice on Artsakh. Briefly, if you enter into Artsakh (which is only accessible from the Armenian side), you will be denied entry into Azerbaijan. Permanently. Forever.
If you haven't been to Artsakh, you will probably be quizzed by Armenian or Azerbaijani immigration either way. It will likely get uncomfortable, but I've never heard of a tourist being knocked back because of the stamps in their passport.
I highly recommend reading my overnight train travel reports (Georgia to Armenia or Georgia to Azerbaijan) so you can prepare the documents you need to cross the border smoothly.
How to get to the Caucasus
The Caucasus occupies a 'seam' of land between the Black and Caspian Seas. Here is a brief overview of the inbound transport options that are currently available.
By air
For obvious reasons, the most convenient way to arrive in the Caucasus is by jumping on a flight. There are international airports in all three countries, but the most popular airports for travellers right now are in Tbilisi (Georgia), Kutaisi (Georgia), Yerevan (Armenia), Gyumri (Armenia) and Baku (Azerbaijan).
Wizz Air has low-cost flights to Georgia and Armenia from Europe, while Fly Dubai and Turkish Airlines connect Tbilisi and Baku with Istanbul and the UAE.
Overland
Travelling to the Caucasus overland involves passing through one of the three bordering countries: Russia, Turkey or Iran. From Russia, you can enter Georgia from the far-northern border point near Kazbegi. From Turkey, you can cross the border into Georgia at Sarpi on the Black Sea Coast. In this case, Batumi will be your first port of call in Georgia.
The border between Turkey and Armenia is closed, so it's not possible to travel between these two countries overland. From Iran, you can travel from Tabriz into southern Armenia or southeastern Azerbaijan.
By sea
I'm nowhere near adventurous enough for this – but there are boat connections across the Black Sea from Bulgaria or Ukraine to Georgia, and across the Caspian from Turkmenistan to Azerbaijan. From what I've heard, there are no passenger ferries as such: you can only make the journey by freight ship.
If you're interested in travelling to (or out of) the Caucasus by boat, start your research with Caravanistan.
Ground transportation – how to get around the Caucasus
Once you're in the Caucasus, transport within and between Georgia, Armenia and Azerbaijan is pretty straightforward. All three countries have reliable, affordable transport networks – hence why this itinerary relies completely on marshrutka vans (fixed-route minivans that are popular throughout the post-Soviet countries) and trains.
Georgia's train network is basic but reliable. I prefer travelling by train for cross-country journeys such as Tbilisi to Batumi.
Must read: Georgia packing list for men and women (all seasons).
Marshrutky can be a bit slow going and uncomfortable, but they are faster than large coach buses. Routes have flexible schedules and the driver can drop you off anywhere along the route. See my marshrutka guide for more information about using vans to get around the Caucasus.
To travel between the three capitals, I recommend using overnight sleeper trains. Cross-border marshrutky are available as well.
The most I've travelled in a single day by bus is about 6 hours. Most trips on average range from 2 to 4 hours. Road safety is an issue in this region, so I strongly advise against travelling after dark. Avoid very long trips, and consider hiring an experienced private driver for treacherous mountain roads.
A great way to save travel time is by hiring a taxi or private car and driver. In Georgia, I use and recommend GoTrip, a fantastic service that allows you to book a private transfer with a driver anywhere in the country (like a long distance Uber).
Visit the GoTrip website and see how their trip planner works.
Should you drive in the Caucasus?
Hiring a car and driving in the Caucasus can be a great way to get around, especially if you want to get 'off the beaten track'. The driving style takes some getting used to, and the roads aren't the best in patches, but it's still a fun experience. I recently did a road trip in Georgia and loved it.
If you plan on driving across international borders, make sure you have the necessary permits in order.
I recommend using a third-party aggregator website such as Local Rent to find affordable rentals in Georgia and Armenia.
Accommodation – where to stay in the Caucasus
Another thing to consider when planning your Caucasus itinerary is accommodation. But it's not something you have to worry about or plan too far in advance, unless you're travelling in peak season.
We usually book hotels online as we go and have never had a problem finding a great place, or a great deal. The exception is boutique hotels such as Rooms Kazbegi, which you'll want to reserve as far in advance as possible.
I always use Booking.com for making reservations in Georgia, Armenia and Azerbaijan.
In the cities (and even in smaller towns), Airbnb is a great option. Everywhere else, we like to stay in family-run guesthouses. Guesthouses in the Caucasus are like mini travel agents – they offer meals, transport, tours, guides and trekking as well as accommodation. So if you're really travelling on the fly, you can feasibly roll up at your guesthouse and let your hosts organise everything for you.
I suggest incorporating a few specialty accommodations into your Caucasus itinerary, such as one of these beautiful boutique hotels in Tbilisi, one of these magnificent mountain cabins and chalets in Georgia, or one of these glamping tents.
Essential reading: What to expect when you stay at a guesthouse in Georgia.
Tbilisi, Yerevan and Baku all have thriving hostel scenes. Here are my favourite hostels in Tbilisi.
Is it safe to travel in the Caucasus?
For the average traveller (including solo female travellers), the Caucasus is a very safe place to visit, provided you exercise common sense. Violence and petty crime is relatively low in all three countries; minor corruption has been all but stamped out; and terrorism is almost unheard of.
People in this part of the world are known for their kindness and hospitality, and it's not uncommon for strangers to invite you into their home for a meal (just like anywhere else, you should approach such situations with caution, especially in rural areas). Tbilisi is consistently ranked among the safest cities in the world.
Having said that, there are some things you should be aware of. Recent events in Yerevan and Tbilisi have shown that this part of the world is still politically volatile. There is an ongoing war between Armenia and Azerbaijan, and parts of Georgia are under territorial dispute. Be a responsible traveller: Do your research, and don't go anywhere without travel insurance.
Essential reading: My tips for staying safe in Georgia.
Travel insurance for the Caucasus
Insurance is a good idea no matter where in the world you're travelling to. The Caucasus is no exception. On our first trip, my partner fell ill in Yerevan and we spent a lot of time at the local hospital (which was fantastic, by the way) getting him sorted out.
Healthcare and medications in the Caucasus are generally cheap by Western standards, but above the financial advantage of being insured, there's peace of mind in having someone to call on for advice if things go wrong.
Be aware that some insurance companies may not cover you for Abkhazia or Artsakh (Nagorno-Karabakh), where there is no consular support in these places for most nationalities either. Check with your insurance provider first if you plan to travel there.
HeyMondo is my preferred travel insurance provider.
How much should you budget for the Caucasus?
Travelling in the Caucasus is incredibly affordable, especially if you have enough time to go slow. On our first trip, we spent an average of 30-50 USD per day per person. Prices have increased significantly since then, but you still get a lot of bang for not much buck.
We found Azerbaijan (especially Baku) the most expensive of the three countries, while Armenia and regional Georgia had the lowest prices.
---
Summary: Top Caucasus itinerary planning tips
Here are my top tips for planning an efficient Georgia Armenia Azerbaijan itinerary:
Book open-jaw flights. Budget airlines now service all three Caucasus countries. Fly into one city and out of another to avoid doubling back.
Travel light. Marshrutka vans are cramped and don't hold much cargo, so keep your luggage lithe. Use my Georgia/Caucasus packing list to optimise your pack.
Make use of day trips to fit more in. All three Caucasus countries are quite small, so you go virtually anywhere on a day trip from the capital. I recommend using Get Your Guide to find and book day tours in the Caucasus.
Use private transfers to save time. Using marshrutka vans and trains can eat up an entire day. Use my preferred website, GoTrip, to organise affordable car transfers in Georgia.
Use sleeper trains to travel between countries. One of the easiest ways to save time is by using the overnight trains to travel between Tbilisi and Yerevan or Tbilisi and Baku (follow those links to buy discounted tickets online).
Don't stress about advance reservations. Unless you're travelling in the height of the summer peak season (or during holidays or events), it's very unlikely that accommodations, tours or transport will sell out.
Give yourself some flexibility. I highly recommend having a basic plan laid out to ensure you hit all the main destinations you want to see, but still give yourself enough wiggle room for spontaneous side trips, marshrutka delays, and of course nursing chacha hangovers.
---
More resources for planning your Georgia Armenia Azerbaijan itinerary
There aren't a huge number of resources out there that cover Caucasus travel in detail, but there are a couple of websites and publications we found useful when planning our own itinerary.
First and foremost, the most recent edition of Lonely Planet Georgia, Armenia & Azerbaijan Travel Guide came in very handy for us, especially in the planning phase. It was less helpful when we were on the road, as a fair bit of information was outdated or just plain incorrect (as it so often is).
Caravanistan and Seat 61 both have information regarding route-planning and public transport in the Caucasus.
When you're on the road, it's often helpful to get real-time, on-demand advice from locals or other travellers who have recently been in the region. I'm more than happy to help out where I can – don't ever hesitate to send me an email or leave me a comment.
Even better, the 10,000 member-strong hive mind over on the Facebook Group 'Travel to Eastern Europe, the Balkans and the Former USSR' is always willing to help fellow travellers out. The group is private, so you'll need to request to join before posting a question.
---
Over to you! What is your favourite spot in the Caucasus? Do you have any questions about planning your own Georgia Armenia Azerbaijan itinerary? Please leave a comment below and I'll try my best to help out.
---
Georgia Armenia Azerbaijan itinerary: Save it!