Baku's historic core, the walled Old City or Icherisheher, is a must-visit in Azerbaijan. This guide to Baku Old City shows you 15 things you absolutely can't miss, plus practical tips for planning your visit.
Baku is a city of superlatives. Surrounded by soaring skyscrapers, sprawling shopping malls, ultramodern civic buildings and the Bulvar – soon to be the world's largest public park – the walled Old City, the Icherisheher (or Baku Icheri Sheher) is the relatively humble heart of the Azerbaijani capital.
The Azerbaijan Old City is one of the country's most important historical places and a must-do when you're planning what to see in Baku.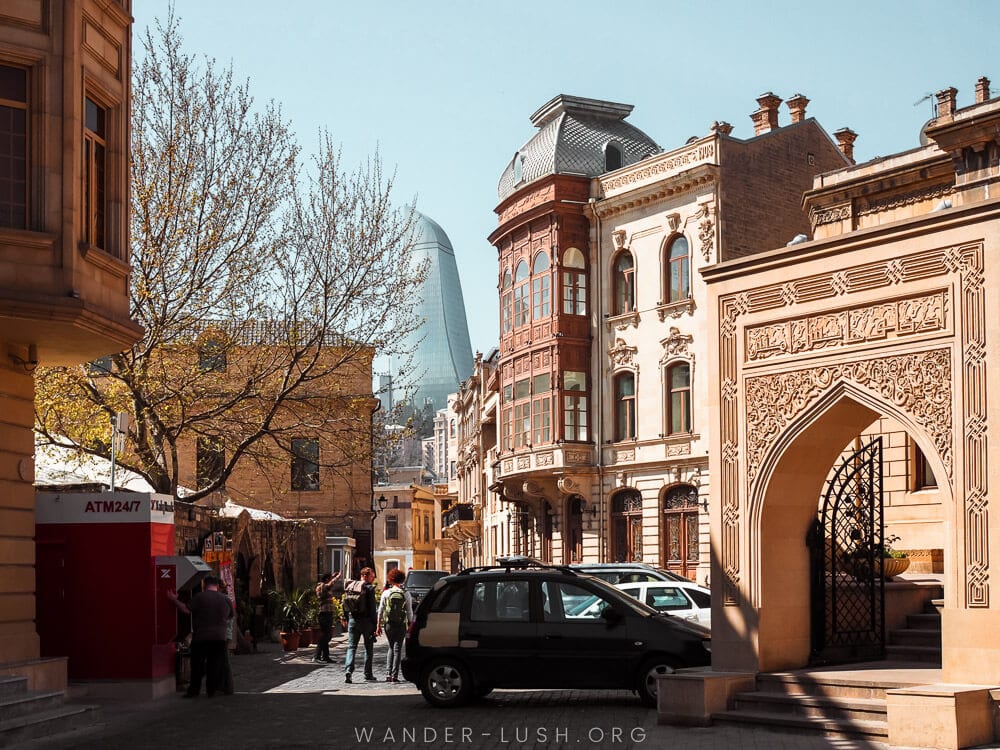 I will never forget the first moment I stepped inside the Old City gates and crossed the threshold from New Baku to the old-world walled city of Baku. I was fresh off the overnight train from Tbilisi, and I had no idea what to expect.
In that moment, it felt as if the train had whisked me not only across a state border, but also across a continent, from Europe to Asia. Walking through the Old City streets, I got the impression that I had been transported from present day back to the time of the Silk Road.
A city within a city, Baku Old Town is an oval-shaped pocket of curving roads, grand palaces and mosques, and the sunken ruins of old hammams and caravanserais.
Flash hotels, restaurants and Christian Dior boutiques sit side by side with silver merchants and carpet vendors who have been trading their wares on these streets for centuries.
In the Old Town bakeries, men carve up trays of glistening amber baklava while in the cafes, women roll fat dolma, a traditional Azerbaijani food. Inside tea houses, endless streams of chai cascade from pewter pots into little glasses, while outside, kids sit on the back stairs doing their homework while their mothers hang washing from lines strung between balconies.
Icherisheher is one of the must-see historical places in Azerbaijan and one of my favourite places in the Caucasus region. Here is my list of 15 things you absolutely can't miss in Baku Old City.
---
Please note: This post contains affiliate links, meaning I may earn a commission if you make a purchase by clicking a link (at no extra cost to you). Learn more.
---
History of Icherisheher
The Old City is located in the southern part of Baku and is part of the Sabayil neighbourhood. It backs directly onto the Bulvar, the park and promenade that runs along the Caspian Sea.
The Icherisheher (İçəri Şəhər, literally 'Inner City'), is separated from the rest of Baku by a long, curved wall. In the past, there were two main gates, but now there are several openings where pedestrians and cars can pass through.
The oldest part of Baku, the Old City was first settled some time between the 7th and 12th centuries. This is when most of the major landmarks, including the Palace and Maiden Tower, were erected.
People have always lived, worked, studied and prayed within the Baku Old City walls. Much like Istanbul or the Ottoman-designed part of Skopje, it was designed to be a completely self-sufficient community.
Later in its history, the area was divided up into 10 quarters, each for a different profession (clergymen, oil workers, ship builders, etc.) and their families.
Fortifications and canon towers defended the Old City from invasion. When Baku was occupied by Russian forces, Baroque and Gothic-style apartment buildings were built inside the Old City, changing its face forever.
Domed bath houses lay empty; sandstone caravanserais were transformed into taverns. Courtyards and secret passageways, sunken gardens and hammams were laid to waste. Relics of Zoroastrianism, which once thrived in oil-rich Baku, were replaced first with chapels then with mosques, madrasses and mausoleums.
The Icherisheher is layered with religious, political and cultural significance. The entire history of Baku can be read in its stone walls.
In 2000, the Old City was the first place in Azerbaijan to be recognised as a UNESCO World Heritage Site. Along with Sheki, which was inscribed in 2019, it represents one of the region's most valuable urban landscapes.
With formal recognition and a corresponding influx of international visitors, Azerbaijan has doubled down on its efforts to preserve the Old City's historic sandstone buildings.
---
Where to stay in Baku
If it's your first time in Baku, I highly recommend choosing a hotel located inside or close to the walls of the atmospheric Old City.
---
---
---
---
15 magical things to do in Baku Old City
Encased in the protective embrace of Baku's Old City walls, happily spend an entire day exploring the area. Small, but there's a lot to do, especially if you enjoy getting lost on backstreets and practicing your street photography.
Here are 15 things you absolutely can't miss when visiting Icherisheher.
1. Explore the Palace of the Shirvanshahs
Built in several stages over several centuries, the Palace of the Shirvanshahs is Baku's most important historic landmark. During the Middle Ages, it served as the seat of power and residence of northeastern Azerbaijan's ruling family. According to inscriptions, Shirvan Khalil I (1417–1462) commissioned two of the main structures, a tomb and a mosque.
When restorations took place in 2003, the main building of the palace was set aside for a museum. It displays a nice collection of textiles, costumes and artefacts. Leafy gardens link the complex of burial vaults, mausoleums, gates, bath houses and reservoirs. All feature exquisite stonework and fluid inscriptions.
Don't miss the ornate Palatial mosque (Saray məscidi) or the Divankhana, a separate octagonal building off the main palace courtyard. The exact function of the divankhana is not known, but the intricacies of Islamic design represented in the window frames are very beautiful indeed.
The Palace is open daily from 10am-6pm. Entry costs 15 AZN, and there's an optional audio guide for an additional 15 AZN.
2. Climb the Maiden Tower
Baku's most recognisable landmark, the Maiden Tower, has inspired many an Azerbaijani novel, ballet and opera. The structure – and the origins of its name – is shrouded in mystery.
It's thought that the stone tower was first built by pre-Islamic Zoroastrians to serve as a fire temple and site for sky burials. Today, the tower houses a small museum on Baku history. You can climb spiral staircases all the way to the top to survey the Old City of Baku, the Bulvar, and the Caspian Sea beyond.
The Tower is open from 9am-6pm. Entry costs 15 AZN.
3. Visit the Muhammad Mosque
Built in the 11th Century, the Muhammad Mosque (or Siniggala Mosque) isn't the city's biggest or most impressive mosque, but it has come to symbolise Baku.
The minaret was damaged by a Russian shell during the Russo-Persian War. It was never repaired, though – Baku residents insisted it be left to serve as a marker of the city's courage and defiance.
4. Marvel at the arcades on Bazaar Square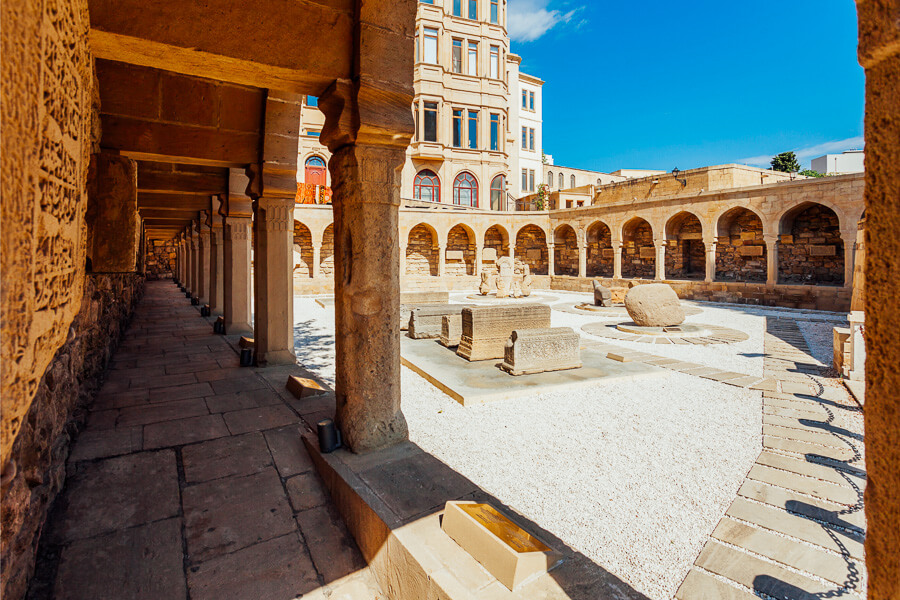 One of the most impressive archaeological sites within Baku Old City, the excavated Bazaar Square lies below street level. From the top, you can peer down on the stony parade that once served as Baku's main city square.
Climb down the stairs to walk through the stone cloisters with their perfectly symmetrical stone archways. Tombs, carved sculptures and other significant artefacts are displayed in the centre of the square.
5. Trace the Old City walls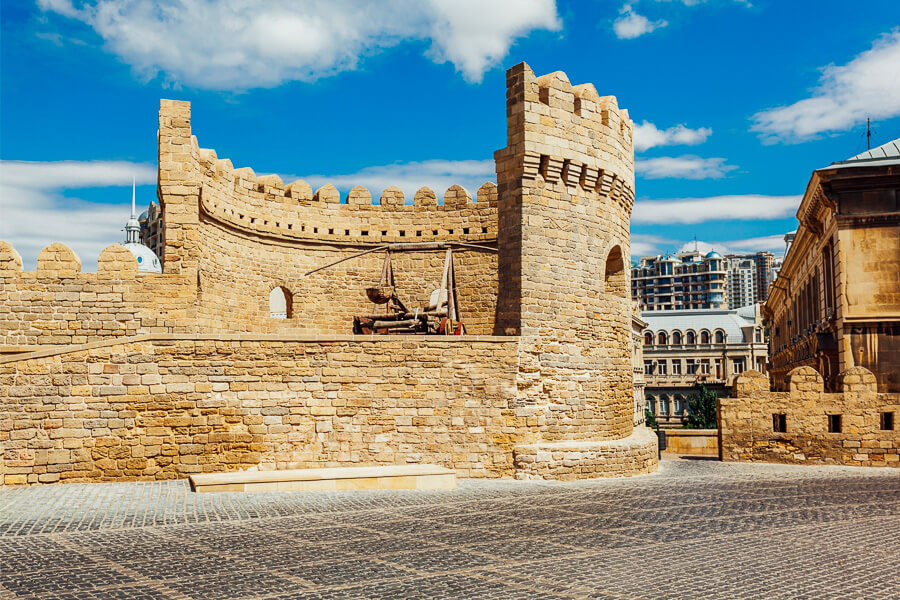 The time-worn sandstone wall that encases Baku Old City is an attraction in itself.
Along the western wall, low turrets topped with scalloped stone fringing hold catapults and canons inside, a symbol of the defensive wall's duty to safeguard the city and its residents from invading armies.
6. Make a grand entrance through Gosha Gala Gapisi
Gosha Gala Gapisi, the Double Gate or Gates of Shah Abbas, once served as the only entrance to Baku Old City. Caravans and traders arriving to seek shelter at the hans and trade their goods in Baku's streets would have had to pass through these wide, foreboding arches.
Baku's coat of arms, two lions and a bull's head, are represented in stone above one of the gates. Just inside the gate, there's a long, low shopping bazaar selling souvenirs.
7. Have a meal inside one of Baku's old caravanserais
When Azerbaijan was a hub on the Silk Road, merchants used to refer to the Old City as 'the Acropolis of Baku'. A plethora of caravanseris or hans, great stone inns with stables, storage rooms and sleeping quarters, were erected in Baku to house traders stopping off on their long journey from East to West.
Some have been reduced to just their bare foundations. Others, including the Multani Caravanserai and Bukhara Caravanserai, have been preserved.
In Sheki in northern Azerbaijan, the biggest caravanserai has been turned into a boutique hotel. In Baku, the caravanserais have been transformed into restaurants and cafes.
Han Restaurant Baku, Karvansaray, Sehrli Təndir and Mugam Club are all located inside old hans. Treat yourself to a meal at one of them for a memorable Baku experience.
8. Track down the Dervish Takyeh
Baku's Dervish Takyeh was built in the 13th Century on Gazi Muhammed Street, facing towards the Maiden Tower. Throughout its history, it was used as a mosque and a school.
Members of the Dervish sect performed their rituals behind the Takyeh's closed doors.
9. Get lost in the back alleys
Parts of Icherisheher may look like a museum, but roughly 3,000 people live in apartments and houses inside the Old City walls. One of the most rewarding things to do in Baku Old City is wander up and down the pitched streets, between the little shops and parks.
Sand-coloured buildings rise like dunes as you squeeze through narrow alleys clotted with Ladas and Volgas. You have to crane your neck to appreciate the doorways and windowsills inscribed with cursive script and embossed with Islamic patterns.
Narrow staircases turn into steep streets, barely wide enough for two human bodies to pass. Glass window boxes protrude from some of the buildings, little extensions added on as laundries or breakfast rooms. At night, wrought iron street lamps stretch out like boney fingers holding little globes of light to lead the way. Leafy houseplants, lines of washing and doorways marked with foreign names tell you you've wandered into the residential quarter.
Religious ritual is part of the Old City's living history. Walking around on a Sunday morning, we even saw an animal sacrifice taking place behind the baklava shop.
Remember that parts of the Old City are private property. Be careful not to intrude on anyone's privacy, especially if you're taking photos.
10. Learn the story of Baku's ghir pourers
On one of the Old City streets you'll see a set of peculiar statues perched on a rooftop. An accompanying placard tells the story of the Icherisheher's ghir-pourers, to whom the statues are dedicated.
Ghir is a black tar that was traditionally slapped onto the roofs of houses and shops inside the Old City to make them weather-proof. 'Their job had a secret symbolic meaning,' the placard says of the ghir-pourers. 'The hot mixture not only made the roof invulnerable to different weather phenomena, but also fastened the friendship between the houses.'
Apparently ghir-pourers were quite the men about town, striking up conversations with tenants and entertaining the neighbourhood children. It's a lovely tale that hints at the sense of bounded community you can still feel inside Baku Old City today.
11. Find 'that photo spot'
The ultra-modern Flame Towers can be spotted from all over Baku. In the Old City, there's a particular sweet spot where two of the trio are perfectly framed by the stone entrance to a mosque engraved with cursive Arabic script, and a Belle Epoque apartment block in the middle-distance. This iconic image epitomises the East-meets-West, old-meets-new Baku aesthetic that so many travellers (including me) fall in love with.
We got up at the crack of dawn one morning to try and find 'that photo spot'. After much wandering, we got there eventually. But much to my dismay, there were cars parked in the street even in the earliest hours of the morning!
We stood for a good 20 minutes completely transfixed by the view. I think my photo still turned out OK!
12. Shop for carpets and other souvenirs
If you stroll around the Old City in the early morning, you'll see vendors setting up their stalls by hanging many-coloured soumaks (flat-weave rugs) and handwoven carpets against the sandstone walls and over railings.
There are dozens of shops in Baku Old City selling Azerbaijan souvenirs. Some specialise in carpets, others trade in silver, antiques, Soviet memorabilia, tea sets, woolly Papakha hats, and a range of other local products. The quality varies and not everything is locally made, so take your time to shop around.
And if you're heading to Tbilisi or Yerevan next, just remember to leave some room in your bag for a few Armenian souvenirs and Georgian souvenirs, too!
If you're interested in learning more about Azerbaijan's carpet weaving heritage, I recommend taking a day trip to see the carpet workshops in Quba.
13. Try Azerbaijani pakhlava
You don't have to walk far through the Old Town to find a little hole-in-the-wall sweet shop selling sticky pakhlava. Azerbaijan's national sweet is similar to Turkish baklava, only some versions are less complex and use fewer layers of pastry. One of the most popular renditions, tenbel pakhlava (pictured above), actually translates to 'lazy pakhlava'!
There are at least half-a-dozen varieties of pakhlava for different regions of Azerbaijan. My personal favourite is Sheki pakhlava, which is flavoured with hazelnuts, cardamom and coriander seeds.
In Baku, pakhlava is prepared in huge trays. After it's cut into diamond shapes, half a walnut kernel or half an almond gets pressed into each piece. You normally by it by the piece or by the gram – or maybe by the kilogram if you have a particularly sweet tooth!.
14. Visit the Museum of Miniature Books
The only institution of its kind in the world, The Museum of Miniature Books houses several thousand teeny-tiny hardback tomes. The private collection of bibliophile Zarifa Salahova encompasses books penned in Azerbaijani, Russian, German and English, including a few of Shakespeare's major works, dictionaries, and the smallest book of all, a 17th-century copy of the Quran.
Entry is free but donations are welcome. The museum is open from 11am-5pm (closed Mondays and Thursdays).
15. Vagif Mustafazadeh House Museum
There are some lovely house museums in the Caucasus – my personal favourites are in Yerevan and Gyumri. Baku's most popular house museum is dedicated to Vagif Mustafazadeh, a jazz-pianist and composer who was born in the city in 1940.
If you've never been to a house museum, they're always a bit quirky. This one is set in the three-room apartment Mustafazadeh shared with his mother, with photographs, records and personal possessions put out on display. The caretaker, Mr Vagif, speaks English and will gladly narrate the artist's life for you.
The museum is open on weekdays from 9am-6pm. Entry costs 5 AZN.
---
Baku Old City tours
The best way to experience Icherisheher is by wandering the cobbled back alleys with no particular destination in mind. If it weren't for glimpses of the Flame Towers and Soviet apartment blocks beyond the Old City's walls, Icherisheher would feel like a time capsule.
If you're on a tight schedule or you just prefer to have a guide to show you around, there are a couple of Baku walking tours that cover the Old City:
This six-hour walking tour of the Old City hits all the major must-sees. It includes hotel pick up, but you'll need to pay for museum tickets and entrance fees separately.
This full-day tour incorporates a wander around the Old City as part of a larger, very comprehensive city tour of Baku. If you only have one day in Baku and you want to see everything, I highly recommend it.
Another option is the Baku Free Walking tour organised by Baku Explorer. It covers part of the Old Town and the area just outside the city wall. English tours depart every day at 10am and 1pm. More information here.
---
Cafes & restaurants in Old City Baku
Here are a few of the best restaurants in Baku Old City.
Qaynana Restaurant – One in a cluster of eateries in the Old City's northern corner. The food is expensive, but the atmosphere and the interior decorations are just magnificent. We really enjoyed eating our first lunch in Baku here – especially since the chef invited me into her kitchen to help stir the pot! Reviews & info here.
Cay Bagi 145 (Tea Garden 145) – An outdoor tea (and shisha) lounge, with tables nestled amongst the domes of an old bathhouse and views of the Maiden Tower. Reviews & info here.
Icherisheher Bookhouse & Cafe – A cute laptop friendly coffee house that also serves light snacks and cakes for reasonable prices. Info here.
How to get to the Old City
Baku's metro system is efficient and easy to use. Simply buy a BakıKART metro card from one of the kiosks inside any metro station and load it with a few manat. The card costs 2 AZN (non-refundable), and a metro fare is 0.30 AZN one-way.
To get to the Old City, take the east-west Red Line to Icherisheher station, which lies just outside the western walls. When you exit the ultra-modern pyramid shaped station building, head east, and you'll see a gate where you can enter inside.
Alternatively, city buses 6, 18 and 65 stop at Icherisheher St station just south of the metro. You can also use your BakıKART on the bus.
---
More things to do in Baku beyond the Old City
Philharmonic Park
The Bulvar
Fountains Square
The Flame Towers
Azerbaijan Carpet Museum
Nizami Street
---
7 things to pack for Azerbaijan
---
More Azerbaijan travel resources
---
Things to do in Baku Old City: Pin it!