Most first-time visitors to Tbilisi will understandably gravitate towards the Old Town. It's a great place to start, but there's so much more to Tbilisi than its historic centre – especially if you're interested in street photography.
I spent many an afternoon wandering the neighbourhoods and walking streets listed here with my camera in hand. From landmarks to Soviet-era apartment blocks, markets to private yards, there's a photo opportunity waiting around every corner in Tbilisi.
I've organised this list so that it follows a circuitous route, starting and ending in the Old Town. You could plausibly visit each neighbourhood in the order listed here, although you'd need to take public transport at times as the locations are quite spread out.
1. Betlemi Street
Running parallel to the Kura River just outside the Old Town, Betlemi Street is the centre of Tbilisi's historic Jewish quarter. The main thoroughfare and cobbled laneways that lead off it are home to some of the city's oldest buildings, including the 13th-century Saint George Armenian Cathedral. The Mother of a Georgian monument looms directly above Betlemi Street – keep an eye out for vantage points.
The Betlemi stairs, an extension of the street that connects to Betlemi Rise, were built only after every house in the area chipped in. They lead to excellent views over the city from a lovely trellised terrace. On the way back down, look out for the Zoroastrian temple and the much-photographed green house on the corner, an exquisite example of the coloured glass windows once seen throughout Tbilisi.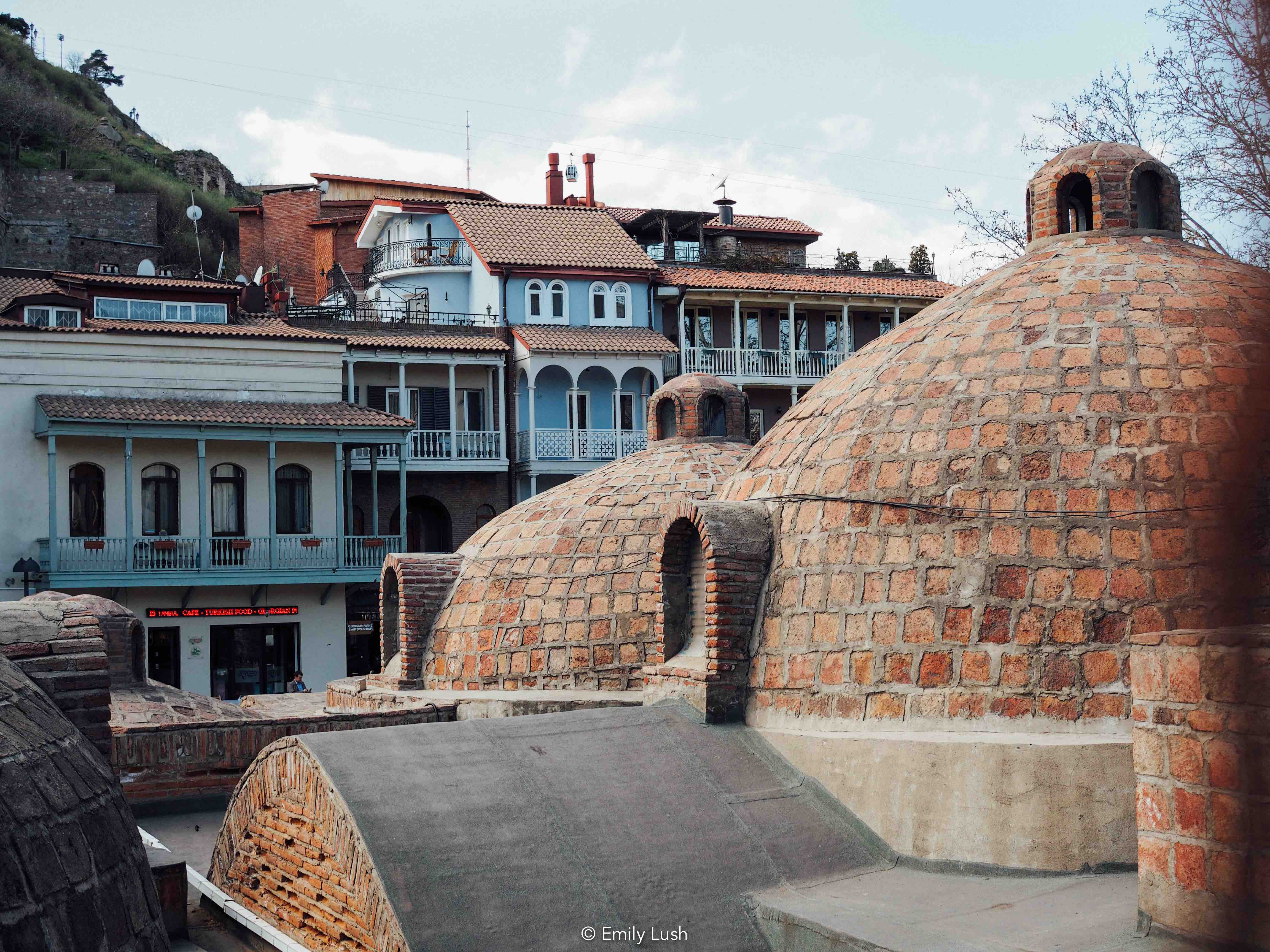 2. Abanotubani
Wander long enough and Betlemi Street will lead you into Abanotubani, another of the city's oldest neighbourhoods and one of the most recognisable places in Georgia. Abanotubani is home to Tbilisi's domed sulfur baths, which you're free to scramble over in search of a good photo (just don't peek through the openings as these look directly down onto the baths!).
Apart from the baths, there's also an inner-city waterfall to admire, and beautiful balconied houses that hang precariously over the surrounding cliffs.
Heading up the hill directly behind the baths you'll find a collection of dilapidated houses – a contrast to Abanotubani, one of the most touristed and polished parts of the city.
3. Shota Rustaveli Avenue
Connecting the popular Liberty Square area with Rustaveli metro station, Shota Rustaveli Avenue runs through the heart of Tbilisi's west side. Wide, leafy and with a Parisian feel, Rustaveli epitomises Tbilisi's European-style architecture and grand facades. This is where you'll find the National Gallery, the Opera House, and Georgia's former Parliament Buildings. Further up towards the metro station, the avenue is dedicated to high-end fashion stores and footpath cafes.
If you love the sound of this neighbourhood, you should consider staying at Museum Hotel Orbeliani. This boutique hotel is housed in a gorgeous 19th-century palace and located just a quick stroll away from Rustaveli Avenue via 9 April Garden.
4. Vera
Further north of the Old Town, just past Rustaveli metro station, is the leafy neighbourhood of Vera. Mainly residential, this is where you'll find some of Tbilisi's finest gardens and apartment courtyards. There's also designer boutiques, the architecturally striking Rooms Hotel, and more great views of the city from the streets that creep uphill towards Mtatsminda Park.
5. Saburtalo
This residential area northwest of old Tbilisi is full of Soviet-era apartment buildings. If you're into concrete, the streets around the Delisi metro station are particularly appealing.
6. Tsereteli
Crossing the Kura River to Tbilisi's east side, Tsereteli is another inner-city residential neighbourhood. This is where we stayed during our first month and final days in Tbilisi, so Tsereteli holds a special place in my heart! The big draw card for tourists is the Dezerter Bazaar, Tbilisi's biggest outdoor food market. Apart from the marketplace itself, the surrounding streets are crowded with vendors and make for some wonderful photo opportunities.
We visited the Dezerter Bazaar not long after we arrived in Tbilisi. Check out this post for some of my favourite photos from the market plus practical tips for planning your own visit.
7. Agmashenebeli Avenue
Another of Tbilisi's main arterial roads, Agmashenebeli connects the Tsereteli and Marjanashvili areas on the east bank of the river. A few years ago, a long section of the avenue was closed to traffic and transformed into Tbilisi's sole walking street. Many European-style building facades were precisely restored in the process.
As a result of renovations, this street doesn't have the same gritty character as other parts of the city. Having said that, the pastel colours are lovely and without the threat of traffic, you can walk and photograph at your own pace. The pedestrian mall is lined with swish cafes, ice cream shops and boutiques. We saw a few outdoor events being set up here in the springtime. The pedestrian part of Agmashenebeli Avenue is located close to the end of the Dry Bridge, just up from the roundabout and Saarbrucken Square bus stop.
8. Marjanishvili
Tbilisi's old German neighbourhood, Marjanishvili is one of the loveliest, liveliest neighbourhoods you can pick to walk around, with plenty of street-side commerce and beautiful homes and courtyards. There are also a lot of old factories and industrial buildings in Marjanishvili, which makes this area prime for gentrification. A lot of street art has already popped up.
If you love the sound of this neighbourhood, you should consider staying at Fabrika Tbilisi, which is housed inside one of the neighbourhood's old Soviet-era factories. Fabrika organises regular free walking tours of the neighbourhood for guests and non-guests. Check their website for info.
9. Avlabari
Once home to many of Tbilisi's Armenian merchants, Avlabari is the site of the imposing Sameba Trinity Cathedral. New public parks make this area popular with families – but there are still lots of old houses and apartment buildings to photograph. Avlabari is one of the city's more interesting metro stations, with a huge green wall on the facade.
Crossing the Kura River from Avlabari will bring you back to the heart of the Old Town and Betlemi Street, where this virtual tour began!
---
What is your favourite neighbourhood in Tbilisi for photography or wandering?
---
More Tbilisi posts you'll love
For even more inspiration and resources, check out my new Georgia Travel Guide and my Georgia itinerary.
Pin this post: