Overflowing with interesting architecture, markets, viewpoints and parks, Tbilisi is a terrific city to explore on foot. This post brings together 11 of the very best walking tours in Tbilisi, including free tours, specialty tours and local-led tours.
Forget the hop-on-hop-off bus – walking tours are by far my favourite way to explore a new city. There are a large number of walking tours on offer in Tbilisi, many of them organised by independent companies and local entrepreneurs.
Whether you're after a free introduction to Tbilisi's top sights or you're wanting to explore the secret corners of the city that most tourists miss, a walking tour is an excellent way to get to know Georgia's capital, its culture, food and heritage.
This curated list of 11 awesome paid and free Tbilisi walking tours has something for every travel budget and interest.
Related: The best walking streets and neighbourhoods in Tbilisi.
---
Please note: This post contains affiliate links, meaning I may earn a commission if you make a purchase by clicking a link (at no extra cost to you). Learn more.
---
How to find & book Tbilisi walking tours
I love using Get Your Guide to find and book walking tours, day trips, and cultural experiences when I travel. This website and app brings together tours from thousands of different independent companies, allowing you to easily book and pay online.
It's easy to compare tours using Get Your Guide, and you can see the name of the provider so you can vet them independently. If plans change, Get Your Guide has a very generous cancellation policy.
View all Tbilisi walking tours offered through Get Your Guide.
Another platform I regularly use is Airbnb Experiences. There are some really interesting walking-based tours of Tbilisi currently listed on the platform, all led by local guides.
View all Tbilisi Airbnb Experiences here.
Some of the walking tour companies on this list accept direct bookings online in advance through their own website. Others you can organise when you arrive in the city (although it's a good idea to book ahead if you're travelling in summer high season).
Many of the free tours in Tbilisi don't require an advance booking (see the detailed breakdown below for more information).
Should you tip your guide?
Tipping is not mandatory or necessarily commonplace in Tbilisi or Georgia. However, it's become more and more mainstream, especially among tourists.
It's polite to tip staff in restaurants and taxi drivers in Tbilisi these days, provided you're happy with the service. 10-15% is standard. When it comes to tours, apply the same logic – tipping a guide 10-20% is considered generous.
Free walking tours are a little different because guides do not receive a wage but rely solely on tips. How much you decide to tip a free walking tour guide is up to you. I always factor in a couple of variables, including time (was it a long tour or short tour?), group size, and of course the guide's attentiveness.
For free walking tours in Tbilisi, I recommend tipping somewhere in the neighbourhood of 15-30 GEL per person.
---
11 best paid & free Tbilisi walking tours
Run by small independent companies and dedicated guides, these paid and free walking tours in Tbilisi are designed to show you all the best bits of Georgia's capital.
1. Old Tbilisi Free Tour
Cost: Free!
Schedule: Every day at 12pm
Duration: 2.5-3 hours
Reservation required?: Yes
Highlights: Freedom Square, Tbilisi courtyards, Peace Bridge, Rike Park, Narikala Fortress, Abanotubani sulfur baths
Hosted by Tbilisi Free Walking Tours, the Old Tbilisi Free Tour is the original and the best walking tour of the old town. It offers a great overview of Tbilisi and is therefore perfect for first-time visitors to the city and anyone who's kicking off their Georgia itinerary in the capital.
It covers the central part of the city and all its major landmarks. I highly recommend doing this tour towards the start of your trip in order to get the lay of the land.
English language tours depart twice daily from Pushkin Park on Freedom Square – rain, hail or shine. I know a number of the Georgian guides who work for this company and the owner, Levan – they are known for their good humour, insider tips, and excellent knowledge of Georgian history.
More information & reservations here.
More Old Town Tbilisi tours
---
2. Hidden Tbilisi (free tour!)
Cost: Free!
Schedule: Every Tuesday, Thursday & Saturday at 5pm (summer) or 3pm (winter)
Duration: 2-3 hours (approx. 4km of walking)
Reservation required?: Yes
Highlights: Apartment buildings, courtyards & hidden treasures
So you've seen Tbilisi's main attractions and now you want to dig a little deeper? The Hidden Tbilisi itinerary focuses on some of Tbilisi's coolest secret spots, most of which are just a few steps off the beaten track.
Also run by Tbilisi Free Walking Tours, the city's original free walking tour outfit, this tour is tailor-made for architecture, design and street photography lovers. Explore beautiful 19th century buildings and courtyards, go inside apartment entryways, and chat with locals along the way. Every building has its own story to tell, and the highlight of this tour is hearing the history from your guide.
More information & reservations here.
More walking tours from Tbilisi Free Walking Tours:
---
3. Backstreets of Tbilisi (free tour!)
Cost: Free!
Schedule: Every Tuesday & Sunday at 12pm
Duration: 2-3 hours
Reservation required?: Yes
Highlights: Street art, flea markets, Soviet architecture, Public Service Hall
Co-hosted by Tbilisi Free Walking Tours and Fabrika, this tour is designed for guests of the hostel but open for anyone to join. If you're keen to get away from Tbilisi's main tourist area for an afternoon, I highly recommend joining this tour.
The route starts at Fabrika and will introduce you to Marjanishvili, one of Tbilisi's most interesting neighbourhoods. An old German settlement, Marjanishvili has a fascinating mix of old-world, Soviet and brutalist architecture, plus Soviet history and vibrant local markets.
The tour covers the backstreets plus a few well-known sights, including the futuristic Public Service Hall.
More information & reservations here.
---
4. Tbilisi Traditions
Cost: From 45 USD per person
Schedule: Daily
Duration: 3 hours
Reservation required?: Yes
Highlights: Betlemi Street, Abanotubani, Metekhi bridge
Hosted by Urban Adventures and available through Airbnb Experiences, Tbilisi Traditions is a perfect walking tour for anyone who's interested in culture and history. The aim of this itinerary is to give you a peek at what Tbilisi looked and felt like 150 years ago.
Starting from Freedom Square, the walk continues through Sololaki to historic Betlemi Street, one of the most beautiful and interesting pockets of Tbilisi. Showcasing the city's beauty and decay in equal balance, you'll come away with a renewed appreciation for the small details.
More information & reservations here.
---
5. Tbilisi's Soviet Concrete Walking Tour
Cost: From 35 EUR per person
Schedule: On demand (tours run daily at 10am)
Duration: 6 hours
Reservation required?: Yes
Highlights: Bank of Georgia, Chronicles of Georgia & other brutalist and Soviet structures
Tbilisi is one of the best places to visit in Georgia for Soviet history and Brutalist architecture. If you count these niche subjects among your interests, then local company Brutal Tours is for you.
Starting from Freedom Square and using a mix of public transport and pavement pounding, it includes some of the city's most iconic buildings both within central Tbilisi and on the outskirts.
Over the course of a full day you'll see some of incredible feats of concrete, including brutalist and modernist buildings, all brought to life by narrations from an expert guide.
This tour is perfect for urbexers and architecture buffs, and suitable for anyone who just wants to see Tbilisi from a different angle. Tours are available in English, German, Dutch and French.
More information & reservations here.
More walking tours from Brutal Tours:
• After Dark Brutal Tour
---
6. Food & Wine Walking Tour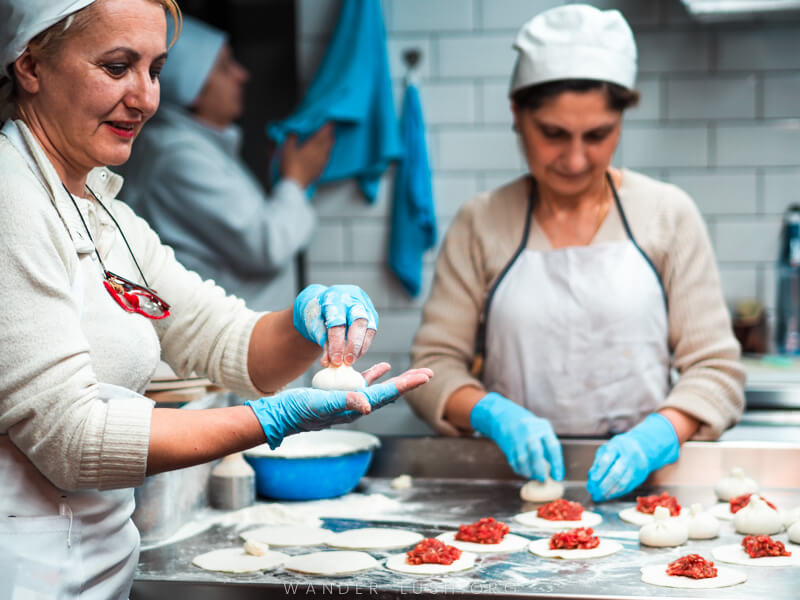 Cost: From 99 USD per person
Schedule: Daily at 2pm or 6pm
Duration: 3.5 hours
Reservation required?: Yes
Highlights: Monument of King in Metekhi, Narikala Fortress & Sololaki by night
Eating Georgian food is a highlight of any visit to Tbilisi. If you want to go deep and learn more about the national cuisine, a food-focused walking tour such as this one is a delicious way to learn more about Tbilisi's heritage and food culture.
Focusing on historic Sololaki district, this itinerary will take you to some of Tbilisi's best restaurants (including one of the city's oldest) to sample a range of local delicacies. All meals and snacks are accompanied by a short history lesson about Tbilisi – and of course a glass or two of Georgian vino.
More information & reservations here.
---
7. Tbilisi Market Walk
Cost: 95 USD per person (minimum 2 people)
Schedule: On demand (at 10am Tuesday to Saturday only)
Duration: 7 hours
Reservation required?: Yes
Highlights: The Dezerter Bazaar, food & wine sampling, dinner at a family run restaurant
The Dezerter Bazaar is Tbilisi's largest open-air marketplace and plays a vital role in daily city life. Experience the chaos and colour of the market up close with this tour from Culinary Backstreets, one of the region's leading food tour companies.
With a local guide and a small group (max 7 people), you'll slow meander through the market, stopping to sample as much as possible. Chat with market vendors and learn about their produce and food preparation techniques (including how to make the legendary churchkhela).
The tour culminates with an off-menu dinner at a family owned restaurant.
More information & reservations here.
---
8. Night Walking Tour
Cost: From 54 USD per person
Schedule: Daily at 6.30pm
Duration: 3.5 hours
Reservation required?: Yes
Highlights: Monument of King in Metekhi, Narikala Fortress & Sololaki by night
If you think Tbilisi is charming by day, you should see her after dark. This popular tour kicks off at 6pm, giving you a few hours of twilight in summer before showcasing the city in lights.
You'll visit a range of viewpoints to catch Tbilisi from her best angles before exploring the city at street level, wandering the streets of one of the oldest and most charming neighbourhoods.
When the tour concludes, your guide will recommend the best dinner restaurants, bars and clubs to keep the night going.
More information & reservations here.
---
9. Tbilisi Instagram Tour
Cost: From 69 USD per person
Schedule: Daily between 9am and 4pm
Duration: 3-6 hours
Reservation required?: Yes
Highlights: Tbilisi's most photogenic locations & lookout points
Tbilisi is a very photogenic city – if you're doing it for the 'Gram, I don't blame you! This walking tour is designed specially for photographers and posers who want to snag the best Instagram photos.
It's recommended to do this tour in the early morning when the light is good and the streets are less crowded. As part of the itinerary, you'll visit some of Tbilisi's most beautiful spots, including magnificent churches, pretty facades and street art murals.
It's not all about looks – you'll get a bit of a history lesson along the way as you visit important cultural and religious sites. Guides are professional photographers who will also teach you tips for composition and framing as you go.
More information & reservations here.
---
10. Self-guided Wine Walk
Cost: Free when you subscribe to the GPSmyCity app
Schedule: On demand – whenever it suits you!
Duration: Flexible (allow at least 4 hours)
Reservation required?: N/A
Highlights: Tbilisi's best wine bars
If a self-guided tour is more your style, you might want to give the GPSmyCity app a try. After signing up for a yearly subscription, you have access to a host of walking tour itineraries for cities all over the world, with new tours added regularly.
There's an interesting range of user-generated city tours available in Tbilisi. My favourite is the Self-Guided Wine Walk, which leads you to 5 of the city's best wine bars, hand-picked by Daria, an expert on Georgian wine.
Other tours focus on Tbilisi's best restaurants and breakfast cafes, and there's even a quest to find Tbilisi's best lemonade. If you're after something more traditional, there's also a '10 Things to Do in Tbilisi' tour. Maps are available offline, so you don't have to worry about buying a local SIM card or using up your data.
Download the GPSmyCity app from the Apple Store or Google Play.
---
11. DIY Immersive Audio Tour
Cost: 40 USD per person
Schedule: Daily
Duration: 1.5 hours (approx. 4km of walking)
Reservation required?: Yes
Highlights: Major landmarks, lesser-known spots, interesting facts about Georgia
Another alternative walking tour option, Past Perfect Tbilisi is a self-guided audio excursion, meaning you use headphones and an audio guide to get around.
The narration, lovingly curated by founders Manana and Oleg, includes directions for exploring Tbilisi's historical centre, plus lots of stories and informative tidbits. The route starts in Rike Park where you collect your headset. Audio is available in both English and Russian.
More information & reservations here.
---
Georgia essentials
Here are the websites and services I personally use and recommend for Georgia. Check out my full list of travel resources for more tips.
FLIGHTS: Search for affordable flights to Tbilisi, Batumi or Kutaisi on Skyscanner.
TRAVEL INSURANCE: Insure your trip with HeyMondo, my preferred provider for single-trip and annual travel insurance (get 5% off when you book with my link).
SIM CARD: Magti is my preferred provider, with prices starting from 9 GEL/week for unlimited data. See this guide for all the details about buying a Georgian SIM card.
AIRPORT TRANSFERS: Most flights into Georgia arrive in the early hours. For ease, pre-book a private transfer from Tbilisi Airport to your hotel (from $17) or from Kutaisi Airport to Tbilisi (from $90) with my partners at GoTrip.ge.
ACCOMMODATION: Booking.com is the most widely used platform in Georgia. Use it to find family guesthouses, private apartments, hostels and hotels around the country.
CAR HIRE: Find a great deal on a rental car in Georgia – use the Local Rent website to book through a local agent (prices start from $20/day).
DAY TRIPS & CITY TOURS: Use Viator or Get Your Guide to browse a range of day trips and city tours. For off-beat programs, I recommend Friendly.ge (use the promocode wanderlush for 10% off). For in-depth day trips to Georgia's wine regions, I recommend Eat This! Tours (use the promo code wanderlush for 5% off).
PRIVATE TRANSFERS: GoTrip.ge is a terrific service for booking a private professional driver and car for the day. Use it for A-to-B transfers or to create a customised round-trip itinerary. You can stop wherever you like for as long as you like without the fixed price going up.
NEED SOME HELP?: Need feedback on your itinerary or personalised travel tips? I offer a one-on-one consultation call service for Tbilisi and Georgia. More information and bookings here.
Have you done one of these paid or free walking tours in Tbilisi? Do you have an alternative tour you love? Leave your recommendations in the comments below!
---
Tbilisi walking tours: Share it on Pinterest
You might also be interested in…