A curated list of the world's most beautiful metro stations and unusual underground subways, as chosen by travel writers.
Subway, metro, MRT, underground: Whatever you like to call it, subterranean stations are a perfect canvas for creative art, impressive architecture, and other cultural expressions.
Whether it's the whole transit system or a few stand-out stations, each of these unusual and beautiful subways is more than just a way to get from Point A to Point B, it's also a city attraction in and of itself.
From the classically beautiful to the downright kooky, here are 30 of the most interesting metro stations and subway systems around the world.
---
Please note: This post contains affiliate links, meaning I may earn a commission if you make a purchase by clicking a link (at no extra cost to you). Learn more.
---
Beautiful metro stations in Europe
1. Moscow Metro, Russia
Moscow metro stations are legendary! Everyone has heard how beautiful they are, how rich in ornamentation each station is, and how you need at least a day to see some of the most important stations. After my visit to Moscow, when I spent a lot of time underground, I can verify that yes, the Moscow Metro is indeed splendid.
The Moscow Metro opened in 1935. Currently, there are 15 lines and over 200 stations. It's safe to say around half of them are worth visiting. You can find marble floors, numerous sculptures of Lenin and well-known symbols such as the sickle and hammer and other decorations that praise Soviet culture and society.
You can find the most beautiful stations on the Circle Line (legend says Stalin put his coffee cup on the metro map and it left the round mark – that's how the line was designed): Taganskaya, Komsomolskaya, Prospekt Mira, Novoslobodskaya, and Kievskaya. But you shouldn't miss interesting stations on the other lines, too. My personal favourite is Mayakovskaya on the Green Line 2.
You're allowed to take pictures inside the Moscow Metro. You can even find marks on the ground that indicate the best photo spots! To learn more about the Moscow Metro, you should join an organised tour that will give you a great overview of the history and architecture of this underground gallery.
By Kami from Kami and the Rest of the World
---
2. Naples Metro, Italy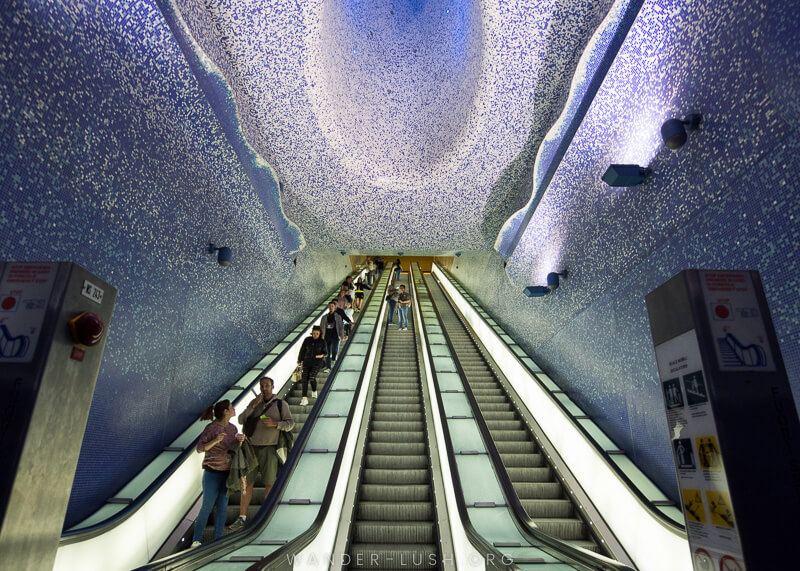 Construction on the Naples Metro (Metropolitana di Napoli) started in 1911, with lines and platforms added either side of the two World Wars. Extensions are refurbishments have never really stopped – like many metro systems around the world, Napoli's is a perpetual work in progress.
One of the more recent developments was to introduce 'Stations of Art', a bold plan to entrust the design and layout of new metro stations to different contemporary artists and architects. More than 180 artworks by 90 Italian and international artists now decorate stations along metro lines 1 and 6.
One of the most recognisable and beautiful subway stations in Naples is Toledo. Open to passengers from November 2012, it was named the most beautiful station in Europe by the Daily Telegraph. The Spanish architecture firm behind the design took their inspiration from 'water and light'.
Two large mosaics by South African artist William Kentridge dominate the upper halls, which also feature light installations. Waves of blue-and-white tiles over the escalators resemble fractal light, and create the effect of plunging deep below the surface of the ocean.
Universita Art Station is also worth checking out. No less immersive, it uses wall-to-ceiling psychedelic patterns and mirrored panels to symbolise the digital, interconnected world.
Even if you only have a day or two to spend in Naples, make sure you set aside some time to ride the metro and take in the station installations.
---
3. Stockholm Underground, Sweden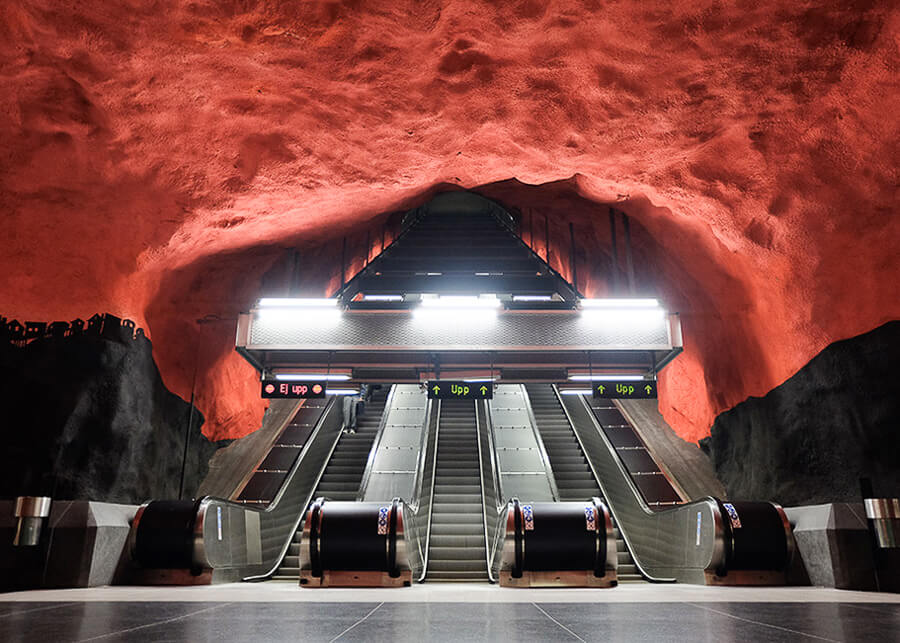 One of the best things to do when you visit Stockholm (after the ABBA museum, of course) is visit the amazing underground stations. Over 90 of the Stockholm Metro's 100 underground stations have been decorated, making the 110 miles of track the longest art gallery in the world.
My favourite underground stations to visit in Stockholm include Thorildsplan, which is decorated with retro video gaming icons from Pac-Man and Super Mario Bros, Rådhuset, decorated as if it's being excavated by archaeologists, and the super-freaky, vapor-wave-themed Kungsträdgården, complete with strange statues, radiation symbols, and a lurid green ceiling.
If you can only visit one arty underground station in Stockholm, I'd choose Solna Centrum. Although it's around 5km from central Stockholm on the Blue Line, it's well worth the trip. The dramatic red and black colour scheme is exceptionally, intentionally dramatic. Along the platforms, red skies engulf trees, buildings and animals, representing the threat to Sweden's natural environment posed by pollution, industry and modern life.
By Helen from Helen on her Holidays
---
4. Lisbon Metro, Portugal
The entire metro system of Lisbon is one of the largest underground art galleries in the world. There are more than 50 stations and each of them has been decorated individually in its own style, telling the story of the neighbourhood or the heritage of Portugal.
Many of them use traditional Portuguese tiles, which have decorated the interiors of churches and palaces since the 16th century. That's how the first metro stations were designed in 1959. But more recent ones have larger installations and brighter pieces of art. Some of the stations were co-designed by artists and architects.
The Red Line has what I think are the best stations on the Lisbon Metro, particularly the cavernous Olaias and the bright Bela Vista. But the most famous stations are on the Blue Line, especially Parque that is dedicated to explorers, and Jardim Zoologico that honours the animals from the zoo outside the station. The Yellow Line, on the other hand, may not have as many epic designs, but the quality of the individual artworks on display is extremely high.
The Lisbon Metro is a sight in itself. Don't be afraid to buy a ticket just to stop at some of the stations and appreciate the designs – even the locals do it from time to time.
By Michael from Time Travel Turtle
---
5. London Underground, England
The London Underground is one of the most sophisticated underground systems in the world. It has been around since 1863, and the way in which platforms for different lines are weaved into a network of tunnels under the city is awe-inspiring. By simply walking from one set of platforms to another, you seamlessly change from the likes of the District Line to the Circle Line, to the Bakerloo Line.
Many of the older stations are the most interesting ones to visit, simply because of the artwork depicting the station names on the platforms. Newer stations have the recognisable blue and red Underground symbol with the station name in place of the word 'Underground'. But in older stations, you'll find station signs are much more elaborate.
Piccadilly Circus and Oxford Circus are just two underground stations that you should visit while in London to view the artwork. Oxford Circus has the Underground symbol for the station name, and on the walls you'll find an Art Deco-type design of green and white tiles depicting people ascending and descending escalators.
The background for Piccadilly Circus is a brown-tiled wall with green arches looping over the station sign. Both of these artworks are very different from the plain white background you see throughout most of the London Underground.
By Cath from Travel Around Ireland
---
6. St. Petersburg Metro, Russia
High ceilings, marble everywhere, pompous decorations – Russia takes underground stations to the next level. While most people think of Moscow when they refer to beautiful underground stations in Russia, St. Petersburg also has a stunning metro system.
St. Petersburg Metro isn't all that big – there are only 72 stations. However, of these 72, half are really nice and perhaps 7 or 8 are extraordinary and worth visiting. The most beautiful metro stations in St. Petersburg are Avtovo, Navskaya, Admiralteyskaya and Ploshad Vosstaniya.
The metro still accepts old-fashioned tokens that you buy from the ticket offices located inside the stations as well as from vending machines. You can also pay with a contactless card, or buy a metro card called Podorozhnik. One ride costs 45 rubles.
By Liza from Tripsget
---
7. Abbesses Métro Station, Paris, France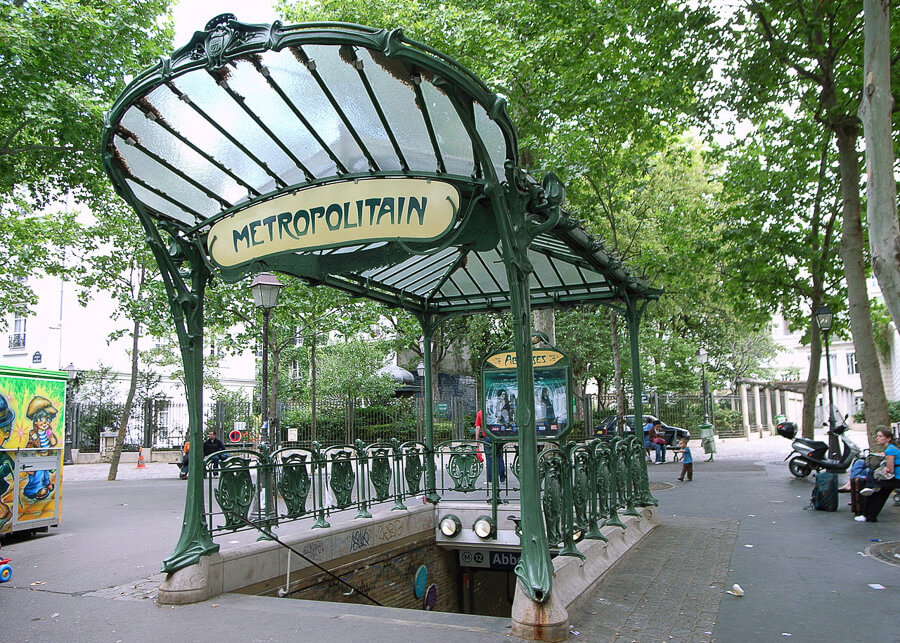 During our four days in Paris, we took a wonderful walking tour of Montmartre and had the pleasure of visiting the visually stunning Paris Metro station known as Abbesses. Abbesses Metro station is on line 12. At nearly 36 metres (118 feet) below ground, it's one of the deepest stations in Paris.
What makes Abbesses so special is its beautiful Art Nouveau entrance, only one of two left in Paris. It was designed by Hector Guimard, one of the founders of the Art Nouveau movement. Known as the dragonfly (édicules) entrance, the beautiful awning is one of the most photographed places in Montmartre.
Abbesses station is also beautiful underground, boasting multiple colourful murals of poppies, city scenes, groupings of Parisians, and fantastical beasts. The beauty of Abbesses station has been widely featured in popular culture, including in the movie Amelie as well as the Netflix series Sense8. Louis Vuitton even named a style of bag Abbesses after this beautiful station!
By Lesley from Freedom56travel
---
8. Berlin U-Bahn, Germany
The Berlin U-Bahn (Untergrundbahn) or Underground Railway, to give its English translation, has been around since pre-war times. It first opened in 1902 and went through a rather massive expansion before Berlin was unfortunately divided into East and West following World War II.
At the time, with the construction of the Berlin Wall, the two sides continued to run, but were restricted for travel crossing the border. With the fall of the Berlin Wall, the system was reopened and reconnected. Now there are over 173 connecting stations throughout all of Berlin.
Riding on the U-Bahn these days feels a bit like riding in a museum, where both the train cars as well as stations have not changed much in terms of décor or design. Nearly every stop will have you wanting to hop off and snap some photos. One of the notable stations is Alexanderplatz, one of the busiest interchange lines in Berlin. It hasn't really changed its blue-grey tile design since the 1920s, bar some restoration work in the 2000s.
By Allan from It's Sometimes Sunny in Bangor
---
9. The Millennium Underground Railway, Budapest, Hungary
The Millennium Underground Railway in Budapest was inaugurated in 1896 and earned its name by marking Hungary's 1000-year anniversary. However, those aren't its only achievements. The Millennium Underground or M1 was the first electric railway system in continental Europe, and even more impressive is that it's the second oldest underground railway system worldwide.
Still in use today, the M1 has 11 stops along its route and carries approximately 103,000 people every weekday. In 2002, the Yellow Line was listed as a UNESCO World Heritage Site.
Behind the ticket office at Deak Ferenc ter, you will find the Millennium Underground Museum. The exhibition displays three original yellow and brown carriages that were once used on the underground railway. Complete with wax figures of conductors, the museum also showcases relics, original documents, and photographs to help visitors visualise the history of this iconic railway.
In addition to the M1 lines, there are a total of 4 lines you can use to move around Budapest. One of those lines boast a secret that only became known very recently.
During the construction of the M2 Line in the 1950s, a secret bunker was added in case of a nuclear attack. The 3,500 square metre bunker could hold 2,200 people, and is located between the Kossuth ter and Deak Ferenc ter platforms. Although the bunker was never used, it still undergoes regular maintenance checks.
By Christina from Christina and Reg Travel
---
10. Munich U-Bahn, Germany
We're often too busy whizzing through tunnels and up escalators to notice that some of Munich's underground stations are quite impressive.
The upper level of Olympia-Einkaufszentrum (OEZ) station opened in 2004 and its lower level opened in 2007. Not many people venture this far northwest on the U1 Line, but Olympia-Einkaufszentrum is worth the trip, if only for its dark blue walls and stark, silver studding.
Georg-Brauchle-Ring (U1) opened on 18 October 2003. Designed by Franz Ackermann, it's filled with colourful block tiles and interesting black and white postcards, maps, paintings, and photographs from floor to ceiling. This station is fun and bright, one of my favourites in Munich's underground. It's a great place to stop on your 3-day Munich itinerary.
The colourful Candidplatz station is located in the city's densely populated residential south and was opened in November 1997. Candidplatz is named after Flemish painter Pietro Candid, who created art and altarpieces for the residence and for some churches in Munich. The bright rainbow walls in purple, red, yellow, green and dark blue are definitely worth seeing.
Designed by German Architect Alexander von Branca in 1971, the underground addition and pedestrian tunnel of Marienplatz station is hard to miss. It's one of the busiest subway stations in Munich, where S-Bahn lines intersect with the U-Bahn lines U3 and U6. From here, one can reach all the important sights of the old town. The halls have a neat cylindrical shape and are designed in bright orange.
I admit Westfriedhof (U1) is one of the most beautiful metro stations in Munich. With 11 large domed lighting fixtures that bathe the platform in blue, red and yellow light, and walls that resemble an uneven rock formation, the station has a romantic, grotto-like interior. At the same time, these elements make it bright and airy.
By Ivan from Mind the Travel
---
11. Nowy Świat-Uniwersytet Metro Station, Warsaw, Poland
Nowy Świat-Uniwersytet Metro Station is one of the coolest stations in the Polish capital, Warsaw. Standing downstairs where the train departs and arrives will make you feel like you left Earth and ended up in some futuristic spaceship.
It opened for traffic on March 8, 2015, and it's the fourth station on the M2 Line. What makes it stand out is the futuristic theme that resembles an aircraft from outer space as well as the vivid purple colour. Additionally, there are modern graphic patterns on the walls.
The Świętokrzyska is another cool metro station in Warsaw, which features a bright yellow colour scheme. Both were designed by Estudia Lamela. If you're into architecture and unique metro stations, the Nowy Świat-Uniwersytet metro station is one that shouldn't be missed. It's truly something special straight out of a Sci-Fi movie.
By Alexander from Gourmand Trotter
---
12. Triangeln Underground Station, Malmö, Sweden
Triangeln in Malmö is one of the most amazing stations I have ever seen. Located right in the centre of Malmö, Sweden, what makes it unique is its striking shape. As you walk into the station, it's like walking into a huge space ship! It's an amazing piece of architecture.
Just as interesting as it looks from below, the best views are from above. Because it's all made of glass, by day, you can see the people inside the station. It looks even better by night. You'll need a drone to capture a photo like the one above.
By Hanna from Solar Powered Blonde
---
13. Kiev Metro, Ukraine
The ex-Soviet metro stations are undoubtedly some of the most interesting in Europe. Kiev (Kyiv), Ukraine boasts one of the 10 most beautiful on Earth – as well as the deepest.
The Kiev metro system has only three lines – red, green and blue, all joining in the centre of the city. The one most people visit when they come to Kiev is Arsenalna, because, at 105 metres underground, it's the deepest metro station in the world. To be honest, it's not the first I'd send you to see, because it's just a very long escalator journey down – about five minutes descent. Apart from that, it's not that spectacular.
One you should see is Zoloti Vorota. Recently voted one of the 10 most beautiful metro stations in the world, it's designed to look like an old castle, with mosaics of old rulers of Ancient Kievan Rus, and of St. Michael and St. George, two of Kiev's patron saints.
Another interesting station for other reasons is Osokorky Metro Station, which was recently decorated with several pieces of street art, depicting aspects of Ukrainian life and culture. It's a bit further out of the city, but worth the journey.
The Kiev metro system costs just 8 UAH to travel on, so you can station-hop to some of the most interesting very cheaply.
By Kate from What Kate and Kris Did
---
14. Tbilisi Metro, Georgia
It might not be one of the world's most beautiful metro stations, but like many others on this list, Tbilisi Metro has a fascinating backstory.
Inaugurated in 1966, Tbilisi Metro was the fourth underground system to be built in the former Soviet Union. Under the ruling government, once a city's population exceeded one million, a state-sponsored mass rapid transit system would be gifted to the people. Tbilisi (and Yerevan in neighbouring Armenia) were two of the only cities where construction on the metro started before they reached this milestone.
Tbilisi Metro has 23 stations, 21 of them below ground level. A fleet of 170 Soviet-built rail cars ply the two lines. Many stations are decorated both inside and out with Soviet-style mosaics that reference the neighbourhood they service. Mosaics at the Technical University Station, for example, depict art, science, and other scholastic pursuits.
Other stations are much more pared-down, featuring lone stone busts of significant historical figures positioned ominously at the end of a long, stark platform. Underground passages near metro stations and main roads across the city are a great place to scout for street art and graffiti.
If you're planning a trip to Georgia and want to visit Tbilisi, you can count on spending some time in the metro system – it's an easy and affordable way to get around town.
---
15. Kazan Metro, Russia
While Moscow's metro is certainly the most famous in the country, not many people know that there are also some beautifully decorated stations in the lesser-known city of Kazan. This is the capital of Tatarstan, a partially autonomous region in Russia with its own distinct history and culture. Tatar culture is highlighted in the artwork found in some of its metro stations.
Kazan's metro is much smaller than Moscow's or St. Petersburg's, with only one line and about 10 stations. You can easily visit all of them in an afternoon. At a cost of only 27 rubles (equivalent to 43 US cents ), this would be a very budget-friendly form of sightseeing!
The best of the stations is probably the Kremlinskaya stop, which is decorated with mosaics depicting Tatar life in the 14th and 15th centuries, when the city was the capital of the powerful Kazan Khanate. Be sure to look up to see the beautiful dragon mosaic on the ceiling.
While you're here, you should definitely visit the Kazan Kremlin, for which the Kremlinskaya station is named. The whole complex is a UNESCO World Heritage Site and is filled with a number of museums and historic buildings.
By Wendy from The Nomadic Vegan
---
16. Glasgow Subway, Scotland
Up there as one of the easiest metros to use in the world has to be Glasgow's Subway. There are two circular routes over the River Clyde.
One route goes clockwise (Outer Circle) and the other anti-clockwise (Inner Circle). This is great if you fall asleep after a few drinks in town! It takes 24 minutes to ride the full circuit. It's cheap too at £1.55.
There is a local tradition associated with the metro, a drinking game played by students that involves the subway called 'Clockwork Orange' (so-called because of the subway's distinctive orange-and-white colours scheme). The challenge is to get off at all 15 stops and have a drink at a local pub. I once made it to 14 and had a chippy at the last.
It's a popular thing to do in Glasgow during the summer when the days are longer. Although it takes less than 30 minutes to get around the route, add pub stops and staggering time into the equation and you have a full day of fun on your hands.
Although simple to use, the area that the subway covers is limited. Popular stops include Hillhead on Byres Road in the West End (Glasgow University, bars, cafes and independent shops), Buchanan Street (shops) and Ibrox (Rangers football stadium). Areas such as Parkhead (Celtic football stadium) and Braehead Shopping Centre do not have stops.
By Gemma from Two Scots Abroad
---
17. Athens Metro, Greece
The moment I stepped out onto the underground platform of Syntagma Station in Athens, I was in awe. I had just caught trains in multiple cities across Europe and had never seen anything like it. While I had been impressed with the sparkling cleanliness of the train I took from the airport, Syntagma is something else. I was surrounded by gleaming marble, absolutely spotless. Not a piece of rubbish littered about nor graffiti marked the walls.
Located in the heart of Syntagma Square in Athens, the station is the transfer point between the city's underground lines and Athens Tram up on street level. It's a grand multi-storey building housing both a platform underground and additional platforms and stores above. Parts of the building were designed by a famous sculptor.
Its appearance isn't all that makes the station special, though. This being Athens, a city full of ancient relics, it was to be expected that excavations for the line would uncover more. Many archaeological finds have been incorporated into the design of the station, encased in glass to protect them from passing commuters.
By Holly from Globe Blogging
---
18. São Bento Railway & Metro Station, Porto, Portugal
Porto is beautiful in a rather peculiar way. Sure, it's classically beautiful in parts, with graceful bridges and charming houses dotted along the Duoro River. By contrast, you'll find a strange beauty in urban murals, run-down trolleys and sleepy local markets. I'd say São Bento Railway Station is a beauty of the latter sort.
São Bento Railway Station is a 19th-century train station known for the some 20,000 azulejo tiles that decorate its interior. The tiles are elaborate in their depiction of great battles and pastoral scenes. They're so detailed that the tile work took more than 11 years to complete. Below ground, by contrast, the São Bento Metro Station is stark white and minimalist.
Rather than acting as a museum, São Bento is an active station that services Porto's suburbs. The station still experiences after work rush-hour crowds and overfilled trash cans. It's just the kind of beauty by contrast that the city does so well. Even if you don't have somewhere to go, seeing São Bento for yourself is still one of the most fascinating things to do in Porto.
By Taylor from Travel Outlandish
---
19. Politehnica Metro Station, Bucharest, Romania
One of the most interesting metro stations in Bucharest is the Politehnica Station. What makes it unique? The fact that the pink marble floors are stained with odd patterns – which are 80-million-year-old fossils. Now, how cool is that?
Built in 1983, limestone for the metro station was brought in from the Apuseni Mountains. In this area you can find hills filled with fossilised snails, it's no surprise that some fossils ended up in the quarried stone.
This wasn't known from the beginning, but rather brought to people's attention a few years ago. This metro station, while usually used by teachers and students coming to the Politehnica University, is actually one of the most interesting things to see in Bucharest. Be sure to include it on your itinerary next time you're in Romania's capital.
By Loredana from Earth's Attractions
---
Beautiful metro stations in Asia
20. Tashkent Metro, Uzbekistan
The Tashkent Metro system is a tourist attraction in itself and one of the most interesting things to do in Tashkent. Photography was banned in the stations until 2018 and as a result, these incredible works of art have been kept secret until recently.
A ticket on the Tashkent metro costs just 12c and as long as you don't exit the station, you get on and off as many trains as you wish. In a couple of hours, you can see lots of the more notable stations and experience the hustle and bustle of local life.
Many of the stations have a theme. Besides the grand halls and chandelier lighting, they also have art installations representing various parts of Uzbek culture and Silk Road history. Some of the most impressive are Kosmonavtlar, which is dedicated to the cosmonauts of the Soviet Union, Pakhtakor, with mosaics representing the cotton fields, and Alisher Navoi, with its mosque-like interior.
By Rohan from Travels of a Bookpacker
---
21. Formosa Boulevard MRT Station, Kaohsiung, Taiwan
Few underground art installations rival the colourful Dome of Light in Kaohsiung (高雄), Taiwan. As one of the world's largest public art installations made from coloured glass, the Dome of Light is one sight you don't want to miss on your visit to Taiwan's second-largest city.
The incredibly photogenic dome is made from more than 4500 glass panels covering 660 square meters. Created by Italian artist Narcissus Quagliata, it took well over four years to complete. At its core, the artwork depicts human life in all its stages – birth, growth, glory, and destruction. These stages are, in turn, represented by water, earth, light, and fire.
Besides being one of the most Instagram-worthy places in Kaohsiung, the Dome of Light has a much deeper meaning to the locals in Taiwan. It commemorates the Formosa Incident, a major pro-democracy demonstration that occurred nearby in the late 1970s.
You can visit the Dome of Light in Formosa Boulevard Station, which is the transfer station between the Red and Orange Lines. It's one of the busier MRT stations in Kaohsiung, so it's best to avoid peak commuting hours. Don't worry about not being able to find it – several English-language signs point the way.
By Mariza from Hoponworld
---
22. Tama-Center Transit Station, Tokyo, Japan
Hello Kitty, Gudetama, Little Twin Stars, and friends have captured the hearts of fans around the world. If you love these adorable Sanrio characters, then you have to visit the Tama-Center Station in Tokyo, Japan.
The metro station is about 40 minutes from the Shibuya area and is very kawaii ('extremely cute' in Japanese). You'll see Hello Kitty and friends everywhere, from the platform signage, clocks and walls, to the elevators. In the station's main ticket area, you'll see a large circular faux-stained glass ceiling showing many of your favourite characters. If you look closely at the artwork, you'll notice the Sanrio characters are dressed in conductor outfits as if they're working at the station.
While visiting the station is a highlight, it's just a taste of what's to come when you spend the day at Sanrio Puroland, an indoor amusement park. It's only a 10-minute walk from the station – and you get the opportunity to meet Hello Kitty in person.
By Jackie & Justin from Life Of Doing
---
23. Delhi Metro, India
Delhi Metro opened in 2002 and is now one of the easiest and fastest modes of public transport in the city. Over the years, Delhi Metro has not only expended its network, but it has collaborated with artists and organisations to create unique station designs. I think visiting the different stations for these unique crafts is a good idea when exploring Delhi.
The following stations are easy to visit because they're located in central Delhi, near monuments. First is the INA Metro Station, where 58 panels of handicrafts and handlooms are installed. Craftsmen from across the India created these, which range from Mithila paintings from Bihar to terracotta tiles from Rajasthan. INA is located on the Yellow Metro Line near Dilli Haat.
Hauz Khas Station is another interesting design on the same metro line. Here, the paintings of historical monuments like Lodhi Tombs, the Gurudwara Bangla Sahib, Jama Masjid, and Humayun's Tomb reflect the diverse cultural fabric of Delhi.
Mandi House Station on the Blue Line houses a collection of photographs of central Delhi. These decades or even century-old photographs chronicle the journey of the area from brick kilns to a cultural centre. Panels display old photographs of Prime Minister Jawahar Lal Nehru, aerial photographs of the Modern School, original maps of the area, and some vintage photographs of popular theatre artists.
Don't miss the Patel Chowk Metro Station, which has the Metro Museum. Here, they have displayed the metro plan, chronicled the different stages of construction, and highlight other aspects related to Delhi's metro.
By Sapna from My Simple Sojourn
---
24. Bund Sightseeing Tunnel, Shanghai, China
If you're heading to Shanghai, you're probably going to visit the Shanghai Bund. One of the most recognisable places in the city, the Bund is a 'living museum', a 1.5km walk that showcases the spectacular buildings of the city skyline. Situated just a few metres below the walkways is the Bund Sightseeing Tunnel. Not only is it one of the most interesting underground stations in the world, it's possibly one of the most touristy.
The visitor tunnel connects The Bund with the Trade Zone across the water and is only 645 metres (700 yards) long, making the subway trip one of the shortest in the world. It actually only takes three minutes to travel between the two points. During the trip, you're surrounded by a whirlwind of psychedelic colours and strange sounds emanating from the walls beyond the train.
The ride really just offers a short sensory assault and is probably not something to put at the top of your Shanghai sightseeing list. However, if you're heading over to the Trade Zone, it's worth trying out this slightly odd, heavily manufactured train journey and underground station. It costs 70 RMB (9 USD) for a return ticket, but we'd probably advise you spend 50 RMB (7 USD) on a one-way pass and take a taxi on the way back.
By Lee from The Travel Scribes
---
25. Almaty Metro, Kazakhstan
Although it's really not all that useful for travelling anywhere other than the city centre, the Almaty Metro is something every traveller in Kazakhstan should see while they're in the city.
Post-USSR countries are famed for their amazing metro stations, and Almaty – the former capital and cultural hub of Kazakhstan – is no exception. Interestingly, while the metro was initiated in 1988 under the Soviet Union, the first line only opened in 2011, long after the collapse of the USSR. Even so, it still follows many of the same patterns as seen in other post-Soviet metros.
Each station is unique, with some named after famous Kazakhs, and others celebrating Almaty's geography and society. There's even one station dedicated to apples, because Almaty is famous for being 'the city of apples'! Other significant ones are Jibek Joli, which celebrates the Silk Road, and Alatau Station, which depicts some of Almaty's amazing mountains.
It's very cheap to ride the metro – just 80 tengue, or about 20 cents. The metro is very safe, even for solo female travellers visiting Kazakhstan. Like all subway systems in the world, there can be pickpockets, so make sure you have your valuables zipped away.
By Claire from Claire's Footsteps
---
Beautiful stations in Australia
26. Wynyard Underground Rail Station, Sydney
One of Sydney's busiest train stations, Wynyard Station, is well-known to the city's corporate commuters. A recent refurbishment has modernised the station to include large thoroughfares and wide barriers to cope with the daily masses. It's a practical design, but somewhat sterile in nature.
That is, until you find yourself around the back of the station, nearest to the Concourse Bar. Here, you'll find escalators up to York Street. High above the new and speedy escalators is an impressive five tonne sculpture. Installed in 2017, the sculpture is made up of 244 hardwood floor escalators. Most impressive – these are the same wooden escalators that adorned the station before the refurbishment. Some date back to the 1930s.
This re-use of some of the older fixtures is an incredible way to keep some of the heritage of the original station. Most Sydneysiders gaze in amazement at a sculpture made from stairs they once walked on. In our case, we look on the sculpture with fond childhood memories of visits to 'the city'. With its twists and turns, you'll want to spend as much time on the new escalators as you can, looking up to take in this impressive monument.
By Jeff and Kristen from Our Passion For Travel
---
Beautiful subway stations in the Americas
27. Union Station, Los Angeles, USA
Probably the most unheard of subway and newest system in the US is the Los Angeles Metro. It started off with just two lines and has expanded to many regional districts, making it easier to travel around the metropolitan areas of LA without having to deal with the crazy driving and freeway situation.
Even though most of the stations tend to be modern and practical, the convenience of being able to access historical attractions makes the metro an effective way to get around the city. The most scenic and main hub to the LA Metro is at the iconic Los Angeles Union Station. Located downtown, it's tied to the regional train services and Amtrak.
Union Station is well placed inside a historic building. Finished in 1939, it combines Art Deco, Mission Revival and Streamline Moderne styles, and was actually designed (in part) by the same team behind the Los Angeles City Hall. Today, it's used as a train, metro and bus transportation centre. Fantastic restaurants, gardens, and even rotating art exhibits and public programs in the main hall draw crowds.
If you're visiting the downtown LA area, Olivera Street and the neighbourhoods of Chinatown or Japantown, you'll be using Union Station as your hub. You can also find transportation out of the city for day trips around the greater LA area.
By Noel from Travel Photo Discovery
---
28. Buenos Aires Underground, Argentina
A new 2km extension of subway Line E opened in Buenos Aires in 2019. It has three new stations, and now connects central Buenos Aires from Boliva Station, near Plaza de Mayo, to Retiro Station, which serves the long-distance trains.
The new stations feature amazing artwork by a trio of top female Argentinean artists. The city government website says that bringing more women's stories into symbolic spaces is an important step in laying the foundation for gender equality.
Marta Minujin has created a stunning sculpture called David Fragmentandose, which hangs from the ceiling at Retiro Station. Made up of a series of split images of David's face, it's meant to reflect "the fragmentation and lack of continuity of the Argentinian people."
Marcela Cabutti's artwork at Correo Central Station is a cheerful floral work positioned around one of the large entranceways called Pasionarias a orillas del río. It's said to be a homage to the plants often found growing near the train tracks.
The third artist is Gachi Hasper, who created the very large and very colourful geometric-style artwork at Catalinas Station. If you happen to be in Buenos Aires, it's well worth the subway ride to check all three of the new stations out.
By Maureen from So Many Places! So Little Time!
---
29. Montreal Metro, Canada – the most beautiful metro stations in North America
The Montreal Metro dates back to 1966 and encompasses 68 stations on four lines, stretching over a total distance of 70km. Both the station buildings and the carriages were inspired by the Paris Metro, and you can clearly see this in some of the design choices.
Starting from the 1960s when it was completed until now, local artists have been invited to make their mark on different stations, adding colourful murals, glasswork, sculptures, friezes and installations. One of the must-see public artworks is the large-scale enamelled steel murals at Papineau Station.
The trio of murals designed by illustrator George Juhasz and ceramist Jean Cartier retell the story of the 19th century Patriotes Revolt (Lower Canada Rebellion). The movement's leader, Louis-Joseph Papineau, lends his name to the station building. At the entrance, you can see the impressive 2003 aluminium sculpture Révolutions by Michel de Broin.
There are dozens of artworks to keep an eye out for when you ride on North America's fourth busiest rapid transit system, and even more on Montreal's public bus network.
---
30. Museum Subway Station, Toronto, Canada
Looking for another unique subway station to check out? Then head to Toronto, Canada, where Museum Station will surely cheer you up. If you know anything about the subway in Toronto – called the TTC – you'll be aware that the cream tiles from the 1970s can be an eyesore. Museum Station gives visitors to Toronto something to enjoy.
This subway station is appropriately named 'Museum' because it connects visitors to a top attraction in Toronto – the Royal Ontario Museum. Dedicated to the natural world, art, and culture, it's definitely worth a visit. It's quite fitting that when you pull into Museum Station you see a platform that was renovated to resemble a museum gallery!
The best part is the support pillars, which have been transformed to resemble classic museum artefacts. From Greek columns to stone carvings, wooden totem poles and Egyptian statues, there's quite a variety down there! If you're not expecting it, it's definitely a sight to see when riding the TTC.
The station is located in downtown Toronto on the Yonge-University Line. It's best to avoid visiting during rush hour.
By Eric from Ontario Away
---
Which of these beautiful metro stations is your favourite? Is there another unusual subway station you would add to the list?
---
Beautiful metro stations: Pin it!