A guide to visiting Georgia's historic Kvemo Kartli region, including things to see and do, accommodations, restaurants, a map, suggested itinerary, and other tips.
Kvemo Kartli is a historic region in southern Georgia that begins at Tbilisi's south-west boundary and stretches along the Azerbaijani and Armenian borders. It's a place of vast golden plains, big skies, dramatic gorges, small towns, and ancient fortresses.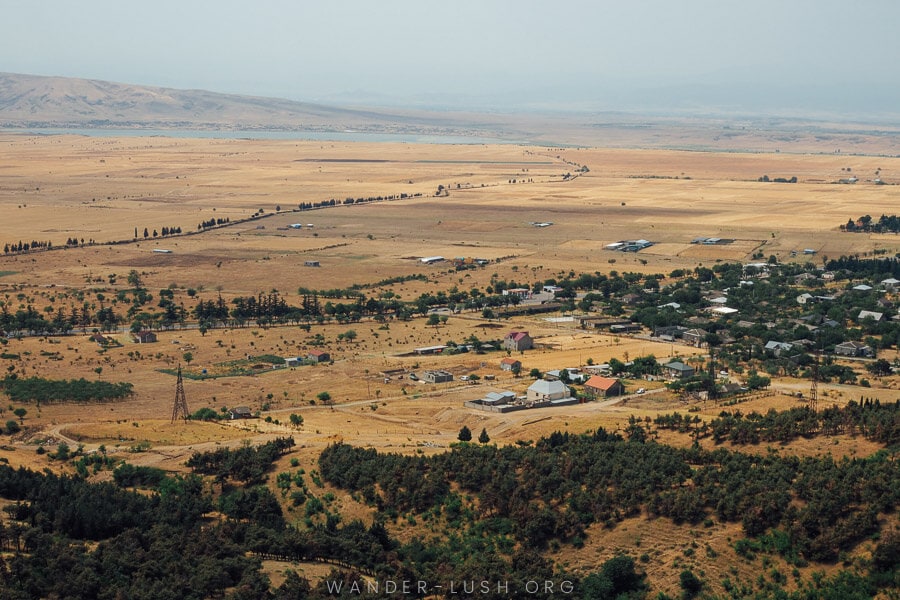 One of the most important archaeological sites in the Caucasus, Dmanisi, is located here, as are several of the region's oldest Orthodox churches. This is where you can learn about Georgia's little-known German heritage, hike through canyons and national parks, and pay pilgrimage to the site of one of the most significant war efforts in Georgian history, the Battle of Didgori.
Unlike Shida Kartli ('Upper Kartli') where Gori and Uplistsikhe are located, Kvemo Kartli is relatively untravelled. Many people transit through Lower Kartli, but few find the occasion to explore this area in-depth.
I recently spent three days in Kvemo Kartli as part of a road trip around Georgia. In this guide, I'll show you why Kvemo Kartli is worth visiting – either as an alternative day trip from Tbilisi or better still as a longer stopover when travelling from east to west.
---
Please note: This post contains affiliate links, meaning I may earn a commission if you make a purchase by clicking a link (at no extra cost to you). Learn more.
---
About Kvemo Kartli
Kvemo Kartli's history goes back to prehistoric times when the area was inhabited by Kartvelian tribes. Samshvilde, one of the oldest settlements in Georgia, and the archaeological sites at Dmanisi (where some of the world's oldest hominid skulls were unearthed) and Imiri (where the oldest domesticated grape vines for winemaking were found) are both located in Kvemo Kartli.
Part of the medieval Kingdom of Kartli, this area was heavily fortified throughout its history, with dozens of castles, citadels and watchtowers. One of the most epic battles in modern Georgian history – when David the Builder led his army to defeat the Seljuks, precipitating the country's reunification – took place on the rolling hills of Didgori at the region's north-eastern corner.
Kvemo Kartli was critically important to the spread of Christianity through Georgia. Some of the oldest Orthodox monasteries in the country, including Bolnisi Zion Cathedral and Manglisi Sioni, were built here.
More recently, Kvemo Kartli became known as a place of immense cultural and religious diversity. German families settled here in the early 1800s, followed by economic migrants from Svaneti and Adjara. Today, there are large Azerbaijani and Armenian communities, and even a few Greek families. It's not very often in Georgia that you see shop signs written in Cyrillic – but Russian is the lingua franca here.
---
Things to do in Kvemo Kartli region
There are a few possible routes you can take through Kvemo Kartli, including a southern route through Marneuli and a northern route through Tbisi/Manglisi.
Because of the region's topography, the main highways don't intersect, making it necessary to double-back on occasion (or else use the rougher back roads). For example if you want to visit Rustavi then continue to Bolnisi, you have to go back through Tbilisi.
For efficiency's sake, we decided to take the northern road through Kvemo Kartli because it connects up with Samtskhe-Javakheti region. This is the best route to follow if you're on a road trip and your aim is to continue driving west to Kutaisi or Batumi.
There are some places we missed seeing as a result, including Bolnisi, Rustavi, Kolagiri Fortress, Marneuli and Tandzia. I'll be back to visit these spots at a later date and will return to update this guide.
The Kvemo Kartli attractions listed here are all on or near the main east-west highways.
German villages in Kvemo kartli: Asureti (Elisabethtal) & Trialeti (Alexandershilf)
The story of German settlers in Georgia has intrigued me for a long time. Ever since I saw mention of Swabian Germans at the Soviet Occupation Hall (part of the National Museum) in Tbilisi, I've wanted to learn more about their history.
Germans first arrived in Georgia in 1818 when the country was part of Tsarist Russia. It's not clear whether they emigrated by choice or were relocated by force, but once here, they established at least seven major settlements: Neu Tiflis (in Tbilisi, near Marjanishvili Metro), Alexanderdorf (now Tsereteli Avenue in Tbilisi), Katharinefeld (now Bolnisi), Marienfeld and Petersdorf (now part of Sartichala), Alexandershilf (now Trialeti) and Elisabethtal (now Asureti).
Families built 'Fachwerk' half-timbered houses with deep cellars, each community centred around a beautiful German-style church. The 'colonies' were self-governed and given permission to use German as their official language for administration, education and religion.
By the 1930s, an estimated 20,000 people of German descent were living in this part of Georgia. When WWII started, all but a few thousand who had married into Georgian families were deported to Central Asia. Those who survived the journey by ship across the Caspian Sea were forced to start from scratch.
This side of Soviet WWII history is rarely discussed. In Georgia, it's acknowledged through the German Heritage Inventory, which awards special heritage status to important buildings that hark back to this period. Most are located in Bolnisi, where there is a regional museum partially dedicated to the German legacy.
Of all the German-era landmarks, I was fixated on seeing the recently renovated Lutheran church in Asureti. It absolutely lived up to my expectations. This town is tiny, with a dozen or so German-style houses along the main street and the church positioned like a crescendo at the top of the way, greeted by a long alley of trees.
Built in 1871 and restored in 2020, the church sits empty but is still a powerful reminder of the 72 German families who settled here – and their tragic end. Joseph Stalin was the one who sealed Asureti's fate. In a cruel twist, his wife Nadezhda Alliluyeva was apparently descended from German settlers from this village.
We were admiring one of the half-timbered houses near the church when a lovely couple, Leri and Liana, emerged from the front gate and invited us inside for a tour. They showed us various household objects left behind by the original owners during the fray, including a baby's cradle, a waffle press and several glass light fittings.
With their daughter Nino interpreting, we learned that Leri was born in this house in 1945 after his parents came to live in Asureti from Racha. Later, Nino sent us an email with a collection of archival photos and mud maps.
Everyone in the family speaks fluent German and although I'm not exactly sure of the connection, I do know they are incredibly proud of their town's history and committed to keeping the history alive.
The second German town we visited, Trialeti (previously Alexandershilf) is much smaller and more run-down. Located just outside Tsalka, it was established as a sub-colony by 32 families from Asureti who were searching for arable land. It later became a hub for cheesemaking.
Trialeti also boasts a beautiful Lutheran Church (built in 1862), this time constructed from dark stone. Directly opposite, the old school house (1862-65) and parsonage are the only two Fachwerk buildings left standing. All three buildings have EU-issued information plaques that reveal more details about the history of Trialeti.
If you want to learn more about the German families, I highly recommend reading this account from a resident of Bolnisi, published by Women of Georgia.
Samshvilde Canyon & Fortress
Located in the central part of Kvemo Kartli near the town of Tetritskaro, the ruins of Samshvilde Fortress and Citadel represent one of the oldest cities from the ancient Kartli Kingdom. This site was settled in the 3rd century BC and went through many reincarnations until it was abandoned in the 13th century.
Excavation work is ongoing here and you can clearly see where archaeologists have marked out their pits. Apart from the main fortress building – which is partially standing – there are low city walls and several impressive religious monuments to see.
Walk through the fortress (via an unlocked gate) to trace the ridge of the canyon, then walk out along the peninsula to visit the remnants of Samshvilde Sioni, a sandstone basilica built in 759-777 AD. There are inscriptions in both Georgian and Armenian on the southern facade.
The fortress and canyon can only be accessed via a track lined with mossy rock walls. It's too rough and narrow for a car, so you need to walk for around 30 minutes to reach the site.
Starting from the convenience shop in Samshvilde village (where you can leave your car), walk down the main road and take a right at the power generator. After you pass the last of the houses, you'll walk for another 15 minutes before crossing a stone bridge. After five more minutes you'll see a yellow sign pointing towards the fortress. Follow the path to the right – this is where the stone wall starts – and continue all the way down (around 10 minutes) until you reach the unlocked cattle gate. The fortress and church are just beyond the gate.
Birtvisi Fortress
Birtvisi is the second canyon-fortress in Kvemo Kartli that's popular among hikers. Around 25km north of Samshvilde, it's similarly located on the edge of a canyon, but it has a very different typography.
Where Samshvilde is quite open and majestic, Birtvisi is all rugged limestone cliffs and sheer rock drop-offs. The fortress (and a number of other monuments) are nestled within the stone formations. To get up and in, you need to follow a forest walking trail that involves a short scramble over the rocks.
Birtvisi is more remote and challenging to get to compared to Samshvilde. You need proper shoes and a decent amount of time – at least 3-4 hours – to do this hike.
The unmarked trail starts from Tbisi village. See options here on Wikiloc.
Didgori Battle Memorial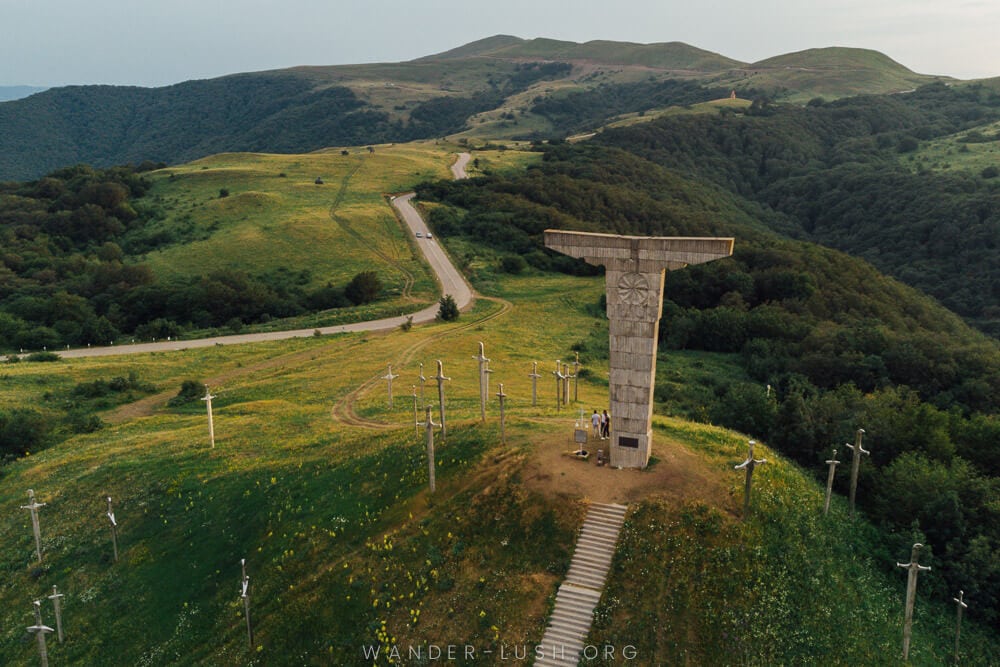 Located an hour north of Asureti or 1.5 hours west of Tbilisi, the Didgori Battle Memorial is one of the most impressive landmarks I've seen in Georgia. If you ask me what the highlight of our trip through Kvemo Kartli was, I'd have to say it was visiting Didgori at sunset.
We drove up to the memorial from the town of Manglisi. The 12km road – fully paved and brand new – is one of the most spectacular I've done in Georgia. It wraps around the hills like a ribbon and is one smooth bend after another. The scenery is stunning, especially as the memorial comes into view towards the end.
This location is extremely auspicious. In 1121, these hills hosted the Battle of Didgori, when King David the Builder famously defeated the Turkish-Seljuk army leading to Georgia's liberation and unification, and ushering in the country's short-lived Golden Age.
The memorial was erected as a tribute to King David's victory. Spread out over several low hills, it includes an amphitheatre, a series of sculptures and a small church. We arrived at sunset so we only had time to visit the main part of the memorial: A large stone sculpture surrounded by huge metal swords.
→ See more photos plus my tips for visiting the Didgori Battle Memorial.
Manglisi Holy Dormition Cathedral
Manglisi Holy Dormition (Manglisi Sioni) dates back to the 4th century, making it one of the oldest Orthodox churches in Georgia. The current structure was developed between the 6th and 7th centuries and altered in the 1100s. Its 'tetraconch' shape, with four apses embedded in an octagon, is quite unusual.
The church's monumental footprint and shadowy setting beneath the weeping branches of tall trees makes it very atmospheric. The carvings and the colour of the stone remind me of the cathedrals over the border in Gyumri.
Dashbashi Canyon & Beshtasheni Canyon
Dashbashi Canyon (AKA Tsalka Canyon) is probably the most well-known attraction in Kvemo Kartli. Running 8km along a river valley, the canyon's most impressive feature is its elongated waterfall, which cascades for several metres over a volcanic rock wall.
Until recently, Dashbashi remained pristine and untouched. The addition of a glass viewing bridge and stairs down to the waterfall have made the area more accessible, but the downside is that it feels more commercial. And you have to pay an entry fee.
Despite that, the nature here is still very beautiful. If you can, walk up to the church atop the nearby hill – there are some interesting gravestones in the yard, and you get a nice view of the canyon from above.
There are numerous other canyons to visit around Tsalka, including the one at Beshtasheni.
Tsalka
Tsalka is a small town located at the western edge of Kvemo Kartli. There are several points of interest in the area, including the Monastery of Three Hierarchs in Berta (home to a school of Holy Trout), the reservoir, more canyons, and a set of ancient petroglyphs. In the town itself, it's worth dropping in to see the colourful Tsalka Mosque if the doors are open.
Tsalka is a convenient place to overnight or refuel part-way through the day. Cafe Anna on the main street is great for espresso coffee and cake. For a sit-down meal, restaurant Pontia just opposite is owned by a Pontic Greek family and serves good Georgian fare.
→ For more things to do, see my guide to Tsalka and the Javakheti Protected Areas.
Tetritskaro
Tetritskaro is much smaller than Tsalka but also makes for a convenient overnight base as it's located right in the centre of Kvemo Kartli. The starting point for the walk to Samshvilde Fortress is a 7-minute drive from town.
If you're interested in Soviet-era retro and Brutalist architecture, you'll enjoy walking through town. Among the attractions here are a couple of brilliant Soviet-style mosaics and friezes, a bunch of vintage cars, and an abandoned medical laboratory.
There are two large Soviet-era mosaics in town, both located on the highway as you enter the town. The first depicts farming scenes and grazing deer. The second is a rectangular frame around a map of Georgia (since destroyed) that shows people picking fruit.
The Baku-Tbilisi-Kars railway runs right along the southern edge of town and is quite a remarkable sight. I can't wait to travel through here when the passenger service finally launches.
In Tetritskaro, I highly recommend staying at Artist's House, a comfortable guesthouse set in the family home of local painter, Ia Arsenishvili.
---
Map of Kvemo Kartli
Click here to open the map via Google Drive. Use the star icon to save a copy for offline use.
---
---
Where to stay in Kvemo Kartli
Tetritskaro: Artist's House – cosy and beautifully decorated guesthouse run by Georgian painter, Ia Arsenishvili.
Manglisi: Hotel Luka – simple family style accommodation with breakfast included.
Tsalka: Hotel Home+ – self-contained apartment across the road from Pontia.
Onward travel
If you plan to continue your travels in Western Georgia, head west from Tsalka through Samtskhe-Javakheti region, stopping at Paravani Lake and Poka St. Nino Monastery. This will eventually bring you to Vardzia and Akhaltsikhe, from where you can continue up to Kutaisi via Abastumani and Sairme, or west to Batumi via Upper Adjara.
Both these roads are high mountain passes that are only open during the warmer months and require an off-road vehicle (or a car with a high undercarriage clearance at the very least). An alternative route for sedans is via the highway through Borjomi and Khashuri.
Alternatively, you can easily cross the border into Armenia at Ninotsminda-Bavra (making Gyumri, Armenia's second-largest city, your first stop), at Bagratashen-Sadakhlo (arriving in Debed Canyon) or into Turkey at Vale-Türkgözü (close to Akhaltsikhe).
---
Have you travelled around Georgia's southern Kvemo Kartli region? Do you have any additional tips to share?