Georgia is home to one of the world's most underrated cuisines. From soupy dumplings to cheesy pies, stringy cornmeal to rich meat stews, Georgian dishes highlight the country's amazing array of dairy products, fresh produce and fragrant herbs.
Georgia is not particularly well-known for its desserts, but sweet treats do play an important role in food culture. Traditionally, sharing sweets is seen as a way of bonding between family members, friends and guests. Candies are often handed out on holidays to symbolise youth and good fortune, and there are a growing number of trendy ice cream parlours in Tbilisi.
There are desserts associated with every major religious festival and several special sweets dedicated to different social milestones. Every region of Georgia has its own distinct style of cooking, and this extends to the dessert world as well. Many sweets are special to particular groups, parts of the country, or in some cases, specific towns.
Georgian desserts use simple ingredients and techniques, with walnuts, hazelnuts, honey, grape juice and cornflour being the staples. Most are not overly sweet, but balance sweet and savoury flavours and different textures.
Here are 17 traditional Georgian desserts and sweet snacks that you should sample during your visit – and where to find them in Tbilisi and beyond.
---
Please note: This post contains affiliate links, meaning I may earn a commission if you make a purchase by clicking a link (at no extra cost to you). Learn more.
---
17 traditional Georgian desserts & sweet snacks
1. Pelamushi / Tatara (Georgian grape dessert)
Pelamushi or Tatara is a pudding-like Georgian dessert made from grape juice and flour. In the western part of Georgia, this traditional sweet is called Pelamushi. The main ingredient is cornflour, which is readily available. In the eastern part of the country, the same dessert is called Tatara and it is made using wheat flour instead.
In both cases, the basis for Pelamushi or Tatara is badagi, a sweet organic juice made from freshly pressed grapes. The finished pudding has a silky consistency and can be eaten either warm or cold. Both versions are equally delicious!
The first step in making Pelamushi is to boil the badagi in a saucepan. Then it is mixed with sifted flour. The mixture has to be stirred continuously over a low heat. After it has thickened, a little bit of sugar is added, then the thick mixture is poured into moulds or into a shallow bowl to set. As the temperature cools, it hardens and takes on its jelly-like consistency.
You can find Pelamushi and Tatara on most Georgian restaurant menus, especially in Tbilisi and Kakheti region.
2. Korkoti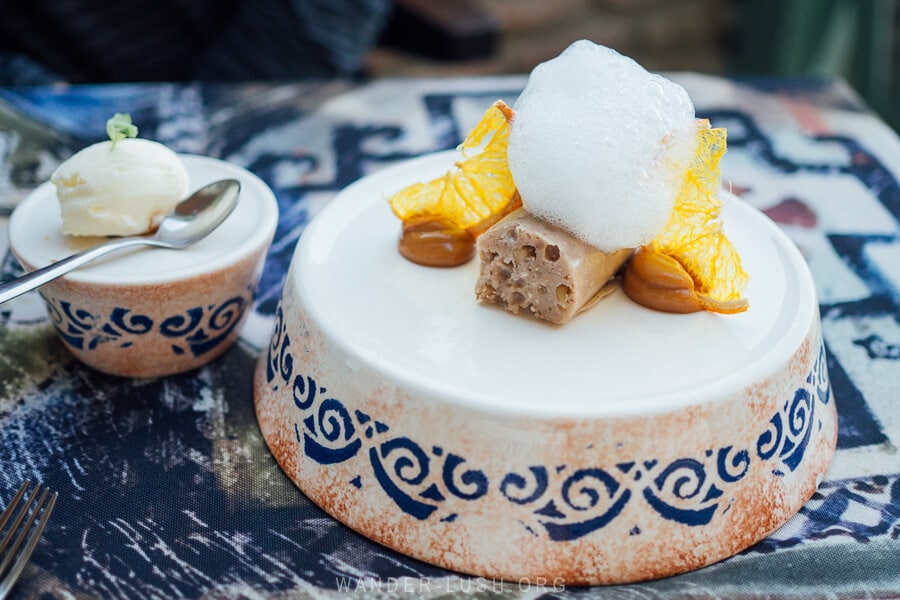 Korkoti is also known in different parts of Georgia as Tsandili and Kolio. This porridge-like dessert has a spiritual significance and is mainly prepared to commemorate the deceased.
Korkoti is often made during Easter celebrations. There are several variations of Korkoti belonging to different regions, but normally it is made with wheat grains, honey, and raisins.
To prepare this delicious dessert, the wheat grains have to be soaked in water for a minimum of six hours or ideally overnight. After draining, the grains are poured into a saucepan, covered with water, and boiled until soft. This process takes up to one hour.
After the wheat grains have softened, the honey, sugar and raisins are added. Some people add walnuts to give it a crunchy texture.
Kokorti is served cold and eaten with a spoon. Tsandili can be found in some restaurants and cafes in bigger cities, including in Kutaisi.
3. Medoki (Georgian honey cake)
Medoki (AKA Medok) is a delicious honey cake that was introduced into Georgian cuisine during the time of the Soviet Union. The recipe was developed in the 19th century and was originally known as Medovik.
This layered sweet has two main components: A dry cake, and a creamy frosting. The Georgian version of Medok is made with milk cream instead of the traditional sour cream.
Both the cake and the cream are tinged with burned honey, which gives it its colour and flavour. It is especially delicious when it's prepared with organic Georgian honey. The cake mix is sometimes flavoured with spices to give it more oomph.
Medoki is often made for special celebrations and on different occasions. However, most cafes and cake shops serve it year-round, so you can enjoy this popular dessert any time.
4. Churchkhela
Churchkhela (AKA 'Georgian Snickers') is undoubtedly the most famous Georgian snack. Shaped like a candle, it is made by dipping nuts into a roux made from fruit juice (usually grape juice) and flour. Different variations include Churchkhela made with raisins, almonds, mixed fruit juices, and even chocolate!
The sweet snack originated in Kakheti region, where there is an ample supply of grapes. In eastern Georgia, they primarily use walnuts while in the western parts, Churchkhela is made mainly with hazelnuts. Here, it is also known as Janjukha.
In 2015, Churchkhela was named part of the Intangible Cultural Heritage of Georgia. Closely associated with Georgia's 8000-plus-year history of winemaking, it is normally prepared in the autumn months following the Rtveli grape harvest.
Wondering how exactly this curious treat is made? Traditionally, Georgian grandmothers are the ones who know the art of Churchkhela making. First, they boil the grape juice with flour until it thickens. This sweet mixture can form the base for Tatara or Pelamushi.
Next, nuts are stung on a long thread using a needle, then dipped into the hot mixture until they are completely covered. After that, they are hung and dried for 5 or 6 days. See the Churchkhela-making process here.
This preserves the nuts and if dried properly, the Churchkhela does not get mouldy. Its long shelf-life and the ease with which it can be transported are two of the reasons why Churchkhela was a favourite snack for soldiers in the past. Some people even think the recipe developed in response to the army's need for a long-lasting, high-calorie food supply.
Churchkhela is especially popular in Kakheti region, but you can buy it at any market in Tbilisi or around the country.
5. Kaklucha (Royal Candy)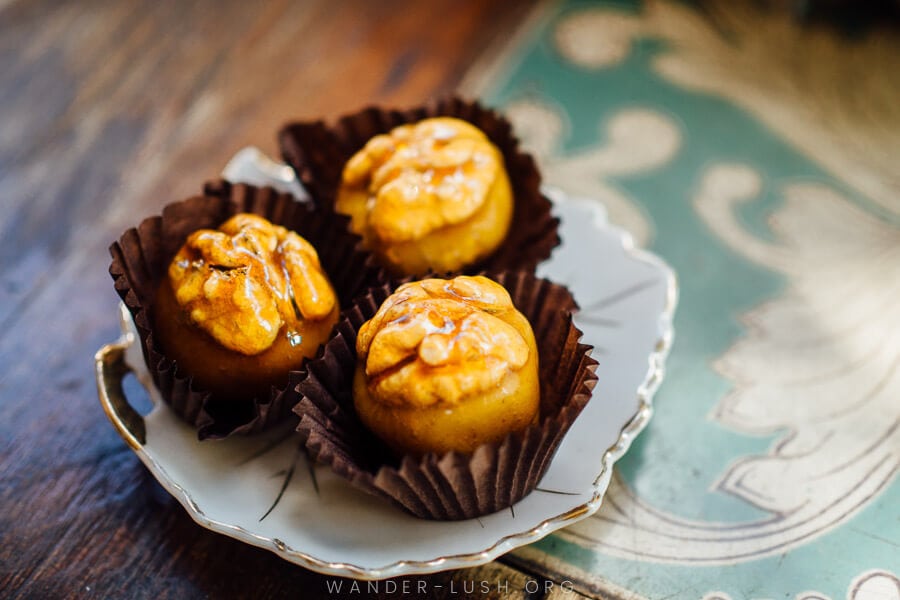 Kaklucha might not be as popular as Churchkhela, but this special Georgian treat has an equally interesting history. Also known as 'Royal Candy' or 'Orbeliani's Candy', Kaklucha was invented by Mariam Orbeliani and her cook, Pelagia, in the 19th century. Mariam was the daughter of poet Prince Vakhtang Orbeliani, who belonged to the noble House of Orbeliani.
Kaklucha is made with walnuts and caramelised sugar and tastes like heaven! Even though the main ingredients are simple, the flavours and textures are quite complex. Every tiny truffle-like candy is like a miniature candy apple, with a hard crystalised shell, a creamy inner filling, and a single piece of crunchy walnut inside.
Today, only a few people remember the art of Royal Candy making, so it's quite tricky to find this dessert in Georgian restaurants. Cafe Leila and Shemomechama in Tbilisi both serve Kaklucha, or you can order a box direct from Orbelianebis Nugbari.
6. Gozinaki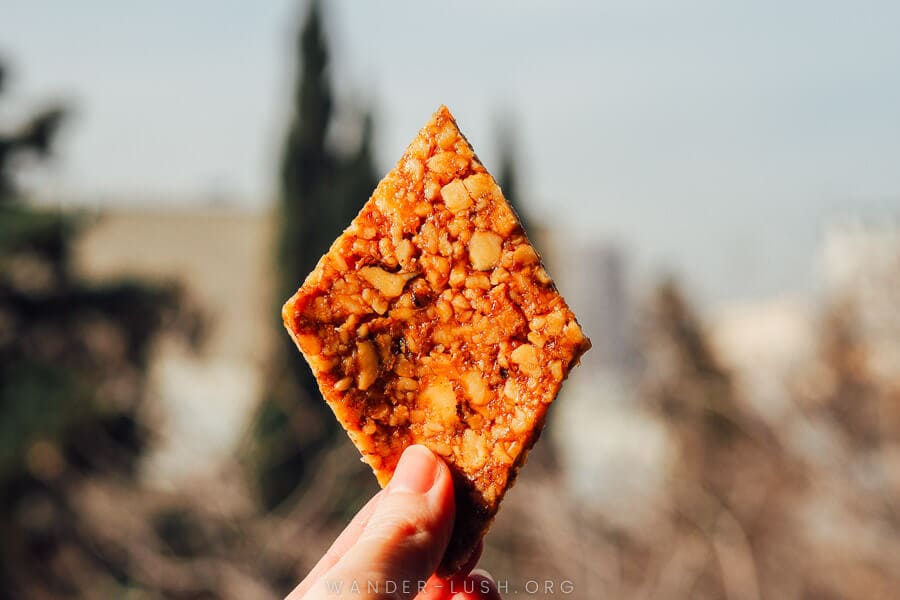 Similar to Kaklucha, Gozinaki is made from caramelised walnuts and uses honey instead of sugar. The end product is very different though, closer to a hard or soft peanut brittle depending on the recipe.
Gozinaki is originally from western Georgia's Guria region and is an inseparable part of New Year and Christmas celebrations around the nation. It has been part of the culture for centuries, so much so that in many parts of the country, honey and walnuts are considered sacred ingredients.
The most delicious Gozinaki is made from mountain honey. For the perfect taste, wildflower honey is used. You can find it in supermarkets and at some cafes in Tbilisi during winter, or even taste it in gourmet ice cream at The Cone Culture.
7. Pakhlava (Georgian Baklava)
Pakhlava is Georgia's answer to Baklava, that wildly popular pastry dessert found all across the Middle East, the Balkans and Eastern Europe. Several countries claim it as their own, but Baklava likely has its origins in the Ottoman Empire.
Georgian Pakhlava is quite different from Turkish Baklava. It is also made with phyllo dough and ground nuts (hazelnuts or walnuts), but instead of using cardamom or cinnamon, the Georgian version is sometimes made with dried fruit. No syrup is used at the end, giving Pakhlava a hard, dry texture.
Adjarian Baklava, found in Batumi and across the region, is much closer to the Turkish version in that it is finished with a sweet, sticky syrup. It is only made from walnuts – no pistachios or otherwise.
8. Kada
Kada or Qada is a regional Georgian dessert that originates from the Meskhetian area in present-day Samtskhe-Javakheti region. It is also popular in Armenia, Turkey and Azerbaijan.
Kada is a pie-like pastry that has a soft, buttery taste thanks to its two main ingredients, wheat flour and lard. The filling can be salty or sweet. Interestingly, Georgians also call Kada Guliani from the Georgian word guli, meaning 'heart'. A pastry that has a filling (a 'heart') is called Guliani.
There is a traditional saying associated with this dessert: "Kada has to be eaten with both hands." The idea is that Kada is so delicious, one must enjoy it to its fullest – and that is only possible by eating it with two hands!
Salty Kada is made in the mountainous parts of Georgia including in Mtiuleti and Khevsureti, whereas the sweet version with nuts is often prepared in Javakheti and Kakheti.
Kada also has religious significance, as it is baked for the purpose of commemorating the souls of the deceased.
9. Khalva
Also common to Georgia's Adjara and Meskheti regions, Khalva is the local equivalent of Halva. The recipe is very simple: Boil down white corn flour or wheat flour with butter until it becomes golden, then combine it with a simple sugar and water syrup.
Some people prepare Khalva with flour made from endemic Georgian wheat varieties such as Tsiteli doli, which gives it a unique, earthy taste.
10. Nazuki
Whenever you're travelling from the eastern side of Georgia to the west, you simply must stop to buy this iconic road trip snack. Nazuki sweet bread is associated with one small town in Shida Kartli region called Surami, where dozens of bakers line the highway and sell fresh loaves from their tone ovens.
Nazuki is similar to traditional Georgian bread shotis puri except that it has raisins inside and a sweet cinnamon glaze on top. In many ways, it's similar to a giant Hot Cross Bun.
It's difficult to find Nazuki outside of Surami, but a couple of bakers in Tbilisi do make it, including the one behind Avlabari metro station.
11. Paska (Georgian cake for Easter)
Paska is a traditional Georgian cake that is only prepared and eaten during Orthodox Easter. Versions of Paska are found anywhere that traces of the Byzantine Empire remain, including in Ukraine, Romania, Finland, and even in Iran.
Georgian Paska is shaped like a hill and comes in different sizes depending on the family's needs. Mini Paskas can be purchased from the supermarket in the days leading up to Easter Sunday, while larger Paska cakes are often prepared at home to be eaten by the whole family. It's traditional to take a Paska cake to the cemetery along with dyed eggs as an offering to the deceased.
Paska tends to be quite dry. It is sometimes flavoured with confit, but in Georgia, only raisins are used. If you happen to be visiting for Easter, Entree in Tbilisi is known for its delicious Paska.
12. Ponchiki (Georgian donuts)
Ponchiki does not originate from Georgia, but it's still one of the most popular and beloved sweets. Local people also call this dessert Punchula ('fluffy') or 'creamy cake'.
Found throughout the former USSR, Ponchiki is essentially a filled donut. It is made from a soft dough that is fried and then piped with a flavoured cream. Vanilla, chocolate and fruit jams are all popular, with a simple vanilla cream being the most common in Georgia.
Ponchik Monchik is a famous Ponchiki restaurant in Gyumri, Armenia. Here, the donuts are slightly different – they are puffier and have less filling.
You can buy Ponchiki from virtually any small pastry shop in Georgia. Puri Guliani coffee shop in Tbilisi makes a delicious 'gourmet' Ponchiki. Eating a plate of donuts at Restaurant Funicular atop Mtatsminda hill is a Tbilisi tradition and something you must try!
13. Machkatebi (Georgian pancakes)
Machkatebi pancakes come from the north-eastern mountain region of Tusheti. They are similar to regular pancakes but are more rustic and thicker.
Machkatebi are made with flour, eggs, salt, oil, milk and butter. After they are cooked, they are filled with a mixture called khavitsi, itself made from a combination of local Tushetian cheese and butter.
Machkatebi are supposed to be eaten hot and are especially popular during the winter months. Mothers cook them for their kids. You can find variations of Machkatebi and other Georgian-style pancakes (including cottage cheese pancakes) at breakfast cafes around Tbilisi and beyond.
14. Sokhumi ice cream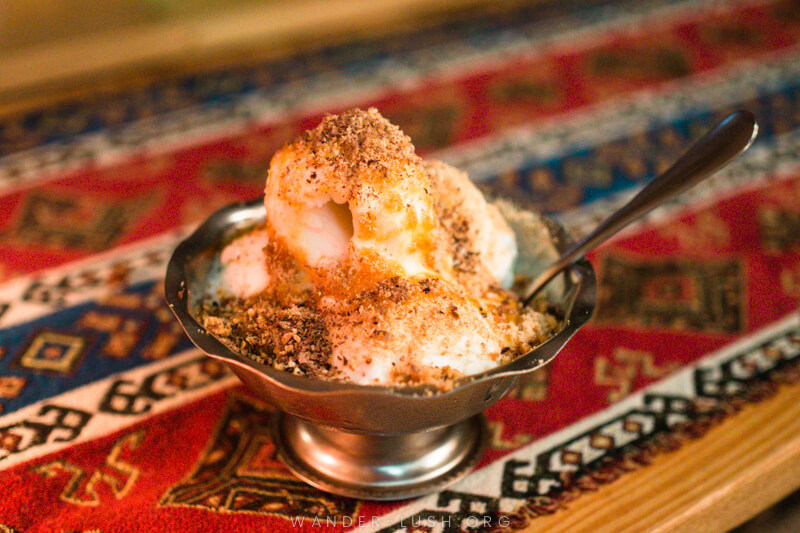 Ice cream is hugely popular in Georgia, especially during summer in Tbilisi. For something traditional, this dessert from Abkhazia puts a regional spin on the international favourite.
Sokhumi ice cream takes its name from the beachside city where the recipe was born. Vanilla ice cream is topped with a sweet, zingy tangerine jam and crushed nuts. Cooling and soothing, it's the perfect follow-up after a spicy meal featuring Abkhazian adjika.
There is only one place to try it in Tbilisi, Amra Restaurant in Saburtalo district. The owners of this cafe hail from Abkhazia and moved their business to Tbilisi in the 1990s following the war.
15. Chiri
In Georgia, dried and candied fruit is known as Chiri. Chiri is a delicacy usually prepared from apricots, grapes, apples, figs, and plums. Other fruits such as kiwi, pear and orange can also be turned into Chiri.
Families who live in the countryside make Chiri every year during the harvest months to eat over winter. Georgian grandmothers prepare it by laying cut fruit out on trays to dry the sun, or by stringing whole fruits on a rope and hanging them up to dry.
One of the most popular types of Chiri is made from persimmon or khurma. Whole fruits are hung on rope – usually from the veranda of the family home. During the drying process, they shrink and get darker.
If it is done correctly, the outer part of the fruit crystallises and gets covered in a sugar-like powder. Persimmon Chiri is always made in autumn and is an inseparable part of Christmas and New Year traditions.
16. Tklapi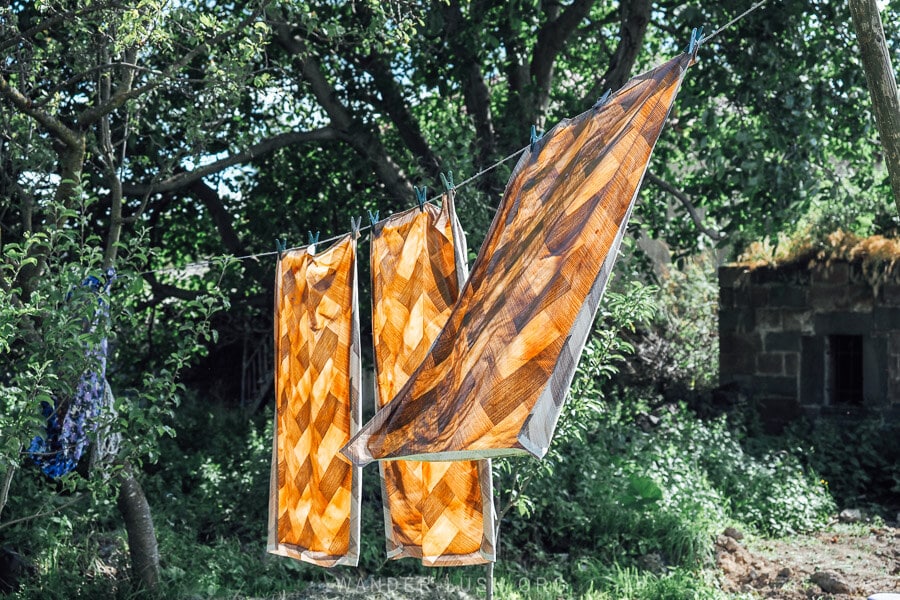 Tklapi is a thin, leather-like sweet that is made by drying pureed fruit. To make it, fruit is blended into a thick paste then painted out onto a sheet and dried in the sun.
Tklapi can be either sweet or savoury. The sourest version of Tklapi is made with tkemali (wild plum), while the sweetest Tklapi is made from apricot and peach. The most widespread version of Tklapi is made from organic grape juice, badagi.
Tklapi is eaten as an easy on-the-go snack, or it can be thinly sliced and used to decorate other desserts. Often you'll see slices of Tklapi placed alongside cheese, nuts and Chiri to accompany a wine degustation.
17. Muraba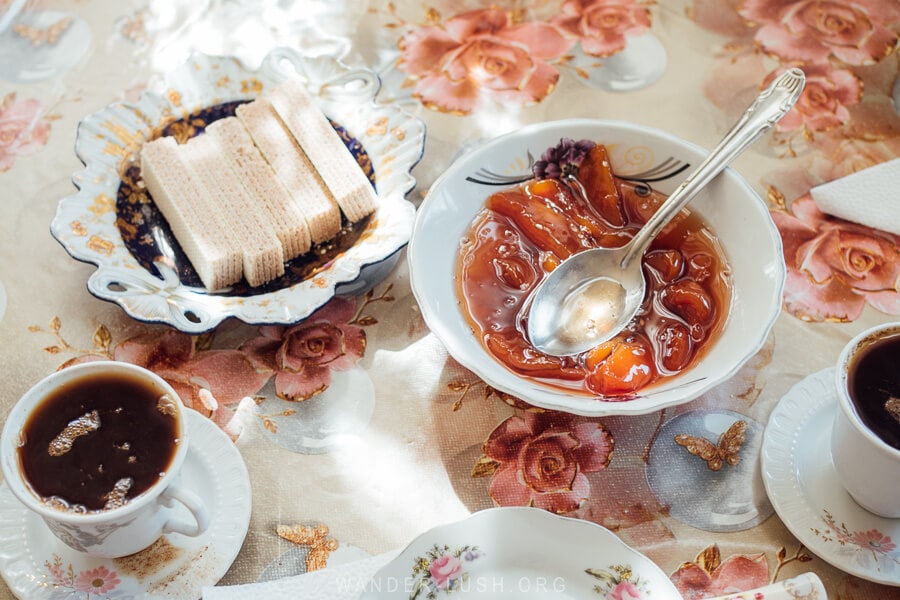 Muraba is a Georgian preserve that can be made from virtually any seasonal fruit. It's different from jam in that it's chunkier and contains larger chunks of fruit. Muraba can be thick or thin depending on the amount of water used.
Muraba is eaten like jam with pancakes, cakes, or simply spread on bread for breakfast. Cherry, quince, fig, walnut and rose flower Muraba are very popular in Georgia, while watermelon Muraba, made using the white rind of the melon, is one of the more unusual but delicious versions.
You can usually find one or two varieties of Muraba on the breakfast table at your guesthouse. Some souvenir shops in Tbilisi including Georgian Kalata and Khurjini sell a variety of different Murabas made from local fruits.
---
Which of these desserts have you tried in Georgia? Do you have any other traditional sweets to add to the list?
---
Georgia essentials
Here are the websites and services I personally use and recommend for Georgia. Check out my full list of travel resources for more tips.
FLIGHTS: Search for affordable flights to Tbilisi, Batumi or Kutaisi on Skyscanner.
TRAVEL INSURANCE: Insure your trip with HeyMondo, my preferred provider for single-trip and annual travel insurance (get 5% off when you book with my link).
SIM CARD: Magti is my preferred provider, with prices starting from 9 GEL/week for unlimited data. See this guide for all the details about buying a Georgian SIM card.
AIRPORT TRANSFERS: Most flights into Georgia arrive in the early hours. For ease, pre-book a private transfer from Tbilisi Airport to your hotel (from $17) or from Kutaisi Airport to Tbilisi (from $90) with my partners at GoTrip.ge.
ACCOMMODATION: Booking.com is the most widely used platform in Georgia. Use it to find family guesthouses, private apartments, hostels and hotels around the country.
CAR HIRE: Find a great deal on a rental car in Georgia – use the Local Rent website to book through a local agent (prices start from $20/day).
DAY TRIPS & CITY TOURS: Use Viator or Get Your Guide to browse a range of day trips and city tours. For off-beat programs, I recommend Friendly.ge (use the promocode wanderlush for 10% off). For in-depth day trips to Georgia's wine regions, I recommend Eat This! Tours (use the promo code wanderlush for 5% off).
PRIVATE TRANSFERS: GoTrip.ge is a terrific service for booking a private professional driver and car for the day. Use it for A-to-B transfers, a customised round-trip itinerary, or a multi-day trip. You can stop wherever you like for as long as you like without the fixed price going up.
NEED SOME HELP?: Need feedback on your itinerary or personalised travel tips? I offer a one-on-one consultation call service for Tbilisi and Georgia. More information and bookings here.
---
You might also be interested in…