A must-read for anyone who's planning to visit Kazbegi. This comprehensive travel guide to Kazbegi (Stepantsminda) is up-to-date and accurate for 2022. It includes the best things to do in Kazbegi, top restaurants and accommodations, a 3-day Kazbegi itinerary and map, plus essential tips to help you plan your trip.
Want offline access to this guide without the ads? Click here to sign up for my monthly newsletter and I'll send you a free PDF →
I'll never forget the first time I rolled into Kazbegi on board a clunky marshrutka van. My jaw had been on the floor for the entire drive up from Tbilisi. Just when I thought the scenery couldn't get any more picture-perfect on that crisp May day, Mount Kazbegi – 'The Bride' as she's known to locals – cast off her veil of fog, and… Wow.
The Georgian Military Highway, Georgia's most spectacular road. Gergeti Trinity Church, the country's most iconic place of worship. The Greater Caucasus, Europe's most impressive mountain range. And the snow-capped crest of Georgia's third-highest peak. These are the things that make Kazbegi a one-of-a-kind destination.
I'm no mountain climber, but the easy hike up to Gergeti is easily one of my top 5 experiences in the Caucasus and reason enough to visit Kazbegi. Beyond the trekking opportunities, this is a good place to unwind, drink in mountain views, fresh air, and indulge in hearty mountain cuisine.
And the best thing? Kazbegi is the closest mountainous area to Tbilisi, relatively fast and easy to reach in under 4 hours by road. If you're planning a quick Georgia itinerary that starts in the capital, a side trip to Kazbegi is a must-do. If you're designing a longer journey around the region, Kazbegi is a welcome addition.
I've been back to Kazbegi countless times since my first visit. Living in Tbilisi, I've had a chance to see the landscape in every season. My Mega Kazbegi Travel Guide brings together all my knowledge about the area to answer commonly asked questions and offer you insider travel tips. I'll show you the best things to do in Kazbegi and the surrounding area, where to sleep and eat, and offer my recommended 3-day Kazbegi itinerary with a map you can save for later.
Note: This guide focuses on the town of Kazbegi plus the surrounding area – that is the mountainous zone north of Jvari Pass to the Russian border, west to Truso Valley and east to Sno Valley. It does not include places further south along the Georgian Military Highway such as Ananuri or Gudauri. For detailed information about where to stop on the way to Kazbegi from Tbilisi, refer to my Guide to the Georgian Military Highway.
---
Please note: This post contains affiliate links, meaning I may earn a commission if you make a purchase by clicking a link (at no extra cost to you). Learn more.
---
Kazbegi Travel Guide contents – 21 things to know before you go
---
Where is Kazbegi?
Kazbegi is located in the far-northern part of the Republic of Georgia, around 12 kilometres shy of the Russian border and almost directly due north of the capital city, Tbilisi. It lies within the historical Khevi province, which is now part of Mtskheta-Mtianeti region.
The distance from Tbilisi to Kazbegi is 155 kilometres or 96 miles.
Tbilisi and Kazbegi are linked by a single road, with the famous Georgian Military Highway bridging the most scenic, high-altitude stretch. On average it takes 3-4 hours to travel between Tbilisi and Kazbegi by road depending on the vehicle, traffic and weather conditions.
---
Wait a minute – is it Stepantsminda or Kazbegi?
This certainly confused me on my first visit to Georgia! The names 'Stepantsminda' and 'Kazbegi' seem to be used interchangeably. The official name of the municipality is Stepantsminda, and this is how you'll see it referred to on maps. In practice, however, most people refer to the townlet (and the surrounding area) as Kazbegi.
The original name, Stepantsminda, means 'Saint Stephan' and comes from the Orthodox monk who constructed a hermitage at this location in medieval times. When Georgia was part of Imperialist Russia, the settlement was given its new moniker as a tribute to the local lawmaker. In 1925, the Soviets officially changed the name to Kazbegi.
In 2006, the name was reverted back to Stepantsminda. Despite the Soviet overtones, many people continued referring to the area as Kazbegi. For simplicity's sake, I use the same name most Georgians do.
The mountain peak that looms above the town also goes by two names: Mount Kazbek and Mount Kazbegi. In Georgian, the mountain is called Mkinvartsveri, which means 'Glacier Peak'. Among locals, it's nicknamed The Bride because the mountain 'face' is often hidden behind a veil of fog!
Is Kazbegi worth visiting?
Whatever name you call it by, I think we can all agree that this is one of Georgia's most picturesque destinations. Dare I say it's one of the most beautiful places in the entire region – maybe in all of Europe. As an Australian who had never seen 'real' mountains before coming to Georgia, this landscape left a huge impression on me. In my eyes, it's even more impressive than Svaneti.
Kazbegi is an extremely popular destination both among foreign tourists and for Tbilisians who come up from the city for the weekend and for holidays. As a result, infrastructure is pretty good – but the downside is that the town does have a bit of a 'touristy' feel that some people might not like.
In my opinion, the pros far outweigh the cons. Here are just a couple of reasons why I recommend you visit Kazbegi.
It's very easy to get to from Tbilisi, especially compared to the more remote mountain regions that require a full day of driving. You can easily get up to Kazbegi from Tbilisi in a couple of hours, making this a great option if you're on a tight schedule.
It's accessible year-round. Unlike Tusheti and parts of Upper Svaneti that close off and empty out during winter, Kazbegi is an all-season destination. The Georgian Military Highway is one of the region's main freight routes and currently the only land link with Russia. So to keep the trucks rolling, the road is maintained year-round. The stretch of highway between Gudauri and Kazbegi is prone to avalanches in winter so road closures do happen occasionally, but this rarely lasts for more than a day.
Last but not least, Kazbegi is home to the majestic Gergeti Trinity Church, which is reason enough to book a trip! No matter your travel style or interests, this is a must-see in Georgia.
If you're looking for well-trod hiking trails, spectacular mountain views and a breath of fresh air all within close proximity of Tbilisi, then there's no better option than Kazbegi. If you're looking for solitude, an off-the-beaten-track feel and more remote trekking routes, then another of the mountain regions (such as Racha) might be more your style.
---
Being a responsible traveller in Kazbegi, Georgia
Kazbegi is a small municipality of less than 4,000 people. As with many rural areas in Georgia, poverty and unemployment are issues that many people face.
It only takes a short walk around Kazbegi to understand that this is a modest community where many people rely on agriculture to get by. The European Union and Czech Development Agency currently have a project in Kazbegi to alleviate poverty and help families start their own small businesses. You'll notice NGO or embassy logos on the front of some shops and restaurants that have received a grant.
I don't say this to put a downer on your trip, only to remind you that beyond the fancy restaurants and chic lodges, Kazbegi is a real community with real issues. Tourism has undoubtedly been a helping hand for many families, but it's not without its downsides.
Support small and locally owned businesses, and spread your money around. Be respectful when interacting with people, especially when taking photos. And be equally cognisant of the pristine environment – don't litter, and avoid single-use plastics.
When is the best time to visit Kazbegi?
There is no bad time to visit Kazbegi, apart from the rare occasion in winter when the roads are closed and the town is unreachable. I've been lucky enough to visit Kazbegi in every season and it's amazing how much the landscape and the feel of the place changes throughout the year.
Generally speaking, I think the best time to visit Kazbegi is in late spring (late May/early June) or in late summer (late August/early September). Here is a very broad overview of what to expect from the different seasons.
Kazbegi in spring
Kazbegi sits at an elevation of 1,740 metres, thus spring arrives a little later than it does in Tbilisi. Snow often continues to fall into April and even May, while average daytime temperatures hover around 10-15 degrees Celsius. Some days bring brilliant sunshine, others gusting winds and thick fog. So come prepared for anything!
When I recently visited in late March, there were still traces of snow and ice on the trail up to Gergeti Trinity Church. The landscape was quite dry and brown. On my visit in late May, the weather was near perfect – crisp and clear, with a green tinge to the hills and the first wildflowers budding. But May is the wettest month on average in Kazbegi so I might have just got lucky.
As with most places, the warmer weather and sunshine brings good vibes to Kazbegi and the town has an upbeat feel. Some restaurants and cafes that close over winter might not re-open until summer so always have a backup plan.
Kazbegi in summer
Summer (especially July/August) is peak tourist season in Kazbegi. Temperatures are still relatively mild, with average highs during the day of 22 degrees Celsius. These months are far less rainy and the days are longer, which makes summer the best time for trekking. Nights are cool even in the middle of July so always pack a jacket.
In summer, the landscape is green and some of the hills are covered with wildflowers. The highest peaks remain snow-capped so you still get those iconic mountain vistas.
The downside of Kazbegi in summer is that it does get crowded, especially on weekends. Accommodation prices at some hotels go up with the increased demand, and it can be hard to get a seat in the van to/from Kazbegi (although drivers do put on extra services). Don't even think about showing up for lunch at Rooms on a summer weekend without a reservation.
Visit Kazbegi in fall
Temperatures start to drop around September and by late October, it's decidedly chilly. I visited Kazbegi in mid-September and thought the temperature was near perfect. However, the air was quite thick and visibility was limited.
Kazbegi doesn't have the typical autumn foliage you see in Racha, so it's not the best destination for fall colours.
Kazbegi in winter
Winter is low season in Kazbegi so you'll find the town is a lot quieter than at other times of year. Some businesses close, but the majority of guesthouses and restaurants remain open for tourists.
In Stepantsminda, daytime temperatures hover around 0-5 degrees from December through to March. Nights are bitterly cold in January especially. The further out (and up) you go, the colder it gets.
Snow is common throughout the winter months and hiking is not recommended. The access points to Truso Valley and Sno Valley are usually off-limits until June/July. Generally speaking, winter is better suited to relaxing indoors. You can still get up to Gergeti Trinity by SUV.
Keep in mind that mid-December through to April is ski season in nearby Gudauri so the road is busier at this time. Every winter, the highway between Gudauri and Kazbegi closes a handful of times due to avalanches. It usually gets cleared pretty quickly but in winter 2020/21, Kazbegi was cut off for several days on a couple of occasions. When this happens, it might be possible to bypass the closed section of road using the ski lift to travel between Gudauri and Kobi.
---
How many days in Kazbegi?
I recommend spending at least two nights in Kazbegi so that you have one full day to hike up to Gergeti Trinity Church. Remember that Kazbegi is often foggy and overcast so if you want to hedge your bets against the weather, add an extra day to your itinerary just in case.
Kazbegi itself is quite small but there is quite a lot to see and do in the area. You could easily stay for longer – especially if you're into hiking. Sno Valley and Juta, the Truso Valley and Dariali Gorge can all be visited from Kazbegi, so you could plausibly make this your base for a 4-5 day stay in the mountains.
Later I'll share my recommended 3-day itinerary for Kazbegi.
---
Can you visit Kazbegi as a day trip?
Yes, it's possible to visit Kazbegi as a day trip from Tbilisi. I highly recommend you stay overnight – but if a day is all you have, then a day is better than nothing! It's not viable to hike up to Gergeti Trinity on a day trip, so you will have to visit the church by SUV.
There are two ways to do this: Either by joining a private or group tour, or by booking a round-trip transfer with GoTrip.ge.
Kazbegi day tours
There are a range of day tour itineraries available from Tbilisi for different budgets and interests. I recommend using Get Your Guide to book your tour – companies are vetted and reviewed, their online booking and payment system is secure, and there's a generous refund policy if plans change.
Here are a couple of my favourite Tbilisi Kazbegi itineraries.
Kazbegi, Gergeti & Ananuri Private Tour: 10 hours duration, includes hotel transfers, a private guide, several stops along the Georgian Military Highway & the SUV up to Gergeti Trinity. This is my top choice. Book here →
Kazbegi Full-Day Group Tour: 11 hours duration, includes several stops on the highway & Kazbegi. Does not include the SUV to Gergeti Trinity or lunch. This is a good option for budget travellers. Book here →
Full Day Mtskheta & Kazbegi with Gourmet Lunch: 10 hours duration, includes hotel transfers, a guide, stops at Jvari & along the highway, visit to Gergeti Trinity by SUV & lunch at Rooms Hotel. This is a great option if you want to combine Mtskheta & Kazbegi into one day. Book here →
Day trip to Kazbegi with GoTrip.ge
This option involves travelling with a private car and driver, not a guide, and is thus better suited to independent travellers. Just as you can book a one-way transfer to Kazbegi from Tbilisi with GoTrip, you can also organise a round-trip itinerary.
I love GoTrip and I use it all the time in Georgia. Think of it as a long-distance Uber. Drivers and cars are vetted, prices are fair (and fixed – so you never have to negotiate), and you can stop whenever and wherever you want as long as you finish your trip within a 24-hour window.
You can either go straight to Kazbegi, or you can make the most of it and add in stops along the way. As an example, this itinerary I designed for Tbilisi – Ananuri – Pasanauri – Gudauri – Dariali – Kazbegi – Tbilisi starts from just $35 per car.
Visit the GoTrip.ge website and use their itinerary planner to create your own day trip itinerary →
---
Is Kazbegi expensive?
Because of its popularity, accommodations are a touch more expensive in Kazbegi than in some other parts of Georgia. (Although not nearly as pricey as Gudauri.) Food costs are comparable with any other town of the same size.
Prices go up slightly in summer and on weekends/holidays, while you can find some great deals during shoulder season.
Example travel costs for Kazbegi for 2 people
Private transfer to Kazbegi with GoTrip: 120 GEL
SUV to Gergeti Trinity: 30 GEL (15 GEL pp.)
Transfer to Juta or Truso with Mountain Freaks (2-way): 80 GEL (40 GEL pp.)
Marshrutka to/from Tbilisi: 26 GEL (13 GEL pp.)
Room in a mid-range hotel or guesthouse: 120 GEL
Cheap bakery breakfast: 4 GEL
Coffee & cake at a cafe: 14 GEL
Lunch at Rooms: 50-60 GEL
Dinner at a local restaurant: 20-25 GEL
Total budget for 3 nights in Kazbegi: Approx. 775 GEL (245 USD) for 2 people.
This includes accommodation in a mid-range hotel, a one-way transfer from Tbilisi with GoTrip and a marshrutka back, plus 3 meals a day. You could easily save some cash by staying at a guesthouse that provides breakfast, eating at local restaurants, and using marshrutka vans to travel both ways.
Is there an ATM in Kazbegi?
Yes, there are several ATMs in Kazbegi plus a Liberty Bank branch on the main street (just north of the police station). I usually use the Liberty Bank ATM opposite Ska supermarket. There is a currency exchange office near Hotel Stancia opposite the bus station – but I highly recommend withdrawing GEL directly rather than changing money.
Some guesthouses and many of the smaller restaurants in Kazbegi do not accept credit or debit cards. Make sure you have enough cash on you to cover your accommodation, marshrutka tickets and other incendiary purchases.
---
Is there WIFI in Kazbegi?
Yes, all guesthouses and hotels (and most restaurants/cafes) in Kazbegi have free WIFI for guests. The quality of the connection varies from place to place. In general, the further you are from the centre of town, the spottier the coverage.
If you're a visitor looking to use maps, access your email and social media, the hotel connection will suffice. If you're a remote worker and you need stable internet, you should stay somewhere central and purchase a mobile data package just in case.
Magti has great coverage in Kazbegi town and as far afield as Gergeti Trinity. I recommend their 5 GEL unlimited weekly data package. Even if you're visiting Georgia for a short period, I still recommend buying a local sim – it's cheap and easy to set up. There is no Magti office in Kazbegi so make sure you get yourself sorted before you leave Tbilisi. Use the Magti app to top up when you're on the road.
If you're trekking further into the mountains or to Sno or Truso, you will need to download maps for offline use through Maps.Me or similar.
---
Other useful services in Kazbegi
Here are a few other services that might come in handy (you can find the exact locations on my Kazbegi Map).
As mentioned, there are several ATMs in Kazbegi. I usually use the Liberty Bank ATM on the main street.
There are several small grocery stores in town. The best range of products is available at Market Ska on the main street.
Next door to Ska, you'll find a popular local bakery that sells fresh Shoti bread and delicious Khachapuri. Perfect for an early morning or pre-bus snack.
There is a small pharmacy located inside a row of shops set back from the road near Ska, and a second larger pharmacy opposite the same supermarket next to the ATM. Both carry essentials (bandaids, panadol, etc.) but for any prescription medications or specialty products, make sure you bring your own from Tbilisi.
In case of emergency, there is a 24-hour medical clinic at the southern end of the main street, opposite the police station.
You can get a PCR test in Kazbegi at Synevo Lab on the main street.
---
Staying safe in Kazbegi
Like the rest of Georgia, Kazbegi is a very safe destination for tourists overall, provided you exercise common sense. There are a couple of specific things to be aware of.
Dogs in Kazbegi
Kazbegi has lots of dogs. Lots and lots and lots of dogs. Majority of the pups in town are either indifferent or affectionate towards humans. If you go hiking up to Gergeti Trinity, especially in the early morning, you will surely pick up a friendly trail dog to accompany you. Just be aware that when these street or family dogs start to wander into other dogs' territory, brawls often ensue.
Shepherd dogs are another story. If you encounter a large dog guarding animals or protecting a property in the hills above Kazbegi, exercise extreme caution and call out for help if you feel threatened.
Traffic & road safety
The Georgian Military Highway runs right through the centre of Kazbegi. It's often very busy with large freight trucks. Be extremely careful when crossing the main road as trucks often hurtle through at high speed. I really hate the heavy traffic in Kazbegi and the noise pollution and dust it brings. I can't imagine what it's like to live so close to such a busy road.
The backstreets are a lot quieter, but you should still exercise caution around traffic. When travelling to and from Kazbegi, I highly recommend you avoid being on the road after dark.
Staying safe when hiking in Kazbegi
Exercise common sense when it comes to hiking – pack the proper gear, bring plenty of water and snacks (although you can usually find a natural water spring to fill up your bottle), make sure you have a map, and let someone such as your guesthouse host know where you're going and when you're expecting to return.
This article provides more information about Kazbegi's mountain rescue service, which is active during trekking season.
---
What to pack for Kazbegi
This being a rural area, I recommend dressing a bit more conservatively in Kazbegi. There are no hard and fast rules, but personally I would not feel comfortable wearing a short skirt (the weather doesn't really lend itself to short skirts anyway). Even if you're visiting in summer, remember to bring something warm for the evenings. A lightweight jacket is ideal.
Gergeti Trinity is an active place of worship with a strict dress code. Both men and women need to wear long pants/a skirt and have their shoulders covered. Women also need to cover their hair. There are apron skirts and scarves available to borrow at the entrance, but for ease and hygiene, I recommend dressing in appropriate attire and carrying your own lightweight scarf if you're a woman.
For the Gergeti Trinity Church hike, good joggers will suffice. Sun protection gear (a hat and sunscreen) is a must, as is a reusable water bottle.
If you're thinking of skiing or snowboarding in nearby Gudauri, you can hire gear (skiis, poles, helmets and boots) from a shop when you arrive. I recommend AviatorSki – they carry good-quality equipment and staff are very friendly.
For more tips, see my Georgia Packing Guide →
---
How to get to Kazbegi from Tbilisi
There are several ways to travel between Tbilisi and Kazbegi. When deciding on your transport method, keep in mind that the Georgian Military Highway is considered to be one of the most dangerous roads in Georgia.
Everyone has a different appetite for risk. Personally, I have done this trip by marshrutka, by shared taxi, by private car and on a tour bus – and I have come to the conclusion that I would much prefer to avoid marshrutka vans whenever possible, especially on the way down.
If you're trying to get to Kazbegi from a different place in Georgia, it's usually necessary to transit through Tbilisi first. The exception is if you're coming from Kakheti/Pankisi Valley, in which case you can take a shortcut if travelling by private car. I'll explain this in more detail in the onward transportation section.
Private transfer with GoTrip
If you want to experience all the glory of the Georgian Military Highway and feel safe while doing it, then I highly, highly recommend you pay a bit extra and get a driver for at least one leg of the trip.
GoTrip is a Georgian service that allows you to book a car and driver for a full day. The price is fixed in advance, and you can stop whenever and wherever you want. This example itinerary I designed for Tbilisi – Ananuri – Pasanauri – Gudauri – Dariali – Kazbegi – Tbilisi starts from just $35 per car.
Visit the GoTrip.ge website to book a car →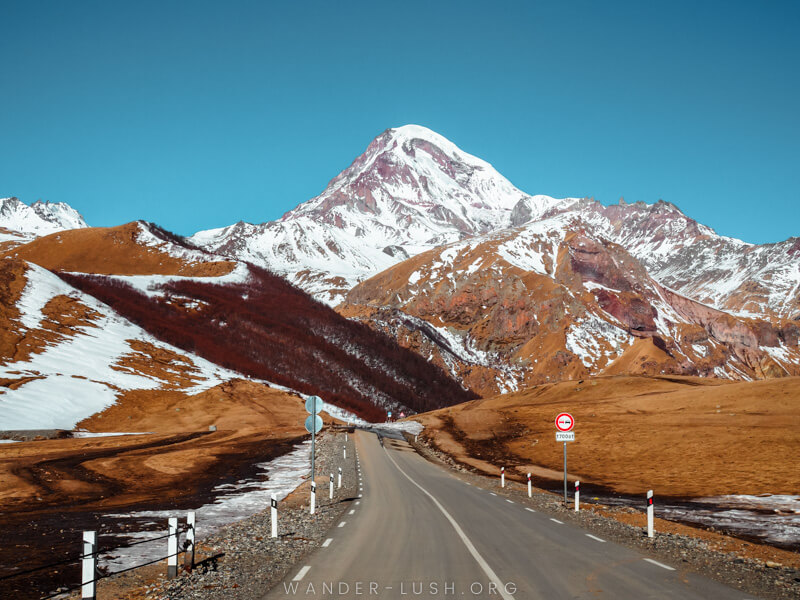 Marshrutka from Tbilisi to Kazbegi
If you're on a budget, there are regular marshrutka vans, 'tourist' vans that make a few short photo stops on the GMH, and shared taxis to Kazbegi. These all depart from Didube Station. For up-to-date travel times, fares and other travel tips, see my full guide to travelling from Tbilisi to Kazbegi.
A word of caution: Marshrutka vans tend to take the road very fast and it can be quite scary. Regular marshrutkas make a single pitstop on the way up and down at this rest stop.
Self-driving to Kazbegi
I do not recommend driving your own car to Kazbegi. The road is dangerous, the trucks are constant, the overtaking is next-level, and weather conditions can change on a dime. You're much better off going with an experienced driver who understands the roads.
Having said that, it can be done. Read up on my tips for driving in Georgia here.
What is the road like?
The road up to Kazbegi is long and winding in parts. If you suffer from motion sickness, have your medication on hand. As mentioned, some drivers take the bends really fast and it can be nail-biting, especially when you're squished into the back of a crowded marshrutka.
Where to stop along the way
The Georgian Military Highway is a destination in itself. It might be dangerous but it's also incredibly beautiful – maybe even more beautiful than Kazbegi! This is another reason I recommend hiring a driver and taking the trip at a slow pace.
There are a dozen or so places to stop along the highway, including the popular Ananuri Fortress, the Russia-Georgia Friendship Monument, and Gudauri. There are plenty of offbeat attractions too, such as the Giant Stone Heads near Sno village.
Read my full guide to the Georgian Military Highway and 9 must-see places to visit between Tbilisi and Kazbegi →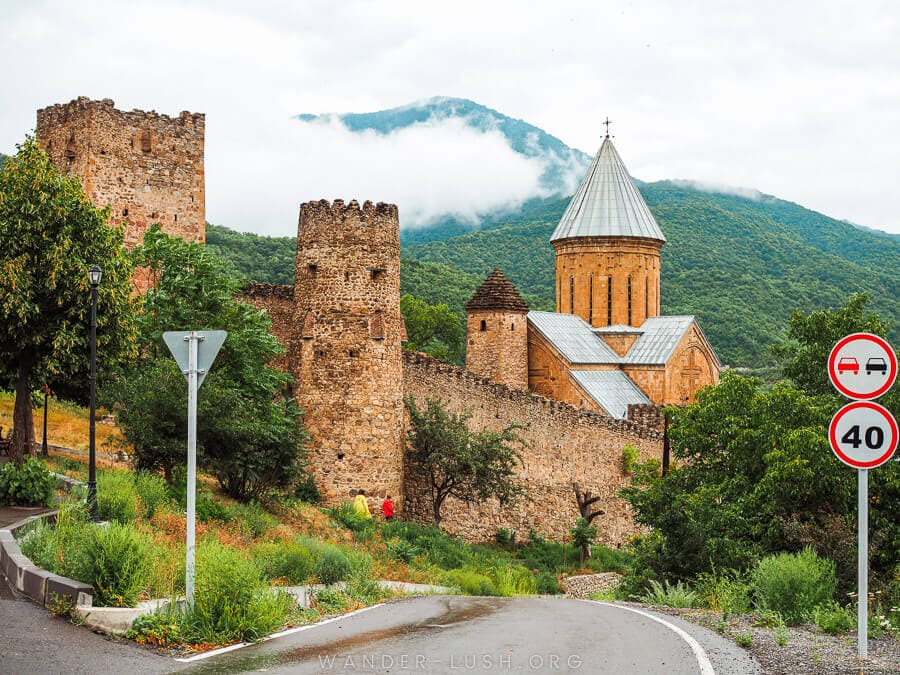 Leaving Kazbegi
To get back to Tbilisi from Kazbegi, you can either pre-book a GoTrip car to pick you up from your hotel or take a marshrutka/shared taxi. The latter depart from the small bus station on Kazbegi's main street (see the exact location here).
Tickets cannot be purchased in advance. If you're travelling during summer, you can try asking your guesthouse to phone ahead and save you a seat – but this might not be possible. I recommend aiming for one of the earlier vans at either 7am or 8am as these tend to be less crowded. Avoid the later vans that arrive back in Tbilisi after dark.
For fares and travel tips, see my Kazbegi-Tbilisi transport guide →
Where to stay in Kazbegi
Majority of accommodations in the Kazbegi area are located in town. Kazbegi is set over a valley and two steep hills, each with different views, and its own pros and cons.
If you're keen on sampling Kazbegi's best restaurants and you want to be close to transport then I recommend staying in town on the eastern bank of the river. If mountain views are a priority (and you don't mind a short hike at the end of each day), go for a place on the hill above Stepantsminda. And if you plan on trekking and you want to be close to the church/glacier trailhead, stay in Gergeti village on the upper western side of the river. This will cut a good 30 minutes off your hike time.
Here is a shortlist of my top accommodations in Kazbegi.
Where to stay for the best mountain views
Rooms Hotel Kazbegi (boutique hotel): One of Georgia's best hotels, featuring boutique rooms, stylish lounges, a terrific restaurant & postcard-perfect views of Gergeti Trinity. → Check rates & availability here on Booking.com.
Kazbegi View (cabins): Self-contained A-frame cabins with a kitchen & private deck. → Check rates & availability here on Booking.com.
Hilltop Kazbegi (mid-range hotel): Modern lodge-style hotel with comfortable doubles and triples, modern bathrooms & cosy common areas. → Check rates & availability here on Booking.com.
Where to stay in town
Intourist Kazbegi (boutique hotel): Gorgeous boutique rooms decorated with retro posters, a beautiful lounge and restaurant & a huge mountain-facing deck. → Check rates & availability here on Booking.com.
Hotel Stancia (mid-range hotel): Scandi-chic suites & an excellent onsite restaurant that overlooks the river. The location opposite the bus station is very convenient. → Check rates & availability here on Booking.com.
Ketino's Home (guesthouse): Clean, modern rooms with en suites and private balconies, great views & an excellent onsite restaurant. → Check rates & availability here on Booking.com.
Camp at Kuro (campground): Budget-friendly rooms & camping facilities close to town. → Check rates & availability here on Booking.com.
Where to stay if you're hiking
Red Stone (guesthouse): Comfortable family-style guesthouse with large rooms, spectacular views across the valley & one of the best breakfasts in Kazbegi. → Check rates & availability here on Booking.com.
Kazbegi Cabins (cabin): Designer chalet with a loft-style sleeping area & floor-to-ceiling windows for breathtaking mountain vistas. → Check rates & availability here on Booking.com.
Where to stay outside Kazbegi
Fifth Season Cabin (Juta): Private rooms set in a classic mountain lodge near the village of Juta, 20km from Kazbegi. → Check rates & availability here on Booking.com.
Zeta Camping (Juta): Budget friendly campground and hostel-style guesthouse close to hiking trails around Juta and Sno Valley. → Book via Facebook.
For more recommendations, view my full Kazbegi accommodation guide →
---
How to get around Kazbegi
The centre of Kazbegi town is quite walkable provided you have the right footwear to tackle the steep and uneven streets. Taxi apps such as Bolt do not work in Kazbegi, so you'll need to use local taxis for longer distances. Remember to always settle the fare before you get in.
To get up to Gergeti Trinity Church by road, you will need to charter a Delica SUV. See the next section for more details.
To travel beyond Kazbegi/Gergeti, I recommend using the transfer service provided by travel agency Mountain Freaks. They operate daily buses to Juta, Dariali and Truso Valley during the summer season (April 15 to October 31). Return tickets cost 40 GEL per person. See the full schedule and make a reservation here.
---
How to visit Gergeti Trinity Church
When you arrive in Kazbegi, your first priority should be getting up to visit the church. There are a couple of different ways to reach Gergeti Trinity, the most popular being by road (around 20 minutes one-way) or by hiking (2-3 hours return).
The best part of Gergeti Trinity in my opinion is not the church at all – although it is very cute – but rather the views of Kazbegi from the yard and the views of the church itself from afar.
One of the main advantages of hiking is getting to see the church and mountains from different perspectives on your approach. If you go by foot, you can spend as long as you like at the top without having to worry about getting back to your driver.
Tip: If you're visiting Kazbegi on a day trip from Tbilisi, transfers to and from Gergeti will often be included in your itinerary. Some operators charge extra so be sure to check before you book.
SUV taxi to Gergeti Trinity
In Kazbegi there is a fleet of white Delica SUV taxis that exist for the sole purpose of ferrying people to and from Gergeti. You can find them all around town, but the easiest place to flag one down is near the bus stop, in front of Hotel Stancia.
The standard price to go up and back (including around 30 minutes wait time at the top) is 15 GEL per person. The more people you have, the cheaper it is, so it pays to pair up with other travellers. If you want to hire the whole car, prices range from 50-70 GEL on average. Approximate travel time is 20 minutes each way.
Tip: In recent years, significant improvements have been made to the road. It's now fully paved so that even a standard sedan can manage it. But when the road opened to regular traffic and people started driving themselves up, there was a dispute with the Delica drivers who effectively lost their monopoly on the route overnight. It's an unspoken rule, but it's the status quo to go with a Delica driver.
Update (autumn 2021): Part of the 'good' Gergeti serpentine road that washed away in summer is still undergoing repairs. The church is currently only accessible via the second 'less good' road that requires a Delica car.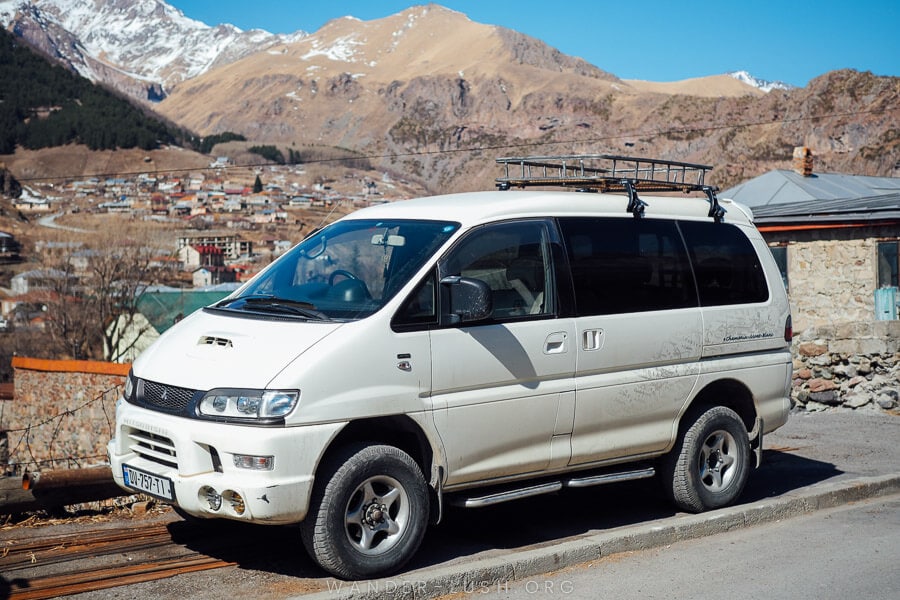 Hiking to Gergeti Trinity
This is far and away my favourite easy hike in Georgia. But – it's crucial to follow the correct trail, otherwise you'll end up on a steep shale path that's extremely unpleasant!
The trail I found follows a gentle incline and approaches the church from the back, so you get fantastic views all the way up. View my full instructions for finding the trailhead and navigating the path here.
Tip: The church gets crowded in the late morning and afternoon so I recommend visiting as early as possible. Whenever I hike up I leave Kazbegi at 7 or 8am to reach the church before the SUVs start running. In the morning in summer, the sun will be behind you so you can get great photos of the church and Mount Kazbegi.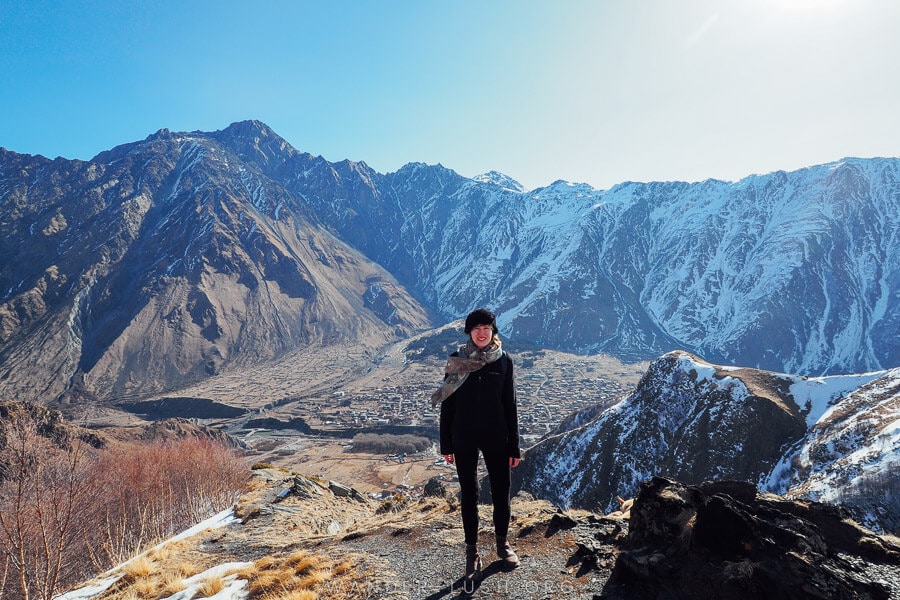 Other things to do in Kazbegi
There are a few other Kazbegi attractions aside from Gergeti Trinity Church that I recommend you check out while you're in town. These places can all be reached by foot.
Gergeti Glacier
I have never been further than Gergeti Trinity Church, but – if you want to keep hiking, you can quite easily continue to Gergeti Glacier. The glacier trek takes 8-9 hours in total so it's best to get an early start from Kazbegi. Bring plenty of drinking water, download a map, and make sure you have the appropriate gear.
Lunch on the terrace at Rooms
Now this is more my style. I mentioned Rooms earlier as an accommodation option – even if you're not staying here, it's still worth coming up for lunch so that you can enjoy the mountain-facing, sun-drenched terrace. The menu is reasonably priced and features light salads, burgers and sandwiches.
The views are incredible and the interior of the hotel lounge is gorgeous too. Pop in for a gander, staff don't mind. Just note that the walk up the hill from town is a bit of a hard slog!
Ioane Natlismcemeli
For more spectacular mountain views, this petite monastery is located on a hill behind Rooms. It looks directly over the town and onto Gergeti Trinity on the opposite side of the valley.
It takes around 45 minutes to reach the church by foot from the centre of Kazbegi. Be prepared for a short but sharp incline.
Things to do around Kazbegi – hiking trails, mineral pools & more
The valleys and mountains around Kazbegi hold plenty of other treasures. Here are more places to visit further afield.
Pansheti Mineral Pools
Located 2.5km south of Kazbegi centre on the western side of the river, this open-air 'swimming pool' is fed by natural mineral springs. The water is cold, crystal clear and looks to be quite clean, while the mountain backdrop is simply stunning.
There isn't much infrastructure in the area at the moment, so no toilets or changerooms. A Tbilisi-based firm is working on a new Pansheti pool, which should be complete by 2022. The architect's plans are pretty neat.
The pools are a 30-40 minute walk from the centre of Kazbegi via a flat path that follows the river. Alternatively, you can take a taxi and get there in 5 minutes.
Tip: If you're a fan of sulfur pools, make sure you check out the sulfur geyser in Vani (south of Kutaisi).
Dariali Gorge & Archangel Monastery Complex
In the opposite direction, further towards Russia, Dariali Gorge is a steep mountain cleft that runs for almost 20km between Kazbegi and the border. This is one of the most visually impressive landscapes in the area. The jagged rock is a total contrast to the lush green Jvari Pass you cross to get into Kazbegi from the opposite direction.
There are various trails and lookout points in the area. Dariali Monastery Complex (AKA the Archangel Monastery Complex) is nestled beneath the mountains on the eastern side of the river gorge and is absolutely magnificent.
Mountain Freaks runs a daily bus to Dariali departing at midday and returning to Kazbegi at 3.30pm. If you're coming up to Kazbegi in a car, I recommend overshooting the town and visiting Dariali first.
Gveleti waterfalls
The Gveleti waterfalls are located in Dariali Gorge, before the monastery. There are two falls – one big, one small – that can both be reached via an easy one-hour-ish hike from the highway.
The small waterfall is a bit more hidden and so less busy, but you'll usually find lots of tourists here in the warmer months.
Zakagori Fortress (Truso Valley)
Zakagori Fortress is located in the Truso Valley, roughly 75 minutes from Kazbegi by car. You can either hike to the fortress from the main highway or take a 4WD all the way up. Mountain Freaks runs two daily cars to Truso in summer. More information and reservations on the website.
Note that that fortress is very close to the South Ossetia demarcation. Border guards are present and it's a requirement to carry photo ID (your passport) with you at all times.
Sno village Giant Stone Heads
This quirky 'open-air sculpture museum' is located at the entrance to Sno village on the way to Juta, south-east of Kazbegi. Half a dozen gigantic stone heads dot the landscape, each one carved in the image of a great Georgian writer, poet or leader.
The sculptures are a 9-minute drive from Kazbegi.
Juta
This village in the Sno valley is a popular base for trekking, including the Chaukhi Pass route. As well as providing accommodation to multi-day hikers, Fifth Season Cabin also serves lunch to day visitors.
Fifth Season is around 35 minutes by road from Kazbegi. Mountain Freaks runs two vans to Juta at 9am and 11am daily. Visit the Caucasus Trekking website for in-depth information about the various trails in and around Juta.
---
Where to eat in Kazbegi: Best Kazbegi restaurants
Quick reminder that you can find all these locations pinned on my Kazbegi Map (see below).
Kazbegi Good Food: My favourite restaurant in Kazbegi, this is a no-frills family run place set in a tiny kitchen off the main road (just up from the bus station). The Khinkali, Mtsvadi BBQ and salads are all spot-on. The owners, an elderly couple, are super sweet.
Restaurant Stancia: Located on the ground floor of Hotel Stancia, this restaurant serves contemporary Georgian fare in an airy dining room overlooking the river. The Pkhlovani (Khachapuri stuffed with beetroot leaves) is a favourite of mine.
Cozy Corner: This popular restaurant by the river is usually full in the evenings – and for good reason. Classic Georgian meals are served in huge portions for a low price, and everything is extremely tasty. Outdoor seating is available in the warmer months. Don't let the big sign reading 'karaoke' put you off!
BeBa Bari: Wait times at this small restaurant are a little longer because the kitchen is only big enough for one. The menu features Khachapuri Adjaruli, Khinkali and a range of Georgian stews plus pizza. Home cooking at its best.
Lunch at Maia: The outdoor area at this small family run restaurant is very pleasant in summer. Expect typical Georgian fare and homemade wine.
Ketino's Home: The best Khinkali in Kazbegi! This restaurant has a beautiful dining room overlooking the valley. Find it on the ground floor of the guesthouse by the same name.
Wine Garden: Georgian meals plus burgers with hand-cut chips served outdoors, often by an open fire in the evenings.
Best restaurants near Kazbegi
Barbecue Kakheti (Pansheti): Located 2km south of town opposite the mineral pools, this cute restaurant serves up large portions of flame-grilled meat and juicy Khinkali from a thatched-roof dining area.
Tsanareti (Arsha): A 6-minute drive from Kazbegi, this locals' favourite in Arsha village specialises in Kubdari 'beef pie' and Mtsvadi BBQ. Expect large portions for a good price.
Restaurant Korbuda (Pasanauri): My favourite Khinkali in Georgia – and a damn good Khachapuri Imereti too. Pasanauri village (1.5 hours south of Kazbegi) is the spiritual home of Georgia's soup dumplings. Make sure you stop here for lunch on the drive up.
---
Suggested 3-day Kazbegi itinerary
Day one: Leave Tbilisi early to tackle the Georgian Military Highway, stopping off at all the points of interest along the way, including in Pasanauri for an early lunch. Bypass Kazbegi and continue to Dariali Gorge to visit the monastery and viewpoint. Once in Kazbegi, stretch your legs with a walk around town and a short hike up to Ioane Natlismcemeli for a view. Dinner at Kazbegi Good Food.
Day two: Eat a calorie-heavy guesthouse breakfast then trek up to Gergeti Trinity Church. Back in town, grab a well-deserved lunch on the deck at Rooms Hotel. In the afternoon, head to the Pansheti Mineral Pools for a swim. Dinner at BBQ Kakheti.
Day three: Spend the full day hiking around Kazbegi, either in the Truso Valley or in Juta. Use Mountain Freaks transfers to get to the trailheads or organise a taxi. If you choose Juta, stop in Sno to see the giant sculptures, in Karkucha village for a view of the glacier, and in Arsha for lunch. Dinner in Kazbegi at a restaurant of your choosing.
---
Map of Kazbegi
Click here to open my interactive Kazbegi Map on Google Maps. To save the map for later, hit the star icon under the title.
---
Where to go after Kazbegi
Pankisi Valley
Pankisi Valley lies in the upper part of the Alazani Valley in the foothills of the Greater Caucasus. Home to the Kists whose ancestors came to Kakheti from Chechnya, this is one of the most culturally unique places to visit in Georgia.
To get to Pankisi from Kazbegi without doubling back through Tbilisi, you can take a shortcut from Tianeti to Akhmeta. Part of this road remains unpaved so it's recommended to use a vehicle with high clearance.
Once in Pankisi, use Nazy's Guest House in Jokolo as a base for exploring the area's cultural landmarks and hiking routes.
Kakheti wine region
Telavi, the biggest city in Kakheti wine region, is just south of Akhmeta and can also be reached using the Tianeti-Akhmeta road from Kazbegi. From here, you can continue to Sighnaghi and explore all the wonderful monasteries, churches and vineyards Kakheti Wine Region has to offer.
Tusheti
To get to the more-remote mountain region of Tusheti from Kazbegi, you should first travel to Telavi. Experienced drivers wait in Telavi to take visitors up to Omalo. The journey takes the better part of a day.
---
Crossing the Russian border at Verkhny Lars
The Russian border checkpoint lies just beyond Dariali Gorge and can be reached by continuing along the Georgian Military Highway north from Kazbegi. It's only possible to cross by vehicle (not by foot), so if you don't have your own vehicle you will need to hitch a ride. It may also be possible to cross on a bicycle.
Depending on your nationality, a valid visa for Russia may be required. Find more information about the border crossing and visa requirements here.
---
Are you planning a trip to Kazbegi? Is there something I forgot to cover that you need help with? Feel free to leave your comments or questions below.
---
Georgia essentials
Here are some of the websites and services I use when I'm planning a trip to Georgia and the Caucasus. Remember to check out my full list of travel resources for more tips.
– Find affordable flights to Tbilisi, Batumi or Kutaisi on Kiwi.com, a booking site that mixes and matches airlines to find the best route (there's a money back guarantee if you miss a connection).

– Use iVisa to check if you need a tourist visa for Georgia and apply for an expedited visa online.

– Pre-book a private transfer from Tbilisi Airport to your hotel or from Kutaisi Airport to Tbilisi with my preferred partners at Friendly.ge.

– Get a great deal on a rental car in Georgia by using MyRentACar to find a local agent.

– Buy your tickets for the Tbilisi to Baku or Yerevan sleeper train online in advance through my partners at Geotrend (get a discount when you use the code in this post).

– Find the best Georgia hotel deals on Booking.com, book a Georgia hostel, or find a unique Airbnb.

– Find the best city tours and day excursions in Georgia.

– Compare mobile providers and pick up a local Georgian sim card.

– Order a copy of the new Lonely Planet Caucasus guidebook (published July 2020).
You might also be interested in…