21 good reasons to visit Tbilisi in winter, plus my advice for travelling to Georgia in the colder months.
With natural hot springs right in the centre of town and quite possibly the highest number of cosy wine bars and cafes per capita of any city on Earth, Tbilisi in winter is an absolute delight.
Many people visit Georgia in winter solely to hit the ski slopes. But its capital is equally suited to a winter city break.
The relatively mild climate makes Tbilisi a good place to escape from Western Europe's biting cold. An abundance of festivities and weather-appropriate activities means that Tbilisi has just as much to offer visitors during the winter months as any other season.
The first time I visited Georgia it was in late winter. My initial impressions of Tbilisi were of a city still tucked under its blanket. Sure, the skies might be a little grey and the greenery a little parched, but that doesn't detract from Tbilisi's charm (in a way, it actually adds to it).
People often have this idea that Tbilisi and Georgia is a hard, frosty place. (Maybe it's because of the Soviet history, or the profuse amount of concrete.) For the most part, this is a misconception.
Also see: Top 10+ best places to visit in Georgia in winter for snow.
When you visit Georgia for yourself, you'll hopefully notice the glowing warmth that emanates from both the people and the national spirit. That, paired with soul-warming Georgian food and wine, is enough to make even the coldest of winter days feel toasty.
My guide to visiting Tbilisi in winter will show you 21 of the city's top winter activities, plus help you prepare for a cold-weather trip to Georgia with advice on what to wear, pack, what to expect from the weather, and where to stay.
Essential reading: My ultimate list of unique things to do in Tbilisi no matter the season.
---
Please note: This post contains affiliate links, meaning I may earn a commission if you make a purchase by clicking a link (at no extra cost to you). Learn more.
---
When is it winter in Tbilisi?
Georgia is in the northern hemisphere so winter falls in December/January/February. Cold temperatures start to set in after the autumn harvest (around mid-October). Winter Solstice falls on December 21/22.
It's not uncommon for the cold weather to linger on until as late as April. Usually the first signs of spring in Tbilisi start to appear after Orthodox Easter in April/May.
How cold does it get in Tbilisi?
Winter weather in Tbilisi is fairly mild compared to some other cities in Europe. The coldest month is January, when the mercury dips to an average daytime temperature of 7°C (45°F). Nights are chilly, with temperatures falling below freezing (32°F). In December and February, temperatures hover around 8-10°C (46-50°F) during the day.
Tbilisi is located in a valley, so windchill is definitely a factor. With an icy breeze thrown into the mix, it can feel quite brisk, especially on a clear blue-sky day.
Speaking of blue skies – December and January are the driest months of the year in Tbilisi, so it's unlikely that rain will interfere with your plans. It's usually very pleasant to be out and about in the Botanical Garden or one of the city's parks on a bright winter's afternoon.
Tbilisi doesn't get particularly grey or gloomy, but the air does become thick and stagnant by February. Tbilisi has quite a serious air quality problem and has been named among the worst cities in Europe for pollution. The main culprit is nitrogen dioxide from exhaust fumes, which reaches critical levels in several districts.
It's not necessarily something you have to worry about, but it is something to keep in mind if you're planning to visit Tbilisi in winter. If you're sensitive to air pollution, you should monitor IQAir and plan your days accordingly.
All restaurants, cafes, museums, shopping centres etc. are heated and very comfortable in winter. Central heating is common in homes in Tbilisi and in other places throughout Georgia. Most guesthouses, apartments and hotels have gas heating. I've included my winter accommodation tips at the end of the post.
Does it snow in Tbilisi?
Snow in Tbilisi is an annual occurrence, but it's usually very light and never lasts more than a couple of hours. Snow usually falls in late winter/early spring. Every year there will be one or two heavy snow days like there were in 2021 and 2022.
In 2020, we had one single day of light snowfall that quickly melted away within 48 hours. It was just enough to dust Mtatsminda with a thin layer of powder – but not enough to warrant wearing snow boots or any special gear. This is typical for Tbilisi. The heavier snow in 2021/22 was quite unusual!
Winter holidays & festivals in Georgia
Here is a quick list of the main calendar dates in Georgia for winter. Note that December 25 is not a holiday – Christmas falls a week later on January 7. Some small businesses close up from December 31 until the first weeks of January, but you will always find plenty of restaurants/cafes/shops open in Tbilisi during the holiday period.
End of December: Start of the winter sports season in Georgia
Mid December-January 19: Start of Christmas lights & Christmas Markets in Tbilisi
December 31: New Year's Eve
January 1: New Year's Day (public holiday)
January 2: Bedoba (public holiday)
January 7: Orthodox Christmas Day (public holiday)
January 14: Orthodox New Year (public holiday)
January 19: Orthodox Epiphany (public holiday)
February 14: Lamproba (Svaneti)
---
Tbilisi in winter: 21 magical cold-weather activities
If Tbilisi in winter sounds like you, you'll be pleased to know there are plenty of cosy and weather-appropriate things to do in the city. Here are my top 21 recommendations.
1. Join a winter walking tour
Tbilisi is a city of details – you really need to be on street level to appreciate the many layers of beauty and history. A walking tour offers a perfect introduction to Tbilisi for first-time visitors. You'll find itineraries for every interest, from food and wine to Brutalist architecture.
Provided you're dressed appropriately, winter is one of the most pleasant seasons for a stroll. You might even see Leghvtakhevi waterfall – the waterway that feeds the sulfur baths (see the next section) – frozen solid!
In the winter months, most free walking tours depart in the early afternoon when the sun is shining. Exploring the city by foot is a great way to warm up and see all the highlights at the same time.
Insider tip: Here is a list of my top 11 recommended specialty walking tours in Tbilisi.
---
2. Warm up at the Tbilisi sulfur baths
The sulfur baths are a Tbilisi institution and a must-do for all visitors. Under the sea of brick-domed roofs in Abanotubani district you'll find an intriguing underworld of spa culture.
Going for a bath is traditionally a winter activity. That's because the sulfur waters are naturally warm, ranging from 38-40°C. It's incredible how thoroughly a short soak warms you to the bone and keeps you radiating heat for hours to come. Whether you opt for a private room (recommended) or a public bathhouse, one thing's for certain: it's going to get steamy!
Say 'yes' to a traditional kisi scrub – a lively rub down with a textured mitt performed by a professional therapist – and wave goodbye to a few layers of dead, dry winter skin.
Insider tip: Tbilisi's baths work differently to the ones in Budapest or Istanbul. For a list of my favourite bathhouses and tips for etiquette, make sure you read my complete guide to the Tbilisi sulfur baths. For natural outdoor hot springs in Georgia, see this list.
---
3. Do a Georgian wine degustation
Georgia is world-famous for its wine scene and Tbilisi is the best place in the country to sample the full line-up of regional drops. There are wine bars across the city that serve European-style wines and traditional Qvevri wines (fermented underground in a large clay vessel) by the glass or as part of a degustation.
Many of Tbilisi's wine bars are located underground inside traditional brick cellars. They are exceptionally atmospheric, romantic, and toasty-warm in winter – the perfect place to unwind after a day of sightseeing.
Georgia's wine harvest (the Rtveli) takes place in autumn (September/early October in Kakheti), so when you visit Tbilisi in winter, you'll have access to the new vintages, including the latest Saperavi semi-sweet reds and amber whites.
Insider tip: Here's where to do a professional wine tasting in Tbilisi with a sommelier. For something more casual, here are my favourite bars in Tbilisi.
---
4. Enjoy winter fare
Georgian food is a revelation. If you've never tried dishes such as khinkali and khachapuri before, prepare to be blown away. The aromatic flavours and innovative use of produce in Georgian cooking will make you re-think your definition of 'delicious'.
I don't care what time of year you're visiting, you should always plan your Tbilisi itinerary around eating. Winter is probably my favourite time to restaurant hop, firstly because so much Georgian food is tailor-made for winter, and secondly because so many Tbilisi restaurants are warm and homely.
A big part of the reason for this is Georgia's topography. Much of the country is mountainous and chilly for most of the year, which has resulted in a lot of regional dishes that are purpose-built to warm you up, body and soul. A great example is adjika, a fiery-red condiment and rub.
There are always lots of protein, dairy and carb-heavy dishes on the menu, including the notorious khachapuri. Rich stews and simple dishes like lobio (beans in a clay pot) are hearty and nourishing. Nothing beats a piping hot bowl of chikhirtma (Georgian chicken soup) on a cold winter's day.
If you're visiting around Christmas or New Year, you might get an opportunity to savour traditional festive fare such as gozinaki (a walnut and honey dessert). Funnily enough, satsivi, another popular holiday dish made with creamy walnuts and chicken or fish, is actually served cold.
---
5. Buy a Chichilaki & participate in Orthodox holiday traditions
The second country to adopt Christianity after neighbouring Armenia, Georgia has been a predominantly Orthodox nation since the 4th century. More than 80% of Georgians identify as Eastern Orthodox, which naturally means the Christmas holidays are kind of a big deal – second only to Easter in terms of importance.
Like Easter, Orthodox Christmas falls a couple of weeks later on the Julian calendar. The whole city lights up from mid-December with half a dozen different feast days and important religious holidays falling between December and January.
Special rituals such as eating Christmas foods (a few of which I mentioned earlier) are observed, and Tovlis Babua ('Snow Grandpa') – AKA Georgian Santa Claus – comes to visit. He lives in Svaneti, wears a felt coat and Svanetian hat, and carries presents in a saddle bag!
One of the most interesting Georgian Christmas traditions are these peculiar-looking Christmas trees. Known as Chichilaki, they're fashioned from the dry, shaved branches of a hazelnut or walnut trees. On January 18, Epiphany Eve, families ceremoniously burn their Chichilaki to symbolise new beginnings. I've also seen them hoisted high in the branches of trees on the streets of Tbilisi – keep a lookout!
It's traditional to give your neighbours and friends candies and chocolates during the holiday period (sweets symbolise youth and good luck), so be sure to carry some with you at all times. If you visit a Georgian family during the holiday period, it's polite to bring them a sweet something such as a box of chocolates.
Even if you don't have a religious bone in your body, the holiday season is still a wonderful time to be in Georgia.
---
6. Visit the Tbilisi Christmas Markets (December/January)
Tbilisi takes on a special vibrance during the holiday period, with elaborate light displays and festive decorations along Rustaveli Avenue and Freedom Square. The pièce de résistance is the gigantic Christmas Tree that gets hoisted up in front of Parliament every year.
Christmas villages and Christmas markets pop up in Tbilisi from the middle of December and last all the way until Epiphany in mid-January. Tbilisi City Hall's official markets are held in Orbeliani Square, Dedaena Park and on Atoneli Street. Various private markets are hosted on weekends in December by venues such as Fabrika, a reclaimed Soviet factory turned creative space.
Tbilisi Christmas Markets offer a mix of handicrafts and food. You can try special Georgian festive fare (including mulled Saperavi wine!) and shop for locally made gifts.
Inside tip: Check out my guide to the holidays in Georgia for all things Christmas and New Years related.
---
7. Watch the Alilo Parade (January 7)
Orthodox Christmas Day, January 7, is an official holiday in Georgia and traditionally a time for family. After attending midnight mass, many people join the Alilo, an annual Christmas Day parade where participants roam the streets of Tbilisi, Batumi and other large cities to collect donations and food for vulnerable families.
In Tbilisi, the Alilo starts from First Republic Square at around 1pm and finishes at Sameba Cathedral, Tbilisi's main church. Participants dress in religious regalia and beautiful costumes and sing and chant their way down the streets. Visitors are welcome to attend and observe the ritual.
The most significant date on Georgia's Christmas calendar is not January 7, though – it's December 31. This is a leftover from Soviet days when religious holidays were banned.
---
8. Ring in the New Year – twice!
If you like to party, you're in for a treat: Georgia celebrates New Year's Eve twice. New New Year (AKA International New Year) is celebrated on December 31 with the usual parties, dinners and live concerts (after dinner with the folks, of course). In Tbilisi, you'll see fireworks going off from every balcony and street corner. It's unlike anything I've seen (or heard) before in my life!
On January 1, families observe the tradition of Mkvleoba. It says that the first guest to enter your home after midnight will determine how the rest of the year unfolds – so if you happen to be invited over, make sure you bring your best candy with you (sweets are a symbol of good luck, prosperity and youthfulness).
January 2 is Bedoba, a 'personal day' where you would traditionally do something nice for yourself (hang out with friends, get a manicure) to set the tone for your year ahead.
Old New Year, marked on January 14 according to the Julian calendar, is a much more subdued affair, celebrated with a family Supra feast and maybe a few sparklers.
---
9. Climb a hill to get your heart pumping
The heart of Old Tbilisi is quite flat, but as soon as you venture beyond the centre you'll see there are hills all around the city. The best way to see Tbilisi in all her splendour is from afar. For that, you're going to need your sensible shoes.
There are viewpoints aplenty to be discovered, each with a different vantage. My personal favourite (pictured here) is from the hills above Abanotubani. To reach the lookout, you need to wind your way through suburban streets and up several sets of stairs.
The most quintessential city views are from Narikala Fortress and Mtatsminda, accessible by cablecar and funicular respectively. In winter it's usually cool enough to either walk up or down depending on your preference.
Betlemi Rise and upper Vake, above Vake Park towards Turtle Lake, are great alternatives.
Insider tip: Here's a round-up of Tbilisi's best viewpoints with directions and photography tips.
---
10. Visit a museum or gallery
When you need to escape the chill, Tbilisi has quite a few indoor attractions that are worth the ticket price. Chief among these are the state-run museums and galleries on Rustaveli Avenue. Many are walking distance from each other, so you can spend an afternoon museum hopping, stopping off at a cafe or two along the avenue as you go.
The Georgian National Museum, newly refurbished National Gallery and MOMA Tbilisi are all excellent. If you're interested in textiles and design, the State Silk Museum should be on your list. The Wine Museum is located underground in a brick cellar and is perfect for escaping the chill. And don't miss my personal favourites: The Georgian Art Palace and the Museum of the History of Georgian Medicine, both in Chugureti district (near Fabrika).
There are a range of independent art spaces in Tbilisi as well, most of them free to visit.
Insider tip: Here's a list of my must-visit Tbilisi museums and galleries.
---
11. Admire the winter produce at the Dezerter Bazaar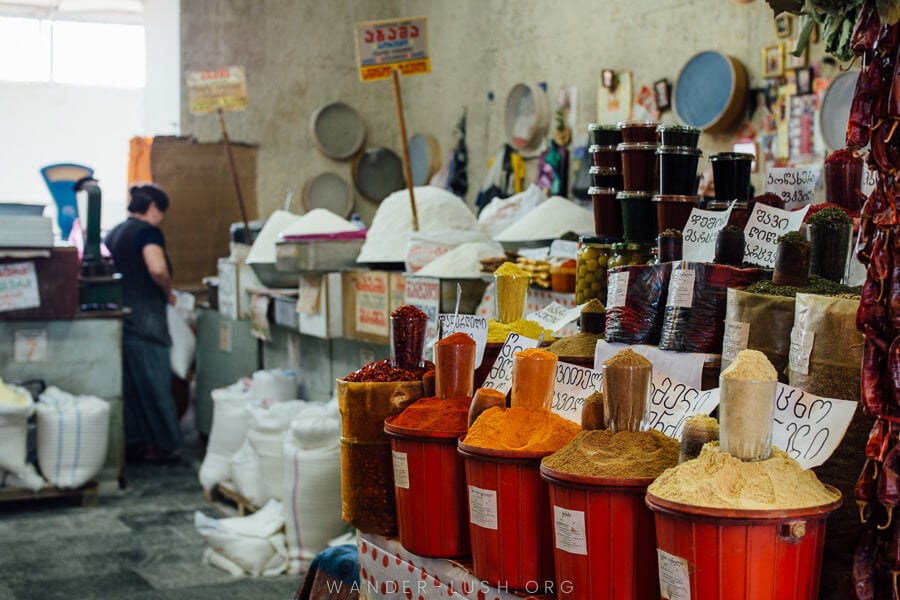 Tbilisi's Dezerter Bazaar is the city's main produce hub, a sprawling jumble of open-air and undercover stalls. Every morning, wholesalers, homemakers and restaurateurs alike descend on the market to buy up rounds of farm cheese, carved meat and fresh fruit and veg by the boxful. It's a cacophony of colour, commerce and food culture.
In spring and summer, the market overflows with vibrant fruits. In winter, I particularly enjoy browsing the indoor part of the market which takes on the character of a gigantic kitchen pantry stocked with every kind of spice and dried herb you can possibly imagine. There are plenty of dedas around, all of them inviting you to try their offerings.
Pickling and preserving is very popular in Georgia as a way to keep fresh produce in circulation during the cold months. Winter is a great time to see the most luxurious market pickles alongside apples, beats, cabbages, and other seasonal veg.
Be sure to wander around the periphery of the market, where you can find hand-knitted woollen socks and other winter crafts. There are a number of bakeries on the street outside the market where you can buy a piece of oven-fresh, still-steaming puri bread – the ideal winter snack.
Insider tip: Read my guide to visiting the Dezerter Bazaar to learn how the market is laid out and what produce you should look out for.
---
12. Try a Georgian cooking class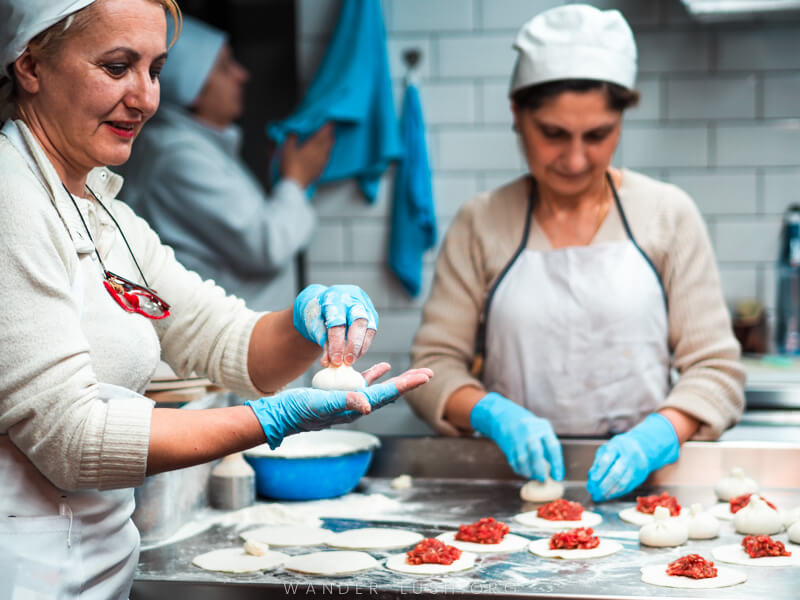 ---
13. Discover the city's hidden architecture
Quiet streets and subtle light makes winter the perfect time to photograph Tbilisi's impressive architecture. Sololaki and Old Avlabari are home to some of the most gorgeous crumbling buildings, while Chugureti, the old German neighbourhood, has its own vibe.
Gems include the former Women's Georgian Gymnasium #3, lovingly dubbed 'The Hogwarts Building', built in 1893 in the Gothic Revival style (pictured above).
Tbilisi's interiors are every bit as spectacular as its crumbling facades. If the chill bites too hard, dive through the doorway of one of the old merchant houses to drink in the exquisite frescos, spiralling staircases and marble floors constructed at the turn-of-the-century to appease the expensive taste of the city's wealthiest residents.
Insider tip: If you're unsure where to start, here is a compilation of some of Tbilisi's most iconic buildings and where to find them. If you want to explore interiors, I suggest joining a tour led by a local.
---
14. Get lost in a novel at the Museum of Books
Despite being right in the centre of the city, not many tourists know to visit the Museum of Books. On a winter's afternoon you will no doubt have the entire place to yourself – free to roam the aisles and leaf through the pages of history.
Holding more than 19,000 rare books on its bulging shelves, this is the largest literary-themed museum in the Caucasus (a nice juxtaposition to Baku's Museum of Miniature Books in neighbouring Azerbaijan). Launched quite recently in 2017, it holds a permanent exhibition of historical books, including a 17th-century manuscript of Shota Rustaveli's epic The Knight in the Panther's Skin.
At the adjacent National Parliamentary Library, you can find a table in the reading room to catch up on some work or cosy up in a corner with a good book. The thing that really makes the Museum of Books worth visiting is its ornamented interior – the detailed ceiling frescoes, chandeliers and carved staircase makes it one of the most stunning buildings in Tbilisi.
The Museum of Books is open from 10.30am until 6pm Tuesday to Friday. Entrance is free.
---
15. Lift your spirits at the Academy of Arts Mirror Halls
Another gorgeous interior in Tbilisi, the State Academy of Arts is one of the oldest educational institutions in the region. Its setting, a former private mansion that belonged to Armenian merchant Vardan Astvatsatryan Arshakuni, is beautiful beyond belief.
The highlight is the Qajar-style Mirror Halls, crafted by Persian masters who were specially brought to Tbilisi to work their magic. Back in Iran, this type of mirror work – where tiny pieces of glass are arranged in geometric patterns – was purposefully used in the home's winter quarters to increase natural light flow and bring joy to the residents on cloudy winter days. I couldn't think of a more suitable building to visit in Tbilisi in January or February!
Along with the gorgeous Golestan-style mirrors, you'll see Persian-style miniature paintings, muqarnas plaster and mashrabiya stained-glass windows. There are many similarities to the Khan's Palace in Sheki.
The Tbilisi State Academy of Arts Museum is open on weekdays from 10am until 6pm during the university semester (closed on public holidays). Entrance is free.
Insider tip: See this guide for more photos of the Mirror Halls and tips for planning your visit.
---
16. Shop for Georgian souvenirs
Beyond the usual tourist shops, Tbilisi is overflowing with sweet stores, specialty boutiques and outdoor markets where the city's artists, designers and crafters trade their goods. You won't have any trouble finding handmade and authentic souvenirs to take home as keepsakes – but you might struggle with editing your purchases down to suitcase-size.
Popular handicrafts include lurji supra (blue tablecloths), cloisonne enamelware and silver jewellery. If you do get a sunny day, browse the Dry Bridge flea market for trinkets and memorabilia.
There are plenty of independent designers and boutiques around Tbilisi too, including Funduki where you can buy these delightful hand-knitted winter slippers inspired by traditional Tushetian designs.
Insider tip: Here is a full list of my favourite Tbilisi souvenirs, with a free map to help you with your shopping in Tbilisi.
---
17. Cosy up at a cute cafe
Another thing Tbilisi definitely doesn't lack is cute cafes. Specialty coffee is becoming more and more popular in Georgia, and cafes like CoffeeLAB and Shavi Coffee Roasters (which both roast their beans on-site), Santino, They Said Books and Pulp all serve high-tech specialty brews.
A spot of cafe hopping might be just what the weather orders on a brisk winter's day. Choose between modern cafes with chic interiors like Erti Kava (pictured) and cosy cafes that personify old-world Tbilisi elegance such as Leila or Linville.
Insider tip: A few cafes open early and serve breakfast and sweets alongside hot drinks. Here are my favourite laptop-friendly cafes in Tbilisi for great coffee.
---
18. Join a Georgian tea ceremony
If you're not a coffee drinker – or if you just want to have an offbeat experience in Tbilisi – be sure to check out Bitadze Tea Shop in the historic Sololaki neighbourhood. This family-run tea merchants and museum is one of Tbilisi's best-kept secrets. It's tiny and snug; one of the most magical places to escape winter for a while.
Let Giorgi, second-generation tea connoisseur, lead you down the rabbit hole of tea history. He can even perform a tea ceremony for you using white and green leaves grown locally in Georgia's Guria region.
I never knew Georgia had a tea industry until I met Giorgi. The story of how tea first came to Georgia is a fascinating one (I'll save it for another time). Without any body to formally organise tea growers, the Bitadze family stepped in to support co-ops and promote Georgia's reputation abroad.
Browse the tea ephemera Giorgi and his father have accumulated over the years, and buy some loose leaf tea to take home.
---
19. Watch a Georgian dance performance
Georgian dance is an incredible display of the country's vibrant culture and the physical prowess of the athletes who are trained to perform it. There are many different genres of folk dance; the most popular are Kartuli (wedding dance), Acharuli from Adjara region, and Khorumi (war dance).
Perfecting the moves is an important part of many young children's education. Between the sumptuous costumes and the blazing fire balls (yes, some routines really do involve dancing with flames), watching a live performance is a heartwarming, stirring experience.
After touring overseas in summer, Sukhishvili Georgian National Ballet returns home to Tbilisi in autumn/winter. If you get the chance, do not miss seeing them at the Opera Theatre or their outdoor stage, Takara. I was lucky enough to sit in on a Sukishvili dress rehearsal and later attend one of their proper shows. Watching them is a once-in-a-lifetime experience.
Meanwhile many restaurants around the city host troupes along with live music, singing and of course ample wine and feasting. Performances are held nightly during dinner service at Ethno Tsiskvili, Tabla and other venues, and last for around an hour. Advance bookings are usually recommended, especially for Ethno Tsiskvili.
Insider tip: Here's a list of restaurants with Georgian folk dance and live music.
---
20. Enjoy Tbilisi's theatre season
Alongside dance, Georgia has a long and significant history of drama and performing arts. If you visit Gori, be sure to check what's on at the George Eristavi State Drama Theatre, one of the oldest institutions in the region.
In Tbilisi, there is no shortage of venues to catch an evening opera, orchestral performance or stage play. Winter is the cultural season so if the weather is particularly icy, this is one of the nicest ways to while away a winter's eve.
My top choice is actually the marionette show at Rezo Gabriadze Theatre. Yes, it uses puppets – but trust me, the plot lines are not at all childlike (and not always suitable for kids either). The puppets tour in summer and only play in Tbilisi during autumn and winter.
Rustaveli Theatre, meanwhile, hosts contemporary stage shows and often features Shakespeare on its holiday playbill.
---
21. Tour the State Opera Theatre
Speaking of stunning interiors: You can't visit Tbilisi without setting foot inside the National Opera and Ballet Theatre. If you're walking along Rustaveli Avenue, the striated gold-and-red facade will no doubt grab your attention. Just wait until you see the foyer…
Built in 1847 and Christened the Caravanserai Theatre (a nod to Tbilisi's Silk Road heritage), the theatre has attracted many eminent performers and spectators throughout its history, including French author Alexandre Dumas, the Vienna Empire Operetta, and the St. Petersburg Ballet Company. It is the birthplace of Tbilisi's Philharmonic Society and the national opera.
The first building was destroyed by fire in 1874 but the second version, completed in 1896, is every bit as beautiful as the original. The Moorish-style decorations in the lobby and foyers are so ornate, you really have to see it in person to appreciate the craftsmanship.
If there's no performance scheduled for your visit or you miss out on tickets, you can still see the interior by joining a guided tour. If you're lucky, you can even sit in on a rehearsal.
---
Best day trips from Tbilisi in winter
The best day trips from Tbilisi to take during winter involve escaping the city to see some snow. Kazbegi in the Greater Caucasus north of Tbilisi is my top pick.
Travelling along the Georgian Military Highway, you can stop off in Gudauri to ride the ski lift and admire the powdery snowfields before visiting Gergeti Trinity Church. If you have time to stay the night, the private outdoor hot tubs at Rooms Hotel are winter bliss.
Here's how to travel from Tbilisi to Kazbegi by bus or private car.
Alternatively, head to the mountains south-west of Tbilisi to visit Borjomi, where you can soak in the Tsar's sulfur baths and take a side-trip to the ski resort at Bakuriani. See more things to do in Borjomi.
Insider tip: See more great places to visit in winter in Georgia here.
---
Where to stay in Tbilisi in winter
Tbilisi has a good range of hostels, family run guesthouses and charming boutique hotels to choose from. In winter, to limit your time outdoors, it's a good idea to stay in the inner suburbs of Old Tbilisi, on either side of the river. You can find my detail Tbilisi neighbourhood guide here.
Central gas heating is standard for most places. If you're staying in an Airbnb, I highly recommend choosing a place with plenty of natural light and ventilation so it doesn't get too stuffy and dank.
Here are my top Tbilisi hotel recommendations:
---
What to wear in Tbilisi in winter
If you're visiting Tbilisi in winter, you'll need a fleece layer, a proper outer coat, boots, and standard woollies (hat, thick socks and a scarf) at a minimum. I feel the cold, so I usually wear thermal leggings under my jeans in winter. I've never had to go as far as to don mittens, though!
Layering is absolutely key here – make sure you can easily remove a layer if you need to. The underground metro, for example, is very warm and a bit claustrophobic. Some underground restaurants and wine bars get very warm as well.
If you discover you didn't pack enough warm gear, Tbilisi is brimming with second-hand and vintage shops where you can easily pick something up for a couple of dollars.
If you want to blend in, go for darker colours, especially when it comes to outerwear. Plain wool coats are more widespread than puffy jackets or fur coats.
---
What to pack for Tbilisi in winter
You won't need waterproof gear for Tbilisi, but you'll definitely need it if you plan to visit the mountains after the city. If you are trekking, then you should pack quick-dry clothing, proper waterproof boots, and a few extra layers of clothing of course.
Woolly slippers are easy to come by in Georgia, and every hotel/guesthouse/Airbnb I've ever stayed at has had a hairdryer (no need to bring your travel version). You might want to pack a hot water bottle if you use one (although these are readily available at pharmacies).
Apart from that, I highly recommend packing a travel laundry line so you can hang your washing up inside (tumble driers are a rarity in Georgia).
Note that the climate in other parts of Georgia differs considerably to Tbilisi, and you'll experience vastly different conditions in Kutaisi, Batumi, and especially in the mountainous regions.
Further reading: My all-seasons packing list for Georgia & detailed guide on what to wear in the different regions.
---
Important things to know before travelling to Tbilisi & Georgia in winter
Tbilisi operates as normal during winter, but there are other places in Georgia that come to a standstill. Remote mountain areas including Tusheti (in eastern Georgia's Kakheti region) and Ushguli (Svaneti) are inaccessible during the winter months. Winter isn't the best time for trekking in Georgia.
Conversely, winter is obviously the peak season for skiing and snowboarding. Resorts in Gudauri and Bakuriani book out over the holidays.
It's important to remember that the days are quite short in winter. Factor this in when travelling between cities and planning your days out.
Overall, winter is a great time to travel to Tbilisi and Georgia, especially if you're interested in food, culture and history rather than hiking or outdoor activities. It's low season in Tbilisi, so the city is much quieter and better value for money in many respects.
---
Tbilisi in winter: Final thoughts
Tbilisi is an all-weather destination – there's really no 'bad' time to visit. Winter brings a festive atmosphere, and the cold weather is a good excuse to overindulge in food and wine (not that you needed one!).
I love getting rugged up and spending time indoors at a good museum or in a friendly cafe. Of course there are plenty of blue-sky winter days as well when you can get out and explore.
If you prefer trekking and spending all your time outside, you might consider visiting in spring or summer instead.
Are you thinking of visiting Tbilisi this winter?
---
Tbilisi in winter: Share it on Pinterest
---
Georgia essentials
Here are the websites and services I personally use and recommend for Georgia. Check out my full list of travel resources for more tips.
FLIGHTS: Search for affordable flights to Tbilisi, Batumi or Kutaisi on Skyscanner.
TRAVEL INSURANCE: Insure your trip with HeyMondo, my preferred provider for single-trip and annual travel insurance (get 5% off when you book with my link).
SIM CARD: Magti is my preferred provider, with prices starting from 9 GEL/week for unlimited data. See this guide for all the details about buying a Georgian SIM card.
AIRPORT TRANSFERS: Most flights into Georgia arrive in the early hours. For ease, pre-book a private transfer from Tbilisi Airport to your hotel (from $17) or from Kutaisi Airport to Tbilisi (from $90) with my partners at GoTrip.ge.
ACCOMMODATION: Booking.com is the most widely used platform in Georgia. Use it to find family guesthouses, private apartments, hostels and hotels around the country.
CAR HIRE: Find a great deal on a rental car in Georgia – use the Local Rent website to book through a local agent (prices start from $20/day).
DAY TRIPS & CITY TOURS: Use Viator or Get Your Guide to browse a range of day trips and city tours. For off-beat programs, I recommend Friendly.ge (use the promocode wanderlush for 10% off). For in-depth day trips to Georgia's wine regions, I recommend Eat This! Tours (use the promo code wanderlush for 5% off).
PRIVATE TRANSFERS: GoTrip.ge is a terrific service for booking a private professional driver and car for the day. Use it for A-to-B transfers, a customised round-trip itinerary, or a multi-day trip. You can stop wherever you like for as long as you like without the fixed price going up.
NEED SOME HELP?: Need feedback on your itinerary or personalised travel tips? I offer a one-on-one consultation call service for Tbilisi and Georgia. More information and bookings here.
You might also be interested in…