Even after almost two years living in Georgia, I'm still the sort of person who can't walk past a church without popping inside.
While I personally think every church, monastery and convent in Georgia is special in some way, believe me when I tell you you have to prioritise which ones you visit – otherwise the details and stories will be lost on you as one blends into the next.
Having visited most if not all of Tbilisi's churches, there are, in my opinion, a few that stand out and are absolutely worth going out of your way to see – even if you're not a church person. Some boast stunning city views, some are built on the grounds of historical monuments, and others are just plain pretty.
Here are 10 of the best churches in Tbilisi that are personal favourites of mine and worth including on your agenda.
---
Please note: This post contains affiliate links, meaning I may earn a commission if you make a purchase by clicking a link (at no extra cost to you). Learn more.
---
The 10 best churches in Tbilisi worth visiting
Tbilisi is known for its religious pluralism that goes back to the days of the Silk Road. You can find multiple synagogues, a mosque, and even an old Zoroastrian Temple in the Old Town.
For the purposes of this post I am only covering Orthodox, Apostolic and Catholic churches – otherwise the list would be far too long!
Also read: Guide to Christmas in Tbilisi, including Georgian traditions and Orthodox rituals.
1. Holy Trinity Cathedral of Tbilisi (Sameba Tbilisi)
The largest church in Georgia and one of the biggest Eastern Orthodox cathedrals in the world, Sameba is hard to miss – no matter where you're standing, chances are you can spot it's lustrous gold dome. To truly appreciate the scale of the facade and the building's monumental footprint, you need to see it up close.
The church is perched on Elia Hill, with a cascading staircase leading to the main door. From the top of the stairs you get a fantastic view of not just the churchyard but also the city. Inside, the bold verticality continues with soaring white columns leading the eye skywards to the central dome. You could spend a good hour inside the building exploring the various chapels, cloisters and crypts.
Sameba was constructed over a decade-long period starting in 1995. This was a tough period for Georgia, thus the church came to symbolise the nation's revival in the wake of the USSR's demise.
Located in Avlabari, traditionally an Armenian neighbourhood, Sameba sits where an old Armenian church once stood – it was destroyed during the Soviet era. The attached cemetery survived, and you can still see some of the gravestones out back.
Get there: 20-minute uphill walk from Avlabari Metro Station.
2. Anchiskhati Basilica
At the opposite end of the spectrum, Anchiskhati Basilica is a tiny, modest church tucked away between the river and popular Shavteli Street in the Old Town, close to the Clock Tower and puppet theatre.
You'd be forgiven for walking right past the arched entrance without a second glance. But there is a good reason to pause here: This is Tbilisi's oldest surviving Orthodox church, with a history that goes back to the 6th Century.
Officially the Anchiskhati Basilica of St. Mary, the stone church is home to the Anchiskhati Choir, one of the country's leading polyphonic choral groups. Visitors are welcome to drop in for morning mass and listen to liturgical chanting. Incredible acoustics make for a moving experience.
Get there: 10-minute walk from Freedom Square.
3. Metekhi St. Virgin Church
The Virgin Mary Assumption Church of Metekhi is another of my favourite churches in Tbilisi, mainly because of its location. Stradling Metekhi Rise, it appears to hang off the cliff above the Kura river.
There has been a church at this location for as long as Tbilisi has existed. According to some sources, it was King Vakhtang Gorgasali himself (the city's founder) who commissioned the original structure as his court church in the 5th century. The statue in the courtyard shows Vakhtang on his steed, saluting his city.
When Georgia was part of the Russian Empire, Metekhi was used as a prison. In the Soviet Era, executions took place here at the hands of the NKVD. Today, the church offers tourists one of the best views of Tbilisi. Just across the river, the Old Town's most magnificent balconies and facades are on full display, the panorama punctuated by another beautiful church, the Armenian St. George Cathedral of Tbilisi, with its distinctive cyan dome.
Get there: 10-minute walk from Abanotubani sulfur baths (via Metekhi Bridge). Note that the gates are locked from around 6pm until 10am.
4. Karmir Avetaran Armenian Church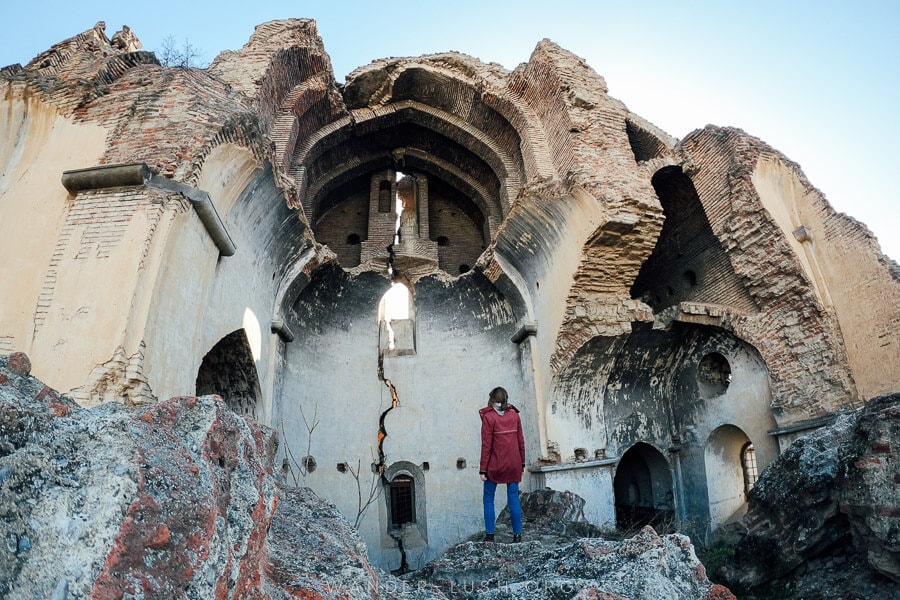 Speaking of Armenian churches – there are a good many of them in Tbilisi, both functioning and forsaken. The boarded-up Surb Nshan Church in the Old Town has become Insta-famous, but I much prefer visiting a different abandoned church over the river in Avlabari.
Shamkoretsots Astvatsatsin (also known as Karmir Avetaran Church) was the tallest Armenian Apostolic church in the city when it was finished in 1809. After a robbery and a failed restoration, it closed in 1937 – and that's where the mystery begins.
First, the church was repurposed as a bakery. But apparently the dough refused to rise. It was then used as a gym and a library before eventually housing artists' studios. In April 1989, the church almost completely collapsed in the days following an earthquake. The cupola and western facade were destroyed, leaving part of the cathedral open and exposed.
You can climb into the belly of the church from a nearby car park. The whole area is scattered with bricks and debris, and a huge crack rises up right through the centre of the ruins. Like so many other buildings in Avlabari, it's equal parts majestic and melancholy.
Get there: 15-minute walk from Abanotubani sulfur baths (via Metekhi Bridge).
5. Sioni Cathedral
Located in the heart of Tbilisi, Sioni Cathedral of the Dormition features on most walking tour routes through the old town. Before Sameba was consecrated in 2004, this was the seat of the Catholicos-Patriarch of All Georgia.
Fashioned from yellow tuff stone sourced from Bolnisi in Georgia's southern Kvemo Kartli region, the design is simple, with mostly unadorned facades save for a few bas-relief carvings. The vivid frescoes that adorn the interior are a marvellous contrast. Sioni houses a relic of St. Nino's Cross and burial sites for half a dozen important clergymen.
Get there: 10-minute walk from Freedom Square.
6. Mamadaviti Church & Mtatsminda Pantheon
It took me several visits plus a full year living in Tbilisi before I finally got around to visiting St. David's Church – AKA Mamadaviti. Now, I count it among my favourite places in the city.
Pretty as it is, it's not the church itself that I love, it's the grounds it sits on. Cut into the side of the cliff halfway up Mtatsminda, Tbilisi's Holy Mountain, the churchyard is home to the Mtatsminda Pantheon of Writers and Public Figures. A score of prominent artists, writers, dramatics and national heroes are buried here, memorialised with the most fabulous headstones and sculptures you can possibly imagine.
If you're going to walk up to Mtatsminda, follow the route that leads from Sololaki past the church (see directions here). The Tbilisi Funicular also stops here.
Get there: 25-minute uphill walk from Rustaveli Metro Station.
7. Betlemi Upper Church of the Nativity of the Savior
Similarly located at one of the city's highest points, the Upper Betlemi Church towers over Old Tbilisi. It's reached by walking up a historic flight of stone steps known as the Betlemi Street Stairs. On Sunday mornings you'll find the stairs busy with parishioners.
Erected in the 18th century, the church started life as an Armenian chapel before being transferred to the Orthodox Church in the 1990s. Several relics, including a carved Khachkar stone, were reportedly destroyed or disappeared in the process.
Betlemi Rise stretches out in front of the church and affords amazing views of the city, including Sameba and old Avlabari. It's something of a community garden, shared by parishioners, local residents and a few dozen friendly cats. Bench seats erected under trellises are the perfect spot for a picnic lunch.
From there, you can continue up a second flight of stairs to reach Narikala Fortress and Mother of Georgia.
Get there: 10-minute uphill walk from Abanotubani sulfur baths.
8. Holy Lord's Transfiguration Convent & Queen Darejan's Palace
Also located in Avlabari on the way to Sameba, just a few blocks from Karmir Avetaran, the Holy Lord's Transfiguration Convent is a working nunnery partially set on the grounds of Queen Darejan's Palace.
A tiny church was built here in the 1770s by Queen Darejan, wife of King Erekle II, and was one of the few structures to survive a fire that razed the city at the end of the same century.
If you walk up Wine Rise from Metekhi Bridge, you can trace the bottom of the palace and its towering stone walls. At the top, you can stand on the lovely round wooden balcony. I recommend visiting this tiny church on Sunday mornings during mass, when the nuns' chanting spills out into the garden.
Get there: 15-minute walk from Abanotubani sulfur baths (via Metekhi Bridge). Note that the gates are locked between around 6pm and 10am.
9. St. Peter and Paul Apostles' Church, one of the few Catholic churches in Tbilisi
Located in Chugureti district, footsteps away from Fabrika, St. Peter and Paul's is an 1870s Catholic church with a beautiful lemon-coloured baroque facade. A statue of Pope John Paul II in the garden commemorates the October 1999 papal mass that took place here.
This is a great Tbilisi church to visit if you need to be reminded of the contrasts between Eastern Orthodox and Roman Catholic traditions. Mass is held in Georgian every morning, on Sunday mornings in English, and on Sunday evenings in Latin.
Get there: 10-minute walk from Marjanishvili Metro Station.
10. Tabori Monastery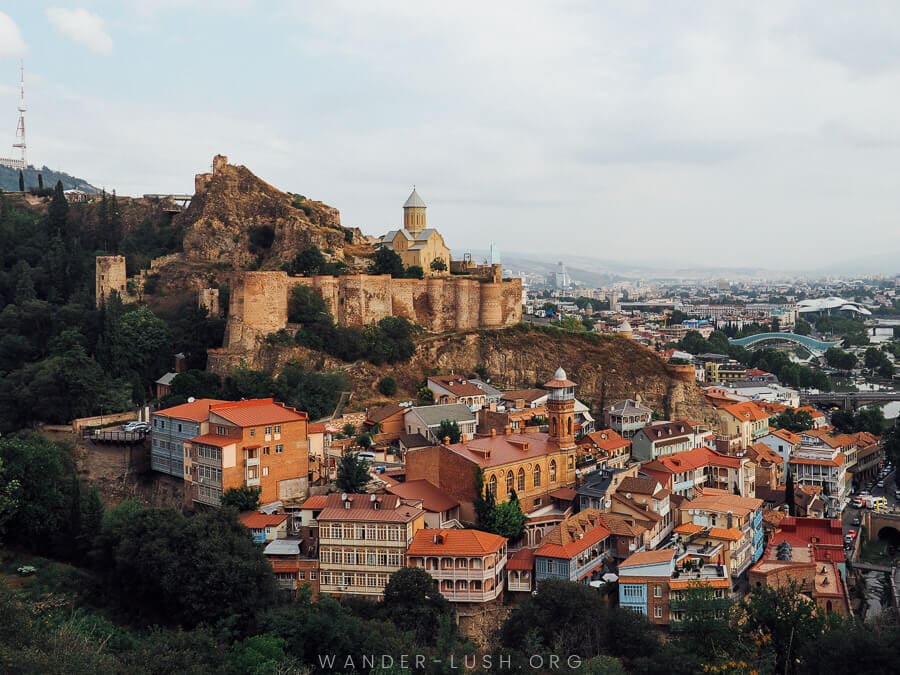 One more for the view-seekers: Tbilisi has numerous hilltop churches but Tabori Monastery has the best vantage of all, looking directly over the Abanotubani Sulfur Baths, Narikala Fortress and the river, with the Peace Bridge also in view. This is by far my favourite frame of Tbilisi… It brings a tear to my eye every time!
It involves a bit of a hike to get up to Tabori: Starting from Abanotubani, take Bazovi Street and follow the hand-painted blue signs. If in doubt, ask a local: There are lots of people around this residential area. If you don't want to walk to the top, there is an unmarked viewpoint roughly a third of the way up the hill.
I only recommend visiting at early twilight or during daylight hours – the path is unlit and I have seen syringes in this area before. It's beautiful at any time of year, but summer sunsets here are something else.
Get there: 30-minute uphill walk from Abanotubani sulfur baths.
---
Dress code & tips for visiting churches in Tbilisi
Orthodox churches in Tbilisi have a strict dress code that you should abide by when going inside or walking in the yard. Men need to cover their shoulders and knees. Women must do the same, plus cover their hair. Some more conservative churches ask that women wear a long skirt rather than pants, but this is more common in rural areas.
Ninety-nine percent of churches have scarves and apron skirts that you can borrow at the front door. For the 1% that don't – and just generally for hygiene reasons – I prefer to carry a lightweight cotton scarf in my bag at all times.
Be a responsible traveller and observe the behaviour code – especially if you're visiting during mass. Do not run, talk loudly or smoke on church grounds. If there is a sign saying 'no photography', please respect the rules. If you're unsure, ask someone before you start taking photos.
All churches in Tbilisi (and across Georgia) are free to visit. You will often see people at the front gate collecting money, but you are not obliged to give them anything (unless you want to).
I personally prefer to put a few coins into the official church donation box, which should be somewhere near the back of the building. Better still, buy a votive candle or something small from the gift shop.
→ See my Georgia packing guide & tips for what to wear in Tbilisi.
You might also be interested in…