Hotel, bar, shopping and dining mecca, co-working space, events hub… Fabrika Tbilisi has it all. Here's what it's like to stay at the coolest hostel in the Caucasus.
Transparency: This post was created in collaboration with Fabrika. I was a guest of Fabrika Tbilisi, but all opinions and recommendations are my own.
Please note: This post contains affiliate links, meaning I may earn a commission if you make a purchase by clicking a link (at no extra cost to you). Learn more.
---

Have you ever spent the night inside a soviet-era sewing factory? I have.
Number eight Egnate Ninoshvili Street, a hulking industrial building located a few blocks from the Marjanishvili metro station in central Tbilisi, was indeed a women's wear factory in a previous life. When the Soviet Union dissolved in the 90s, the factory was shuttered and the building abandoned.
Decades later, architects from local firm MUA joined forces with the Adjara Group (Rooms Tbilisi, Rooms Kazbegi) to breathe new life into the factory, transforming it into a multi-purpose creative space and hostel/suites.
Fabrika opened to guests in July 2016 and has quickly made a name for itself not only as the best hostel in Tbilisi, but also as a creative hub for locals.
It's one of the coolest places to visit in the country and a staple stay of any good Georgia itinerary.
This beautiful relic of Georgia's soviet past located in one of the city's oldest districts is now used as a cafe, bar, live music venue, co-working space, artist studio – you name it.
Fabrika is all about fostering fresh ideas and creativity, but it doesn't deny its history. Original fixtures and salvaged furniture are portals into the building's past.
Black-and-white prints sourced from Tbilisi's archives that depict soviet factory scenes are the perfect accessory to a modern interior.
The concept of Fabrika – taking a crumbling building and giving it back to the community as a functional space – is part of a wider trend that's happening in Tbilisi right now. 'Every hipster in this city dreams of buying a warehouse and doing it up', one local told me when I asked her about it.
In an interview in April 2016, the founders of MUA put it this way:
If "the project succeeds…the owners of frozen and nonfunctional buildings will be encouraged to give them a new life. The city will benefit. Such buildings will not be demolished anymore…"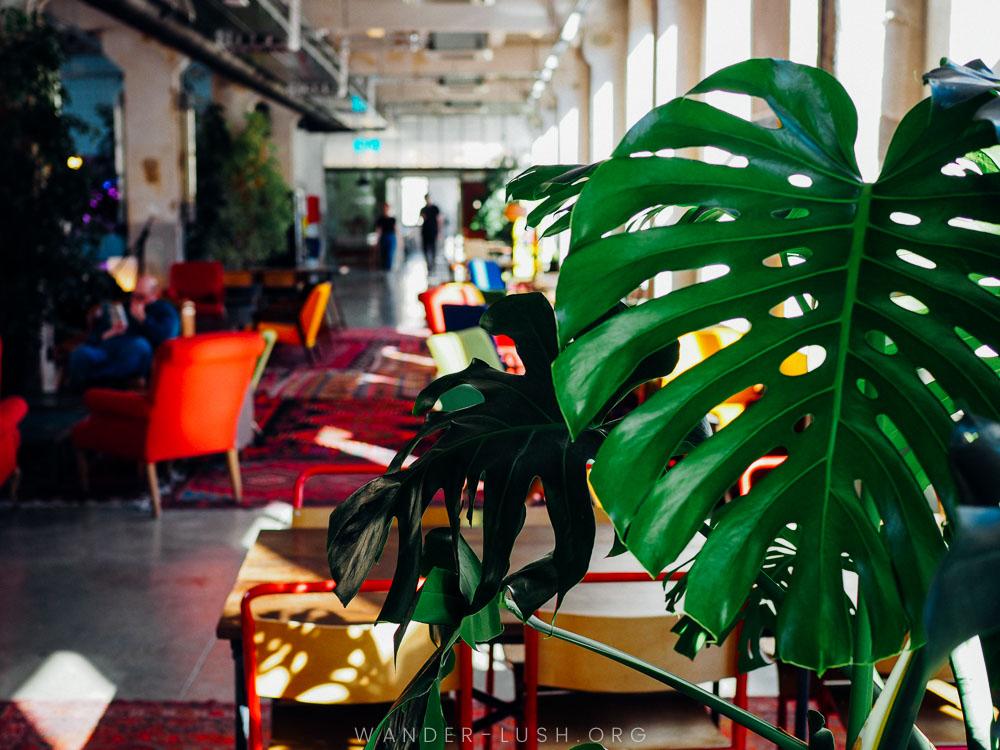 The Fabrika Tbilisi lounge
The open-plan lounge on the building's ground floor is Fabrika's signature space, with its polished concrete floors, antique kilims, indoor plants and eclectic assortment of colourful vintage and designer furniture.
Natural light pours in through the floor-to-ceiling windows that line three sides of the room. High ceilings and ergonomic work spaces make this a very comfortable temporary office for anyone working from a laptop.
An endless trickle of artists and creative types filter through the lounge every day – meeting, collaborating, creating.
This space is open to the public, as is the nearby Fabrika Tbilisi Bar and Cafe that serves some of the best coffee in Tbilisi alongside light meals.
The Fabrika Hostel buffet breakfast is one of the best in the city – even if you're not staying here, it's worth dropping in to try it.
Related: The best cafes and restaurants for breakfast in Tbilisi.
The rooms at Fabrika Tbilisi
If you're lucky enough to be staying the night at Fabrika, the army-green desk on the far left is where you check in. This is the point where Fabrika makes an aesthetic break from the old, with new fittings and clean lines dominating the two floors of accommodation above.
Every element of the hostel/suites is incredibly well thought-out, from the statement pieces (like the bright-red staircase that delivers you from the lobby to the hotel), down to the smallest details, like the typography used to mark out the room numbers and level plans.
Fabrika Hostel Tbilisi has 98 rooms in total, including shared dorms at one end of the scale and suites complete with a private rooftop terrace at the other. We stayed in a private double room and found it to be the perfect size for two.
I was pleased to see the clean lines continue into the rooms, which are painted in neutral colours and sparsely furnished with a few select pops of colour.
Looking for something slightly different? Here are more great boutique hostels in Tbilisi.
High ceilings and natural light make the rooms feel larger than they actually are. The devil is in the details here too; I love the exterior wiring that runs on right angles to the bed and ends in some very cool industrial light switches.
The Fabrika Yard
This is Tbilisi, so of course Fabrika has an outdoor courtyard. 'The Yard' as it's affectionately known is the heart of Fabrika, and our east-facing room had spectacular views over this common area.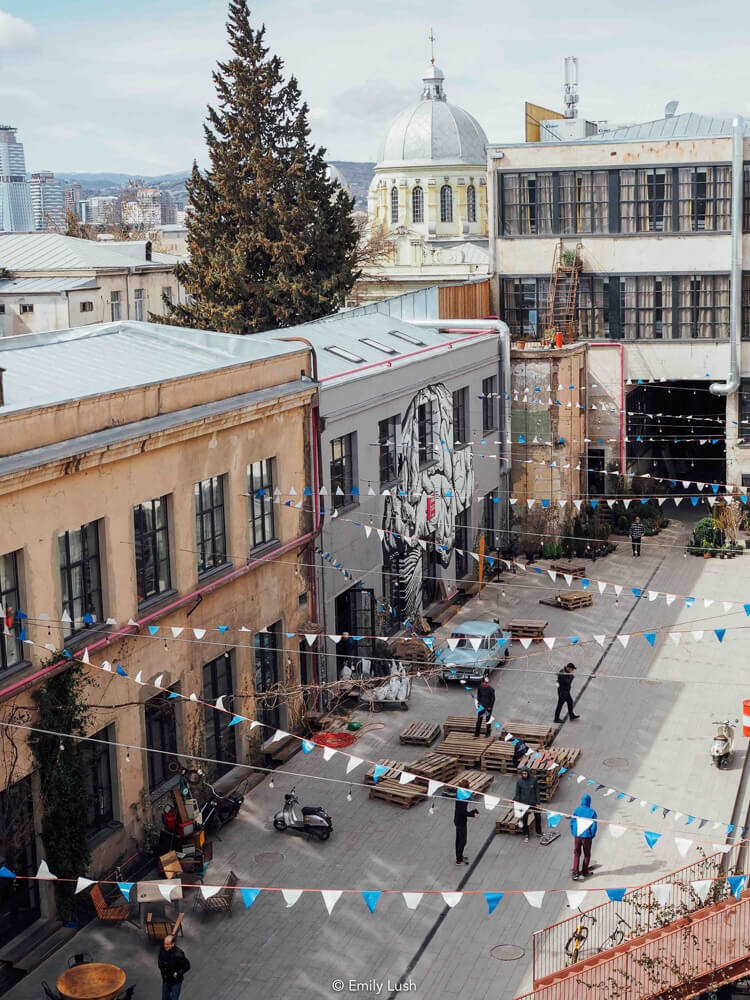 The yard is a huge paved area that's used for outdoor events and socialising. It was a bit quiet on the day we were there; but it must really come into its own during the warmer months.
The sub-floor of Fabrika and the building across the way are both fitted with shopfronts. The Fabrika Tbilisi shops are some of the coolest independent retailers in the city, so this is one of the best places to do your souvenir shopping.
The small businesses owners and entrepreneurs who have set up shop here are Fabrika's permanent residents – they bring a whole lot of life and soul to the yard, and their various projects embody Fabrika's creative spirit. I was lucky enough to meet a few of them.
The street artist known as Lamb is famous in Tbilisi – you can see his work all over the city, including on the front of Fabrika. The building was painted by local and international artists during Fabrikaffiti, the country's first street art festival which takes place every June.
Following the success of the festival, some of the participants (including LAMB) set up a shop at Fabrika where they now sell art supplies and host stencilling workshops.
Ceramic Studio 1300 is a working studio/shop where founders Taso Gomelauri and Irine Jibuti make and sell their wares. The hand-painted tableware made from local clay is incredibly delicate, and I really love the clay gemstones and stalactites.
Taso and Irine used to work from Taso's apartment before they found this space at Fabrika. With more room to move, they have been able to grow their business and expand their community, bringing on three other ceramicists to share the space.
They also collaborate with Georgian artists including Ssaint Anka, who currently stocks a range of illustrated plates and bowls in the shop.
Next door at The Plant Shop I met Farna, a Tbilisi-born landscape architect who founded his shop with the idea of bringing nature into more people's lives. He imports tropical and evergreen plants from as far away as Italy and plans to extend his offerings to herbal teas, honey and other plant foods soon. Farna designed all the shop's shelving as well.
When I asked him what it's like to have a space at Fabrika, he told me it's a place 'where you feel something is changing in the community – people are becoming more open-minded and having new ideas'.
Close by, graphic designer Manana Arabuli runs her space, Black Dog Shop. Manana stocks translations of Georgian literature alongside awesome posters re-printed from old Soviet-era designs (read and see more here).
The Flying Painter Concept Store
At The Flying Painter, I met Mariam Natroshvil, one of five artists behind this very unique apparel store. Like their counterparts in Yerevan, Mariam and her colleagues Eka Ketsbaia, Bobo Mkhitar, Natuka Vatsadze and Detu Jintcharadze are pioneering the idea of wearable art in Tbilisi, collaborating with other local designers and artists on new collections, most of which are then handmade right here inside the shop.
Considering the building's past, it's very poignant to see sewing machines running once again inside The Flying Painter.
Mariam guided me through some of her most recent ranges, including the exquisitely folded and layered Metamorphosis collection by artist Maria Safronova (pictured right) and a range of outerwear cut from recycled carpets by artist and Flying Painter co-owner Natuka Vatsadze.
Remember how I mentioned Fabrika Hotel used to be a sewing factory? Well, some old boxes of clothes were found inside the building during the renovations. The Flying Painter crew came into possession of them and now sell some of the garments alongside their contemporary collections.
Take a look at the awesome retro fabrics and 90s cuts.
My tour of the Fabrika yard complete, I'd had a little taste of everything this space has to offer: creativity, learning, discovery, relaxation.
It was wonderful to meet some of the business owners who call this space home and hear about their creative projects. Guests at Fabrika are encouraged to meet their fellow travellers too – and you can get to know the local area through a free walking tour of the neighbourhood that runs every Wednesday and Saturday.
Fabrika also hosts regular cultural events and workshops in partnership with Impact Hub Tbilisi, which is located right next door. Check out the current events program here.
---
Fabrika Tbilisi
8 Egnate Ninoshvili St
Tbilisi 0102
+995 322 02 03 99
---
Other exceptional accommodations in Georgia
---
Georgia essentials
Here are some of the websites and services I use when I'm planning a trip to Georgia and the Caucasus. Remember to check out my full list of travel resources for more tips.
– Find affordable flights to Tbilisi, Batumi or Kutaisi on Kiwi.com, a booking site that mixes and matches airlines to find the best route (there's a money back guarantee if you miss a connection).

– Use iVisa to check if you need a tourist visa for Georgia and apply for an expedited visa online.

– Pre-book a private transfer from Tbilisi Airport to your hotel or from Kutaisi Airport to Tbilisi with my preferred partners at Friendly.ge.

– Get a great deal on a rental car in Georgia by using MyRentACar to find a local agent.

– Buy your tickets for the Tbilisi to Baku or Yerevan sleeper train online in advance through my partners at Geotrend (get a discount when you use the code in this post).

– Find the best Georgia hotel deals on Booking.com, book a Georgia hostel, or find a unique Airbnb.

– Find the best city tours and day excursions in Georgia.

– Compare mobile providers and pick up a local Georgian sim card.

– Order a copy of the new Lonely Planet Caucasus guidebook (published July 2020).
More Tbilisi posts you'll love
For even more inspiration and resources, check out my new Georgia Travel Guide and my Georgia itinerary.
---
Fabrika Tbilisi: Pin it!
---
This post is the first in a new series called 'Sleeping In', where I'll be reviewing some of my favourite accommodations. Reviews are not exactly my style – so I only plan to write about hotels, hostels and homestays that fit with this blog's ethos and have a great story behind them. I couldn't think of a better place to start than Fabrika!