Detailed transport guide for travelling from Kutaisi to Tbilisi (airport or city) in 2022, with airport transfers, bus and train schedules, ticket prices, and tips for where to stop along the way.
Tbilisi Kutaisi is one of the most frequently travelled routes in Georgia.
Whether you're arriving/departing from David the Builder Kutaisi International Airport or you're just making your way around the country, there's a good chance you'll have to do this east-west trip at some point during your stay.
There are multiple ways to move between the two cities depending on your budget, timeframe and tolerance for bumpy roads.
I've travelled this route more times than I can count using every means of transport possible. Now that I live in Kutaisi and go back to Tbilisi frequently, I've figured out the pros and cons of each.
Updated and accurate for 2022, this guide covers 5 different transport methods in detail. Read on for the latest timetables and ticket prices, map pinpoints for all the relevant stations, ideas for where to stop along the way, and my tips for road safety.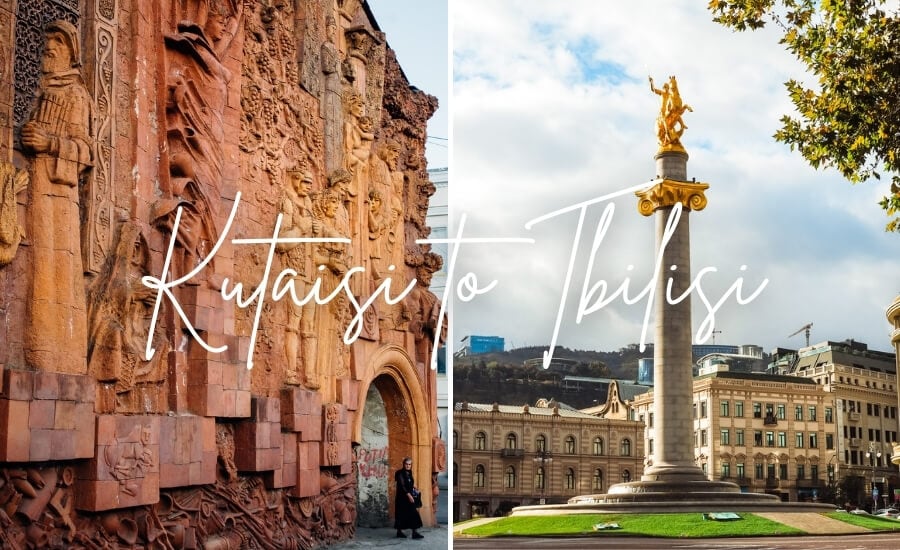 ---
Please note: This post contains affiliate links, meaning I may earn a commission if you make a purchase by clicking a link (at no extra cost to you). Learn more.
---
Distance from Kutaisi to Tbilisi
Kutaisi is located west of Tbilisi, roughly two-thirds of the way towards the Black Sea coast. The distance from Kutaisi to Tbilisi is approximately 230 kilometres (143 miles).
Kutaisi Airport is further west of Kutaisi city via the new highway that bypasses the city centre. The distance from Kutaisi Airport to Tbilisi is 250 kilometres (155 miles).
Kutaisi to Tbilisi travel time
The fastest way to travel between Kutaisi and Tbilisi is by road (E60 Highway). Presently, this takes between 3.5-4.5 hours on average depending on the type of vehicle you use and traffic conditions.
There are ongoing roadworks on this highway, so be warned that you may encounter traffic.
A private transfer is the quickest option, taking as little as 3 hours and 20 minutes.
The journey from Kutaisi Airport to Tbilisi is slightly longer, 4-4.25 hours by road on average. Both journeys will be much quicker once the new east-west highway is complete (as of winter 2022, work is still in progress).
By rail, it takes 4-5.5 hours to travel between Tbilisi and Kutaisi depending on the train you use.
There are no direct flights from Kutaisi to Tbilisi.
---
How to travel from Kutaisi to Tbilisi: Transport overview
Travellers currently have 5 options: Private transfer, train, bus (coach), marshrutka van/shared taxi, or self-drive.
In the next section I'll explore each option (and its pros and cons) in detail. Here is a quick overview:
---
Option 1: Private transfer from Kutaisi to Tbilisi
If you're looking for the fastest way to travel between Kutaisi and Tbilisi and you don't mind paying a little bit more for extra comfort, safety and convenience, then a private transfer is your best option.
It's possible to reach Tbilisi in as little as 3 hours and 20 minutes when travelling by private car. Generally speaking, this is the safest option for travelling by road.
There are multiple ways to organise a private transfer, including through your guesthouse at either end. I highly recommend hiring a professional driver through GoTrip.ge.
GoTrip is a platform that matches travellers with freelance drivers for intercity trips (sort of like a long-distance Uber). In this guide, I discuss the pros and cons in detail.
GoTrip drivers must observe good road safety practices. All cars have AC, working seat belts, and child car seats are available. You can make unlimited rest and photo stops during your during, or you can use the GoTrip Trip Planner to build a multi-stop itinerary and do some sightseeing along the way.
Drivers are available 24/7 and pickup is from any address. If you're flying into Kutaisi, the driver can meet you at the airport or you can go straight from your hotel in the city. In Tbilisi, you'll get dropped off right at your door.
---
Option 2: Kutaisi Tbilisi train
Train – AKA the slow and scenic option – is my second preferred way to travel from Kutaisi to Tbilisi. It's affordable and atmospheric, and it's a lot safer than travelling by bus. In the winter, I usually travel by train.
Unfortunately this route isn't served by the same high-speed trains that go from Tbilisi to Batumi. The distance from Kutaisi is shorter, but the travel time is almost the same: 5 hours and 20 minutes. (You can save an hour or more by taking the train from Rioni Station instead of Kutaisi Station – see more info below.)
Train carriages are a bit older but comfortable enough, with soft seats and AC. There is no dining cart so be sure to bring enough drinking water and snacks (and mobile 4G – there's no WIFI either) to last the journey.
Tbilisi Kutaisi train schedule & tickets
There is one daily direct train to Tbilisi that departs from Kutaisi just after midday at 12.10pm and arrives in Tbilisi at 5.30pm. There is only one class on this train, 'Day coach'. The fare is 9 GEL.
How to buy train tickets
I recommend using the TKT.ge website or app to buy train tickets in Georgia. Ticket sales usually open a fortnight in advance. If you're travelling in the busy summer months, it's a good idea to buy your tickets a few days before you travel. Manual seat selection is not possible for this particular route.
You'll notice that the final station is called 'Tbilisi-pass' – this stands for Tbilisi passenger.
Online payment can be done with any debit or credit card (note that there's a 1 GEL processing fee when you buy online). You'll then get an instant email confirmation with a barcode that you can use to board the train. No need to print anything.
Alternatively, it's also possible to purchase tickets in person at the train station.
Departing from Kutaisi
Kutaisi has two train stations in the city centre: don't make the mistake of fronting up to the wrong one! The station you want is Kutaisi I Railway Station, which is south of the centre on the east bank of the river. See the exact location here.
To get to the station, you can either walk 1.3km (20 minutes) from the Colchis Fountain, use city bus #1 (40 tetri), or take a taxi (2-3 GEL when booked through Bolt).
When you arrive at the station, make your way upstairs. There are bathrooms and a luggage storage office on the upper level.
Arriving in Tbilisi
The train terminates at Tbilisi Central Railway Station, which is adjacent to Station Square Metro, roughly 5km north of Freedom Square. See the exact location here.
To get to your accommodation, you can either take the metro (1 GEL with a rechargeable MetroMoney card) or a taxi (4-6 GEL to Freedom Square when booked through Bolt). I do not recommend taking a regular taxi from the train station – use the app instead.
Recommended alternative option: Train to Tbilisi from Rioni Railway Station
Georgia's main east-west railway does not pass through Kutaisi centre, hence why there is only one train a day. Instead, most trains go through Rioni Railway Station, a 20-minute drive south of Kutaisi.
There are at least 4 daily trains to Tbilisi that leave from Rioni between 9am and 8pm. A Bolt taxi from the centre of Kutaisi to the station costs around 10 GEL, or you can get there with city bus #3 (50 tetri).
Your taxi driver might drop you on the main road to avoid going all the way down to the station, in which case you'll need to be prepared to walk down a mighty long set of metal stairs! Rioni Station is a beautiful old building that's completely empty inside. There are bathrooms and a convenience store on the platform if you need snacks.
These trains originate in Poti, Zugdidi or Ozurgeti and stop at Rioni on their way through to Tbilisi. The fastest service is the evening train from Zugdidi, which will get you from Rioni to Tbilisi in 3.5 hours. It's slightly more expensive at 14 GEL.
There is also a morning train from Poti that will get you to Tbilisi in just under 4 hours. It costs 14 GEL for a second-class seat. This train also has first and business class.
Trains only make a quick stop in Rioni so when you hear the whistle, walk down to the end of the platform and get ready to cross the tracks and board.
→ Check the schedule and purchase tickets online at TKT.ge.
---
Option 3: Kutaisi to Tbilisi bus (airport coach)
For a good compromise between comfort and price, consider travelling to Tbilisi by coach. There are at least 3 companies that service this route; I recommend using Georgian Bus because they are reliable with good customer service and a user-friendly website.
This option is only for travellers coming from Kutaisi Airport. Buses originate at the airport and go straight through to Tbilisi via the bypass road – i.e. they no longer stop to pick up passengers in Kutaisi city. (If you are coming from Kutaisi city you can take a taxi to the airport and board the bus there. I have done this in the past.)
These are large 56-seater Mercedes coaches with underneath luggage storage. Seats are comfortable and in my experience, the buses are pretty clean. Free WIFI is provided.
The journey time for the Kutaisi Tbilisi bus averages 4 hours, including a 10-minute rest stop in Zestaphoni.
Bus schedule & ticket prices
Buses from Kutaisi Airport to Tbilisi are timed to depart as flights land. The bus leaves about an hour after the scheduled flight arrival time – so if your flight gets into Kutaisi at 1am, the bus will depart by 2am. Because this is effectively an airport bus, the driver will wait if the flight is delayed.
Tickets for Georgian Bus cost 20 GEL for an adult or 10 GEL for a child under 10 years. Round-trip tickets are discounted at 36 GEL. You can bring large luggage items and equipment (such as skis) on board for free, while stowing a bicycle will cost you an additional 20 GEL. Georgian Bus can accommodate wheelchairs but you need to give them advance notice.
Georgian Bus also offers direct transfers from Kutaisi Airport to Batumi (2.25 hours; 15 GEL) and from the airport to Kutaisi city (30 minutes; 10 GEL).
How to buy bus tickets
If you want to buy your tickets in advance, the Georgian Bus website is very easy to navigate. Online sales open roughly 10 weeks out. To book, simply select your flight and date from the drop-down menu, then enter your name and phone number. Pay using a debit or credit card, then wait for the voucher to be sent to you via email.
Alternatively, you can buy a ticket with cash or card when you land in Kutaisi. Just head to the Georgian Bus kiosk in the arrivals hall – it's always open and staffed. There are ATMs in the airport in case you need to withdraw GEL.
There is no assigned seating so get in quick if you want to snag a good spot.
Good to know: If the date of your flight gets changed, Georgian Bus will adjust your transfer accordingly. If your flight gets cancelled, the bus is cancelled too. There are no refunds, but you do get a transfer credit that's valid for one year.
Departing from Kutaisi Airport
Kutaisi Airport is quite small so you shouldn't have any trouble locating the bus. Once you pass through immigration, exit through the main doors. Coaches wait right out front and are clearly marked. If in doubt, head to the Georgian Bus kiosk for assistance.
Arriving in Tbilisi
Buses terminate at Pushkin Park, which is adjacent to Freedom Square. The nearest metro station is just across the street in the bottom of Galleria Mall. The metro operates from 6am-11pm every day. If you need to buy a rechargeable MetroMoney card, you can do so at the cash desk inside the front door.
Alternatively, you can use your 4G or log onto the free city WIFI 'Tbilisi Loves You' to book a taxi via Bolt.
Tip: This part of Tbilisi is very central and generally safe. However, if your bus arrives in the early hours of the morning, you probably don't want to be walking around alone in the dark. Consider organising a hotel transfer through your accommodation for peace of mind.
Return trip: Tbilisi to Kutaisi Airport bus
Buses back to Kutaisi Airport are similarly timed to leave Tbilisi to coincide with the flight schedule. It's recommended to arrive at the airport 3 hours early. So if your flight leaves Kutaisi at 5am, the bus will depart from Tbilisi at 10pm (4 hours of travel + 3 hours buffer).
Coaches leave from the same spot at Pushkin Park. If you're looking for a place to grab a bite to eat before you get on the bus, Pasanauri restaurant on Leonidze Street is open 24/7. The nearest luggage storage is Smart Case near the entrance to the Courtyard Marriott (see this post for details).
---
Option 4: Kutaisi to Tbilisi by marshrutka van
Marshrutka vans (fixed-route minivans) are a budget-friendly way to travel from Kutaisi to Tbilisi. They're not terribly comfortable, nor do I think they're particularly safe (speeding and reckless driving is common – and this road is quite busy and notoriously hair-raising). But it's a popular option nonetheless.
Journey time is between 3.5-4 hours depending on traffic and conditions.
Kutaisi Tbilisi marshrutka schedule & fares
Vans depart from Kutaisi on a set schedule – once per hour on the hour starting from 7am. The last van leaves at 8pm; however I strongly advise against travelling by marshrutka after dark. Thus in summer, the latest you would want to depart is 3pm or 4pm.
Vans leave early if full, so as usual you should try to arrive at the station at least 20-30 minutes ahead of time to make sure you get a seat.
Tickets cost 15 GEL and can be purchased from the cashier desk at the bus station (open 5am-9pm daily).
Departing from Kutaisi
Marshrutka vans leave from Kutaisi's Central Bus Station on the western side of the river near McDonalds and the Grand Mall shopping centre (4.5km from the Colchis Fountain). See the exact location here.
To get there from the centre, take city bus #1 from the Colchis Fountain (40 tetri; see here for bus stop locations). Alternatively, a taxi should cost no more than 5 GEL when booked through Bolt.
When you arrive at the bus station, there's a good chance someone will approach you and encourage you to get in their van. Tbilisi and Batumi vans leave from the front of the station to the left of the McDonalds. There will be a placard on the dashboard saying 'Tbilisi' in English. They are impossible to miss.
There are pharmacies, grocery stores, bakeries and coffee kiosks inside the station area. Public toilets are at the back (near the train tracks) and cost 50 tetri.
Shared taxis are also available here, so if you want to upgrade at the last minute, you have the option. Prices start from around 40-50 GEL per person for a car carrying 4 passengers.
Tip: If you're coming from Kutaisi Airport, it might be possible to find a direct marshrutka to Tbilisi on the highway. Vans usually stop outside the terminal on the opposite side of the road. Otherwise, you'll need to take a marshrutka to Central Bus Station and change to a Tbilisi van there.
Arriving in Tbilisi
In Tbilisi, vans terminate at Didube Bus Terminal in the north of the city, 9km from Freedom Square. See the exact location here. It might be possible to get out early, but since the route doesn't go through the centre of Tbilisi, you're better off alighting at Didube.
If you've not yet had the pleasure of visiting Didube, know that it can be a bit overwhelming! No doubt you will be approached by taxi drivers as soon as you get out of the van.
Politely decline their offers and move on – it's much better to either take the metro from nearby Didube Station (follow the signs to enter via the undercover market and underpass) or to walk a little way down the road and order a Bolt taxi. This should cost approximately 9-10 GEL to Freedom Square.
Return trip: Tbilisi to Kutaisi marshrutka
Vans travelling the opposite way from Didube to Kutaisi Central Bus Station operate on a similar schedule, departing regularly between 7am and 8pm. The travel time and ticket price are the same.
---
Option 5: Driving from Kutaisi to Tbilisi
For a completely flexible trip to Tbilisi at your own pace, consider hiring a car in Kutaisi and driving yourself. There are currently road works on the highway, but once complete, it will be the best stretch of road in the country. I've driven the section that's already finished and it is indeed fantastic!
Alternatively, you can take the backroads and make a journey out of it. There's so much to see and do along the way (see my recommendations for where to stop in the next section), you could easily spin it out into a 2 or 3 night trip.
---
Kutaisi Tbilisi FAQ
What is the road from Kutaisi to Tbilisi like?
The highway between Tbilisi and Kutaisi, the E60, is a well-maintained, busy stretch of road. As mentioned, there are currently roadworks happening. Once complete, the new highway will have more lanes and travel time between the two cities will be significantly shorter.
I love driving this road, especially going through the Rkoti Pass. Eastern and Western Georgia are very different in terms of topography and climate, and when you emerge from the tunnel, you can immediately notice the contrast.
The highway is relatively straight and flat. I suffer from motion sickness but I've never felt ill when travelling this road by car or van.
Where to stop on the way from Kutaisi to Tbilisi?
There are dozens of places to stop on the main highway. Here are a few of my top suggestions.
Lia Deida restaurant
A lovely little restaurant in the village of Argveta (Terjola), just outside Kutaisi. Make a pit stop here for home-cooked Imeretian food at its finest!
Ubisa/Shrosha
Western Georgia's pottery making centre. You'll notice lots of shops selling clay pots and souvenirs along the highway.
Surami & Khashuri
There are two reasons to stop in the town of Surami on the eastern side of the Rikoti Pass. The first is Nazuki bread, a delicious sweet bread that's a local specialty. It's sold at roadside bakeries. I also recommend climbing up to Surami Fortress. Khashuri has its own specialty product: Woven hammocks.
Gori & Uplistsikhe
Aside from the Stalin Museum, there are plenty of other things to do in Gori to keep you occupied for a full day. Uplistsikhe Cave City is also well worth a visit.
Mtskheta
Georgia's old capital is just off the highway on the way into Tbilisi. If you're travelling by car, why not take the opportunity to visit some of the more remote mountaintop monasteries in the area along with the UNESCO-Listed monuments of Jvari and Svetitskhoveli Cathedral.
If you're not keen on self-driving, a full-day itinerary departing Kutaisi and stopping at all of these places – Terjola, Shrosha, Surami, Gori, Uplistsikhe, Mtskheta and Tbilisi – starts from just 220 GEL per car when booked through GoTrip.

Here is an example Kutaisi Tbilisi itinerary I created.
How to get from Kutaisi Airport to Kutaisi city?
If you need to travel from the airport to the city to board a different bus or train, the easiest option is to use the separate city transfer service provided by Georgian Bus.
Buses are timed to leave as flights land. The journey takes around 40 minutes and costs 10 GEL per person. Book through the website as detailed above or purchase tickets in person at the desk inside the arrivals hall.
Should you spend a night in Kutaisi before leaving for Tbilisi?
Yes! Kutaisi is a wonderful city and I definitely think you should consider spending a night (or two, or three!) here before you head off to Tbilisi. As you can see, transport options between Kutaisi city and Tbilisi are plentiful, so you have lots of options for onward travel.
These guides might come in handy for planning your visit to Kutaisi:
---
Where to stay in Kutaisi
Where to stay in Tbilisi