Looking for the best way to travel between Georgia's two biggest cities? This guide gives you a detailed breakdown of 5 transport options for every budget and shows you the best way to travel from Tbilisi to Batumi (and Batumi to Tbilisi) in 2022.
I've travelled between Tbilisi and Batumi more times than I can count. When I lived in Batumi, I had to go back and forth several times. I've done this journey every which way you can imagine – by marshrutka, taxi, train, and even driving myself.
There are a couple of factors to consider when planning your own route, first among them road safety, your budget and timeline.
If your Georgia itinerary allows for it, I recommend giving this journey an entire day. There are plenty of places to stop between Tbilisi and Batumi. If you're in a rush, you can get to Batumi in just over 5 hours when you travel by train. Rail is the safest and most comfortable overland option.
Read on for a detailed guide to Tbilisi Batumi transport, updated for 2022 to reflect current services and schedules. I will be revisiting this guide regularly as things change – if you have an update to share or a question, feel free to leave me a note in the comments section at the end.
---
Please note: This post contains affiliate links, meaning I may earn a commission if you make a purchase by clicking a link (at no extra cost to you). Learn more.
---
Tbilisi to Batumi: The basics
Distance from Tbilisi to Batumi
Georgia's two largest cities are located on opposite sides of the country. The distance between Tbilisi and Batumi is 375 kilometres or 233 miles.
Travel time from Tbilisi to Batumi
Travel time to Batumi from Tbilisi is roughly 5.5-7 hours by road depending on traffic, road conditions and the type of vehicle you use.
If travelling by private car, you can expect to reach Batumi in as little as 6 hours without stops. If travelling by bus or van, the journey time is longer, taking an average of 6-7 hours.
The journey by high-speed train is slightly faster at 5 hours and 15 minutes.
---
Transport overview
Here is a quick overview of the different transport options that are currently available. In the next section, I'll look at each option in detail.
1. BEST OVERALL OPTION
High-speed train
2/5+ departures daily (winter/summer)
5.25 hours travel time
From 35 GEL/person
3. COACH OPTION
Metro Bus Georgia
2-4 daily departures

6.5 hours travel time

31 GEL/person
4. AFFORDABLE OPTION
MARSHRUTKA VAN / SHARED TAXI
10+ departures daily from 7.15am

6.5-7 hours travel time

From 35 GEL/person
[Buy tickets at the station]
Option 1: Tbilisi Batumi train
Let me start by saying the train from Tbilisi to Batumi is not like most other trains in Georgia. These are not the clunky, Soviet-era trains with uncomfortable seats that you find on routes to Gori and Kutaisi. These are fancy, high-speed Stadler trains from Switzerland.
Because the train is fast (spiriting you to the Black Sea Coast within 4 hours and to Batumi in just over 5 hours), budget-friendly and very comfortable, this is by far my preferred way to travel.
Most importantly, taking the train is a lot safer than travelling by road. The journey is very scenic in parts and I think this is the best way to enjoy the landscape.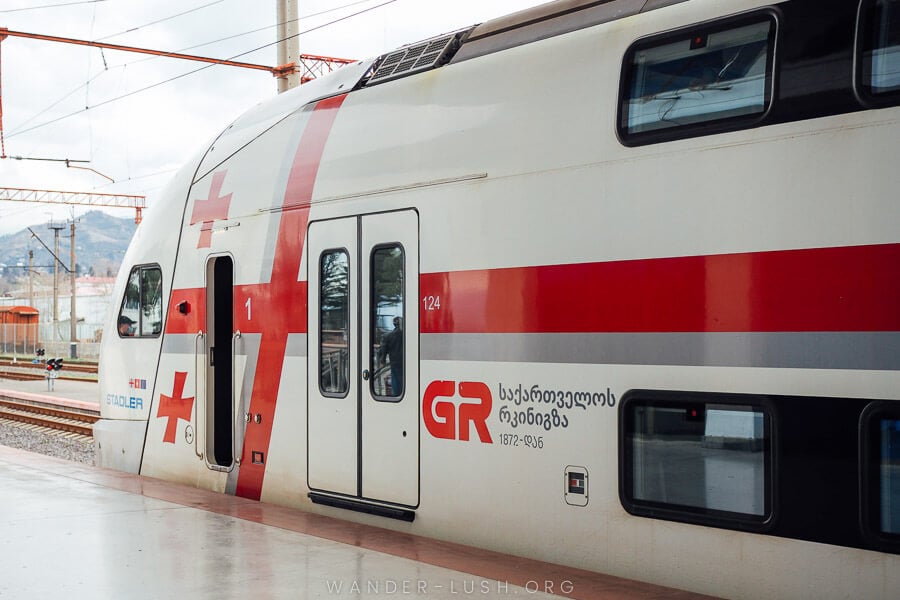 Train schedule & ticket prices
There are at least two daily trains between Tbilisi and Batumi, one in the morning (around 8am) and another in the evening (around 5pm). Trains run 7 days a week, including on holidays. Two or three extra services are added during the busy summer months.
These trains have three classes: Second class (35 GEL), first class (75 GEL) and business class (125 GEL). The only real difference is that first class has recliner seats, more power outlets, and more legroom. Second class still has free WIFI, air conditioning and relatively comfortable seats. Business class has larger seats, tray tables and is a lot roomier, with chairs spaced out quite a bit.
Business class tickets only become available to buy 10 hours before the scheduled departure time. If you decide you want to upgrade from first to business, you can pay an extra 40 GEL in cash to the attendant when you board the train. Just note that availability is limited.
Tip: You can use the Georgian Railways website to check the train schedules but I don't recommend buying your tickets on this site. Read on for my preferred way to buy tickets directly from your mobile phone.
Buying Tbilisi Batumi train tickets online
I strongly recommend buying your train tickets online in advance, especially in summer and autumn when this route is in high demand. Ticket sales open up 10 days before the departure date.
Tip: In summer, tickets always sell out – even when extra services are put on. I recommend buying tickets a full 10 days in advance if you're travelling between June and August. If there are no tickets available, keep refreshing the screen – sometimes they take a minute to pop up.
The easiest way to buy tickets is through TKT.GE, either the website or mobile app. The major advantage here is that you can choose your your seat/s (for an extra 1 GEL), whereas the Georgian Railways site assigns you a seat at random.
If you want a nice view of the Black Sea as you enter into Batumi, then choose a seat on the right-hand side of the train. I have found that the WIFI reception and mobile/4G coverage is a lot better on the lower level of the train compared to the top level. I always try to sit downstairs now for this reason.
The TKT.GE site is in English and secure payment can be made with a credit or debit card. The platform works perfectly with foreign bank cards. Note that there is an extra service fee plus a transaction fee if you buy your tickets this way – so a second-class fare with seat selection will cost you 39.10 GEL total.
After your purchase, a PDF ticket with a QR code will be sent to your inbox. It usually takes 3-5 minutes to arrive. When it comes time to board the train, you can simply show the steward your ticket on your phone (no need to print anything).
Buying tickets at the train station
If you prefer to purchase tickets in person, you can do so at either Tbilisi or Batumi train station. You need to show ID, so don't forget to bring your passport (hard copy is best). You only need one passport even if you're buying multiple tickets. Cash or card are both accepted.
Getting to Station Square in Tbilisi to board the train
The Batumi train departs from Tbilisi's Central Railway Station at Station Square, located adjacent to the metro station of the same name (see the exact location here). This is the same station where you board international trains to Yerevan and Baku. The easiest way to get there is indeed by metro. Otherwise, a Bolt taxi from Freedom Square costs around 4-5 GEL.
There are grocery stores, cafes, ATMs and public toilets inside the railway station building. If you need a place to leave your bags, there is a luggage storage office on the far left-hand side of platform 2 (15 GEL per locker per day, open 7.30am-8pm).
There is no check-in process for the train: Simply show up and present your ticket (or electronic ticket) to the steward as you board. They might also ask to see your passport/ID card. I recommend arriving at least 20-30 minutes early to find your seat and settle in.
Tip: If you have heavy bags, don't take the escalators all the way to the top – go to the second floor then use the door on the right, near the hotel. It opens directly onto the platform where the Batumi train departs.
What is the train like?
As I mentioned, this train is much like any other train in Western Europe. It has air conditioning and free WIFI. There are power outlets in second class underneath the seats, but the last few times I've taken the train, they weren't working. Make sure you charge up before you travel (there are lots of outlets at Tbilisi train station inside the food court above the ticket area). Keep in mind that phone reception is spotty during the journey and the WIFI does drop out a lot.
Similarly, there is no dining cart (only a vending machine and sometimes a coffee and cake cart), so it's essential to pack enough water and snacks to see you through. Toilets are located on the lower of the two levels.
There is plenty of space for luggage on the train. Despite signs warning you otherwise, it's not a problem to leave your bags in the aisles or near the doors.
Technically there is a 30kg luggage limit per person, but I've never seen this enforced. I recently took the train with two full-sized suitcases and no one questioned me. I've also seen people carrying skis and other bulky items (including small dogs and cats!).
Each carriage has a screen display that tells you the next station and the train's speed. It seems to run at a steady 80 km/hour – slow enough to take in the scenery. Leaving Tbilisi, you first head north past Mtskheta then to Kaspi (look out on the left-hand side to see some rainbow hills) and Gori (spot the fortress as you pass by). The first stop is at Kopitnari for Kutaisi International Airport. Then the train continues to Ureki on the Black Sea Coast, followed by another stop in Kobuleti before terminating in Batumi.
The scenery is slightly better if you sit on the left-hand side of the train when departing from Tbilisi. Along the way, you can spot old Soviet factories, little villages of stone and brick houses and in spring, thousands of cherry and apricot trees in bloom.
The last part of the trip is epic: As you approach Batumi, the train pops out of a tunnel at Mtsvane Kontskhi then hugs the Black Sea all the way into town. The railway track runs right along the shorefront. Later, when you visit Batumi Botanical Garden, you can look down at the trains emerging from the tunnel.
Arriving at Batumi Central Station
The train terminates at Batumi Central Station in the city's north, approximately 4km from the Old Town and the main part of the boulevard (see the exact location here).
A taxi to the centre costs approximately 5 GEL when booked through Bolt. If you don't have a sim card, there is free WIFI available at the station. Public buses #10, #15, #20 and #31 all go to the city centre. The fare is 30 tetri.
If you need to travel directly to Batumi Airport to catch a flight, you can take public bus #10 all the way to the airport.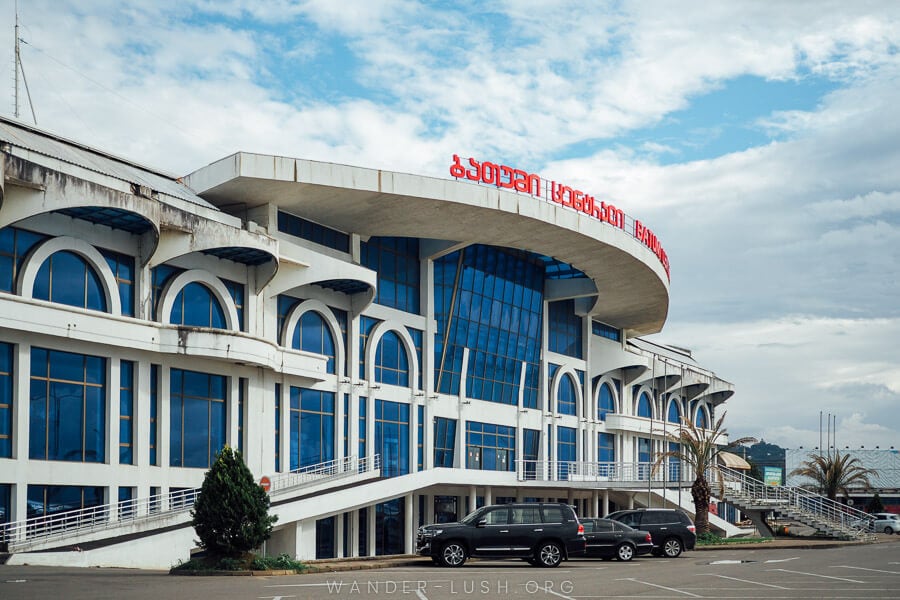 If you're thinking about walking into the city from the railway station, don't – I tried it once and although the first stretch along the waterfront is quite pleasant, the road turns into a highway and the footpath ends.
If you don't want to spring for a taxi, you can quite easily cross the road from the station and start walking towards the city then flag down a passing marshrutka van. Most if not all will be bound for Batumi, but do double check with the driver before you get in. This should cost you around 1 GEL per person (cash only, preferably the exact change in coins).
The return trip: Batumi Tbilisi train
Travelling the reverse route from Batumi to Tbilisi is much the same – you can either buy tickets online in advance through TKT.GE (recommended) or at the cash desk inside Batumi Central Station.
There are at least two daily trains in winter and three or more in summer, including a morning train (around 7.30am) and an evening train (around 6pm). Check the schedule here.
If you need to store luggage in Batumi before the train departs, there is a storage office inside the main station building on the right as you enter from street level (the cost is 2-4 GEL per bag depending on the size). Toilets are located outside on the far-left (near the buses) and cost 50 tetri to use.
---
Option 2: Private transfer with GoTrip.ge
If you're looking for a fast, comfortable and hassle-free way to travel to Batumi, then I highly recommend booking a private transfer with GoTrip.ge.
If you're not familiar with GoTrip, it's essentially a long-distance Uber that matches you with a professional driver and vehicle. Prices are very fair and set in advance, so there's no need to negotiate. You can set your own schedule and design your own itinerary, stopping whenever and wherever you like on the way from A to B.
Most importantly, drivers are vetted for safe driving practices, cars are clean, and things you may take for granted such as seat belts and child car seats are standard.
Cost of a transfer to Batumi
GoTrip is a platform for private drivers so there is some variation in prices. If you want to travel directly from Tbilisi to Batumi, you should expect to pay between 300-320 GEL per car. The journey by road takes around 5.5 hours if you go direct without stopping.
→ Click here to check prices for a GoTrip transfer to Batumi.
Where to stop between Tbilisi and Batumi
If you have time, the better option is to build a short Tbilisi Batumi itinerary using the GoTrip Trip Planner and do some sightseeing along the way.
Possible places to stop include:
With GoTrip, you can usually add in a couple of stops without the price going up. For example, this itinerary I created with stops in Khashuri, Zestafoni and Shekvetili starts from 300 GEL/car.
Arriving in Batumi
Another great thing about GoTrip is that it's a door-to-door service. Once you arrive in Batumi, just give the driver your hotel address and they'll take you straight there.
→ Click here to check prices for a GoTrip transfer to Batumi.
---
Option 3: Tbilisi Batumi bus
Coach buses are a touch cheaper than the train but more comfortable than a marshrutka van, making this a good option for budget conscious travellers who aren't on a tight timeline. The company that operates this route, Metro Georgia, runs daily buses between Tbilisi and Batumi as well as coaches that continue across the border to Turkey.
These are large 50-seater buses with recliner seats, air con, WIFI, HD screen monitors in the back of each seat, and free tea, coffee and water.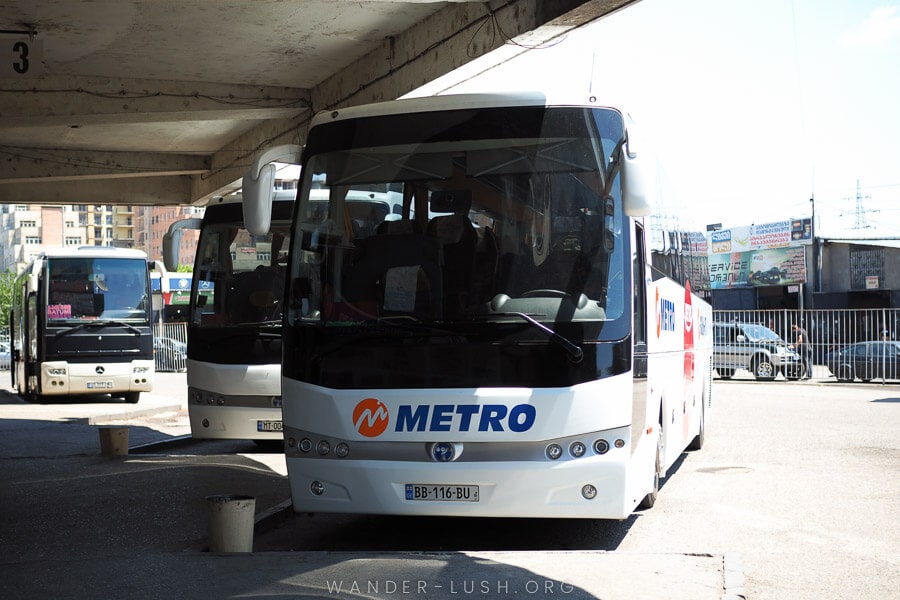 Bus schedule & ticket price
Normally Metro Georgia runs 1-2 buses in winter plus extra services in summer. The average travel time is 6.5 hours.
There is only one type of ticket available for 31 GEL per person. Double check times and fares here.
Buying bus tickets
Tickets can be pre-purchased on the Metro Georgia website (recommended in the peak summer months). You have the ability to select your seats – seats are arranged in pairs.
Alternatively, tickets can be purchased in person at the station in either Tbilisi (or Batumi for the return trip), using a paybox, or at any Metro Georgia office. See the full list of office locations here.
Boarding the bus in Tbilisi
Buses depart from Metro Georgia's main office inside Ortachala Bus Station on the south side of the city. The address is 1 Dimitri Gulia Street (see the exact location here). There is no metro station within walking distance, so I recommend you take a taxi to the station. From Freedom Square, this should cost approximately 5-6 GEL when booked through Bolt.
When you arrive at Ortachala, you'll see signs pointing you to Metro Georgia's desk on the bottom level of the station. There are public toilets and small cafes/shops on the upper level.
Arriving in Batumi
In Batumi, coaches terminate at the Main Bus Station, which is in the same location at the railway station (see the exact location here). A Bolt taxi to the centre of the city should cost around 5 GEL.
The return trip: Batumi to Tbilisi by bus
Travelling the opposite way, buses depart Batumi 1-5 times daily depending on the season. Travel time and ticket prices are the same.
---
Option 4: Tbilisi Batumi by marshrutka
The cheapest way to travel to Batumi is by marshrutka van. This option has its limitations – it's not very comfortable, there isn't a lot of luggage space, and depending on the driver you get, you could be in for a rough ride.
If you suffer from motion sickness, keep your medication close at hand. Usually vans make at least two brief pit stops along the way for 10-15 minutes each.
For such a long journey by road (6.5-7 hours depending on how many stops the driver makes), I really only recommend using a marshrutka as a last resort.
Marshrutka schedule & ticket price
Vans depart frequently from Didube Bus Terminal in Tbilisi, located in the northern part of the city (see the exact location here). To get to Didube from Freedom Square, you can either take the metro to Didube Station (the bus area is adjacent to the metro station, near the food market) or take a Bolt taxi for around 8 GEL.
There are a bunch of different Batumi vans at Didube – I recommend going with 'Bus Station Nige' as they're a bit more organised. As you exit Didube metro station into the market, make a hard left towards the orange Bank of Georgia. Vans wait in this carpark, and there is a cash desk where you can buy tickets right next to the bank. See here for my video tour of Didube.
Vans depart every 60 minutes or once full starting from 7.15am. The last van leaves Tbilisi at midnight. It's advisable to arrive at least 20-30 minutes before your intended departure time to make sure you get a seat. For safety reasons, you should try to avoid being on the road in Georgia after dark. That means leaving Tbilisi no later than 2pm in summer.
The fare to Batumi is 35 GEL, paid in cash at the ticket desk. Double check times and fares here.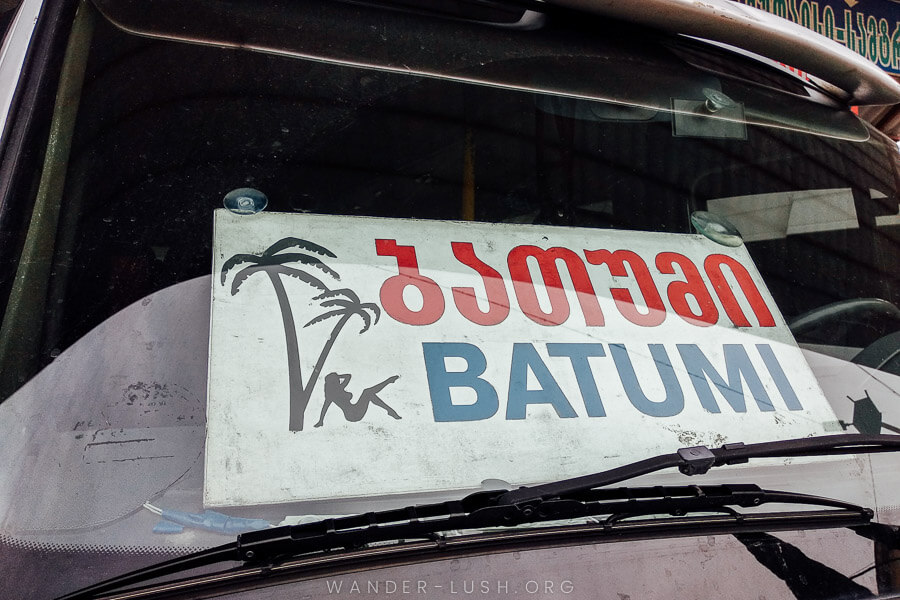 Shared taxi to Batumi
For a slightly more pleasant experience, you can try for a shared taxi to Batumi. Taxi drivers also leave from Didube (you'll see them parked near the vans with signs saying 'Batumi' propped on their dashboards or hoods). Chances are they will find you before you find them!
Unless you want to hire the whole car, you'll have to wait until the other seats fill up. Expect to pay around 40-50 GEL per person.
Arriving in Batumi
Once in Batumi, marshrutka vans terminate at the main Bus Terminal on Gogol Street, around 5km from the centre of the city (see the exact location here). To get to your accommodation, you can either pick up a local bus from outside the Agricultural Market or take a taxi (5 GEL when booked through Bolt).
Shared taxis usually terminate at the bus station as well but the driver might be willing to take you into the centre of the city. This may or may not involve an extra fee.
The return trip: Batumi Tbilisi marshrutka
Heading back to Tbilisi, marshrutka vans depart from the same Bus Terminal approximately every hour from 8am. The ticket price and travel time are the same. Shared taxis are also available.
---
Option 5: Driving to Batumi
If you're happy to go DIY, driving to Batumi from Tbilisi can be a lot of fun. There are plenty of places to stop along the way for food and sightseeing, and if you give yourself a full day for the journey, there are lots of detours you can make as well.
I only recommend self-driving in Georgia if you're confident on the road and understand the driving style. Check out my tips here.
Where to hire a car in Tbilisi
I personally use Local Rent whenever I want to hire a car in Georgia. The platform is easy to use, and because they work exclusively with local agents, prices are terrific (from as little as 16 USD/day). Insurance is often included and some rentals don't require a security deposit either.
→ Click here to check prices on Local Rent.
---
Option 6: Tbilisi Batumi flight
If you're on a tight schedule, it's possible to take a domestic flight from Tbilisi to Batumi. The flight time is 35 minutes.
Check times and prices on Skyscanner.
Arriving at Batumi International Airport
Batumi's small international airport is located on the south-west side of the city, roughly 6km from the centre (see the exact location here). A taxi to your accommodation should cost around 10 GEL when booked through Bolt.
See my detailed arrivals guide for Batumi Airport.
---
Final thoughts: The best way to travel from Tbilisi to Batumi is…
The journey to the Black Sea coast from Tbilisi is a long and tiring one. If you're not careful with your planning, you could end up throwing away an entire day.
There's a good chance this will be one of the longer (if not the longest) road trips you make in Georgia – so if you want to be comfortable and have some flexibility to stop along the way, I recommend using GoTrip.
If your main priority is to get from A to B, then the train is the best overall option in terms of safety, comfort and value. Metro Bus is a good alternative if train tickets sell out or if you prefer to go by road.
---
---
More Batumi travel resources
You might also be interested in…