My complete 8-day itinerary for an adventurous Georgia (country) road trip from Tbilisi to Batumi. Includes recommended stops, times and distances, and driving tips.
Covering Georgia's Shida Kartli, Racha, Samegrelo and Guria regions and finishing on the Black Sea coast, my Georgia road trip itinerary is a little bit unconventional.
If you're not afraid of getting off the beaten path, here's how you can see some of the country's most dramatic passes and loveliest small villages, discover heritage monasteries and hidden treasures from Soviet times, and immerse yourself in Georgia's tea heritage.
My Georgia road trip guide and itinerary covers everything you need to plan the perfect drive from Tbilisi to Batumi.
Looking for a more classic itinerary? Check out my 1-4 week Georgia itinerary by public transport or my epic Caucasus itinerary.
---
Please note: This post contains affiliate links, meaning I may earn a commission if you make a purchase by clicking a link (at no extra cost to you). Learn more.
Big thanks to MyRentACar, who supplied my rental car for this road trip. As always, all recommendations and opinions are 100% my own.
---
Renting a car in Georgia
The perfect road trip starts with finding the perfect car.
There are several options for hiring a car in Georgia – you can either go through an international company (Hertz and the like) or use a local company/agent. For both price and ease, I recommend the latter. See here for a more detailed comparison between the two.
For my road trip, I hired a car from a local agent using the MyRentACar website. Much like other portals, it aggregates a huge number of cars (350-plus when I last checked), but most are from independent agents. Models may be older, but the price is very competitive (as low as $17 USD/day), the deposit is small (or nonexistent), and insurance usually comes included.
The best thing: You can choose to pick up your car anywhere in the city of origin. The agent will literally deliver the car right to your front door (or to a convenient rendezvous point). The same goes for drop-off.
A 4WD generally isn't needed for Georgia, as 99% of major roads are paved. For this itinerary, I do recommend considering a 4WD as the route includes a few small patches of unpaved road in Upper Racha and Guria (although they could in all likelihood be finished by the time you read this).
In my experience, renting a 4WD is just as affordable as renting a regular sedan, so why not. I used the 4WD function on the Pajero I hired a handful of times, and I was glad I had the option. Try to get a car that's mid-sized and has a high undercarriage clearance.
See the range and compare prices here on MyRentACar, my preferred car hire website for Georgia.
How much does a Georgia road trip cost?
As you probably know, Georgia is a very budget-friendly destination for travellers of all stripes.
Self-driving in Georgia can actually work out to be very economical provided you use a local agent aggregator site such as MyRentACar to find a good price on a rental. Petrol is reasonably priced, parking is cheap, and there are no toll roads in Georgia.
Here are the car-related costs for my 8-day road trip in summer 2020:
Car hire for 8 days: 135.24 USD
Insurance: NIL (my car came with insurance included)
One-way drop off fee: 60 USD
Out-of-hours service fee: 10 USD
Fuel: 208 GEL (approx. 65 USD)
Parking: NIL (I used free parking)
Tolls: NIL (there are no tolls in Georgia)
Total: 270.24 USD
---
About my road trip itinerary
Let me start by saying that this Georgia road trip itinerary probably isn't for everyone.
Although it hits Georgia's three major cities and includes all the quintessential landscapes – mountains, rivers and the coast – it misses a few notable attractions, such as Vardzia, Kakheti wine region and Kazbegi.
Compared to other itineraries out there, mine is a little bit unconventional. It includes places most first or even second-time visitors to Georgia don't usually consider. This is totally on purpose.
I've travelled all over Georgia, and there are still lots of spots I haven't been able to see because they're almost impossible to get to without your own car. Even though the transport network has come a long way in recent years, it's still not as extensive as it could be.
In my opinion, if you're going to go to the trouble of hiring a car in Georgia, you should make the most of it by visiting places that are more difficult to reach using conventional transport (marshrutka vans/trains). Majority of the 'popular' destinations in Georgia are well-connected to Tbilisi. Don't waste the freedom and flexibility – now's your chance to explore Georgia's more remote corners and support regional tourism.
If you want to get off the beaten path in Georgia and experience alternative landscapes, smaller villages and pockets of the country that most international tourists tend to skip, then this itinerary is for you. Even if you don't follow my route to a tee, I hope it gives you some inspiration.
Route overview & map
My road trip itinerary starts in Tbilisi and ends in Batumi. It covers a total of 670 kilometres (416 miles), or just over 15 hours behind the wheel. I purposefully designed it so that the biggest driving days are in the middle, with lighter days to start and finish.
This road trip takes a minimum of 6 days to complete. I suggest stretching it out to 8 days to include 'down' days in Racha and Guria. You could easily extend it to 10-14 days or longer.
Shortly after I did this trip, the Kutaisi bypass – a new expressway that halves travel time from east to west – started to open up. My itinerary follows the old highway. If you choose to take the new road, note that it won't be possible for you to stop in many of the places mentioned on days 1 and 2.
Here's a quick overview of the itinerary with approximate drive times and a route map. Note that the points plotted on the map are just the 'key' destinations – there's a lot more detail in the expanded itinerary below.
Day 1: Tbilisi to Khashuri via Gori & Surami (120km; 2 hours driving)
Day 2: Khashuri to Oni (175km; 4.5 hours driving)
Day 3: Racha region: Oni, Shovi, Ambrolauri, Sairme Pillars & Khvanchkara
Day 4: Oni to Martvili via Lailashi (170km; 4 hours driving)
Day 5: Martvili to Ozurgeti via Nokalakevi (115km; 2 hours driving)
Day 6: Guria region: Ozurgeti, Anaseuli & Shemokmedi
Day 7: Ozurgeti to Shekvetili via the Black Sea coast (37km; 1.5 hours driving)
Day 8: Shekvetili to Batumi (50km; 1.5 hours driving)
---
Where I stayed
One of the things I loved most about having my own car was being able to stay at some really special rural homestays and guesthouses.
Here is a quick reference list of all the places I stayed during my road trip.
Georgia (country) road trip: Detailed itinerary
Here's a detailed breakdown of my Georgia road trip itinerary, including drive times, road conditions, things to do in each town/city, and where to stop along the way.
If you have any questions or something else to add, please leave a note in the comments below and I'll do my best to answer in detail!
Day 1: Tbilisi to Kashuri
Since it was my first time behind the wheel in Georgia (!), I thought it best to ease into things. On today's drive, I covered 120 kilometres (75 miles) and spent just under 2 hours on the road.
I was heading west, so I decided to get my car delivered to Dighomi outside the centre of Tbilisi. I chose an address just off the highway (this restaurant) so that it would be easy for me to get straight onto the highway. This strategy worked out really well.
From Tbilisi, I took the E60 highway, passing north of Gori before tracing the river down to Khashuri in central Georgia's Shida Kartli region. This part of the country is pancake-flat, and so is the road. The highway was quiet, and it was a very easy route to navigate.
On your way out of Tbilisi, you have an opportunity to stop in Mtskheta to visit Jvari Monastery and the UNESCO-Listed Svetitskhoveli Cathedral. The city of Gori lies at roughly the halfway point and is an ideal place to break for lunch.
Essential reading:
– Best things to see in Mtskheta
– 15 things to do in Gori plus my restaurant recommendations
– What to expect when you visit the Stalin Museum
Since I've already visited both Mtskheta and Gori multiple times, I decided to push on. I overshot my final destination of Kashuri and spent the afternoon in Surami, a small settlement that dates back to the Bronze Age.
Surami is a typical Georgian town with beautiful brick houses and bountiful grape vines forming a canopy over every street. The best thing to do here is climb up to the 12th-century Surami Fortress for a view over the plains.
After lunch at Sapurmarilo, a no-frills Georgian restaurant on the side of the highway, I was considering exploring more of Surami, including the synagogue I saw a sign for – but a thunderstorm was rolling in so I decided to hit the road.
I only had time for a quick look around Khashuri before the rain started. There's a beautiful stone tower in the centre of town, but the main thing Khashuri is known for is woven hammocks, which are a local specialty. You'll see hammock vendors proudly displaying their wares on both sides of the highway as you drive in.
Where to stay in Khashuri
When local guide Jaba built his dream home on a plot of land outside Khashuri, he wanted to share it with others. So he added two comfortable guest bedrooms with en suites in the top of the house and a shared room downstairs to create Villa Rbona.
His property is beyond idyllic – my favourite area is the oversized outdoor veranda dressed with hammocks. There's a pretty garden out front, and the beginnings of a vineyard too.
During my stay, Jaba took us to the trout farm next door, caught some fish, and fried them up on the BBQ. He also prepared a delicious breakfast for us. And in true Georgian style, he wouldn't let us pay.
The house is located on the opposite side of the river to Khashuri and requires crossing a suspension bridge – lots of fun in a car!
---
Day 2: Khashuri to Oni
Day 2 of my Georgia road trip was one of the biggest days of driving. I covered 175 kilometres for a total of 4.5 hours on the road.
There are lots and lots of places to stop along the way to split the journey up, so don't be overwhelmed by the raw numbers. I do recommend making as early a start as possible to ensure you arrive in Oni before dark.
Google Maps will automatically route you through South Ossetia for this leg – which is obviously not an option. Instead, I suggest taking the Rikoti Pass then following the E60 to Zestafoni. I then turned off at Terjola to go through Tkibuli and Nikortsminda up into Racha. I had travelled this route before as part of a tour, so I already knew that the roads were in good condition.
Alternatively, you could backtrack slightly from Khashuri to Agarebi then take the road through upper Imereti. This would take you through Chiatura and Katskhi Column – two of my favourite spots in Western Georgia – before continuing down to Zestafoni, where you would then pick up the same road to Racha.
If you want to do this, allow for an extra 2 hours of driving plus at least an hour at Katskhi and 2-3 hours in Chiatura.
On my way to the Rikoti Pass, I stopped just outside Surami for a second breakfast. You'll see stalls all along the highway around this point selling giant pieces of flat, golden bread. This is nazuki (ნაზუქი), a sweet bread that's made in the same clay oven as shotis puri, only it's brushed with a sugary glaze and sometimes has raisins mixed through. It's a local specialty and it's delicious.
I bought a couple of pieces for 2 GEL each, and was even treated to a demonstration by one of the bakers.
After crossing the Rikoti Pass, I continued on the E60. Just before the highway splits up you'll arrive in two villages, Ubisa and Shrosha, which are both famous for their clay pottery.
I had recently visited a qvevri master in Ubisa and wanted to come back to buy a few ketsi clay pots for cooking. There are dozens of pottery shops along the highway with thousands of pots, cups and wine jugs spread out in the sun. I ended up buying mine from this shop just outside Shrosha.
After Shrosha, I passed through a long tunnel, then made a right onto the highway to continue to Zestafoni, a sprawling industrial city not far from Kutaisi. This is a great place to stop for a coffee break – roadside cafes are big business in Zestafoni and there are dozens to choose from. I recommend Richard's, which serves Italian coffee and has clean bathrooms.
The magical Lia Deida restaurant is just up the road in Argveta. I didn't time it correctly to eat lunch here, but if you can, I highly recommend it.
At Argveta, I turned off to start the drive north-east into the mountains. This is where the scenery really starts to get special. There is a marked viewpoint at the Nakerala Pass where you can stop for a photo of the valley.
If you have time, take a detour to Tskhrajvari (Nine Crosses Mountain) for even better views. As of October 2020, there is a paved road that goes to the top of the mountain, then you walk the final portion of track.
The nearby Shauri Reservoir is another nice place for lunch or just a walk along the water's edge.
As you enter Racha proper, it's well worth stopping off in the town of Nikortsminda. Built between 1010 and 1014, Nikortsminda Cathedral is widely considered one of the country's most beautiful Orthodox Churches – only hardly any foreign tourists get to see it.
The quality of the 17th-century frescoes inside is high enough that it's been included on UNESCO's Tentative List.
After visiting Nikortsminda, I decided to stop at a second church just up the road in the village of Tsesi. Barakoni Church of the Mother of God is set on a leafy plot and dates back to the mid 1700s.
The interior here is absolutely spectacular too – the wooden iconostasis with it's intricate carvings and icon paintings is really unique. I don't think I've ever seen a church quite like it.
From Barakoni, it's another 30 minutes to Oni. As you approach, you'll see a marked viewpoint on the road shoulder where you can get a vista of the entire town and the Rioni river valley.
Where to stay in Oni
After a huge day of driving, I found myself in desperate need of a glass of wine and a hot meal. I had all this waiting for me – plus a modern, comfy room right above the family cellar – at Guest House Gallery in Oni.
Believe me when I say that this is one of the most memorable accommodations in all of Georgia. The 100-year-old wooden house with Racha-style fretwork was built by the current owner's father. The yard is full of apple trees and shady places to sit, and meals (traditional Racha fare, including Racha cured ham and shkemeruli garlic chicken) are served by the fireplace in the family lounge.
Host Nika and his mum are extremely helpful with both historical information about their town and advice about things to do in the area.
---
Day 3: Racha
After a huge day on the road to get to Racha, I wanted to make the most of my time in this remote corner of the country. I booked two nights at Guest House Gallery, parked my car, and set off to explore on foot.
Oni is a very special town with a long and storied past. At one point it was home to Georgia's third-largest Jewish population, though most families left between the 1950s and 1990s.
Their legacy lives on in the divine Oni Synagogue, which shines like a gem on a quiet suburban street in the centre of town. Built in the 1880s by a Polish architect and skilled labourers from Thessaloniki, it's one of the most distinctive landmarks in Georgia.
I spent several hours wandering around Oni's streets and admiring the wooden houses and vernacular architecture. The Oni Folklore Museum is also worth a visit.
In the afternoon, I chose to make use of the car and drove to some other points of interest around Racha. I ventured as far as Shovi, an old Soviet resort town in Upper Racha and home to the infamous 'Stalin's Dacha'. In all likelihood, Stalin never once set foot in Racha, so the name is probably a misnomer. This doesn't at all detract from the abandoned building's grandeur though.
It took me an hour or so to cover the 30 kilometres up to Shovi via a new road built to replace the highway that washed away in recent floods. You can certainly drive further to the upper villages if weather conditions are right. A 4WD is essential for these higher mountain roads.
Other things to do in Racha include visiting the Khvanchkara wineries around Ambrolauri, and sitting by the river with a cold beer at Bungalow Changes. If you're interested in hiking, the 5km trail to Sairme Pillars starts just off the highway near Ambrolauri.
---
Day 4: Oni to Martvili
Day 4 was another big day on the road, but it was totally worth it – this was my favourite day of driving by far. Racha and Samegrelo tie for the most beautiful regions in Georgia in my mind, and this drive takes you through some of the most scenic pockets of both.
I covered a similar distance to Day 2 – 170 kilometres, or approximately 4 hours on the road.
From Oni, I first drove back down to Ambrolauri then turned west to make a big horseshoe through the mountains. After a detour to the remote village of Lailashi, I eventually came out at Tskaltubo for a quick stint back on the highway up to Martvili.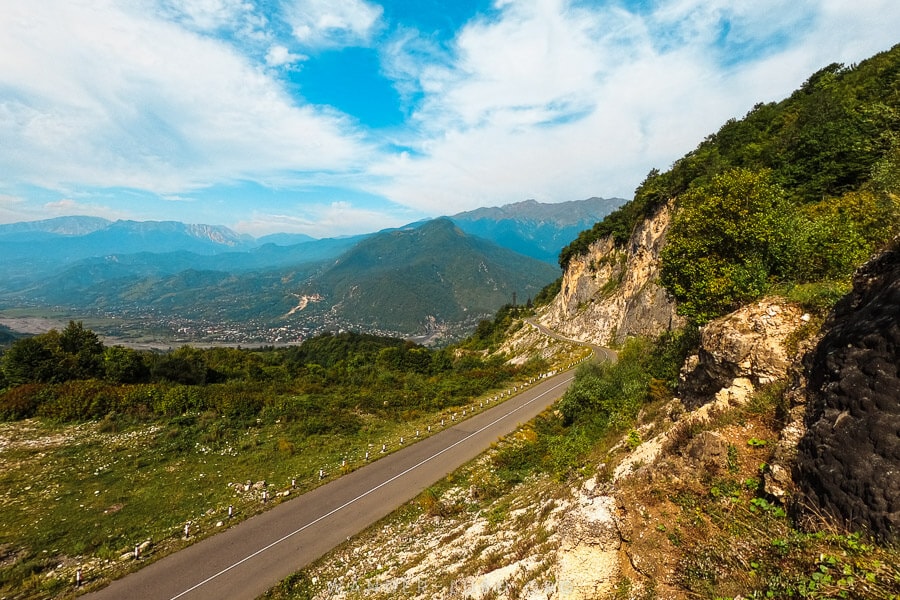 As you follow the Rioni river west from Ambrolauri, you pass through a varied landscape of limestone pillars and canyons, twisting streams and spectacular passes. At certain points, the road cuts under giant boulders, making you feel as though you're driving through a long stone tunnel.
My first stop of the day involved a big detour off the highway to visit Okronishi Fountain, better known as Lailashi 'Secret Pool'. This high-altitude natural pool has been made famous in recent months on Instagram. I had to see it for myself – and it was totally worth the extra 2 hours or so return on a bumpy unpaved road.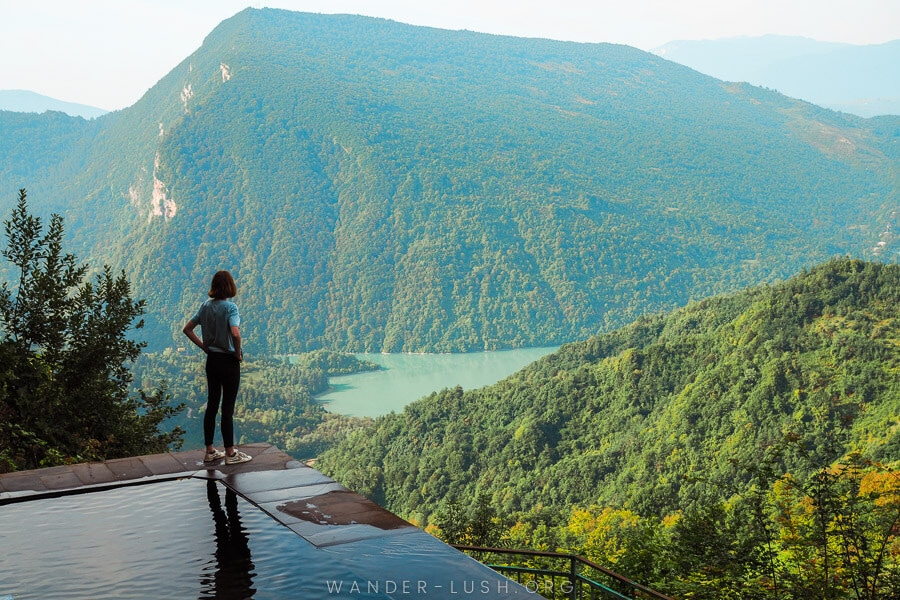 Despite being a 'secret', the pool is marked on Google Maps and is easy to locate. Lailashi is an old Silk Road town with a fascinating history – I only wish I had more time to explore.
As you cross from Racha back into Imereti and start the gradual descent down to the main highway, there are Managed Reserves on both sides of the road. The scenery is spectacular.
I ended up in Tskaltubo, the famous Soviet spa resort, where I stopped for a bite to eat. If you haven't visited before, I suggest taking a stroll through the central park and going inside a couple of the abandoned sanatoriums.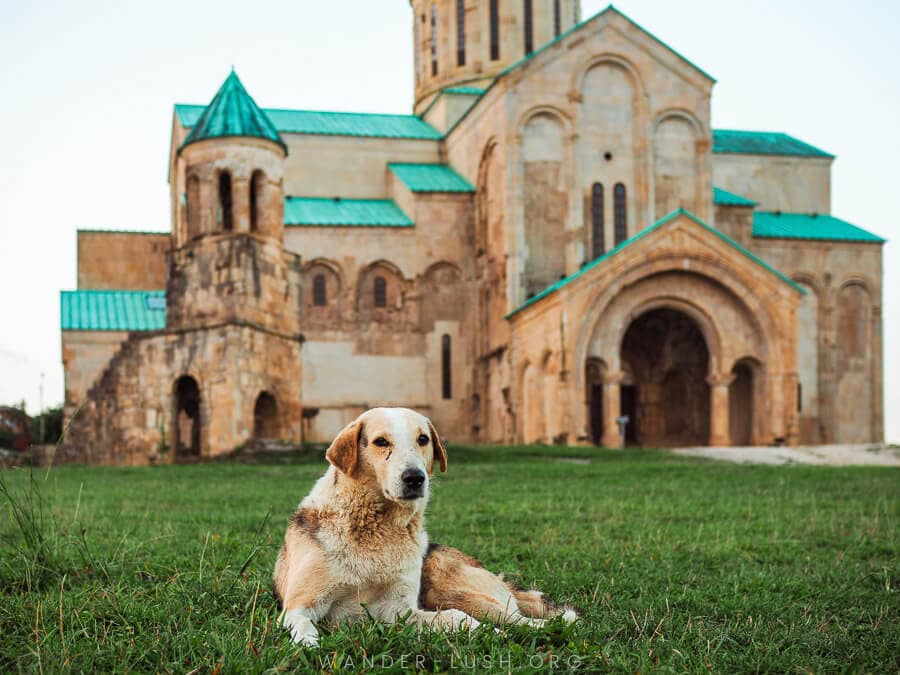 At this point I could have quite easily squeezed in a visit to Kutaisi, which is just a 20-minute drive from Tskaltubo. If you take this option, you'll approach the city from the west, thus you could first drive to Bagrati Cathedral then make your way across the river to the UNESCO-Listed Gelati and Motsameta Monasteries and skip the bustling centre altogether.
Essential reading:
– My complete guide to Kutaisi
– Best restaurants & cafes in Kutaisi
– Baia's Wine – the best vineyard to visit near Kutaisi
I continued west instead, stopping in Khoni for lunch at Kalakis Chrdilshi. From there, it's only a short drive to Martvili.
Where to stay in Martvili
Martvili is an ideal place to stop for the night before continuing down to Guria and the Black Sea. I took the opportunity to stay at Karma Hostel, a boutique accommodation set in a renovated house on the outskirts of town.
Karma is legendary among expats in Tbilisi, and I certainly think it lived up to its reputation. After a relaxing afternoon drinking wine in the back garden, I ate a generous dinner with some of the other guests and was in bed by 9. I stayed in a beautifully furnished private room.
---
Day 5: Martvili to Ozurgeti
Today is a much lighter day in terms of driving – I covered just over 115 kilometres in 2 hours to get to Guria from Martvili. I decided to take the road through Nokalakevi, Senaki, Abasha and Samtredia. Each of these towns has a number of attractions, so there are plenty of opportunities to stop.
Before I hit the road, I spent a few hours exploring Martvili beyond the hostel. It's a quaint, quiet little city with a beautiful hilltop monastery that's well worth a look in. When I visited in late summer, the fall colours were just coming out, giving the whole area an amber tint.
There are multiple canyons and waterfalls in the area, including Martvili and Balda Canyons, so you could easily spend the morning outdoors if you prefer. If you want to eat lunch before you hit the road, I recommend Oda Family Marani, which is just up the road from Karma.
After that, it's onto Guria, Georgia's tea and hazelnut region. This area has a distinct climate and topography – it feels very different to other parts of the country. Driving in, the landscape changes to broad fields and undulating hills, and you can immediately feel the moisture in the air.
I planned to stop off in Nokalakevi for the open-air Archaeological Museum and hot springs. Sadly it was raining torrentially so I had to skip both.
This meant that I arrived in Ozurgeti earlier than planned, which gave me a good amount of time to explore Guria's biggest city on foot (the rain had let up by then, thankfully).
My initial impression of Ozurgeti was that it felt very empty. It's a quiet city for sure, but it has its charms. Because of the climate, everything is damp and overgrown. There are beautiful European gardens in the centre of town, a few pieces of street art, a museum, and the foundations of an old bath house to check out. Don't miss Eight + 1, a terrific community space and cafe in the centre.
If Soviet history interests you, you'll love Ozurgeti. There are a number of decommissioned factories on the outskirts of the city and a few schools in the centre that all bear wonderful Soviet mosaics.
Guria more broadly is a mosaic-lover's paradise – all along the highway from Samegrelo you'll see decorative bus stops and giant colourful friezes.
Where to stay in Ozurgeti
There aren't a lot of accommodation options in Ozurgeti. Airbnb is probably your best bet if you want to stay somewhere central. I spent two nights at Misha and Chika's Airbnb in the city centre and really enjoyed it.
Misha and Chika are a lovely couple who also run Chamo, a cabin and campground at the foot of Gomi mountain. Their house in Ozurgeti has a great location and is very spacious, with private access to a small kitchen and bathroom. They gave me lots of good tips for Guria as well.
If you don't mind staying outside of the city (not a problem at all if you have your own car), I also recommend Komli Farmstay, which is just a 10-minute drive from Ozurgeti.
I visited this family farm for lunch earlier in the year and plan to return next year. It's a gorgeous property with a small plot of tea bushels and a stream; meals are homecooked; and hosts Lika, her mother and daughter and warm and full of stories about Guria and the region's tea-steeped history.
---
Day 6: Guria
There's lots to see and do in Guria within a short distance of Ozurgeti, but you really need your own car to get around. I fell in love with this part of the country on my road trip, mainly thanks to the landscapes I saw and the people I met on my full day exploring.
I started my morning at the Ozurgeti Market, an extensive undercover bazare with vibrant displays of fresh fruit and hazelnuts, before making my way to Ekadia Church of Saint George for a view.
I spent the rest of the day offroading through the Aseuli tea fields, wandering the grounds of Shemokmedi Monastery, and eating fresh-caught trout overlooking the mountain brook at Restaurant Achi.
There is tons of Soviet heritage in this area as well – lots more mosaics, tea factories and worker's compounds to see along the way. See my full guide to Guria for lots of things to do.
In the afternoon, I planned to drive up to the mountain resort on Mount Gomi (Gomismta), which is one of the most beautiful places in Guria. The road is entirely unpaved and a bit rough and windy in sections, so it requires some extra care and a vehicle with high clearance. The drive from Ozurgeti takes about 1.75 hours one-way – just be sure to leave enough time so that you're not coming down the mountain in the dark.
Alternatively, Guria's second mountain resort, Bakhmaro, is slightly further from Ozurgeti but the road up is fully paved. I haven't been to Bakhmaro but from what I hear, the scenery and views are comparable to Gomismta.
---
Day 7: Guri to Shekvetili
The last full day of my Georgia road trip was my shortest day of driving. I travelled 37 kilometres and spent about 1.5 hours on the road in total.
I decided to take a back-route through the Gurian villages of Meria and Shroma before heading towards the Black Sea. My primary reason for visiting the western part of Guria was to see Soviet mosaics and architecture – both these villages have outstanding mosaics and a few semi-abandoned public buildings with opulent architecture and interiors.
The Labor Culture House in Shroma is particularly cool. There's a spectacular mosaic right outside the front door as well. It's a bit of a detour, but it's more than worth it if you're intrigued by Georgia's Soviet heritage.
Coming down from Shroma, I was surprised just how quickly the Black Sea came into view. The final descent to the coast is quite a beautiful drive. If you need to refuel, there are plenty of roadside stands selling buckets of fresh berries and hazelnuts.
The road takes you straight to Shekvetili, Guria's largest Black Sea resort town. With some time to kill, I decided to visit the Miniature Park. I thought it would be naff, but it turned out to be one of the highlights of my entire road trip!
This outdoor museum displays tiny replicas of Georgia's most famous landmarks and architectural gems, including Tbilisi's Narikala Fortress, the Svan towers of Ushguli, and just about every important church and monastery the country over (including Oni Synagogue). It's a lot of fun trying to guess what's what and picking out the buildings you've seen yourself in the flesh.
In the evening, I walked along the black-sand beach at Shekvetili and watched the sun go down over the waves. For dinner, I can't recommend At Nellie's highly enough – the khinkali, the trout, and probably everything else on the menu is outstanding.
Where to stay in Shekvetili
Shekvetili is quite small, with most hotels and resorts concentrated along the beachfront. Prices are quite high in summer as many Georgian families come here for their holidays.
I chose Gina Shekvetili, mainly for the low rates, but it turned out to be a very comfortable motel-style place with friendly staff.
---
Day 8: Shekvetili to Batumi
I finished my Georgia road trip by simply tracing the coastal E70 highway all the way down to Batumi. The distance is just under 50 kilometres, which you can easily complete in around 1.5 hours.
There are a few points to stop along the way if you have time, including Petra Fortress and Kobuleti Managed Reserve. If you were taken with Georgia's tea history, try hunting down the house built for Cantonese tea expert, Liu Junzhou, who came to Adjara on the invitation of a Russian merchant in 1893. It's located in Chavki.
When you arrive in Batumi, I recommend nominating a dropoff point on the outskirts of the city so that you don't have to drive through the heart of city (the traffic is almost as bad as Tbilisi). The railway station is ideal, as it's one of the first landmarks you reach when entering from the north. From there, a Bolt taxi into the city only costs a couple of GEL.
Essential reading:
– My complete guide to Batumi
– Guide to visiting Batumi Botanical Garden
– Map of the best street art in Batumi
Then it's time to enjoy Georgia's seaside city! I developed a major soft spot for Batumi when I lived there for four months earlier this year. There's a lot to do beyond the beach, as my guide above reveals.
You can still get around the area quite easily without a car as well. Cycle to Sarpi, scoot around Machakhela National Park, or hike to Gonio Cross for an epic sunset views.
Where to stay in Batumi
My hotel of choice in Batumi is Kartuli. I stay here whenever I visit. Set in a high-rise building at the end of the boulevard, boutique rooms are beautifully furnished boast panoramic views of the Black Sea.
---
If you wanted to turn this road trip into a tidy loop, you could easily continue on from Batumi through Upper Adjara to Vardzia, Borjomi, through the Javakheti Protected Areas, and back to Tbilisi.
The options are endless when planning a road trip itinerary for Georgia – the main thing to keep in mind is road conditions. I don't recommend driving into high mountainous areas (Tusheti, Svaneti, Khevsureti). Some rental car companies actually prohibit driving on these roads.
---
My tips for a successful Georgia road trip
Rent through a local agent. I recommend using MyRentACar to compare prices.
Make sure you meet the criteria. An international driving permit is not required to hire a car in Georgia, but you do need a valid license, a photo ID, and a certain number of years of driving experience. Make sure you satisfy all the criteria.
Don't be intimidated by the aggressive driving style. In my experience, the roads in Georgia feel far worse when you're a passenger/pedestrian. When you're behind the wheel, it's not so bad – especially if you avoid driving in bigger cities.
Get an early start to beat the traffic. Take advantage of the fact that Georgia gets going at 10 or 11am. And try to avoid being on the road at night whenever possible as road safety decreases exponentially.
Plan your road trip for summer or fall. Not for the weather necessarily, but for the extended daylight hours. You'll fit a lot more in.
Don't overpack your itinerary. In hindsight, I probably tried to squeeze a little bit too much into my Georgia road trip. The itinerary I've presented below omits some spots and is more realistic.
Buy a Georgian sim card for navigation. Google Maps works perfectly. Just don't handle your phone while driving – it's illegal in Georgia.
Add on at least 25-50% more time than Google Maps predicts. To account for traffic, photo stops and the like. My estimates below err on the generous side and are based on my own experience driving this route.
For more invaluable tips, see this post – everything you need to know about driving in Georgia.
---
I hope this detailed itinerary gives you an idea of what it's like to drive around Georgia – and helps you with planning your own Georgia road trip!
---
Georgia essentials
Here are some of the websites and services I use when I'm planning a trip to Georgia and the Caucasus. Remember to check out my full list of travel resources for more tips.
– Find affordable flights to Tbilisi, Batumi or Kutaisi on Kiwi.com, a booking site that mixes and matches airlines to find the best route (there's a money back guarantee if you miss a connection).

– Use iVisa to check if you need a tourist visa for Georgia and apply for an expedited visa online.

– Pre-book a private transfer from Tbilisi Airport to your hotel or from Kutaisi Airport to Tbilisi with my preferred partners at Friendly.ge.

– Get a great deal on a rental car in Georgia by using MyRentACar to find a local agent.

– Buy your tickets for the Tbilisi to Baku or Yerevan sleeper train online in advance through my partners at Geotrend (get a discount when you use the code in this post).

– Find the best Georgia hotel deals on Booking.com, book a Georgia hostel, or find a unique Airbnb.

– Find the best city tours and day excursions in Georgia.

– Compare mobile providers and pick up a local Georgian sim card.

– Order a copy of the new Lonely Planet Caucasus guidebook (published July 2020).
Georgia (country) road trip: Share it on Pinterest