Christmas is a very auspicious time of year in Georgia, when the country's deep Christian roots and family traditions combine with a legendary reputation for feasting, toasting and partying.
I've just spent my second Christmas in Georgia and I have to say, this is one of my favourite times of year. Along with Orthodox Easter and the Rtveli wine harvest in autumn, the Christmas and New Year period is one of the most festive and fun seasons in Georgia.
Georgia follows the Julian calendar and thus Christmas falls later than it does in the West, in the first week of January. But December 31 is the main event that sees raucous celebrations in Tbilisi, Batumi and the regions.
Combined with other holiday traditions unique to Georgia, you have almost an entire month of religious and national holidays. The festive mood fires up in mid-December when the lights go on in Tbilisi, and only ends with Orthodox Epiphany towards the end of January.
If you happen to be visiting Georgia and Tbilisi during the winter months of December and January, you're in for a festive treat!
Here's everything you need to know about spending New Year's Eve and Christmas in Tbilisi, including where to see the fireworks, Christmas lights and markets; special Georgian holiday traditions to know about; Georgian holiday foods; holiday etiquette tips; and much more.
---
Please note: This post contains affiliate links, meaning I may earn a commission if you make a purchase by clicking a link (at no extra cost to you). Learn more.
---
Watch my Christmas in Tbilisi vlog!
Here's a quick tour of the markets and light displays. We filmed this over the 2021/22 holidays.
---
When is Christmas in Tbilisi?
Georgia is an Orthodox Christian nation and observes the 'old' Julian Calendar. So instead of celebrating Christmas on December 25 like nations that follow the Gregorian Calendar, Christmas in Georgia is precisely 13 days later.
The date is the same every year: Georgian Christmas always falls on January 7. (We have to wait until the year 2101 for the date to change to January 8.)
Georgia's festive season starts around mid-December when the Christmas lights and tree go up in Tbilisi (more on that later).
The biggest date on Georgia's holiday calendar is definitely December 31, which usurps even Orthodox Christmas in terms of celebration and fanfare (but not in terms of religious significance).
This is a hangover from the Soviet period, when Christian holidays were banned and all celebrations were deferred to a secular date. Some other former Soviet countries still celebrate on December 31 as well.
Christmas in Tbilisi 2021/22 dates
December 31: New Year's Eve
January 1: New Year's Day 1 (Mekvleloba)
January 2: New Year's Day 2 (Bedoba)
January 7: Orthodox Christmas Day
January 14: Orthodox New Year
January 19: Orthodox Epiphany
January 1, 2, 7 and 19 are public holidays, so you'll find that banks, government offices and some smaller businesses will be closed. Public transport runs as normal, and the majority of restaurants/cafes/bars remain open.
In the next section I'll explain the significance of each day and how you can get involved in the celebrations.
Do Georgians celebrate December 25?
December 25 is not celebrated in Georgia. It is not a national holiday nor a day of religious significance for Orthodox Christians, thus for most people it goes by without any fuss.
Georgia's Catholic community (around 2% of the population) celebrates Christmas on December 25 with mass and other special events. In Tbilisi and Batumi in particular, the expat community organises Christmas lunches and parties.
---
Tbilisi in December: Christmas lights, markets & music performances
If you're visiting Georgia in the lead-up to the holiday season, there are plenty of festive things to do in Tbilisi in December. You'll hear fireworks and crackers going off every single night around the city in the lead-up to December 31.
Tip: To wish someone a Merry Christmas and Happy New Year in Georgian, you can say Gilotsav shoba-akhal tsels. Or a shorter version for Merry Christmas in Georgian: Gilotsavt shobas.
Barbaroba (December 17)
Though not technically associated with Christmas, I want to quickly mention St. Barbara's Day (Barbaroba) because it falls right around the time that holiday celebrations start.
According to Georgian folk tradition, it's customary to bake and eat Lobiani (bean pie) on this day. Like Bedoba which is coming up later in January, Barbaroba is considered a 'day of destiny', a time to reflect on the past year's triumphs and shortcomings in preparation for the new year ahead.
Fun fact: Christians in some Middle Eastern countries including Jordan, Syria and Lebanon also celebrate St. Barbara's Day or Eid il-Burbara with a different kind of food: A special dessert made from boiled wheat, rose water, cinnamon and nuts.
Christmas illuminations & lighting of the tree
Christmas kicks off in Tbilisi around December 10-15 when elaborate light displays are set up. Normally there will be a big display at Freedom Square (around the statue of St. George), with lights all the way down Rustaveli Avenue until the metro station.
There are also lights in Orbeliani Square and on Atoneli Street, and along Kostava Street and Chavchavadze Avenue in Vera/Vake.
Every year, the light display has a different theme. Previous themes have included 'world landmarks' (2020/21) and 'the solar system' (2019/20). In 2021/22, the same light displays were reused.
At the same time, there is a ceremonial lighting of the 'New Year Tree' in front of Parliament on Rustaveli Avenue. Tbilisi's mayor usually does the honours.
The exact date for the lighting of the tree changes every year and is not finalised until a few weeks prior.
Christmas Village & Christmas markets
'Christmas Villages' pop up on Rustaveli Avenue (near Parliament), in Orbeliani Square (near Atoneli Street) and in Dedaena Park (near the Dry Bridge Market). There are stages for live music and dance performances that are also broadcast on TV. Kids' activities are held here during the day, and there's even a mini iceskating rink at Orbeliani Square. The big NYE gala is held on a stage in First Republic Square (in front of Rustaveli Metro).
The official Tbilisi Christmas Market organised by Tbilisi City Hall takes place across these locations, with food stalls, mulled Saperavi and shops selling traditional handicrafts and souvenirs.
These events and markets normally start on December 24 and wrap-up in mid-January before Epiphany. The markets are open every day from around 10am until late.
In 2021/22, the main market was held in Dedaena Park from December 24-January 14. See the details here on Facebook.
Other special markets are organised privately, for example:
Dates are different every year but these three organisations always host something in December. You can check Facebook for details and other events.
In addition, Christmas displays are staged at most malls, including a cute set-up with winemaker elves (how Georgian!) inside Galleria Mall (pictured at the top of the article).
---
New Year's Eve in Tbilisi (December 31)
Most Georgians celebrate Christmas on December 31, making this night a double-whammy combo of festive and new years fun.
Tip: Shops and supermarkets are usually very crowded on this day as people are busy stocking up on food and fireworks. Some shops close early in the mid-afternoon.
The evening of December 31 is traditionally spent with family. After exchanging gifts and enjoying a Supra feast with special Christmas foods and a few glasses of sparkling wine, people then meet up with friends for part two, the afterparty.
By this point you would have heard fireworks going off at all hours in the days and weeks prior. Tonight is when they reach a crescendo. There is no official fireworks display or midnight countdown, rather everyone chips in by sending off their own fireworks purchased from corner stores.
Being from a country where fireworks are illegal, it all feels very strange to me!
As soon as it gets dark, amateur pyrotechnics start firing off from street corners, rooftops and apartment windows. You can just imagine what it looks like when thousands of rockets are being launched (both vertically and horizontally!) from all over the city at midnight. It's unlike anything I've ever seen or heard before.
Where to go to watch the fireworks in Tbilisi
The best place to watch the fireworks in Tbilisi and ring in the New Year is any vantage point with a good view. That's not difficult to find in a city surrounded by hills, so you shouldn't have any trouble staking out a spot.
Mtatsminda, Narikala Hill and Betlemi Rise in the Old Town are all good places to sit and watch the show. Public transport is extended until 3am on January 1 and is free to use, making it a lot easier to get around the city.
People continue to set off fireworks every night well into January, so don't be alarmed if you hear loud bangs in the early hours.
Tbilisi New Years events
Some venues around the city host dinners, live music and DJs on December 31. These events are normally organised by bigger hotels such as the Radisson Blu Iveria and Hualing. Many restaurants and bars around town put on special dinners as well. In 2021, Chveni, Living Vino, ATI, Ezo and Sormoni all hosted special dinners with live music.
Fabrika, Thom's Bar, Sky7 and other bars host NYE parties, while you can dance your way into the new year at clubs including Bassiani.
The Facebook Group 'Tbilisi Events in English' often publishes a full list of events in the run up to NYE. Since most locals eat dinner at home with family, these parties are mostly designed for tourists and expats.
Other places to spend New Year's Eve in Georgia
The fireworks aren't limited to Tbilisi: There are also extravagant displays on December 31 in Batumi (which also has a Christmas market) plus smaller celebrations in Kutaisi and other cities.
Georgia's ski and spa resorts including Borjomi, Bakuriani and Gudauri host Christmas and New Year's events.
For something more low-key, you can observe special regional traditions in Svaneti or Guria throughout the months of December and January. The most interesting of these is Lifaanal in Svaneti in January, AKA Georgia's 'Day of the Dead'.
---
Georgian Christmas celebrations in January
December 31 is the biggest night of the year, but it's only the start of the fun. There are several more important traditions – some of them unique to Georgia – that roll out through January, including of course Orthodox Christmas.
Tip: It's a tradition for Georgians to exchange lollies or chocolates with friends and neighbours during the festive period. If you're visiting Georgia in January, buy something sweet to give to your guesthouse host or guide – and don't be surprised if your taxi driver offers you a fist-full of candy.
Mekvleloba (January 1)
While most of us know January 1st as New Year's Day, in Georgia it's Mekvleloba.
Mekvleloba begins at midnight with an old superstition. Your first guest of the new year – the first person to cross the threshold of your home – will determine your fate for the year ahead. Thus it's important to select someone for the job who embodies the characteristics you're looking for (be it prosperity, generosity, etc.).
The Mekvle should step into the house with their right foot first and promptly shower the homeowners with sweets. According to the tradition, candies represent youthfulness, happiness and prosperity – this is why you'll see people exchanging them on the street (and why you should carry some with you too).
Bedoba (January 2)
Bedoba, celebrated on January 2, is my favourite Georgian holiday tradition. The 'day of luck' or 'day of fate' sets the tone for the year ahead and must be spent in a way that's meaningful to you. Essentially, whatever happens to you on Bedoba will dictate how the rest of your year pans out.
Bedoba is a day for self-care when you should do the things you love and spend time with the people you value most. Eat your favourite food, drink good wine, or pamper yourself with a trip to the Sulfur Baths. A friend of a friend always goes to the airport on Bedoda in the hope of bringing more travel opportunities into their life!
Orthodox Christmas Eve (January 6)
On the night before Orthodox Christmas, Georgians traditionally light candles and place them next to their windows so the light can be seen from the street. This tradition is a homage to Joseph and Mary – a guiding light to help them in their search for shelter.
Take a walk through the streets of Tbilisi and see the lights flickering in every window.
In smaller cities and villages, Alilo singers (usually groups of children) go door to door singing carols on Christmas Eve. This tradition is a bit like Georgian Halloween: The kids perform a ditty, then you give them some sweets or fresh fruit. We had two groups visit us this year in Kutaisi.
In Tbilisi, midnight liturgy at Holy Trinity Cathedral is led by the Georgian Patriarch on the night of the 6th. It lasts until 5 or 6am on January 7th.
Orthodox Christmas Day & the Alilo Parade (January 7)
Orthodox Christmas Day is another national holiday in Georgia and a day of great reverence for the entire country.
The main event is the Alilo Parade, a procession that takes place in Tbilisi and cities around the country. Alilo is a religious ritual that sees thousands of people march in unison down the streets, dressed in special robes and carrying Georgian flags, crucifixes and other icons.
Participants sing and chant as they walk. Everyone including kids join in. Bison and donkeys are enlisted to pull wooden carts called Uremi. Along the way, participants collect food, clothing and other donations from onlookers to later distribute to people in need.
In Tbilisi, the Alilo normally starts at around 1pm on January 7. It departs from First Republic Square and winds through the streets of Old Tbilisi before culminating at Sameba Cathedral in Avlabari. In Kutaisi, the Alilo starts at 11am from outside City Hall and finishes at Victory Square.
The parade is free to attend and it's acceptable to follow the group as they walk. Some businesses including LOKAL in Tbilisi organise Alilo events where you can attend the parade and donate clothes and food if you wish.
Christmas night is another family celebration for most households, with feasting and toasting. As this is the end of the Orthodox fast, there's normally a lot of meat going around! See the next section to learn about traditional Georgian Christmas foods.
Orthodox New Year (January 14)
Orthodox New Year or 'Old New Year' falls a week after Orthodox Christmas. It is not an official holiday in Georgia and although it's celebrated with a smaller fireworks display and family dinners the night before on January 13, it's nowhere near as popular as December 31.
Orthodox Epiphany (January 19)
In the Eastern Orthodox tradition, Epiphany commemorates Jesus' baptism. It also marks the official end of the festive period in Georgia.
January 19 is the deadline to take down your Christmas decorations. The lights and markets in Tbilisi are gone by this date.
But there's one more ritual to take care of: The burning of one's Chichilaki. While most people pack away their Christmas trees, Georgians set theirs on fire. Torching the Chichilaki on Epiphany Eve symbolises letting go of one's troubles and misfortunes and welcoming in fresh beginnings.
---
Christmas in Georgia: Interesting facts & holiday traditions
Chichilaki, Georgian Christmas trees
There are two kinds of Christmas trees used in Georgia: Typical Western Christmas trees, and special trees called Chichilaki. The latter is made from dried hazelnut wood that is shaved into strips (some say to resemble St. Basil's beard). The trees are then decorated with candies, fruits and coloured ribbons.
The Chichilaki tradition comes from Western Georgia but many families around the country have a small one to display alongside their regular Christmas tree. In Tbilisi, you can often see Chichilaki on show outside the Gabriadze Theatre and inside the Christmas Village.
If you want to buy a mini Chichilaki, they are sold at the Dezerter Bazaar. See the next section for where to buy a real Christmas tree in Tbilisi.
Tovlis Babua, Georgian Santa Claus
Tovlis Babua (literally 'Snow Grandpa') is Georgia's answer to Santa Claus. Quite naturally he lives in the mountains of Svaneti and is dressed in a traditional Svan felt hat and white felt coat. He carries his goodies in a saddle bag rather than a sack.
Tovlis Babua visits children on New Year's Eve. Families traditionally exchange gifts on the evening of December 31 or on January 1.
Georgian Christmas foods
Like most countries, Georgia has several special Christmas foods that are traditionally eaten during holiday Supras. Some are available year-round while others are only prepared in December and January.
Satsivi (a cold appetiser made with poultry and walnut sauce) is available year-round at restaurants in Tbilisi and beyond. Satsivi is an essential part of every Christmas meal and is traditionally made with turkey (instead of the regular chicken) during the holidays.
Roasted suckling pork with adjika sauce is another fixture of most homespun Georgian holiday feasts. It's more difficult to find this dish in restaurants, but those that host special Christmas lunches may include it on the menu.
Gozinaki is one of few traditional Georgian desserts and it only comes out for New Year. The star-shaped sweet is quite simple, consisting of caramelised walnuts or hazelnuts set in honey (sort of like a very sweet peanut brittle). It can be soft or very hard depending on how it's prepared. You can find trays of Gozinaki for sale at Carrefour supermarkets, at Georgian Kalata, and at some of the holiday markets.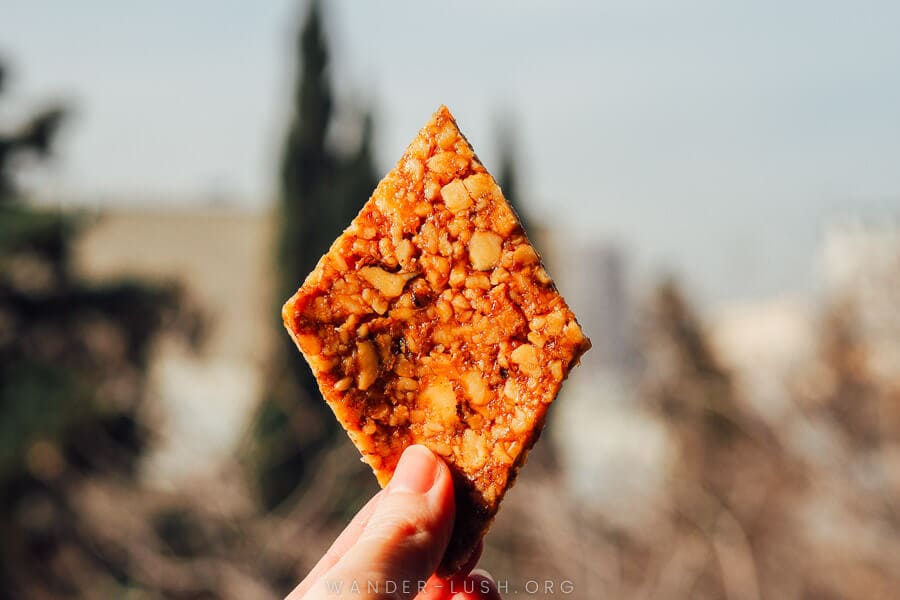 Gurian Khachapuri is a regional version of the famous 'cheese bread' made in Western Georgia's Guria region. Here, it's eaten on Orthodox Christmas (though you can find it at some bakeries and restaurants year-round). Gurian Khachapuri is crescent-shaped and more like a calzone. It's stuffed with not only cheese, but also boiled egg. Yum.
The lead-up to Christmas is one of four Orthodox fasting periods, where people abstain from eating animal products (meat, eggs and dairy).
Lots of people observe at least a couple of fasts every year, while the very devout also fast every Wednesday and Friday. This is the reason why so many Georgian foods are naturally vegan-friendly and why so many venues offer special 'fasting menus' all year long.
---
Tips for visiting Tbilisi during the holidays
Closures: As mentioned, January 1, 2 and 7 are public holidays in Georgia so banks, government offices and some businesses will be closed on these days. There will always be some shops, pharmacies and restaurants open.
Public transport: The metro and buses normally have extended hours on December 31 and January 6. In 2021/22, public transport (including the Rike Park Ropeway) operated from 11pm until 3am and was free of charge.
Traffic & taxis: Holiday traffic in Tbilisi is something else. It starts piling up around mid-December and gets progressively worse until NYE. It can be very difficult to get a taxi as many drivers take time off work or leave the city. On many occasions this December, I struggled to get a Bolt even during the day. My advice is to walk and avoid being on the roads as much as you can.
---
Where to buy Christmas supplies
If you live in Tbilisi or you're planning a longer stay over the holiday period, you might want to pick up some festive supplies.
Where to buy a real Christmas tree in Tbilisi
Fun fact: Up to 90% of Christmas trees sold in Europe are grown from Nordmann fir seeds harvested in Georgia's Racha region. Some cut trees are illegally 'poached', so be careful who you buy from.
Buying a real Christmas tree in Georgia can be a bit tricky. People like to replant their trees after the holidays, so most are sold with the root systems and soil still attached. This means they're very heavy and cumbersome to transport.
You can either buy a potted tree or an un-potted tree with the roots wrapped in plastic. In the latter case, the tree will need to be transplanted into a pot before you can display it. Both can be replanted in the garden when you're done.
The best place to buy an un-potted tree is near Station Square at the intersection of Abastumani and Mghvdeli Streets. In 2021, some vendors were selling cut trees mounted on wooden stands. Prices start from around 130 GEL for a 1.5-metre tree. If you don't want a full tree, they also sell individual cut branches for a few GEL a piece.
Prices drop significantly after December 15 so hold off until then if you can.
Gardenia Shevardnadze sells potted trees. Prices are higher, from 300 GEL for a small tree, and delivery is available for an extra fee (around 50 GEL).
Homeware stores Gorgia and Domino East Point also sell potted trees at a lower price. If you just need a pot, prices start from 45 GEL at Domino.
Where to buy Christmas decorations in Tbilisi
Christmas decorations can be found at all 'dollar store' type shops, markets and Carrefour supermarkets. I particularly like the vintage Soviet-era Christmas ornaments sold at the Dry Bridge Market.
Social enterprise Babale makes delightful Christmas ornaments, cards and other accoutrements, with proceeds going towards programs that support the down syndrome community.
Christmas fairy lights are sold at Miniso, Jysk, Domino and Bricorama
Where to buy Christmas cards in Tbilisi
Babale and Geoposter both make beautiful illustrated Christmas cards with Georgia-inspired motifs. You can find a nice range of greeting cards by different local artists at Gallery 27 in the Old Town.
Packets of standard Christmas greeting cards are available at some supermarkets and homeware stores including Container.
Where to buy a Christmas turkey or ham in Tbilisi
A couple of butchers sell locally raised turkeys around Thanksgiving and Christmas time, including Agro Meat Market. You can also find turkeys at some Carrefour supermarkets.
Saidanaa does a special honey-mustard glazed ham for the holidays.
---
That's my guide to Christmas in Tbilisi! Have you ever spent Christmas in Georgia or rung in the New Year in Tbilisi? Do you have any extra tips to share?
---
More Tbilisi posts you'll love
For even more inspiration and resources, check out my new Georgia Travel Guide and my Georgia itinerary.